www.mammut.ch | £155
As we move out of winter and into the (hopefully) warmer weather of spring it's time to start getting out on the trails and exploring the great outdoors again. Whether you're planning a weekend away in Snowdonia, or short day hikes around your local area are more your thing, you'll still want to ensure you're kept warm if the temperature drops.
A good mid-layer is key when it comes to preventing chills, and so recently we've been trying out the Mammut Whitehorn Jacket, a reversible down jacket that's designed to offer warmth at a low weight, along with a small pack size.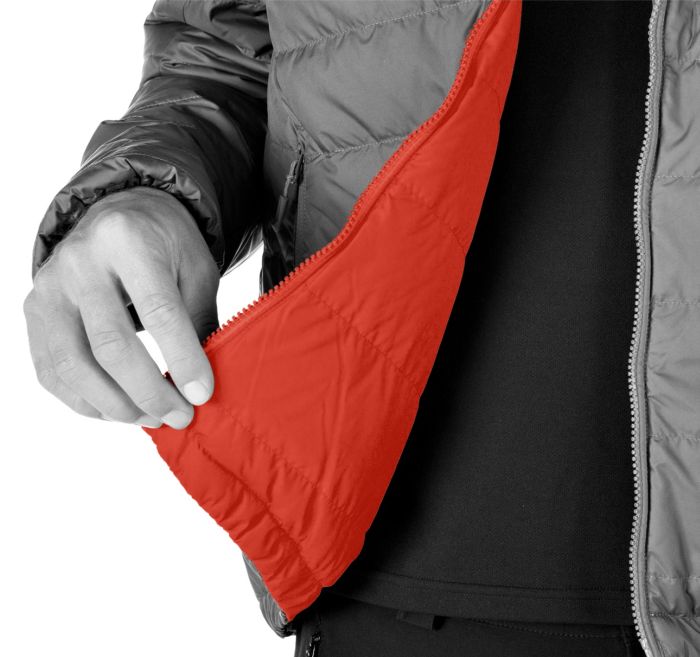 The Whitehorn retails at a pricey £155, though for your money you get a very well designed piece of kit. You get everything you'd hope an insulated jacket would have: large, zippable hand warmer pockets, a high rising and comfortable collar to keep the cold out, and close fitting wrist cuffs and hem to keep warm air in.
The Whitehorn makes use of 115g duck down that has a 90/10 down/feather ratio and a cuin fill power of 650. This provides a ton of warmth at the relatively low weight of 720g (size M), while the jacket also benefits from the down's extremely compressible nature to provide a small packsize. The baffles in which the down is housed are well designed, keeping an even spread of insulation throughout and the shape of them allows almost unrestricted movement, making the garment great for more active pursuits where reaching movements are needed, like climbing.
As has been mentioned, the Whitehorn is reversible (you can wear it inside out) and while wearing it one way over the other doesn't offer any particular advantages in terms of performance, the contrasting colours of each side allow you to tailor the visibility of your jacket to the conditions you're in: i.e. if you're out on the hills and the weather gets nasty, you'll want the brighter colour on show. Both sides of the Whitehorn provide you with large hand warmer pockets, one side being zipped, the other has a popper to help provide some closure.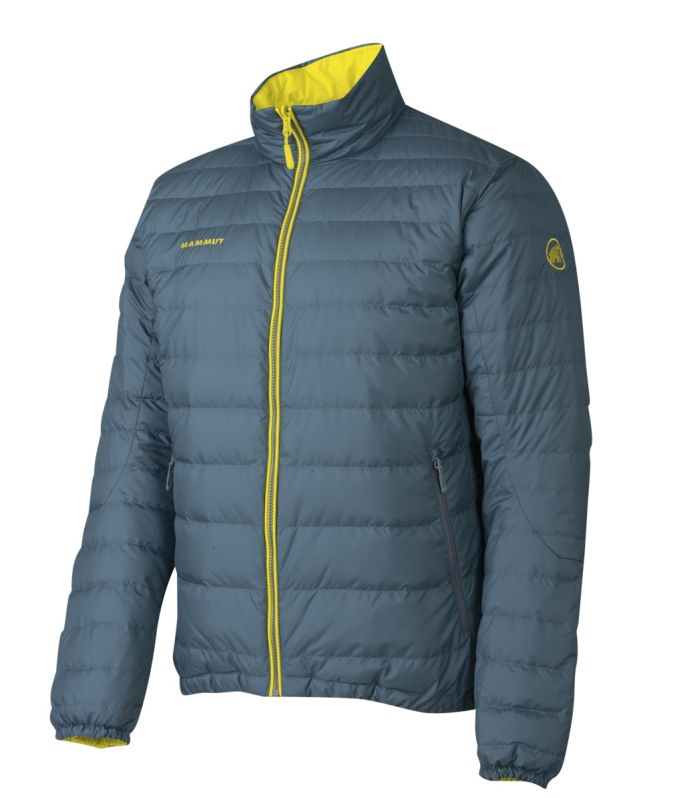 One area that I felt could be improved was the main zip of the jacket. While it's easy to use and of good quality, I would have preferred a more extensive baffle behind it to help prevent chills in this notorious cold spot. The exclusion of a baffle is no doubt down to the reversible nature of the jacket (a baffle on the outside wouldn't be as effective, and would look odd), though I would be willing to sacrifice the looks in favour of functionality.
All in all, if you're looking for a stylish, good looking mid-layer to keep you warm on the trails then the Whitehorn is certainly one to consider. As you'd expect from Mammut, the jacket is well designed, the fit is spot on, and it provides a lot of warmth when you consider the weight of it.
Mammut Whitehorn Jacket Verdict
Style meets functionality in a near-perfect blend