After betting his friend that he could spend a night abroad for the same price of a pair of trainers, Drew Collins heads to the Bavarian Alps for a whirlwind adventure…
I'm currently sitting inside my one-man tent as I type these words, beside me is a copy of Sir Ranulph Fiennes' Cold, which I've been aching to read since leaving my house this morning. The rain is gently showering down from above with the occasional echo of thunder in the distance. I'm feeling content when suddenly the entire tent interior is made visible by lightning. My head torch becomes useless for a split second, and a loud crash of thunder triggers me to think that this might have been a stupid bet to make!
Snappy flashback to two weeks earlier… I was with a friend who was overly proud of his new trainers. "£120 these set me back," he boasted. I couldn't help but think that this was quite a bit to blow on trainers – especially since I myself have grown out of sneaker overindulgence and pretty much live in Vans or Converse. So in response I proposed a bet. Yep, it was that same bet I'm regretting right now. I bet him that I could spend a night outside of the UK for the same cost as his new trainers, which, quite frankly, I thought were a waste of money. We shook hands and the outcome was entirely in my hands.
I pulled out my phone and headed straight to one of the popular flight comparison apps, trying to put my finger on the pulse of where my heart felt like travelling toward (more microadventures in Europe right here). After some light scrolling I noticed Germany on the list and, although I'd never been to this part of the world, I do follow several people on Instagram that have been and it looks beautiful. Ten minutes later and I'd booked a £37 flight to Nuremberg out of London Stansted airport, followed by a £24 car rental booking, leaving me with £59 for the trip – I was on track.
Not really being a morning person, waking up at 4am to catch my flight was difficult, but the journey was quick and, by the time my body fully woke up, I was in Nuremberg airport attempting to switch my car rental sat nav from Russian to English. Once sorted, I entered my destination of Schwangau, flicked to a random German radio station that was playing road trip worthy music and set out on the short three hour drive south.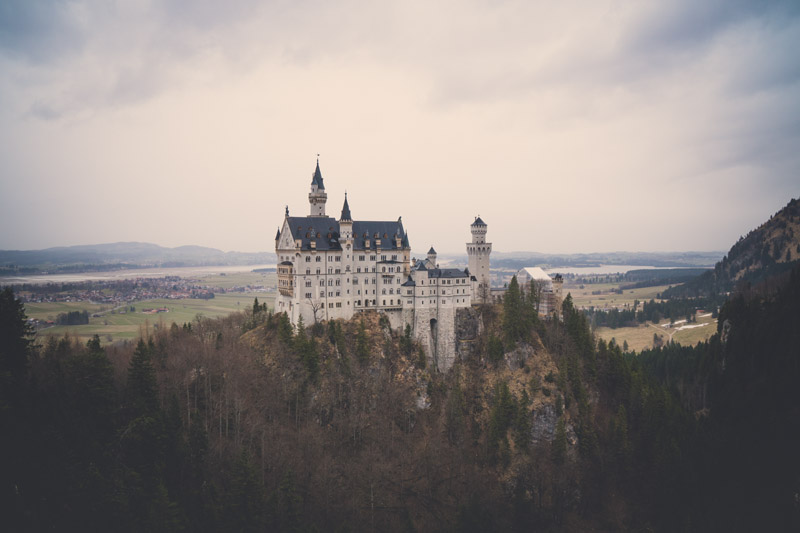 Most of the drive through Germany wasn't as awe-inspiring as I'd seen in all those pictures; it was mostly farmland with a seemingly oversaturated shade of green. Sure it was nice to look at, but I craved forests and mountains! Knowing I didn't have much time in the country, I powered through the drive without lunch to arrive at about 1pm. I was greeted by a scenic view of the Alps complete with clear blue skies, fluffy clouds and a few epic Bavarian castles thrown in for good measure. I admit I felt very smug knowing I had got myself to this epic landscape for a mere £60 thus far.
I immediately parked up, grabbed my mirrorless Sony camera and headed off into the wild of the snow-covered mountains. The climb was straightforward and I arrived – oddly quickly – at the summit shortly before 4pm, however, I knew that I would not get down in time with enough light to find a tent pitch. So I cheated and hitched a ride on the cable car located along the ridge to the east.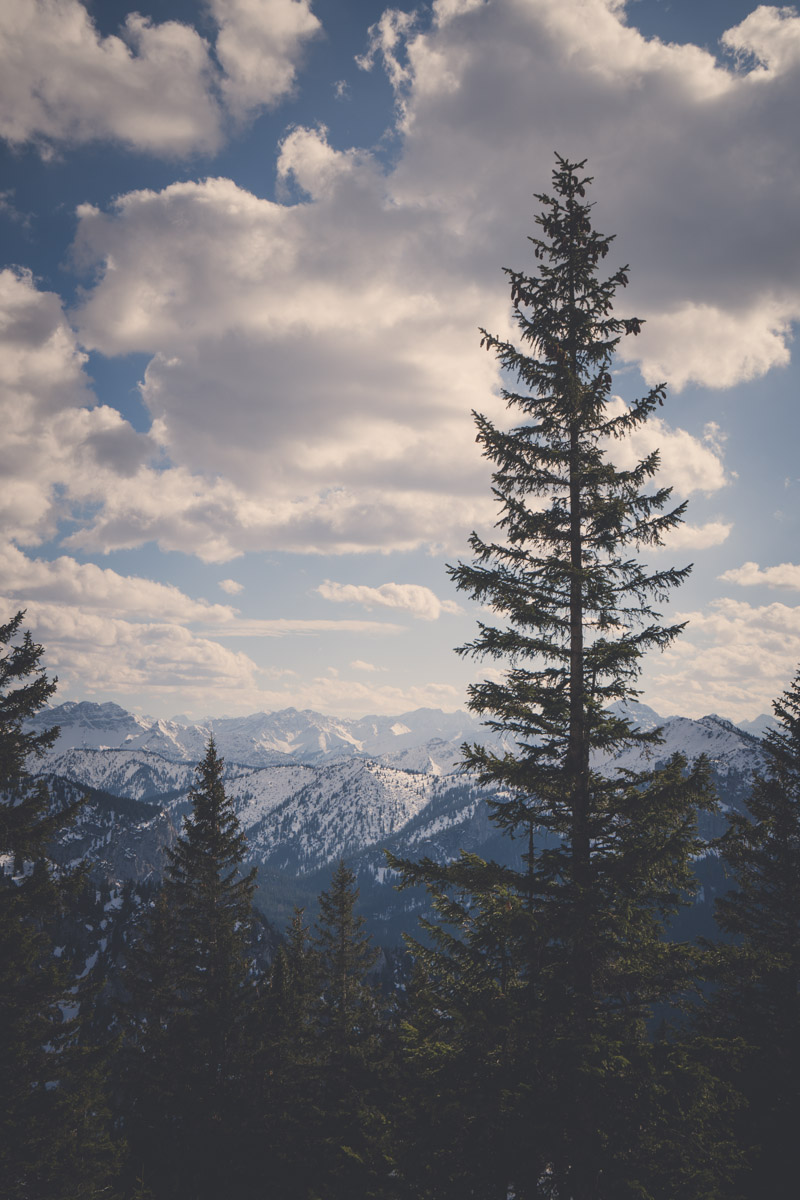 Having spent a short amount of time searching for somewhere to camp I came across a closed campsite (it is March after all). When I say closed, I mean the main building was locked but the grounds had no fences, no gates and no guards, so I took the opportunity and pitched my one-man abode for the evening and threw down my sleeping bag before launching my drone into the skies to capture these stunning surroundings in the haze of a fading sunset.
Roughly 90 minutes later and I am where I started this story, inside my tent praying that the weather doesn't go into overdrive, forcing me to sleep in the back of the car. But the weather frankly didn't care, because full blown apocalypse mode followed for the next 4-5 hours, resulting in either the walls of the tent slapping me in the face or the poles flexing in such a way that rain spray crept under the flysheet and into the sleeping area, giving me a light shower.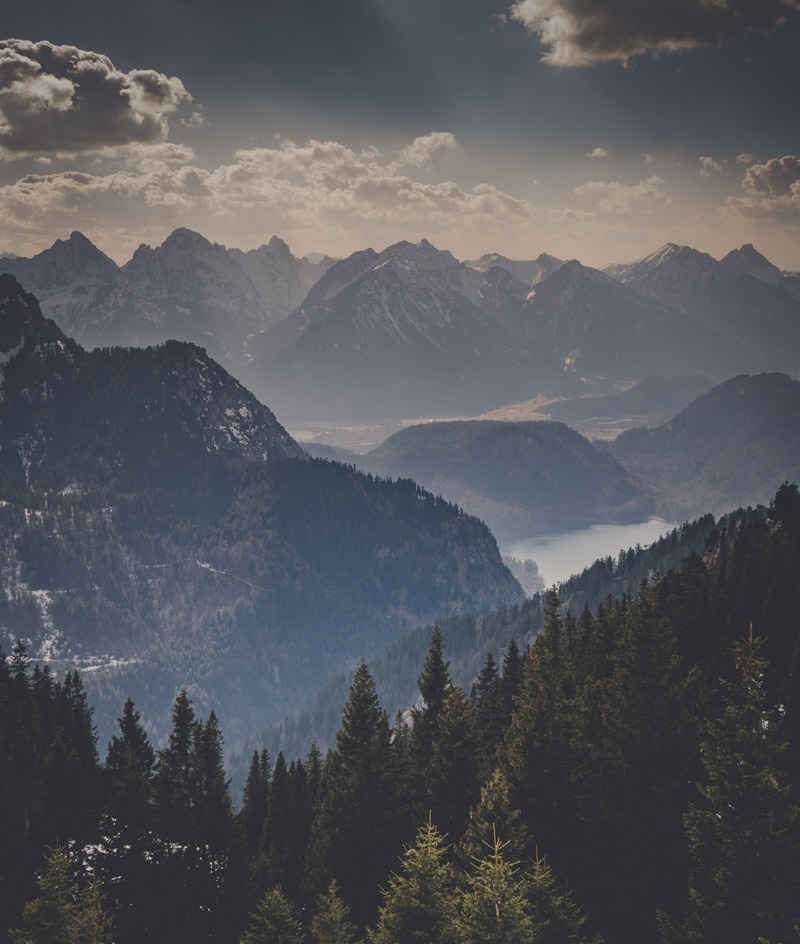 I managed around two hours of sleep before the sun began to rise along with an odd relaxing calm after the big storm, so I took the opportunity to pack up my gear while it was somewhat dry and set off to climb another mountain and stare with bewilderment at the magnificent castles before heading back to Nuremberg.
En route, I wanted to stop at one of those truly epic German pine forests I had seen and, opting to explore the surrounding area of Brombachsee, I found a place to park up and spent the next three hours shooting in windy but dry weather under the moody canopy of tall pine trees. I personally love the forest as a landscape – although Germany is home to bears and wolves so you need to stay well and truly alert most of the time!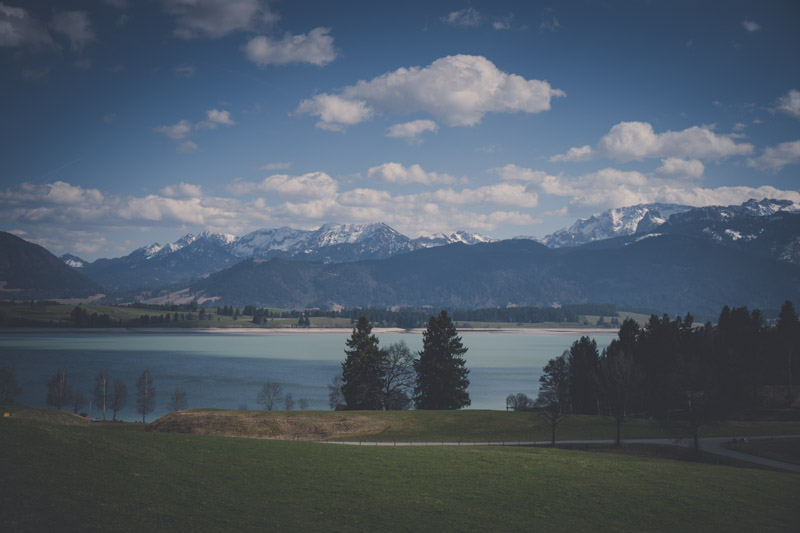 By this stage I was clocked at around £20 remaining after food, and I suddenly realised that I had to fill the car with petrol before returning it! Now even though gas in Germany is relatively cheap, a full tank pushed me over budget, causing me to seemingly lose my bet by a measly £8. After this, part of me wanted to just stay an extra night – I figured the bet didn't matter anymore and now that I was here…
However, having told the wife I'd be home late on the Saturday evening I thought it best to just head back with my tail between my legs to admit defeat. A one-hour lay-by nap followed before a few pints of German beer at the airport and my 22:35 return flight to London Stansted.
The following Monday, I told my story to the friend that I had originally made the bet with, explaining I'd gone over budget by £8 and that he had won. But this was followed by some kind of miracle… The shop that he had purchased his sneakers from was quite far from where he lived, resulting in him putting £15 of petrol in his car for the return trip. Based on this new evidence, we agreed that I had won the bet, and I thoroughly enjoyed the free lunch I was promised from when we first shook hands!
So what did I take from all of this? Storms are only fun if you're in a secure building; waking up at 4am still sucks; and travel is a damn sight better than expensive trainers. Remember that next time you're in Soletrader staring at those overpriced trainers…
When to go the Bavarian Alps
Unless you want snowy scenes, you'd be best off visiting between April and October. In the peak season it can get incredibly busy so it might be worth going in one of the shoulder seasons. Autumn can be particularly picturesque.and readily available outside of peak season, with advance booking often not necessary.
How to get to the Bavarian Alps
Return flights from London to Nuremberg can be had for as little as £26 return with Ryanair or you can fly to Munich with EasyJet for just over £100. We'd then advise renting a car to get down to the Bavarian Alps.
Where to stay in the Bavarian Alps
You'll find a wide array of affordable campsites in the area, but if you're travelling out of season you may want to check if they are open before visiting. There are also plenty of hotels and holiday apartments in the area. Füssen is a good spot to use as a base.
What to do in the Bavarian Alps
There are hundreds of walking trails in this part of Germany with the Allgäu Alps and Ammergebirge Mountains close by. Having been featured in Chitty Chitty Bang Bang and The Great Escape, Neuschwanstein Castle is a spectacular sight in the hills near Füssen that is a must-see.