Lara Dunn tries off-piste skiing in the French resort of Flaine, and recommends it as a resort for skiers and boarders of all abilities.
I'm perched just below a lift station in Flaine, on what cannot by any stretch of an overactive imagination be called anything resembling a steep drop, but I swear I've forgotten how to ski.
I've been in Flaine for a few days already and have been enjoying the sheltered bowl-like nature of the resort, as well as the undulating and varied nature of its pistes. The way Flaine's runs and mountain sides all funnel in towards the resort make it extremely popular with both on and off-piste skiers and boarders, and those, like me, attempting to transition between the two.
My aim was to go out with an ESF instructor for an afternoon playing around in the soft, fresh snow off the edges of the pistes. Flaine has a plenitude of this sort of area, running safely alongside the marked runs, ideal for off-piste chickens like me.
My instructor somewhat redundantly reminds me to "just relax, ski and turn." That's what I'm trying to do, but the turning bit is causing me trouble. The fall-line and I are not the most reliable of friends at the best of times, and I tend to turn too sharply, no good if you're in soft, fluffy powder.
Pretty soon I feel like I'm wearing most of the off-piste area but I'm slowly but surely making progress and it's hard to imagine a less threatening environment in which to do it. The unique architecture of Flaine, purpose built in the 1960s, stretches out below me, welcoming me back into the bosom of the resort and soon I'm cruising along with everyone else once again.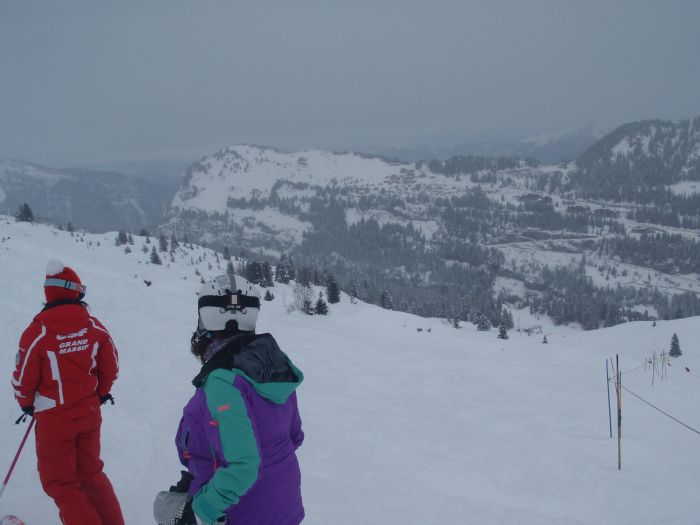 Despite the patience of the instructor (it turns out she's a bona fide medal winning skier!) and the benign nature of the terrain, I'm fairly sure I'll be sticking to the nicely groomed option from now on. I've got my heart set on taking advantage of Flaine being part of the Grand Massif Ski area, the fifth-largest linked ski area in France, to have a go at the epic blue that runs all the way from the top of the resort at Les Grandes Platieres, a knee-trembling 14km down to the town of Sixt. I'm also planning to head back to the gorgeous tree-lined slopes of Les Carroz, and the impressively sunny Tourmaline run down back into Flaine itself.
Flaine caters to all levels of skier, with a good mix of pistes of all grades. Complete beginners have the option of a free ski pass for the greens at the centre of the resort, making it a perfect place to learn from scratch. The area also has everything a backcountry adventurer could wish for, including some pretty extreme drops, although a guide is strongly advised for anything unmarked. There are big airy mountain runs, sheltered tree skiing and plenty more besides.
The huge variety of options for all types of skier and snowboarder seems somewhat at odds with the accessible and cosy feel of the place. And if that's not enough, it even has its own Picasso sculpture in Flaine Forum. Not many ski resorts can boast that.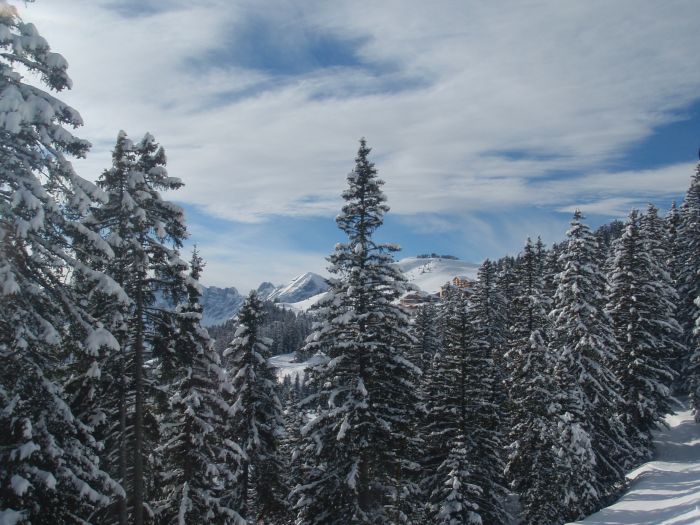 More info
Fly to Geneva – there are direct flights from many UK airports with a range of airlines. Easyjet flights start from £59 return: www.easyjet.com.
I stayed in the new Pierre & Vacances five-star Les Terrasses d'Helios Residence. It's ski in, ski out with 119 light, airy apartments, sleeping four to eight people, and all with balconies and terraces. The residence also boasts a Deep Nature relaxation area (treatment rooms, sauna, steam room and relaxation room) and indoor heated swimming pool. See www.pierreetvacances.com.
Ski lessons with ESF Flaine start from €146 for five days (group adult lessons). Private tuition starts from €45 for an hour. See www.esf-flaine.fr.
For more info about Flaine visit www.flaine.com.