www.mountainhardwear.com | £95
Wherever possible I prefer down as my insulator. There's nothing wrong with synthetics, I just like the natural warmth of feathers – they've worked for centuries and will continue to do so. Mountain Hardwear's Nitrous Vest makes the choice even easier as it's a down jacket that has some of the benefits normally associated with synthetic insulation. The down is treated so it performs better in wet conditions and the jacket is quite thin, whereas down products are usually fairly bulky. This doesn't mean warmth has been compromised – the down is a fill power of 800 which is a warm, high rating. And it's still light, weighing just 280g in a men's XL.
The Nitrous Vest's outer shell is made from 30D ripstop nylon which will withstand snags from brambles and twigs. It has horizontal baffles to keep the down in its chambers. The lining is nylon, which might lead to a certain amount of condensation from sweat. Whereas most gilets offer some weather protection through a DWR in the outer shell, the Nitrous Vest has the properties in the down. The fill, which is 90% goose down and 10% feathers, is treated with Mountain Hardwear's water repellent Q.Shield, which will stop moisture from clogging up the down, so it will retain its loft and warmth even when the gilet gets wet.
The main zip is YKK and anti-snag, and it has a weather baffle behind it to reduce the chance of cold air getting through. At the top of the zip there is a shroud so it doesn't dig into the neck. The collar is high but not restrictive; it doesn't have an absorbent backing so it may get a little moist when it's in direct contact with the skin.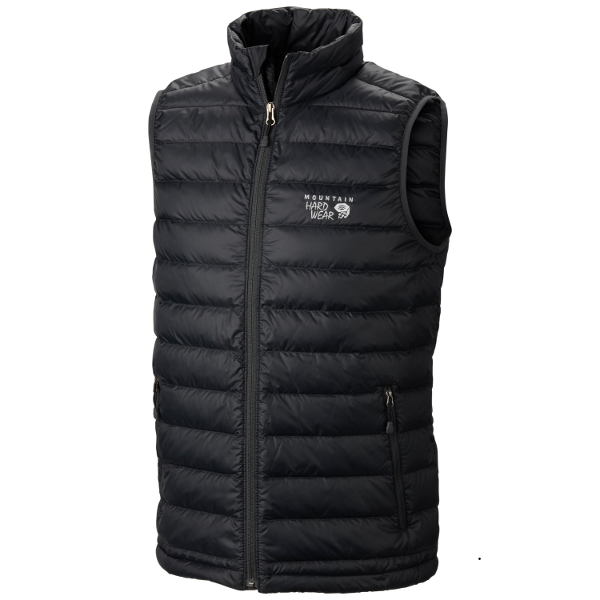 The vest's fit is not overly snug, which is good if you want to put extra layers underneath it but less good if you plan to wear it as a mid-layer, and the hem has glove-friendly adjusters each side to keep the warmth in and the cold out. The armholes have elasticated edging which will do the same thing. There are two large outer pockets with zips, although they're quite low down so might be obstructed by a rucksack's waist belt. The right pocket doubles as a stuff sack with a reversible zip.
Mountain Hardwear Nitrous Vest Verdict
Water repellent down that works away from the duck.