AT's Maxwell Roche is learning to photograph aurora borealis in northern Sweden, and he gets a little bit carried away…
It's 4am in Brändön, on the banks of the Bothnian Gulf in Swedish Lapland. Following an illuminating photography lesson with premier aurora snapper Tomas Jönsson, I sit expectant by the seashore. My camera, primed with all the appropriate settings, is perched purposefully on a tripod, pointed north.
I yawn impatiently, wondering if it might soon be time to give up, time for bed. I begin to gather my things when the sub arctic sky comes alive and flares with a pulsating streak of kryptonite green. Whoa! The beauty of the spectacle, and my excitement, get the better of me and I decide to strip naked, set the timer, and strike a pose.
Fifteen seconds later I skip back to the camera across freezing rocks and peer eagerly at the screen. I've cracked it (almost literally). My naked behind is perfectly lit and glows before a swirling sky of green and purple. Take that bucket list!
If, like me, you've always dreamed of chasing the evanescent wonders of the Arctic sky, and stealing away a photograph, now's a good time. For the next four weeks, until the mid/end of November, the sky in Luleå (the sunniest city in Sweden) will not only be reliably clear but also sufficiently dark to do so. The waters of Bothnia Bay will remain unfrozen and therefore reflective, the birch forests on its shores will burn gold with autumn leaves and the ambient temperature will remain bearably above zero.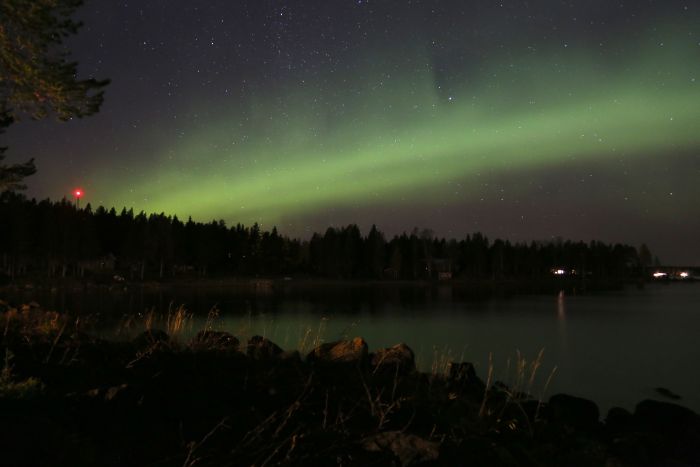 I travelled with Artisan Travel (www.artisantravel.co.uk), and as well as aurora photography, the team at Brändön Lodge in Luleå introduced me to many other delights of Lappish life. We heard stories of the wild from indigenous reindeer-herding Sami people; wandered through fields of stone sculpted by the last Ice Age; foraged for wild berries and mushrooms in nearby pine forest and hunted game and fish far out on the archipelago. The stories of the day can then be recounted over an open fire and the spoils served up to accompany a freshly roasted moose or reindeer steak.
So if you want to see the Northern Lights, learn from masters how to best to capture them on camera, and immerse yourself in the unique Scandinavian wilderness, history and culture, go now while the opportunity burns this bright.