www.thermarest.com | £190
I'm pretty sure that like me most of you have converted to the inflatable roll mat option when camping. Mainly because they fold down small, are fairly comfortable and lightweight and they have some thermal qualities which is a bonus, whereas the old style camp bed was cumbersome and had no heat retention whatsoever so has long been consigned to the attic or shed.
My interest in off the ground slumbers was rekindled when I saw the Thermarest LuxuryLite Ultralite cot which is really light but strong and the pack size rivals many roll mats on the market. When I say light it weighs just 1.2kg (2lb 12oz in old money) and strong in that it has a weight capacity of 158.8kg (24stone).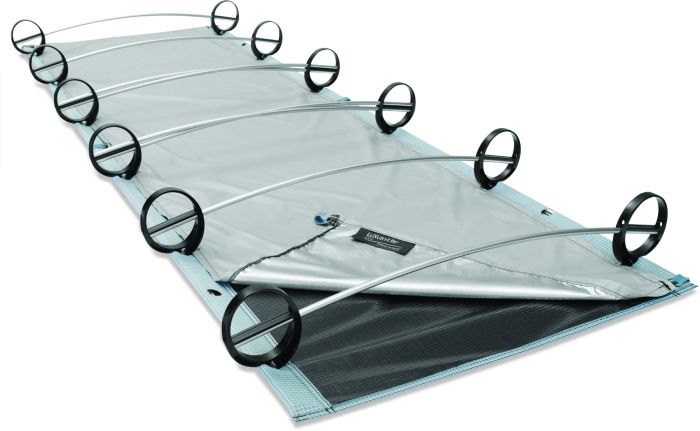 The cross frame struts are mounted into durable nylon feet in such a way that they are bowed to create the tension which gives the bed its strength. First impressions were that it shouldn't stand up to such a weight capacity but believe me it does. The laminated nylon fabric is stretch free so retains its shape night after night. It also has a small amount of thermal retention which reflects body heat back up into the user. However on winter nights I found that there was a cold spot in the middle of the bed when the ambient temperatures dropped to around freezing. This was remedied by using either a thin insulating mat or placing clothing between the bed and my sleeping bag.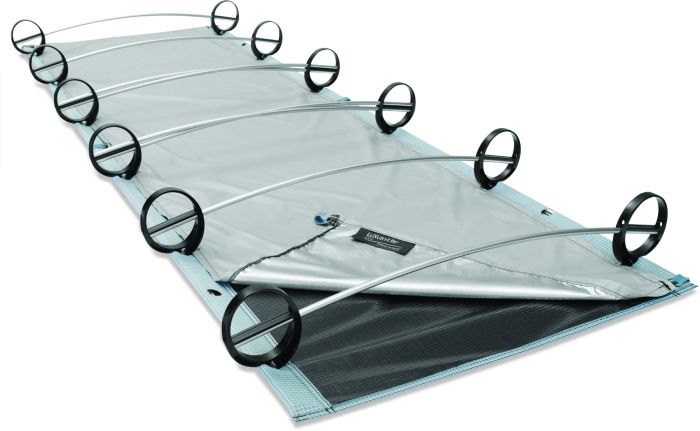 Putting the bed together takes a matter of a few minutes and the comfort is spot on and I enjoyed a better night's sleep than I have had on inflatables but I was disappointed by the cold spot. Thermarest have now produced a Cot Warmer which is a detachable sheet made from ThermaCapture which clips to the underside of the cot. This should help insulate the base from the cold beneath by capturing body heat and retaining it, although, it's not available until early 2014, and has an additional cost of £40. In fairness the Cot is described as a one season item and the additional warmer will increase it for three season use so it may be a case of having to carry an extra mat if it's going to be used in colder conditions.
Thermarest LuxuryLite Ultralite Cot Verdict
I will concede that at £190 it is a bit costly, but for traveling light and having a comfortable and strong off ground perch to snooze on it could be a price worth paying.