www.patagonia.com | £170
Patagonia's Insulated Snowbelle Pants are designed for both skiers and boarders. So again they're quite trendy – this time a bit more baggy, which I also like, and the lining's a different colour to the outer of the trousers, which looks good.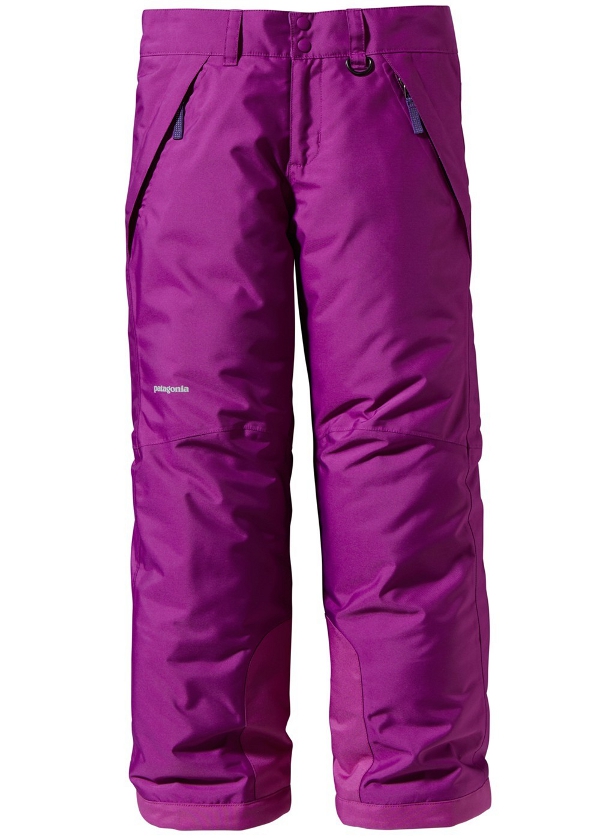 The first thing you notice about the material is that it's nice to touch – even the outer layer. This is Patagonia's H2No fabric, which is waterproof, breathable and durable – and, like with TNF pants, there are inner thigh ventilation zips for when you still get too hot. These have two-way zips (unlike TNF's) which is even more of a bonus. And as the name suggests, these trousers have an extra layer to keep them warm, which is why they cost a bit more: it's the company's Thermogreen insulation, which stays warm even when it's wet. Yet even with the extra layer, the Snowbelle Pants don't feel too bulky.
Another top-scoring feature of these is the high back – the highest of any non-salopette in this review – to keep snow out after a fall. I also like that they don't bother with back pockets; I never use them while out on the slopes. Pocket-wise there are just three: two main, fleece-lined zipped ones, with storm flaps, and a double Velcroed cargo pocket on the right.
There's again an elasticated snow gaiter, and I like how strongly reinforced the ankles are. I don't like that the waist adjuster is on the inside – it just causes more hassle. But all in all this is another good-looking, hard-wearing ski and board pant.
Patagonia Insulated Snowbelle Pants Verdict
Good looking, hard-wearing, comfortable snow pants for when it's seriously cold.
Features: 5
Durability: 5
Value for money: 4
Overall: 4