Most Recent Issue
Wired For Adventure Current Issue – Buy one, get one free
£6.99
"Never before have I been so impressed by a magazine. The elegance of the design, the quality of the paper, the beauty of the photography, the class of the editorial… Reading WFA is an experience in itself."
– Jessie Mylott, WFA subscriber
With the latest issue of Wired For Adventure, you can explore the world without the restrictions of lockdowns.
Our mission at WFA is to inspire you to live a life less boring. To give you the fuel you need to ignite that fire inside you and live your own adventure. There's a great big world out there, it's time to explore it.
Save money with an annual subscription: A single issue of Wired For Adventure is £6.99, but if you subscribe you'll get six copies for a special launch price of £29.99. That's a saving of 40% across the year. Click here to subscribe.
Postage costs:
UK – Free
EU – £4.90
Rest of the World – £7.50
Description
See what it's all about
Wired For Adventure magazine is created every two months with the sole intention of inspiring you to get outside and live your own adventure. While that might be a bit tricky at the moment with various lockdowns, it's the perfect way to see the world through the eyes of others.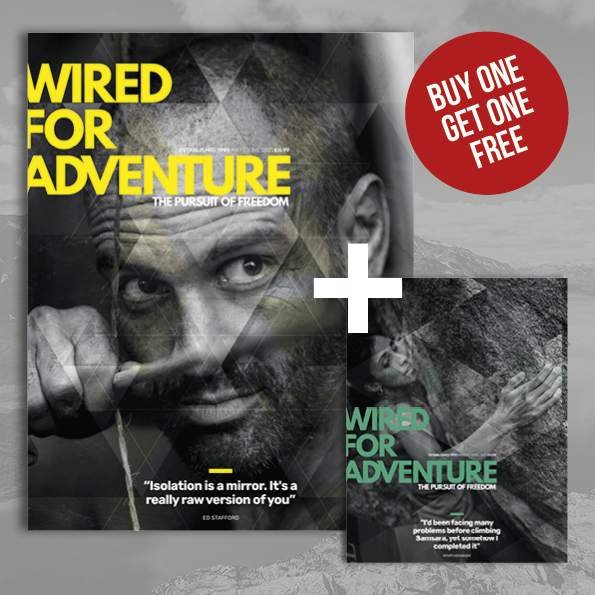 _
What is Wired For Adventure magazine?
Life doesn't happen indoors. The big stuff, the fun stuff, the dream-shaping stuff, the stuff that fulfils, excites, and intrigues, that stuff happens out there. In the wild. In the open. In the outdoors.
But life gets in the way. We know that. So while you're dreaming up plans for your next big adventure, let us feed your inspiration so you can start making life exceptional…
Wired For Adventure is packed with explorer interviews, destination guides, travel stories, gear reviews, expert tips, and some of the most outstanding outdoor photography, to inspire your ambitions and stir your soul.
Get your copy today with FREE UK shipping.
Postage elsewhere is:
EU: £4.90
Rest of World: £7.50