www.regatta.com | £20
This pack is nothing like the more technical packs we have reviewed on this website, nor does it make any attempts to be like them: it's simply a small, entry-level pack that is ideal for short hikes in fair weather where you wouldn't need anything but an extra layer and a few snacks. And as we'd expect from Regatta, it's good value for your hard-earned cash.
The Axten is a 20 litre daysack that, although small, has enough room for light waterproofs or similar. The fabric is durable 600-denier polyester that will withstand quite a bit of wear and tear. It has a DWR finish that will fend off a light shower but there's no rain cover – as I said, a bag for fair weather days out.
The back has mesh cushioning that will help wick away sweat. There's no rigid back panel or frame, but a pack of this size and nature doesn't need it – it's still quite comfortable. The shoulder straps are wide with firm padding and there's a small waist strap that will add stability but won't support the weight from the hips like a more technical pack. There's also an adjustable chest strap for more support.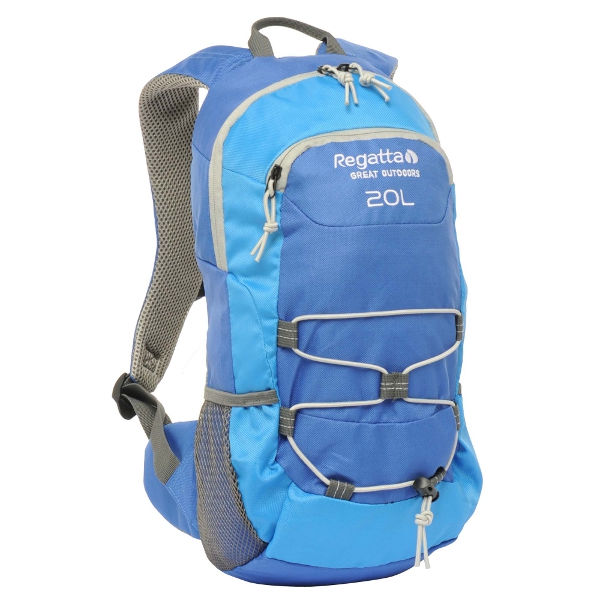 The Axten has minimal features. The main compartment is accessed via a half-moon zip at the top, and inside there is a small pocket that would hold a mobile phone. Externally there's another zip-up pocket that is useful for keys and a wallet perhaps. Then there are two side wand pockets for water bottles and an elasticated cargo net on the front that is handy for stashing an extra layer.
I don't imagine many AT readers will go for a pack so small, but there is a market for this type of bag, even if it's for a child who is keen to embrace the outdoors too. It's a good, compact and comfy piece of kit for light, summertime hiking.
Regatta Axten 20 Litre Daypack Verdict
An entry-level pack for light hikes.