Sardinia is a large Mediterranean island located off the western coast of Italy which is home to spectacular scenery and truly unspoiled landscape. The mild weather enables you to enjoy idyllic temperatures throughout the year, along with the fresh coastal breeze, which makes it the perfect destination for outdoor enthusiasts. The island is also sparsely populated and has relatively quiet roads which makes it haven for cyclists.
So, with those who enjoy a spot of cycling in mind, we've taken a look at five reasons why Sardinia should be your next cycling holiday destination.
1. Sardinia has glorious weather

Sardinia's gentle Mediterranean climate allows for comfortable cycling throughout the year. Typically, the most popular times to visit are in the spring and autumn months, this is because it's very mild at this time of year, so you can explore without feeling too hot. Springtime is simply gorgeous, wild flowers bloom across over the landscape, such as vivid orchids, and the skies are clear and bright. In the autumn, the leaves change from luscious greens to burnt oranges and reds, and again, the weather is pleasant and mild.
2. Cycling in Sardinia has a unique beauty

The superb coastal terrain makes cycling in Sardinia truly unique, it's easy to see why so many cyclists flock to the island every year. The coastal roads twist and snake around the island displaying breath-taking views around every corner, and small coastal tracks allow you to discover gorgeous hidden coves and beaches. These hidden gems are perfect for exploring, taking a quick dip or enjoying a picnic.
3. Sardinia is fantastic for mountain biking

Inland, the exhilarating mountain trails are perfect for those who love to crank the pace up a gear. Challenging climbs are rewarded by sublime views that stretch out over the island, out to the sparkling waters of the Mediterranean sea, and the rugged routes back down to sea-level will certainly have the adrenaline pumping through your veins.
4. Sardinia is home to rich culture and celebrations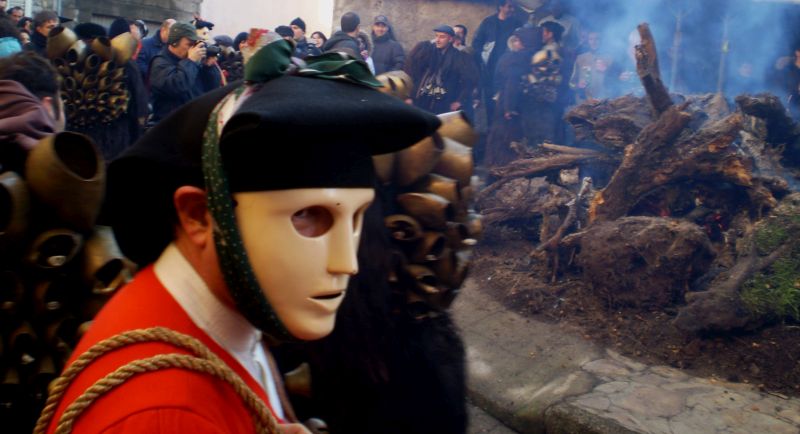 Photo: Wikimedia
Sardinia has many traditional celebrations and festivals that take place throughout the year, these are a great opportunity to let your hair down after a day of cycle touring and sample the colourful culture. In January, the Festa di Sant'Antonio Abate carnival in Mamoiada, sees magnificent bonfires light the skies for two nights along with pagan parades. From September through to December, 27 of Sardinia's mountain villages take it in turns to host exciting weekend events where residents open their doors to celebrate great feasts of local produce.
5. The food is out of this world

Yep, the food in Sardinia is incredible and there's nothing better than a good hearty meal after a long say in the saddle. There are many fantastic restaurants to try during your stay on the island, and the locals are always happy to help you find your way or recommend somewhere nice to eat. One of Sardinia's famous meat dishes is its roast pork. It's a local delicacy which is very slowly cooked on a spit over hot coals, which makes the meat incredibly tender and mouth-wateringly juicy.
If you would like to experience all that Sardinia has to offer by two-wheels, then a Sardinian cycling tour is for you. Dolcevita Bike Tours offer some of the most spectacular routes that the region has to offer and their expert tour leaders will take you to areas of the island that offer the best scenery, landscapes and views. 
For more information or to browse the company's incredible range of Sardinian cycling tours visit www.dolcevitabiketours.com.