In 2013, adventurer Sean Conway became the first person to swim the length of Britain – an expedition that took four and a half months and saw him drink 20 litres of seawater. Rosie Fuller finds out more…
Sean Conway, 32, is an adventurer whose previous expeditions include cycling around the world in 116 days, most of it with a fractured spine having been run over by a truck in America. Still, he says becoming the first person to swim from Land's End to John O' Groats was far harder. Sean, who grew up in Zimbabwe but now lives in Cheltenham, was raising money for War Child, a charity providing support for children whose lives have been affected by conflict. The swim was 900 miles and took him four and a half months… we find out more.
[EDIT: This interview first appeared in Adventure Travel Issue 109. Since then, Sean Conway has ran the length of Britain, sailed the length of Britain and completed a 4,200-mile triathlon around Britain.]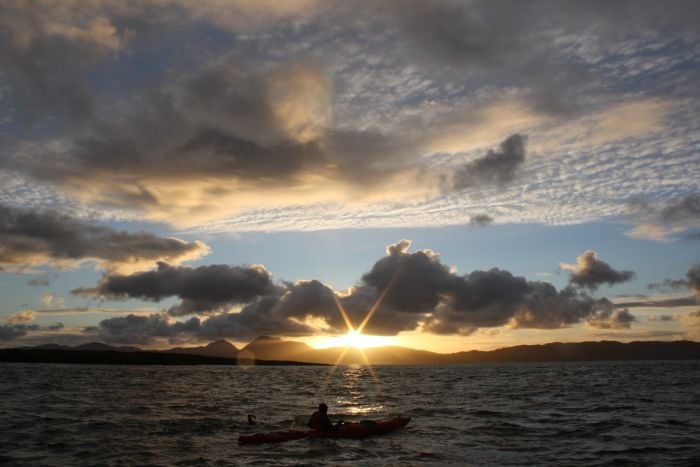 Photo: Owain Wyn-Jones
Why did you decide to swim the length of Britain?
Because I was told it couldn't be done and that I would die trying. I'm quite stubborn so I thought I'd prove people wrong. They were nearly right a few times!
Who said it couldn't be done?
Loads of people. Throughout the swim even; harbour masters tried to stop me swimming through certain stretches. Plus forums online when I was asking for advice at the beginning about tides and currents, and a lot of companies I approached wouldn't sponsor it because they thought it was too risky. Speedo were the ones that saw the vision and potential in the project.
Is it true you hadn't done much swimming beforehand?
That is true. I mean, I can swim, it wasn't like I was a novice. I swam and competed at school, but I didn't swim pretty much through all of my 20s – I was never a member of a gym or a pool. And then I didn't have time to train. There were too many logistics like trying to find a boat and a crew, a route, food and mapping, navigation, tides and currents. I live in Cheltenham so I couldn't get any sea sessions in, just a couple of hours in the pool each day to try and work on my style and a few gym sessions to strengthen my shoulders. In hindsight I should have done a lot more as I struggled at the beginning.
…and didn't your crew get seasick?
We all got seasick on day one or two except for Jez the skipper. It was quite a sight – we were all throwing up in various parts of the boat all on the same day which was fun.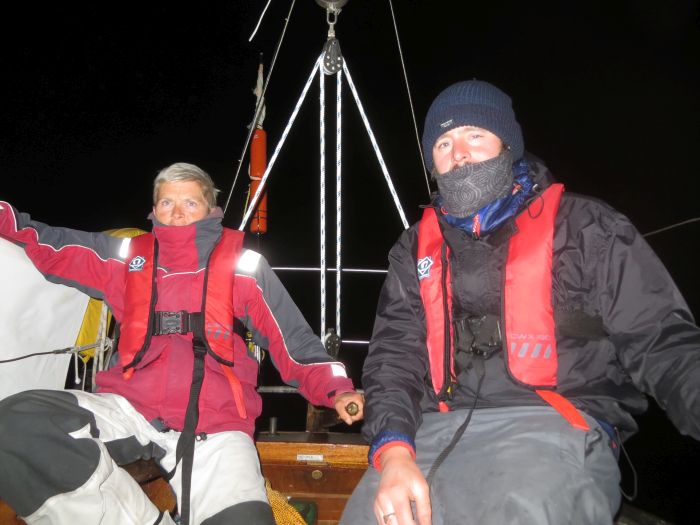 Photo: Owain Wyn-Jones
How many people were in your support crew?
Three crew and me so four of us altogether.
How did you cope living together on a small boat for so long?
It was very cosy but we just got on with it. As the old saying goes 'we're all on the same boat,' and I now know where that comes from. You just deal with it – we knew it was going to be a confined space so we gave each other the space that we needed. We all managed to have our own time, either when we were ashore or on deck in the sun in good weather. The hard part was when the weather closed in and we all had to be inside the boat.
How many miles a day did you swim?
At the beginning, because I was getting two tidal sessions in a day, I was doing 12 to 15 miles. By the end, when the Scottish weather closed in, we couldn't do any night sessions so I was only doing about eight miles a day.
So you were swimming through the night?
Of course. The tide shifts about an hour each day until eventually you're getting up at two in the morning. It had to be done otherwise I wouldn't have finished. I knew I only had four months to do the swim and actually it took me four and a half. I got lucky at the end with a few good weather days as the weather was closing in.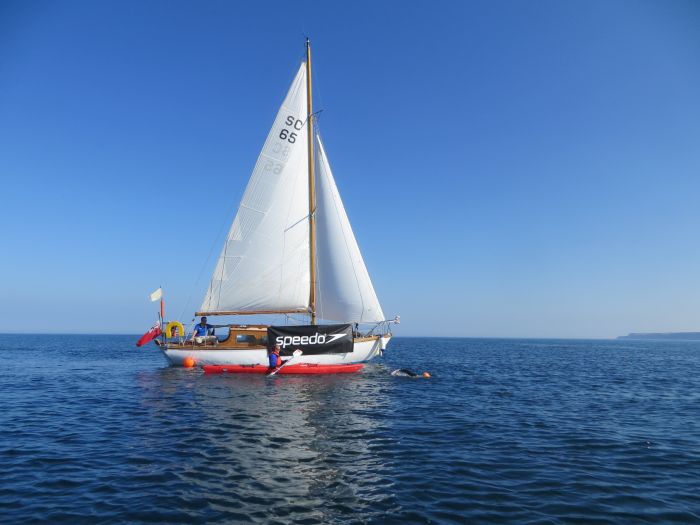 Photo: Owain Wyn-Jones
Did you ever have to stop because of the weather?
The last seven days took three weeks! There's nothing you can do. If the weather had stayed bad I'd have had to make another plan – luckily I didn't have to think about it too seriously, but I'm not sure what I would have done if I'd seen two weeks of bad weather for example.
How close to shore were you?
It varied. We cut across bays and lochs to make it a shorter distance, but on average a mile or so. But a mile is still quite close and you can see the land. I breathed to my right all the time because that's where the land was – I trained breathing both sides, but all the waves were coming in from my left.
How much salt water do you think you drank?
About 20 litres so not a major amount, but towards the end even a teaspoon of saltwater would make me throw up.
Were there any points when you thought you were going to drown?
Drown no. My wetsuits were amazing and quite buoyant, so I never thought I'd drown, but there were times when I thought I wouldn't be able to get back to the boat or to land as the current was taking me in a different direction, which was scary. Although I'm probably so naïve that there were dangerous moments, I just had no idea!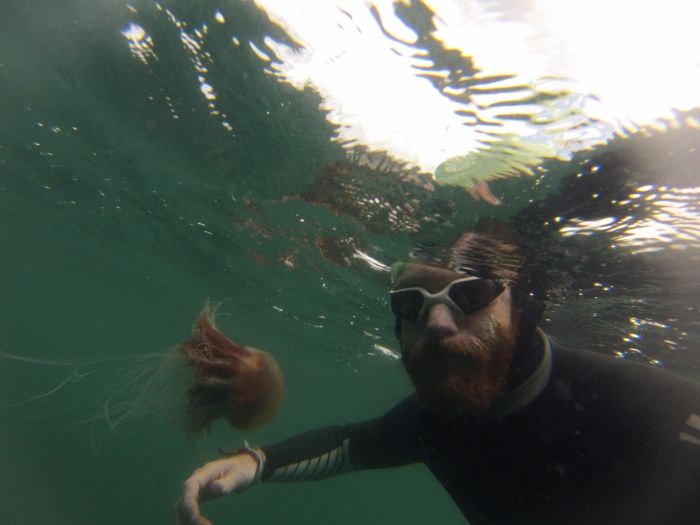 Photo: Owain Wyn-Jones
How cold was it in the water?
In the beginning it was 15 or 16 degrees at times; it dropped down to 11 or 12 near the end so quite cold.
What was the toughest bit of the whole trip?
There were two bits. One was around the north of Dublin, where the tide swirls around in any direction. It was really cold and I'd lost loads of weight so I struggled there. And then the north coast of Scotland right at the end was hard because the waves were so big and nothing was going in our favour.
How much did you have to eat to keep going?
I needed to eat 6,000 – 7,000 calories a day to keep weight on and I did that by adding loads of butter, olive oil, pasta, sweet potato and rice into my meals. I went below 10 stone at one point but I put it on again quite quickly once I started blending all my meals and drinking my food rather than eating it, as it was quicker to get into my system.
What are you eating now you're back on dry land?
Rare steak, salad and cherry tomatoes – I don't know why but that's what I craved.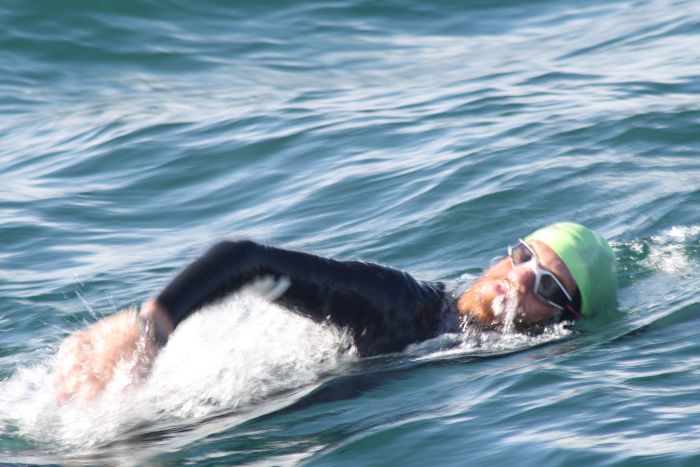 Photo: Owain Wyn-Jones
Tell us a highlight of the whole trip?
Swimming with phosphorescence in the Irish Sea was incredible. And swimming with seals and dolphins is also quite special, although they can scare you sometimes. Just exploring the British coastline was amazing. Scotland felt like Jurassic Park because you wouldn't see anyone for ages, and Cornwall was beautiful because it's so busy normally on land, but at sea you just felt like you were on your own and there were all these hidden little beaches and coves that you could only get to by the sea. It was pretty special.
Before this you cycled round the world – how do the two expeditions compare?
The swim was a lot harder – it will be the hardest thing I ever do I think. It's just logistically difficult. So much of it is out of your control: the tide, weather, waves, wind. No matter what the weather's like on a cycle you can generally make progress, whereas there are so many factors that have nothing to do with how good a swimmer you are that can make a swim fail. Also with cycling you see more and it keeps your mind busier because you're exploring, whereas with swimming you're looking in murky water half the time.
Do you think you'll ever do another big swim?
I think I will, but somewhere warm and for fun, not trying break records.
Intro photo: Owain Wyn-Jones