Thomas Stevens was born in 1854 and went on to live a life full of pioneering adventures. Among his extensive list of escapades is the remarkable feat of circumnavigating the world on a penny farthing. Here, as part of our History's Heroes series, Roger Bunyan has his story.
Who was Thomas Stevens?
Thomas Stevens was a prolific adventurer, best known for being the first person to travel around the world on a penny-farthing.
Early life
Thomas was born in 1854 in Berkhamsted near London. A restless character with a hunger for adventure, he left his parents at 17 and went to America. He tried a variety of jobs in the American West, and in San Francisco learnt to ride a bicycle, which gave him an idea…
Around the world on a penny-farthing
In 1884, aged 29, Thomas left San Francisco on his penny-farthing. In his handlebar bag he had a few clothes, a raincoat and a pocket revolver. He headed towards the Sierra Nevada Mountains and the Nevada desert where, due to the challenging terrain, he was often forced to push his 'high wheeler,' and took to wearing a military hard hat to protect his head on the numerous occasions he fell off.
He also had close encounters with wild animals including a mountain lion and a rattlesnake. Whenever he passed through towns he was greeted with intrigue, and was continually asked to demonstrate his cycling skills. After travelling 3,700 miles using wagon trails, railway tracks and roads, he reached Boston on the east coast.
Thomas spent that winter in New York, writing about his journey for a magazine called Outing. In spring the magazine made him a special correspondent and sponsored him for the rest of his ride. He travelled to Liverpool by steamer and began the European leg with several hundred people cheering him off. He cycled though France, Germany and a host of other countries that led him to Constantinople.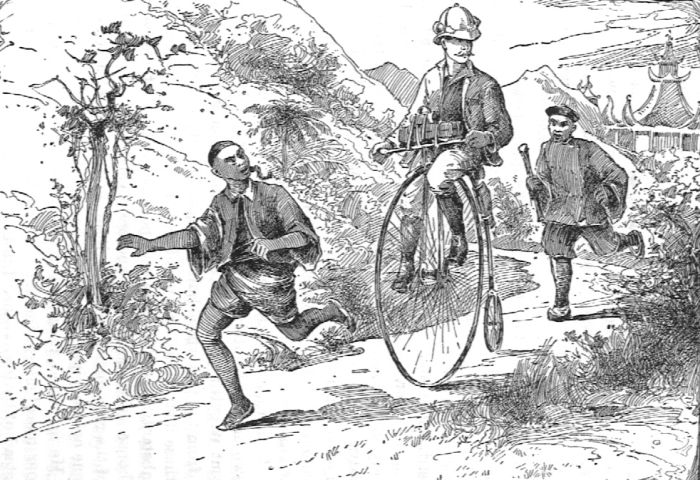 In Turkey, Thomas thwarted an attempted robbery by producing his gun. He rode to Iran and spent the winter in Tehran as a guest of the Shah. The following spring he began cycling through Afghanistan but was eventually expelled because he didn't have the required travel documents. After returning to Constantinople he boarded a ship for India.
Crossing the sub-continent, Thomas cycled on the surprisingly well-surfaced Grand Trunk Road to Delhi and then on to Calcutta. Even though the heat was at times unbearable, he enjoyed his ride through India. Another ship took him to Hong Kong where he began the most testing part of his journey by crossing China.
He had difficulty finding his way in a country where, at the time, foreigners were treated with great suspicion. On a number of occasions he had to brandish his gun and once narrowly missed being stoned to death by rioters.
From Shanghai he sailed to Japan and enjoyed both the friendliness of the people and their good roads. Finally, a steamer took Thomas from Yokohama back to San Francisco in January 1887, thereby completing the first ever circumnavigation of the world by cycle.
Further adventures
Thomas published an account of his trip, began lecture tours around America and became a celebrity. But it wasn't long before he began to miss his travelling lifestyle. So when the New York World offered him a job as a reporter to search for the missing African explorer Henry Morton Stanley, Thomas jumped at the opportunity.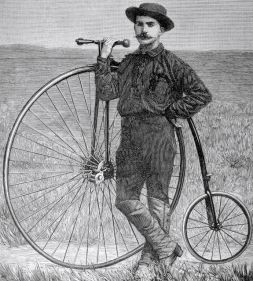 For six months he led an expedition searching for news of Stanley throughout East Africa, journeying close to Kilimanjaro, meeting with the Maasai and hunting for big game. Eventually, Thomas did meet up with Stanley who had learned of his search for him.
After writing another book about his encounters in Africa, the same magazine asked Thomas to travel across Russia to investigate its people. To carry out the task, he bought a horse from a travelling show and covered 1,000 miles on horseback. After writing another account of this trip, Thomas was in need for more adventure so he bought a boat and explored many of Eastern Europe's rivers. For his final escapade he went to India to investigate mysticism in that great land.
Later life
In 1895, aged 41, Thomas moved back to Britain and married Frances Vanbrugh, who was from an acting background. He eventually became the manager of the Garrick Theatre in London. He died in 1935 at the age of 80.
An extraordinary traveller
Thomas Stevens was a fearless, creative and resourceful adventurer. He travelled to unique locations using different methods of transport, and his descriptive accounts of his travels provide a vivid picture of life in those places at that time.
Find out more about Thomas Stevens
For a detailed account of Thomas Stevens' penny-farthing adventure, download the free audio books Around the World on a Bicycle (Volumes 1 and 2) from www.librivox.org. The story of his cycling journey is also being converted to blog form at www.strudel.org.uk.