Award-winning outdoor photographer Matthew Cattell explains how you can still get good photos and the perfect shot on those all-too-common cloudy days…
The 'Holy Grail' for many photographers is to capture stunning landscapes bathed in warm light. However, all-too-often in the UK you've researched your location, checked the weather forecast and trudged into the wilderness expectant of beautiful light only to be given dull, grey skies. This doesn't mean the photographer should pack up and head home.
Whereas direct sunlight helps to bring out the details and texture of a scene, grey skies result in flat conditions and the photographer has to work a little harder to bring a sense of depth to their images, and get good photos as a result. Composition becomes important and the use of lead in lines and other compositional aids will help to add depth to your photographs.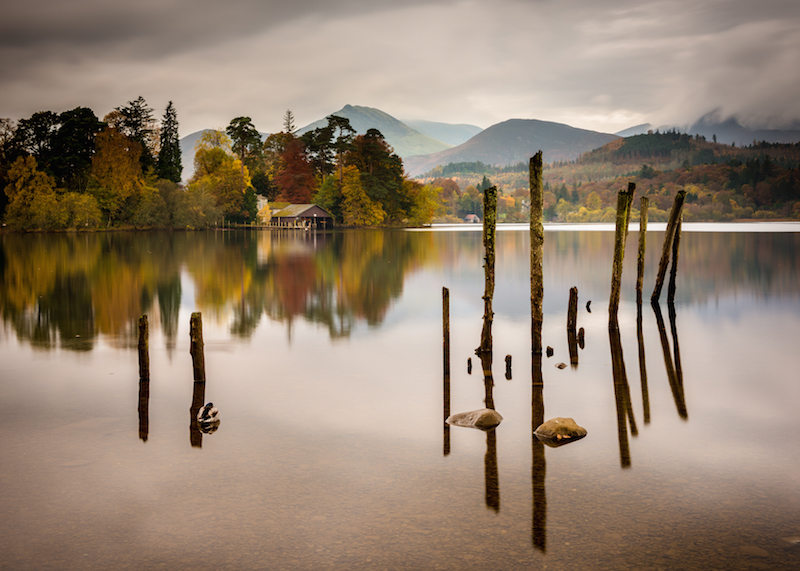 Photo: Matthew Cattell
It is often the case that there are variations in the density and lightness of clouds which can be interesting and are worth including in your frame. A good example of this is just before a storm, when clouds darken and become more brooding. However, if you are unfortunate enough that the clouds above are uniform and bland, try to exclude some or all of the sky from the frame and concentrate on the features of the landscape, in order to get good photos.
Exposing for an overcast scene is fairly straightforward as there are no deep shadows or bright highlights to deal with. Remember however, that the sky will still be several stops brighter than the surrounding foreground, so the use of graduated ND (neutral-density) filters is still recommended to retain detail in both the sky and the foreground.
The overall scene will also be darker than on a bright, sunny day so the use of a tripod and a shutter release is required. Alternatively, increase your camera's ISO and allow the grain to enhance the mood of your photographs.
The light will also be cooler in colour temperature, and without the warming effects of 'golden hour' light, the colours of a scene will often appear muted and less saturated. Depending on subject matter, this can work strongly in the photographer's favour.
Look for landscapes that work well on overcast days. Grey skies can bring out the golden colour of autumn leaves and the lack of direct light makes working in woodland settings far simpler. The purples and browns of heather on upland moorland also work well.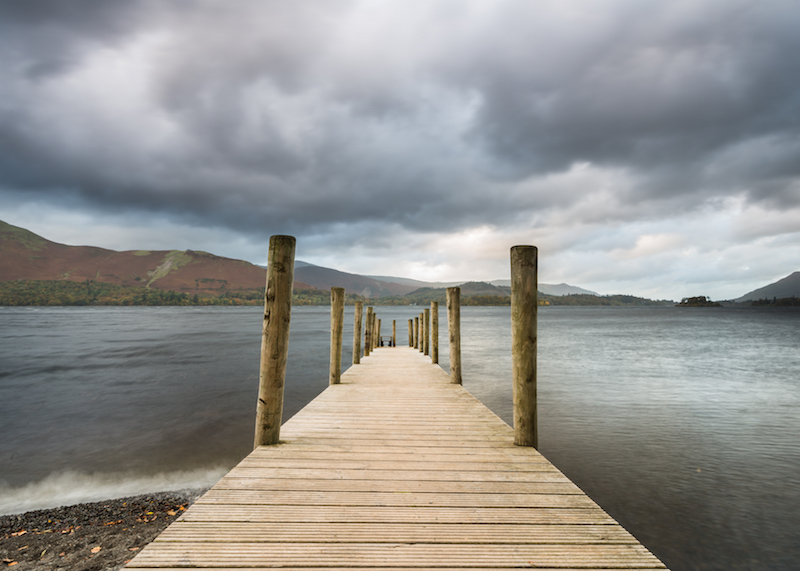 Photo: Matthew Cattell
In a scene where the colours are already muted, consider converting it to monochrome or full black and white in post-processing. There are many other good tutorials available to help you maximise the impact of black and white photography, but I think it helps to look at a scene in terms of shapes and textures in order to create a strong, graphical photograph.
Grey skies also work well when combined with other weather conditions. Strong wind can add drama and energy to seascapes and bring movement to the clouds above. An approach I regularly use is to introduce an extreme ND filter such as a Lee Filters Big Stopper.
This has the effect of lengthening the exposure to several minutes and allows the photographer to record the impact of the passage of time on a scene. Clouds are rendered as streak and this can be particularly effective when they are being driven either away or towards you. Fog, mist or rain can add depth to your images by increasingly obscuring the layers of the scene as they recede.
Wait the weather out and you can sometimes be rewarded. There is always a chance that right at the end of the day, the sun will drop out of a layer of cloud and offer that last bit of colour. Broken, fragmented clouds can allow crepuscular rays to stream light down onto the scene before you.
What equipment you'll need for good photos on a cloudy day
Anything from wide angle for capturing the bigger picture, to mid-length telephoto lens (200mm) to focus on specific aspects of a wider scene.
A sturdy tripod and shutter release is helpful, and essential when using filters.
A rain cover or plastic bag in case the weather turns (some of the best conditions for photography occur either just before or after a downpour).
A polarising filter is useful for removing reflections from the surface of water, materials or to reduce the glossiness of leaves in order to emphasis their colour.
Use ND graduated filters to balance the sky and foregrounds of your images and retain detail in interesting skies. Using an extreme ND filter such as a Lee Filter Big (10x) or Little (6x) Stopper can also emphasise any movement in the frame.
Who's writing?
Matthew Cattell is an outdoor photographer (see his work here) who won the award for Landscape Photographer of the Year in 2017. His winning photo, plus many others, can be seen in Landscape Photographer of the Year: Collection 10 which is available from the AA book shop.