Deep in the formidable mountains of the Indian district of Zanskar lies a trek of epic proportions that you've probably never heard of, but definitely need to know about. The Chadar Trek takes you along a frozen Zanskar River in challenging conditions that see temperatures drop as low as -35C. Here's what you need to know…
Every winter, the Indian district of Zanskar is almost entirely cut off from its parent state of Jammu and Kashmir, effectively leaving its inhabitants stranded. Zanskar is practically surrounded by towering ridges and formidable peaks, with one high mountain pass providing the main line of communication throughout the year. But, as the winter snows arrive, this vital line of contact is severed.
This leaves residents of the Zanskar Valley with only one way in and out: along the frozen Zanskar River. For centuries this seasonal highway, traditionally known as the Chadar, has been used by locals as a vital trade route, and to this day it still is.
Residents often brave the sub-zero temperatures (which are known to reach a lowly -35C) and challenging terrain to reach towns and cities further afield, such as nearby Leh. In recent years however, it has been discovered by the outdoor community, growing more and more popular with people searching for beautiful hiking routes away from the normal trekking scene. And thus the Chadar Trek was born.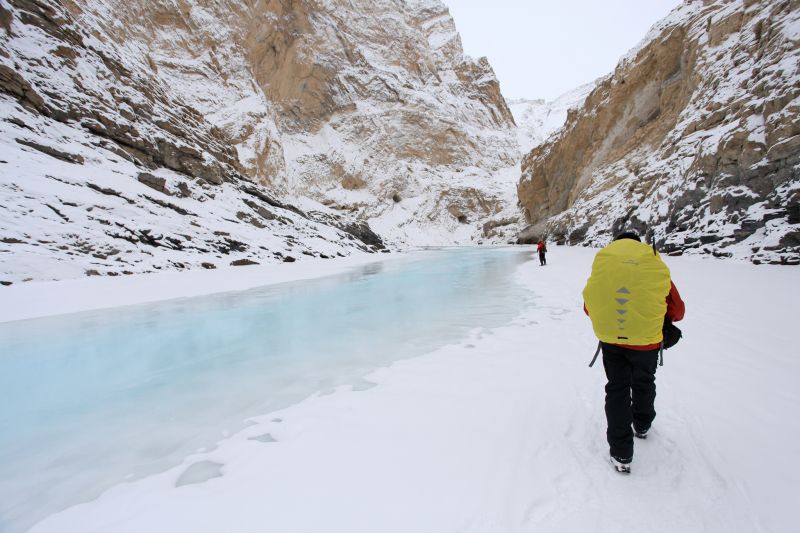 Photo: Partha Chowdhury
The trek is approximately 65 miles long (one way) and it is certainly not one you should rush into. While it may not be the longest, the conditions you travel in and the terrain you cover makes it a serious undertaking. Temperatures are known to drop as far as -35C at night and it is not uncommon for a freezing wind to blow across the valley, so you'll need to be prepared.
The trek can be extremely tough going and, due to the unpredictability of the conditions and the remoteness of the area, it is a genuine adventure.
Typically, if you're taking on the Chadar Trek you will use Leh as a base, from where you will travel by car to Chilling, the route's aptly named trailhead. From here, you trace the river as it flows deeper into the valley. Along the way, you'll pass a handful of towns including Pishu, Pidmo, Stongde and Zangla, giving you an opportunity to explore impressive gompas (a Tibetan monestary or temple) and forts.
These stops also give you the chance to gain an insight into the diverse culture and way of life for those that live in Zanskar. In recent years, the area has also been known to be home to the elusive but magnificent snow leopard, with paw prints being found in the snow at various points along the route.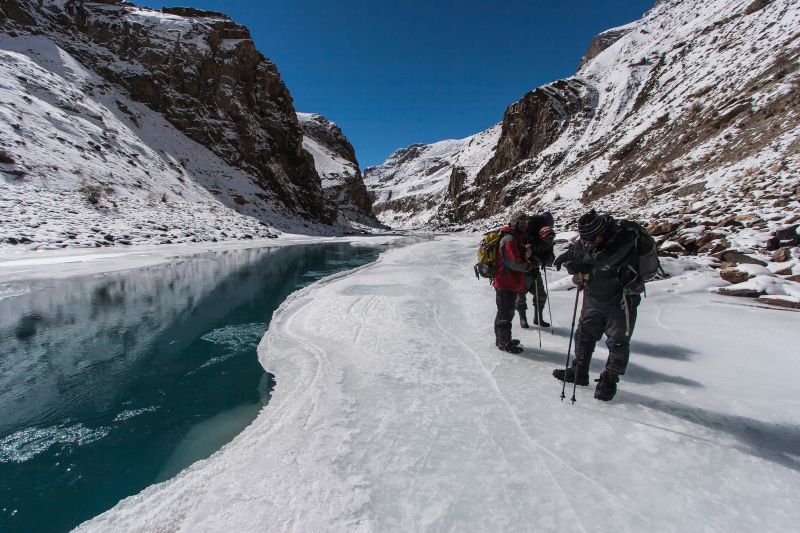 Photo: Christophe Roudet
If the culture, landmarks and wildlife aren't enough to get your heart racing, the scenery certainly will. The Zanskar River is flanked on both sides by near vertical walls reaching up to 600m high. Beyond them you will see the majestic snow-capped peaks of the Ladakh Range, the Greater Himalayas and the Karakoram Range.
Having said that, it's below your feet where the real magic exists, and you are unlikely to have seen anything quite as remarkable as this frozen river stretching far away out of sight. The Chadar Trek may not have the same glitz and glamour as other hikes in the area, but it's certainly one you'll be able to brag about for years once you've returned home.
Useful trail trips
ACCLIMATISATION: The Chadar Trek reaches heights of approximately 3,500m so altitude sickness is a very real possibility. In preparation for the hike, it's worth spending a day or two in Leh in an effort to get used to the altitude, as the town sits at a comparable height.
Beyond that, you may wish to take anti-sickness medicine with you to help deal with any symptoms you may experience. You can also act to limit the effects of altitude by drinking plenty of fluids and consuming energy-rich foods. Before any trek at altitude it's also important to know how to recognise, treat and prevent altitude sickness.
BE PREPARED FOR THE CONDITIONS: It can get cold on the Chadar Trek. Very cold. So preparation is key. If you are booking through a commercial tour operator they should be able to give you a comprehensive list of gear for the trip.
The trick here is to pack lots of technical layers with thick thermals, mid-layers and down jackets proving their worth in the evenings. Multiple layers of socks and gloves will also be a godsend.
PAY ATTENTION TO THE LOCALS: Whether it's your porters, your local guides or just some villagers walking by, watch how they move across the terrain. They cover the ground much more regularly than you do, and if you copy their movements and technique we guarantee it will be a massive help.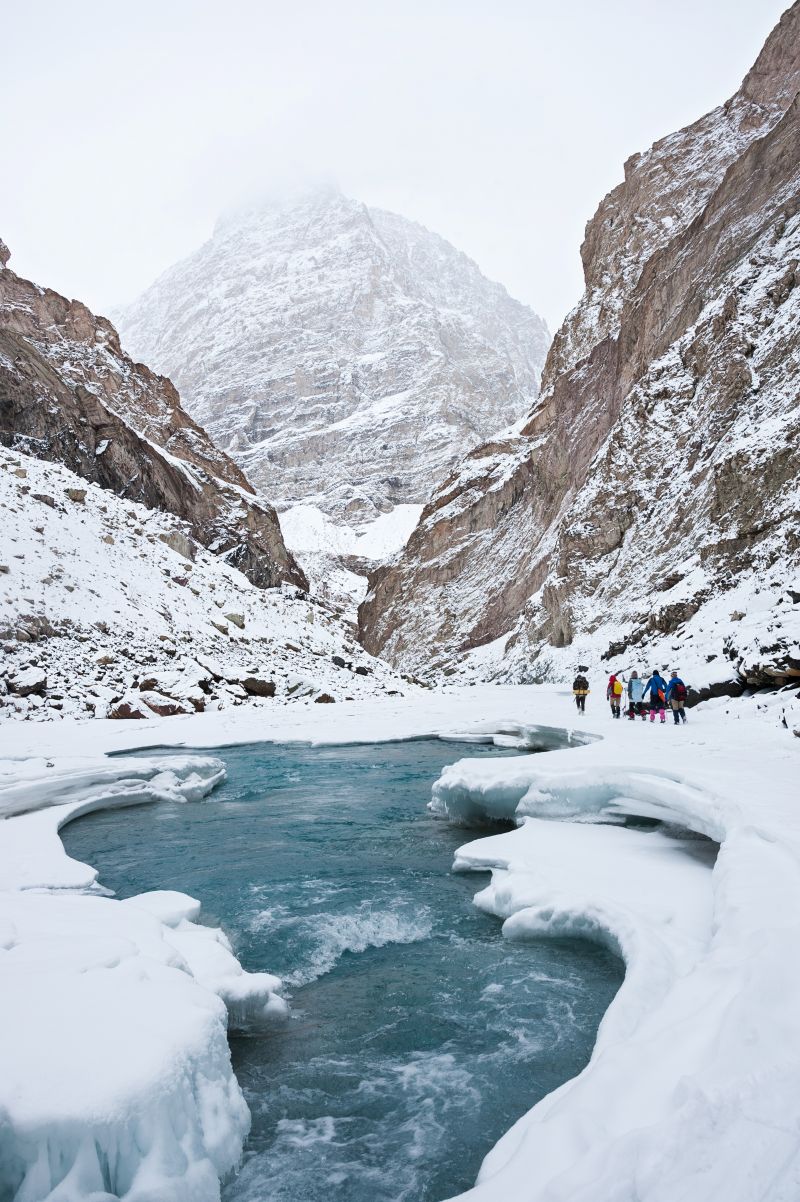 How to hike the Chadar Trek
HOW TO GET THERE: Your best option is to fly to Leh, where you can acclimatise before heading off to start the hike. Air India and Jet Airways both fly to Leh with connecting flights in Delhi.
Travel time varies between individual flights, but you are looking at roughly 17 hours on the way out and 13 hours on the way back. The journey isn't too hard on the bank balance though, with return tickets starting at just over £500.
WHEN TO GO: The Chadar Trek is only possible from January to February when the river is completely frozen. Outside of these times, it's too risky to walk on the ice, and in the summer the river becomes a hotspot for other activities such as rafting.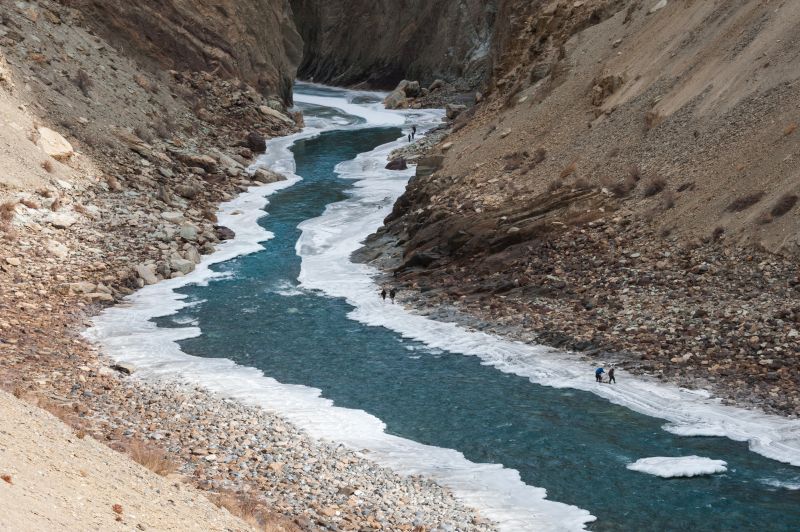 WHAT TO TAKE: The Chadar Trek will put you through some really tough conditions, so you're going to need to take a lot of kit to make sure you get through it.
You'll want to take multiple layers for both top and bottom, including baselayers, softshell trousers, fleece bottoms, mid to heavyweight fleece jacket, waterproofs, a down jacket and insulated trousers for evenings.
You should also consider insulated walking boots, gaiters, multiple pairs of heavyweight wool socks, liner socks, multiple layers of gloves and headwear. This list is not extensive and you should be prepare for temperatures reaching as low as -35C.
HOW TO DO IT: British tour operator The Mountain Company (www.themountaincompany.co.uk) runs a trip along the Chadar every year lasting 24 days and representing one of the only international commercial operations to the area.
Alternatively, there are local operators who will offer the trek, while you could also take on the trek yourself, though we thoroughly recommend you seek out local knowledge or employ a local guide for your own safety.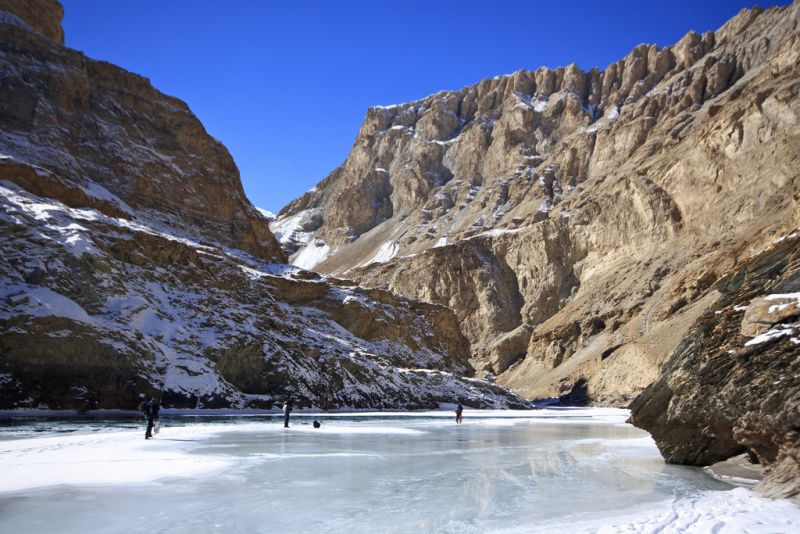 Photo: Gaurav Agrawal
VISAS: To visit India you will need to apply for a visa. British citizens can expect to pay approximately £102 for a traditional visa which allows you to stay in the country for up to 180 days per entrance. There is also now the option to apply for an e-visa online for just £39 (plus a small admin fee) which simplifies the process as well as being cheaper. Find out more at www.indianvisaonline.in.
MAPS: Take a look at Ladakh and Zanskar Centre (1:150,000) by Editions Olizane. Maps of the northern and southern parts of Ladakh and Zanskar are also available.
FIND OUT MORE: For more details about the area, the rest of India, or what you need to consider when visiting, head to www.incredibleindia.org.