www.thenorthface.com | £100
For over 40 years The North Face has been manufacturing outdoor gear that's aimed at all sorts of activities, from high-altitude mountaineering with the Summit Series range, to running equipment, to travel clothing. The Alteo 35 is a technical daysack that, at £100, is a pretty pricey piece of kit, so you'd hope it offers something special.
The Alteo 35 feels large even for a 35-litre rucksack. It's big enough to load up with enough kit for a lightweight multi-day hiking trip and the sophisticated backsystem will help you carry it with a strong, rigid frame and framesheet helping to take the weight. The padding around the shoulders and lumbar area of the back is minimalist, but I still found it to be comfortable.
You get a lid pocket to help you keep organised, attachment loops for axes and trekking poles, a stretchy front pouch which will fit a lightweight waterproof jacket in, and two generous stretch side pockets that will more than easily take a two-litre bottle of water. A really neat addition to this pack is the front access zip. This allows you access to the pack without having to delve through your gear from the top opening.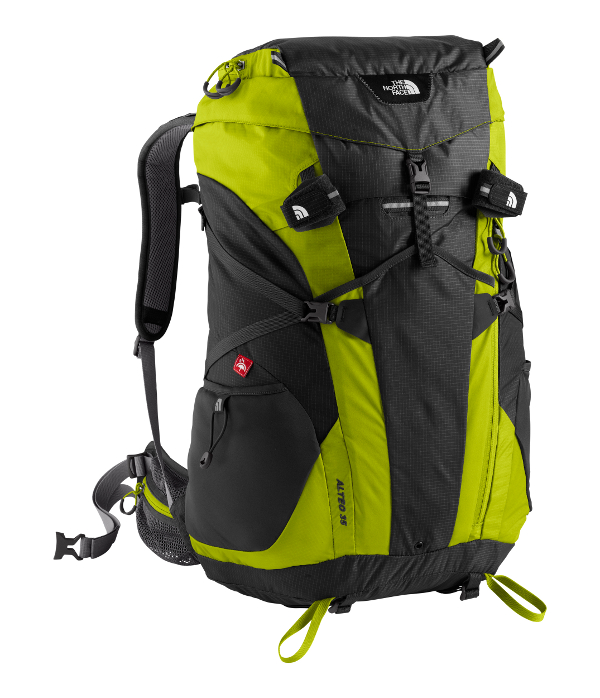 The Alteo has a rain cover that comes separately – it doesn't have it's own dedicated pouch – but this didn't cause me many problems. The rain cover is slightly smaller than I would've liked and was a bit difficult to fit it on a fully loaded pack, although once on it fits snugly and securely.
So, is The North Face Alteo 35 worth the £100? You can get packs that do the same thing for a lower price, however it does what it does well. It's comfortable on day hikes, big enough for minimalist multi-day trips and if you have the money, it's one to consider.
The North Face Alteo 35 Verdict
A large but expensive pack that's comfortable to wear over long distances.