It's important to be properly prepared and kitted up with the right equipment and supplies when you decide to embark on a hike, whether alone, in a group or with your family. Because you will likely find yourself far from civilisation, you'll have very little room for omissions or errors on your travels, which is why packing wisely and taking the right hiking essentials is of utmost importance.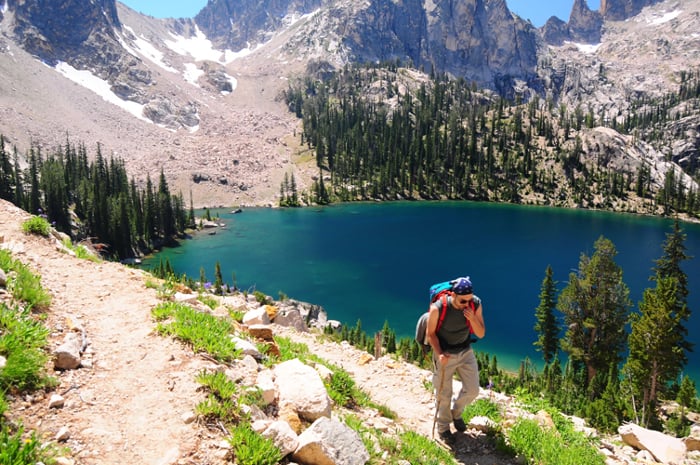 Hiking is great fun, but it pays to be prepared.
If you're trekking long distance, instead of just a day or overnight, you also need to ensure you don't pack so much that your trip becomes a misery, although these days more advanced equipment is being manufactured to better suit the needs of long distance hikers in terms of weight and available space. Nevertheless, the following are five things which are essential for you to pack if you're planning to go hiking.
First aid kit
The most important thing you need to bring with you on a hike is a first aid kit; it may seem appealing to be away from civilisation, but you'll also be far away from medical assistance if something goes wrong. Your first aid kit should contain bandages, disinfectants, sticking plasters and bug repellent. You may also want to consider taking common sense items such as a Swiss Army Knife, a torch, lighter and matches. Duct tape can be used to fix shoes and clothing, whereas a whistle or flares might come in handy if you need to summon help, along with a mobile phone.
Proper footwear
This may go without saying, but your feet need to be properly kitted out in shoes that are comfortable for your feet if you plan to hike for long distances. Preferably take shoes that you've already worn in and have covered many miles in, instead of going out to your nearest store and investing in a new pair, as doing this can lead to blisters and pain. You should be aiming for lightweight boots or trail shoes, and something you know you'll be comfortable in, so it's important to wear what works best for your feet. Socks can also be one of the most important hiking essentials, and synthetic material socks designed specifically for hiking are usually better than plain cotton in terms of comfort.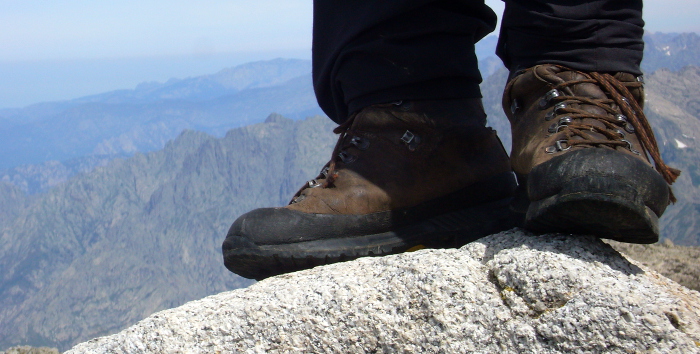 Your footwear can make or break your hiking trip, make sure they fit and are comfortable.
Food and water
Packing the right amount of food, especially if you're hiking long distance, can be tough. You generally need around two pounds of food per day, but it's wise to carry an extra pound or so just in case. Good food for hiking includes; energy bars, baked beans, macaroni and cheese, peanut butter, honey, and freeze dried meals. It's also highly important to drink enough water, and you should aim to drink at least two litres per day.
Suitable clothing
Opt for synthetic layers such as walking trousers, vests, gore tex jackets, and waterproof clothing such as a rain parka. If you can, take two outfits with you; one to wear, and one to pack. It's important to go for clothes that are made from breathable fabric and are quick drying – AquaDry or SmartDry are good terms to lookout for when buying. Advancements in clothing mean you can now purchase layers with anti-fungal agents, insect repellent agents such as Nosilife and even UPF protection.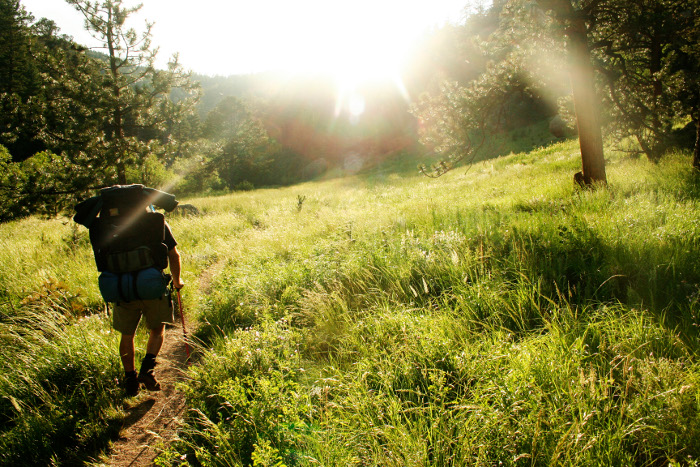 You may have a huge pack, but it soon fills up! Clothing with a small pack size is ideal.
Trekking poles
Particularly good if you're travelling long distance, but not as essential as some of the above items, trekking poles are especially good if you're in slippery or tough terrain areas. Collapsible poles make them an easy item to pack.
Pipi Longstocking is an avid walker and climber and has been blogging on her favourite subject for a number of years and hopes to eventually start a her own active clothing range.