NB: A temporary military restricted zone has been imposed for the Mount Ararat area and no permission is being given for parties to enter the area or climb the mountain. Find out more information on the Foreign and Commonwealth Office website.
Who would have thought you could go high altitude mountain trekking in Turkey?! That's right, Turkey is not just about beaches, sea and sand, it is about a lot more than that. While there's plenty to be said about visiting Classical ruins tucked into the Aegean and Mediterranean coast lines or going on a lazy relaxing cruise on a Gulet along the inlets and bays of the Lycian what really excites us is the fact that we have some of the finest altitude trekking terrain in the world. Across central Anatolia from the rugged volcanic landscapes of Cappadocia, which you can fly over by hot air balloon, to the stunning and elemental landscapes of our part of Turkey, the eastern border lands, you'll find your fix.
Eastern Turkey is a landscape formed in the distant past by fire and ice and the central part of the region is the mountain and volcano ringed Lake Van. On Lake Van's eastern shore is the City of Van, our home base. From here we run our exciting cultural tours across the regions of Turkey and it is from here that we run our mountain trekking operations around the lake's mountains and on to the Jewel in the Crown of Eastern Turkey, Mount Ararat.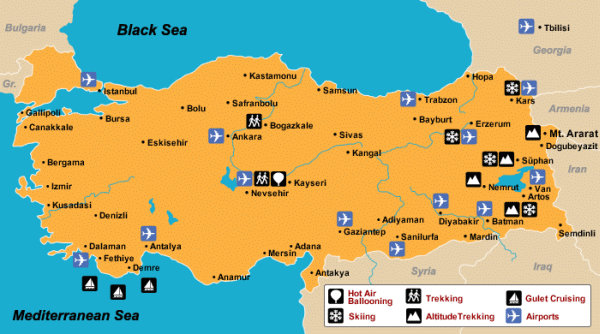 Mount Ararat is a mountain that dominates western culture in a way that the "new comers" of Everest or Kilimanjaro do not. Mount Ararat rises to an elevation of 5,137 metres, and while most other large mountains are in a mountain range Ararat rises as a solitary body. Not only physically and geologically unique, Ararat also holds a unique place in the culture of many civilisations. Broadly speaking, this region is the cultural cradle of the modern world including the region known as the fertile crescent and the area around Karadağ and Gobekli Tepe, a mere 450 miles away to the south west. Karadağ is where the first grains were cultivated and Gobekli Tepe is where our journey from hunter gatherer to modern man began with the construction of the earliest religious stone complex a staggering 12,000 years ago.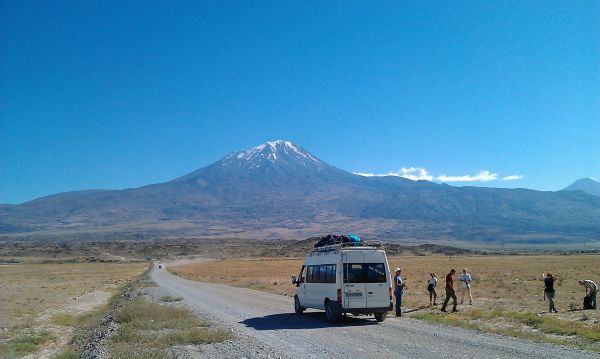 It is here that the earliest stories of the great flood, including the Epic of Gilgamesh, are set and on the northern fringes of this crucible of history is the area referred to in the Bible's Book of Genesis as the place where Noah's Ark came to rest after the deluge. More accurately, the Bible talks about the "mountains of Ararat" or "Urartu" which is our region, but a tradition has taken hold which states that Mount Ararat is the place.  Is it true? Well, we haven't found it but there are lots of clues and tantalising little glimpses into the past that do make you wonder… Not far from the foot of the mountain there is a small village called Kargakonmaz which roughly translates in English to "the raven would not land" a reference, possibly, to Noah sending out land birds to discover if there was land on which to alight and not far away are mysterious boulders with single drilled holes that some say are reminiscent of Neolithic anchors
While we may not be able to offer you a glimpse of the historic Ark, what we can offer you is a piece of magic. In less than four hours from London to Istanbul and a short hop to the City of Van you can be amongst the Biblical "Mountains of Ararat." From the city of Van we take you along the eastern shore of Lake Van, skirting Mount Suphan (4058m) and north across Mount Tendürek (3584m), a massive shield volcano strewn with huge black volcanic boulders, before arriving at Doğubayazıt which is the jumping off point for our Ararat expeditions. Doğubayazıt, or "Dog biscuit" as a lot of our travellers affectionately call it, has all the feel of a frontier town which, of course, is exactly what it is. And dominating the town is the stunning presence of Mount Ararat and her brooding smaller sister, Little Ararat.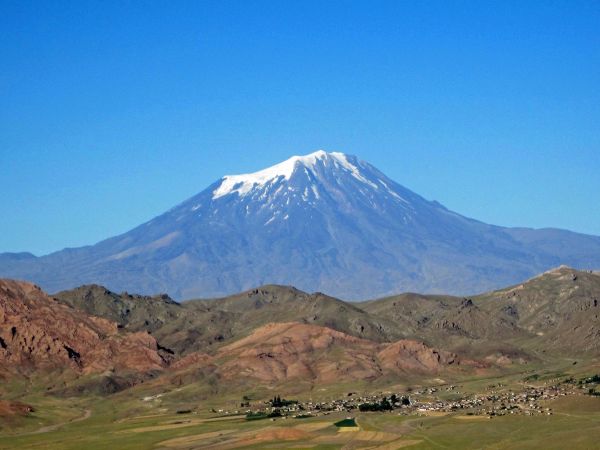 Mount Ararat, a classic stratovolcano, has a permanent covering of ice at the summit which in the early morning light is crystal blue underfoot, reflecting the blue of the sky. Ararat is an impressive sight that dominates the skylines of Turkey's Ağrı Province and the adjacent territories of Armenia, Nakhichevan (Azerbaijan) and Iran and from the summit, seeing the curve of the earth over a place that holds such a central part of our cultural origins you can, for a moment, believe anything.
The Turkish name for Ararat is Ağrı Dağı which literally means "Mountain of Pain." While this is not a technical climb the Turks have named it well because it is not easy and you will be working at high altitudes on some steep inclines across rocky volcanic surfaces. The Kurdish name for Ararat is Çiyaye Agiri which means "Mountain of Fire" reflecting its volcanic origin. Armenians, for whom the mountain has a special significance, call it Masis. On the lower reaches of Ararat you will still meet traditional nomadic and semi nomadic peoples who cross the region with their flocks protected by their formidable Kangal dogs sporting metal spiked collars to help keep wolves at bay. It is from  these highland and mountain communities that we recruit our porters and guides and while they sometimes look a little fearsome, their hospitality is unmatched anywhere in the world.
Our Ararat Challenge Trek involves a total of 7 days (including travel time from the UK) and of these 7, there will be 2 nights in a hotel and 4 nights on the mountain. We provide all technical equipment, tents and provisions and all your meals on the mountain are provided by our experienced guides and porters. On a 7 day break, just a short travelling time from the UK, you can immerse yourself in an adventure that will make your imagination soar.
Visit our web sites, watch our videos and then come to experience history and "feel the pulse of time."
The climbing season for Ararat and the peaks around Lake Van starts in June and finishes mid-September but ski tours and resort skiing packages are available from December to March.
Our cultural and historical tours run from May to October right across Turkey, Armenia and Georgia.