Editor Rob Slade takes a long overdue trip to the Shropshire Hills for a beautiful autumnal hike with a nod to times of old.
For years people have been telling me to visit the Shropshire Hills. "It's beautiful, and better yet, it's quiet", they would tell me. The promise of a fine view is enough to get me interested, but the prospect of empty trails is something that really makes me sit up and take notice. So, with that, I roped in a mate and hatched a last-minute plan for a weekend adventure in the Shropshire Hills.
As I munched the miles on the M50, sausage sarnie in one hand and steering wheel in the other, I peered out at the skies. The weather report had forecast mixed conditions, and while cloud cover seemed to be inevitable, we were hoping we'd steer clear of the wet stuff throughout the weekend.
My research before our visit had brought up several popular route options, and in the end we decided to try and mix a couple of them together. Upon reaching the Shropshire Hills, we parked up in All Stretton, just around the corner from the bunkhouse we would be staying in, and set off east toward Hope Bowdler Hill. After emerging from a quiet forest, we started to gain a bit of height and soon made it to a rocky outcrop on the spur of the ridge. A bit of light scrambling saw us reach the top of this craggy section, with open views all around. To the north we could see Caer Caradoc Hill – our next target.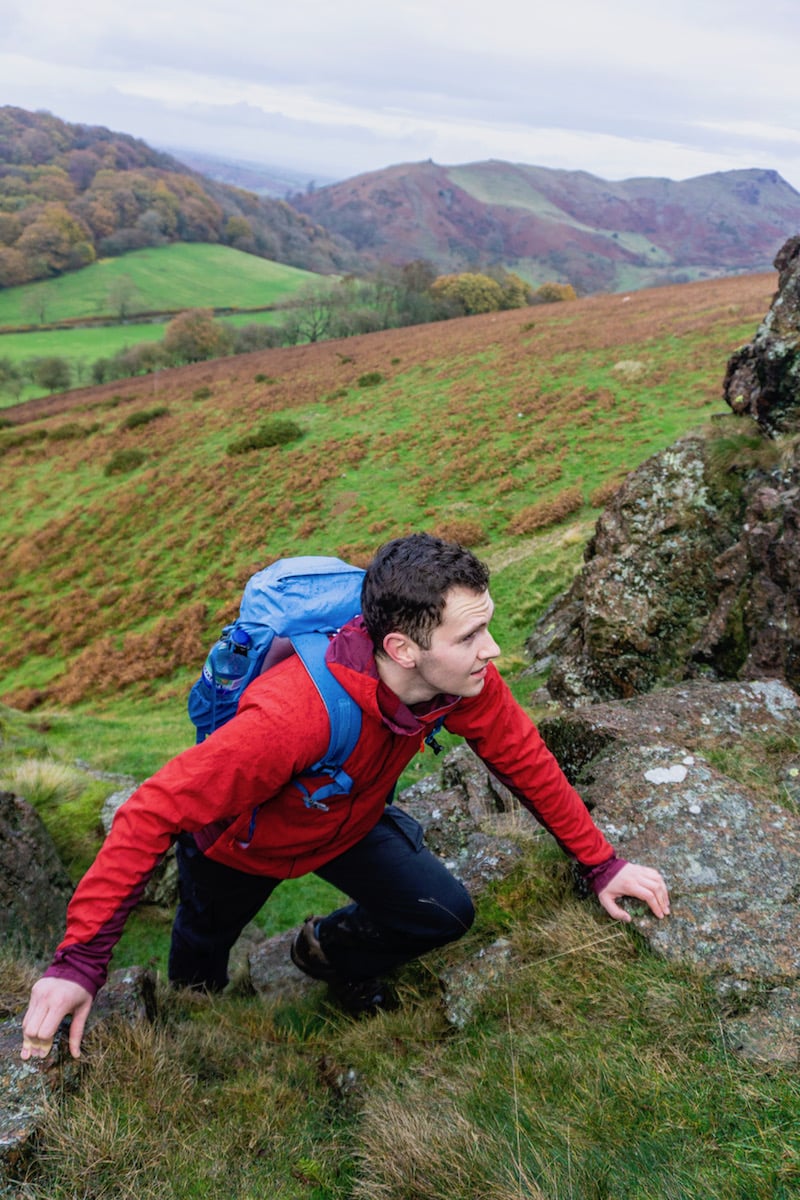 We skirted over the open ridge leading north-east, before dropping down to some farmers fields and a lane below. After a bit of an uphill slog, we eventually gained Caer Caradoc Hill, which gifted us views across the town of Church Stretton to Long Mynd in the west and a beautiful patchwork of quintessential English countryside in every other direction. On a clear day (which we weren't lucky enough to be enjoying), you can even see as far as the Brecon Beacons, the Malvern Hills and the skyline of Birmingham.
The fascinating thing about this place is that the summit is home to an Iron Age hill fort, the remains of which are still visible today. Rumour has it that the fort was actually the site the Battle of Caer Caradoc, where Caractacus made his last stand against the Roman legions during the Roman conquest of Britain. Whether or not that's true, we might never know, but what we can be certain of is that it's worth sticking around and exploring some of the earthworks on the hilltop. For us, it was the perfect lunch stop, and as a few rays of sunshine broke through the clouds, our eyes darted around, soaking up both the views and the hints of history that surrounded us.
Stomachs full and imaginations all worn out, we picked ourselves up and carried on northward toward a thin and short ridgeline called The Lawley, which stretched out invitingly ahead of us as we descended from Caer Caradoc Hill. Along the way, we passed a sorrowful looking gentleman who had two screaming children in tow. I'm sure things didn't improve for this poor soul upon reaching the top of the hill, as the wind was picking up and the menacing clouds were threatening a downpour. Needless to say, we didn't hang around to find out, as we plodded on downhill and along a lane to the foot of The Lawley.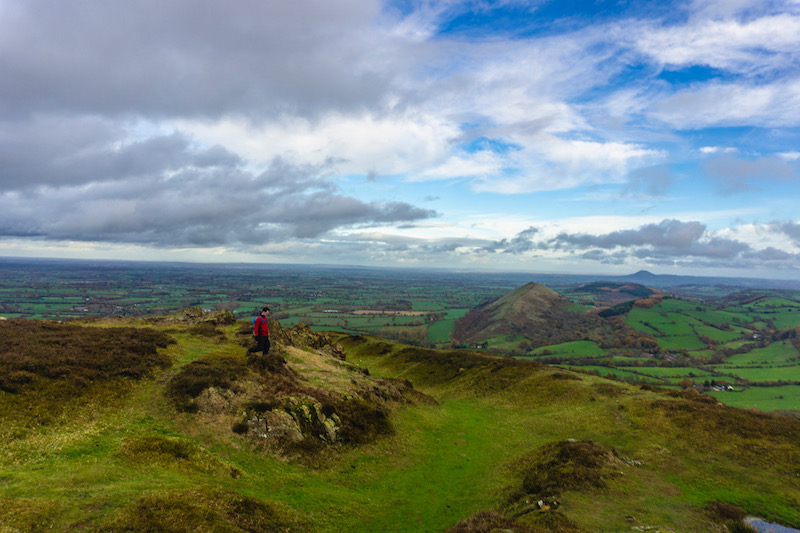 Fortunately, for us and for the family we passed, there were only a few drops of rain as the afternoon progressed, but the wind continued to pick up until it was whipping us ferociously from the side. With wind chill, things got pretty nippy, and as I attempted to retain some form of respectability on a Facebook live broadcast to the Adventure Travel page, I noticed my battery was suffering. Fortunately, I had planned ahead by packing a GP Batteries power bank, meaning I could plug in and continue navigating with ViewRanger and annoying people with my windy live broadcasts.
Having gained The Lawley, two things became apparent. First of all, the wind was absolutely battering us – so much so that at times it was a struggle just to stay upright. Secondly, the Shropshire Hills are simply stunning in autumn. That second statement is the only reason we dwelled for so long on that windy ridge. As a few rays of sunlight sporadically burst through a gap in the clouds, it would illuminate a spectacular run of colour, with yellows, browns, oranges, reds and greens bursting out against the stark skies.
It was almost as if they had only just been painted onto the landscape with a brush. Put simply, the countryside was exploding with colour.  After taking a dozen photos that could never do that beautiful scene justice, we moved off the ridge and down among the fields below, seeking the most sheltered way back to the cars. With the clouds looking more and more foreboding with every passing minute, we didn't wait around, and the promise of a hot meal and a post-walk pint ensured we reached the end in no time.
Stay powered up in the Shropshire Hills
Whenever we're out in the hills, we normally have some sort of tech with us that we want to keep going. It's normally a smartphone, but occasionally we need to charge a GPS device or a head torch. When you're camping or are off-grid, this can be challenging, which is where GP Batteries' M-Series range of power banks come in.
GP Batteries M-Series Powerbank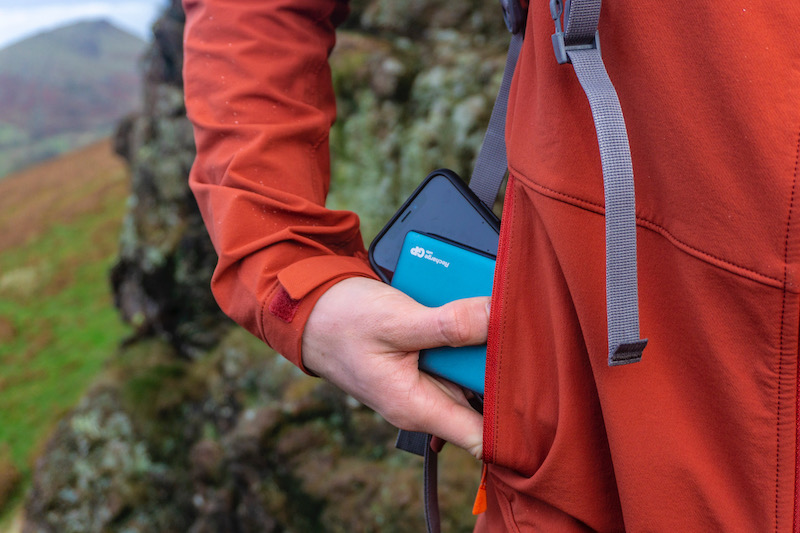 The M-Series line of power banks come in various capacities, from 5,000mAh (offering two full smartphone charges) to 15,000mAh (offering six full smartphone charges). The entire range is durable, lightweight and compact, meaning the power banks will be able to handle everything you put them through on your adventures. With plenty of juice to keep you going for multiple days, it's an ideal answer to all of your power problems.
Prices start at £19.99 for the smallest charger and rise to £34.99 for the largest. To find out more and see the full range, click here.