www.vaude.com | £80
Basodino is the highest mountain in the Swiss canton of Ticino, which hints at the intended use of this mid-layer from German manufacturer Vaude – it's an ideal top for mountaineering, but good for wearing on excursions lower down the hill too.
The main selling point of the jacket is the material. It's a blend of polyester, polyamide and elastane and has an enormous amount of stretch – the top doesn't restrict the body's movement at all, which is great for sports like mountaineering when you can be doing a lot of reaching.
In terms of warmth, it's a great insulator. The inside of the jacket has a lovely, soft, high pile that traps air well. The outer face is denser to provide abrasion resistance and to help prevent the material from snagging on rocks while you're on the hills.
The hood fits snugly underneath a helmet, while the zip-up pockets can still be used while wearing a harness. Thumb loops help prevent the sleeves from riding up, and the hem can be cinched in with a pull cord to keep warm air in, though the toggle is pretty fiddly. At 600g in an XL the Basodino is the second heaviest mid-layer on test (issue 121 group test), but it offers a surprisingly small packsize.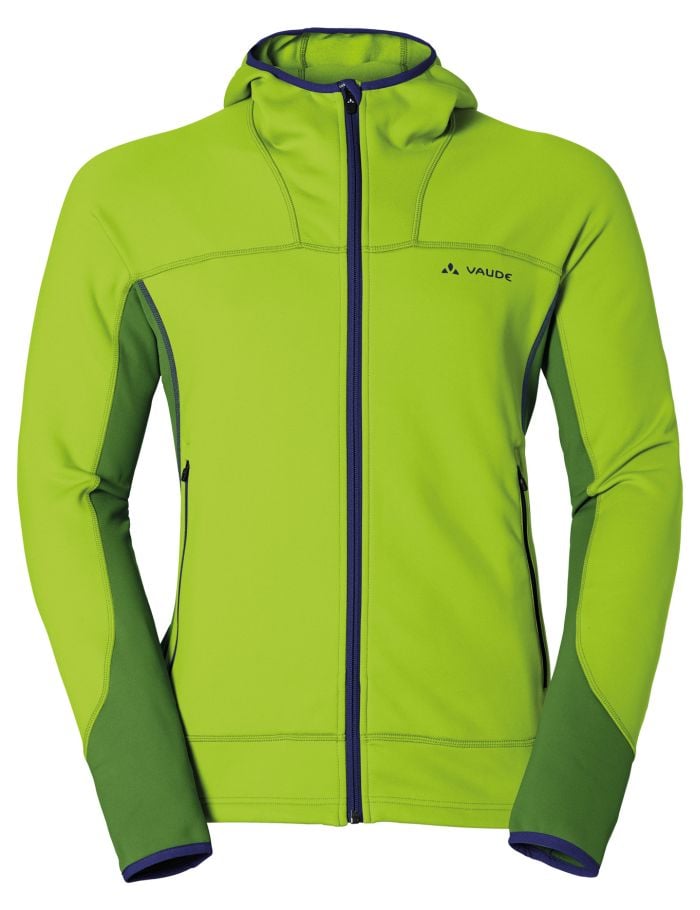 I was impressed with the Basodino. For £80 it's a great buy if you're looking for a technical mid-layer for mountain use. The stretchy fabric, coupled with the incredibly soft fleece, makes it comfortable, and the climbing friendly features are an added bonus.
Vaude Basodino Hooded Jacket Verdict
A great choice if you're heading into the mountains.
Weight and packsize: 7
Warmth: 8
Range of movement: 10
Value for money: 8
Overall: 8