Adventurer and author James Forrest heads to Switzerland for an incredible adventure along one of Europe's Greatest Trails; the Via Alpina.
It feels like the hills are alive. Not with the sound of music, but with the whistle of marmots, the rush of a glacial stream, and an orchestra of melodic cow bells. And it feels like a switch has been flicked, transforming the world from a dull monochrome to a glorious technicolour.
The grey skies of Britain are a distant memory, replaced instead with vibrant alpine meadows – seas of green bursting with flowery flashes of red, yellow, orange, pink and purple – backed by a jagged horizon of enticing, snow-capped peaks and a deep blue sky. I've travelled across the world exploring mountain ranges, but here in Switzerland I might just have found hiking paradise.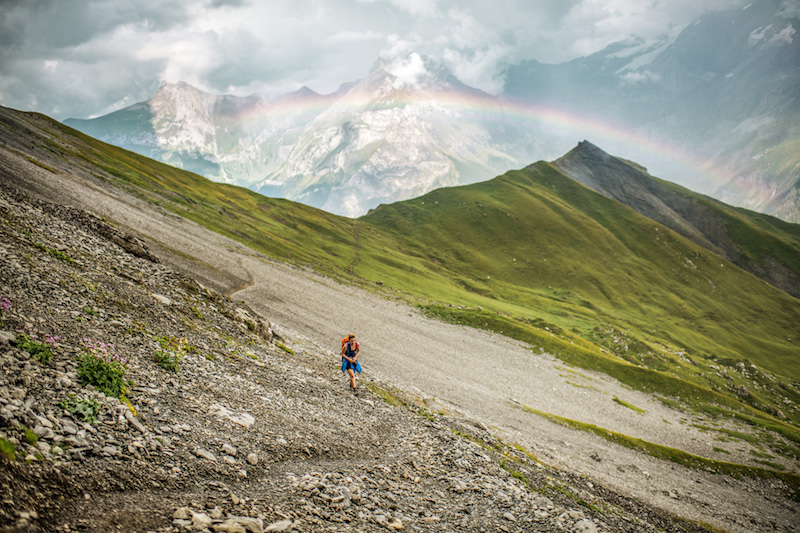 I'm standing at 2,612m, atop an airy alpine pass known as Sefinafurgge. I can still hear the crashing sound as majestic Ibex lock horns on the rocky slopes below me. A light breeze ruffles my hair and the sunshine, breaking through the fluffy, marshmallow-like clouds, warms my neck.
I swivel 360 degrees, mesmerised by the scenery all around me. To my right is the dramatic Sefinen valley, to my left is the charming Kien valley; and I'm right in the middle with a grandstand view. Regal, imposing mountains soar impossibly high, piercing the blue skies; their sheer cliffs plunging into lush greenery below and their knobbly, spiky pinnacles adding character to the landscape. I quietly drink in the views and find myself feeling ecstatic that I'm experiencing the Via Alpina in all its glory.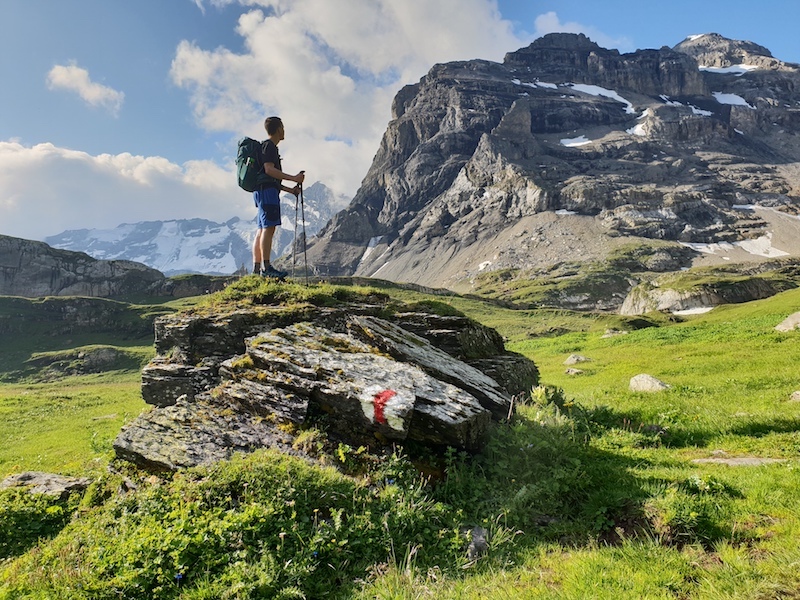 Exploring the sublime mountain scenery of Switzerland's northern Alps, the Via Alpina is a walker's dream. The 242-mile trail completes a full east to west traverse of Switzerland from Vaduz to Montreux, serving up a dizzying cocktail of epic mountains, diverse flora and fauna, and fascinating culture. It's not for the faint-hearted, though.
The demanding 20-stage walk journeys over 14 mountain passes and includes a whopping 23,600m of ascent – that's nearly three Everests. And the super hardcore can even combine it with further international Via Alpina trails to hike more than 3,100 miles over 342 stages through Slovenia, Austria, Germany, Liechtenstein, Italy, France and Monaco, as well as Switzerland. Sadly, I only have time for a couple of the Swiss stages – but, standing atop the Sefinafurgge pass, I feel like I've chosen well.
Rewind two days to when I landed in Zurich, excited about the hiking adventures ahead but less than enthusiastic about my onward in-country travels. I need not have worried. I take three trains, via Bern and Interlaken Ost, to Lauterbrunnen, courtesy of my Swiss Travel Pass. They run like clockwork, arriving on time to the minute (in sharp contrast to my exasperating experiences with British trains), before linking up perfectly with the bus I must take next. It's Swiss efficiency at its finest, and before long I step off the bus at my final destination, the mountain village of Isenfluh.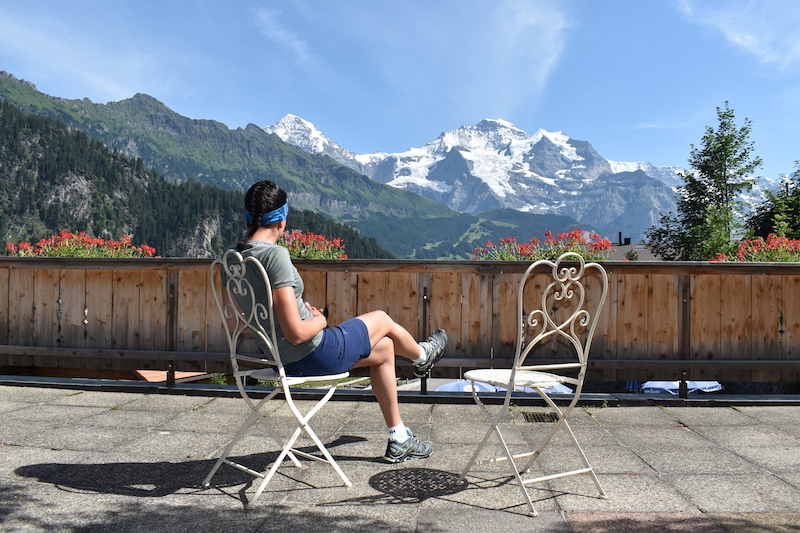 It's an idyllic place: gorgeous wooden houses adorned with blooming flowers, Swiss flag bunting and stacks of neatly chopped logs, with the snowy duo of Jungfrau (4,158m) and Mönch (4,107m) dominating the skyline above the village. It's scenery so eye-catching it almost looks unreal, like you're standing in front of a green screen. I smile, turn to my girlfriend Nic and say: "Let the Via Alpina adventure commence".
The following morning, after an evening of eating cheese fondue at Hotel Waldrand, we hit the trail heading towards Mürren. It is a drizzly day, with low cloud swirling atmospherically above the forest. Nic and I stomp over muddy trails, trying not to squash the rain-loving Alpine salamanders which have come out in force, dotting themselves along the path like shiny, jet black geckos. It is a damper start to the Via Alpina than we'd hoped for, but by 2pm – after lunch in the car-free village of Mürren, below the soaring peak of Schilthorn (2,970m), and a funicular ride to Allmendhubel – the rain has ceased and the cloud has lifted.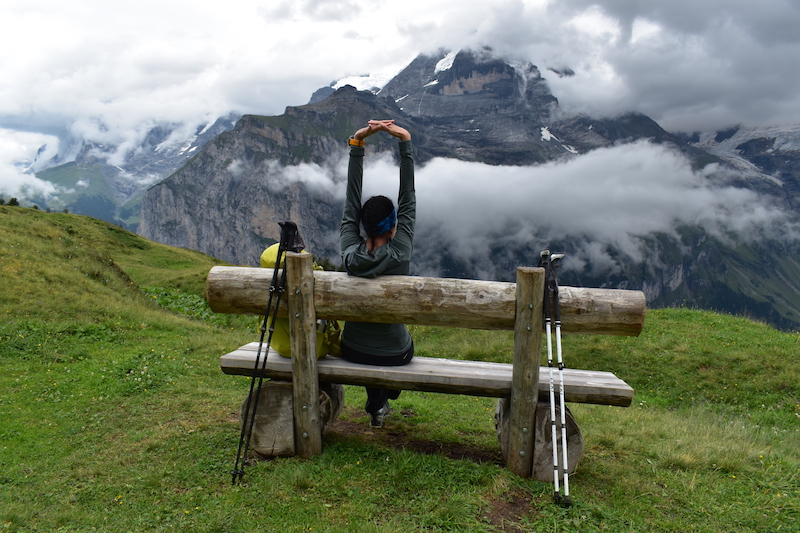 We take a terraced path, traversing the mountainside south-west towards Schiltalp, following the useful yellow fingerpost signs and red and white painted waymarks. We feast on views across the Lauterbrunnen valley to a series of grand Bernese Alps peaks, including the stunning trio of Jungrau, Mönch and the Eiger (3,967m), which was hidden from view the previous day, as well Gletscherhorn (3,983m).
The latter wasn't climbed until 1867, more than half a century after Jungfrau was first summited. We sit on a perfectly placed bench, gaze up at these snow-capped peaks, and think for a moment about the intrepid men and women who climb to their tops. The mind boggles – but I, for one, don't begrudge my lack of climbing skills. I can still relish in the majesty of these mountains from the safety of this hikers' bench.
We continue through verdant meadows, pass farming buildings decorated lovingly with rows of huge cow bells, displayed like trophies, and climb steeply out of a green, bowl-shaped valley ringing with a bovine bell symphony. Next we hike past fields of whistling marmots – cute-looking large squirrels – to arrive at Rotstockhütte.
The mountain hut, our home for the night, is a charming stone building, with red wooden window shutters, awe-inspiring views, and a lively atmosphere. We spend the night socialising with fellow hikers from Germany, France and Britain; tucking into the hearty, home-cooked food; and getting some much-needed kip in the cosy, bunk-style beds.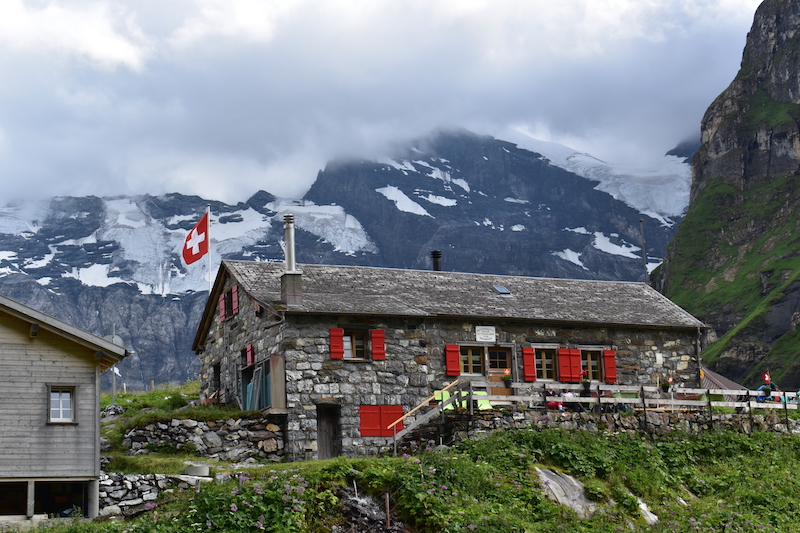 Bright blue skies greet us as we wake the following morning and, charged up on coffee, head out aiming west and south-west for Sefinafurgge col. The path is flanked on both sides by lush meadows, with a thousand colourful flowers –harebells, snowbells, forget-me-nots, and many more – transforming the ubiquitous green into an effervescent masterpiece, energetic with buzzing insects and fluttering butterflies.
After a few kilometres, the meadows relent as we begin to climb, turning into stony paths and rocky slopes of scree. We power up the latter, our lungs heaving and our calves burning, before stopping to witness a herd of Ibex. High on the side of a craggy mountain, a pair of the wild goats are fighting, rearing up on their hind legs before charging with their huge curved horns. It is an exciting spectacle – and one that leaves the air ringing with the crashing sound of locked horns.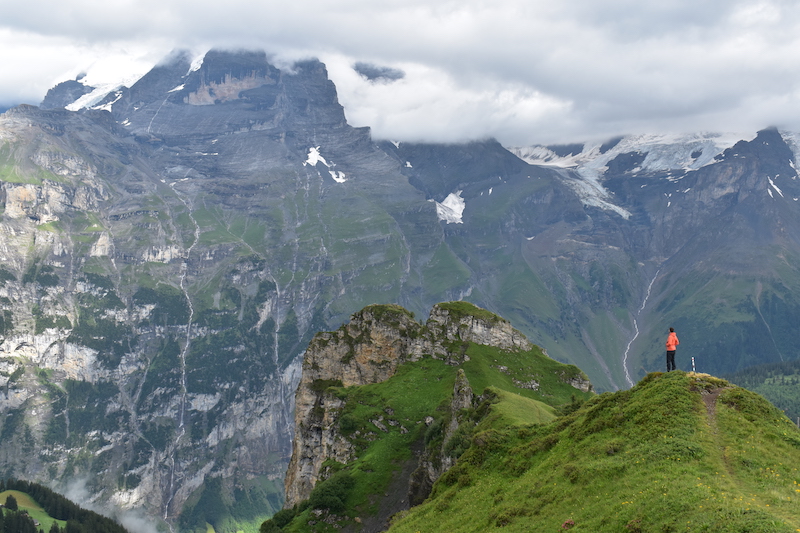 We press on, cross the high mountain pass, descend steep steps into the Kiel valley, and wind downhill towards Griesalp. We pass closely next to a couple of cows, their bells ringing as they chew the thick grass, and hike along a tumbling stream. It is hot and I crouch down, cup the crystal clear water into my hands, and splash it over my face and hair. The cooling sensation is rejuvenating and refreshing.
I look up and gaze across the landscape, feeling truly content. I see snow-capped mountains, dramatic crags, sweeping ridgelines, colourful alpine meadows, and green valleys. And I realise that the Swiss hills are alive – alive with the sound of my soul singing.
Find out more abut hiking the Via Alpina here. 
James Forrest is the author of Mountain Man: 446 Mountains. Six Months. One record-breaking adventure, published by Bloomsbury. Out now.