As Britain's very first Area of Outstanding Natural Beauty, the Gower Peninsula of Swansea Bay boasts some truly spectacular scenery, featuring vast swathes of sandy beaches, towering limestone cliffs and an abundance of charming coves. The best way to explore this stunning little slice of Wales is undoubtedly by walking the Gower Coast Path. This 39-mile trek, takes in the whole peninsula and makes up a section of the Wales Coast Path, a long-distance trail which follows the coastline of the country.
How long does it take to walk the Gower Coast Path?
The entire Gower Coast Path is 39 miles in length and takes the average walker four to five days to complete. It runs all the way from Crofty to the golden sands of Mumbles, a charming seaside village. It meanders through several nature reserves, Wildlife Trust Reserves, Sites of Special Scientific Interest and Special Areas of Conservation. This means you can expect a wealth of interesting flora and fauna, from the wild orchids of spring to the droves of wintering water birds, all jostling for a position on the wetlands of Llanrhidian Sands.
You can also extend the walk to incorporate the Swansea Bay Coast Path, taking the total mileage to 51. For this, you'll begin at the same start point, but carry on past Mumbles and around to Swansea Bay.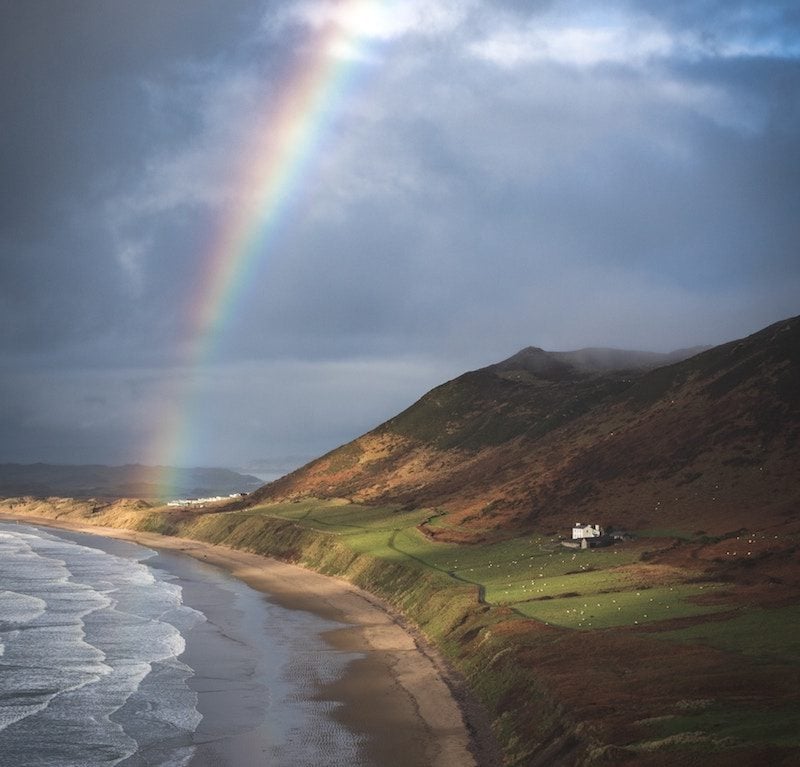 How to get to the Gower Coast Path
The walk begins in Crofty (near Penclawdd), which is just off the M4 which runs between Swansea and Cardiff and then on to London. The nearest railway station is Gowerton (4.5-miles from Crofty), which is serviced by the line from Swansea to Llanelli. You can change in Swansea for trains across the UK.
To get back to your start point upon reaching Mumbles, You can catch a bus from Oystermouth Square to Swansea, changing at Swansea Bus Station onto another bus to Crofty.

Where to stay on the Gower Coast Path
There are some charming seaside BnBs and guesthouses in the various villages along the route, so you won't be short of somewhere to stay. There are also companies (such as Gower Tours) that offer to organise site to site transport and luggage transfer for walkers, leaving you to enjoy the hike with just your day-pack. Click here to see a range of accommodation in the area.
Be aware that during high season, accommodation may well be booked well in advance, or only accept bookings of two nights or more, in which case you may need to travel a little further away from the path to get to your nightly accommodation. Alternatively, you could plan some rest days along the route and extend the trip.
While wild camping is not permitted, there are a sprinkling of campsites along the route where you could plan to stay, just remember to book ahead in high season.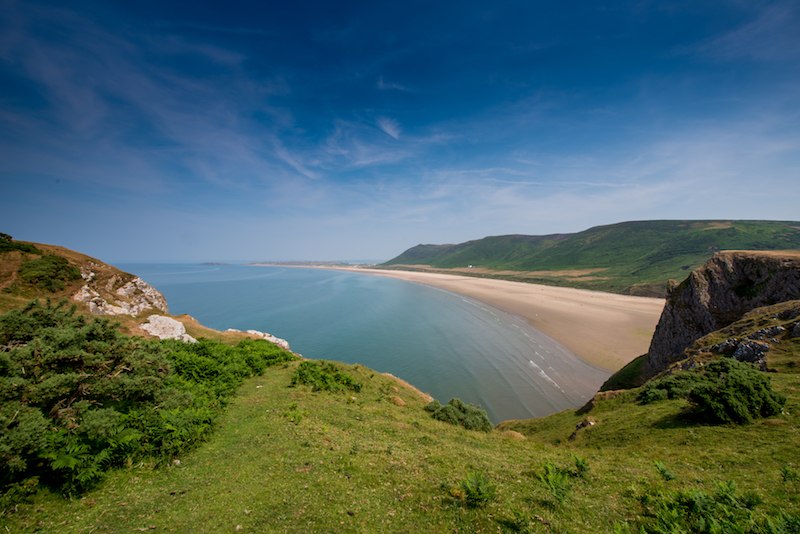 Here is an example of a four-day itinerary, walking around 11 miles per day;
Day One: Crofty to Llanmadoc
Day Two: Llanmadoc to Rhossili
Day Three: Rhossili to Oxwich
Day Four: Oxwich to Mumbles
Here is an example of a five-day itinerary, walking around 9 miles per day;
Day One: Crofty to Llanmadoc
Day Two: Llanmadoc to Hillend
Day Three: Hillend to Port Eynon
Day Four: Port Eynon to Southgate
Day Five: Southgate to Mumbles
Points of interest along the Gower Coast Path
The great thing about the Gower Coast Path is how varied the route is, with such a rich array of local sites and points of interest to discover. Rhossili Bay is well known for its spectacular stretch of sand, culminating in the rocky drama of Worm's Head. Nature-lovers will also appreciate the tidal landscape of Three Cliffs Bay, with its maze of wildlife-filled rock pools and marshes, overseen by three majestic limestone cliffs.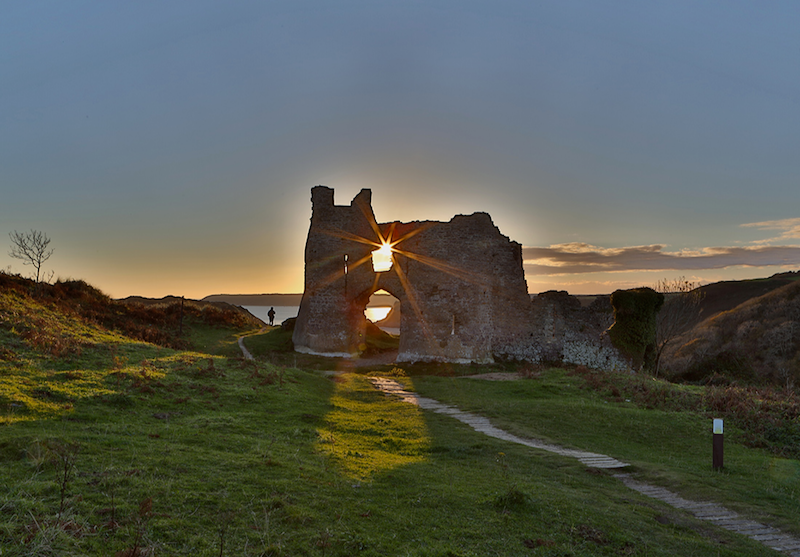 There are of course a myriad of secluded coves and bays scattered along the route, ideal for a picture-perfect picnic or bracing dip in the sea. Historically, these coves were attractive to 18th century bootleggers, who used them for illicit business activities.
History-buffs certainly will be in for a treat on the Gower Coast Path, as you'll also come across a plethora of castles and historical sites, from the romantic ruins of Pennard Castle to Whiteford Point Lighthouse, one of only two remaining cast-iron wave washed lighthouses in the world, and the only one in Britain. Don't miss the majestic Oystermouth Castle, which sits on the hill overlooking Mumbles, or Oxwich Castle, a fortified stately home with a fascinating history.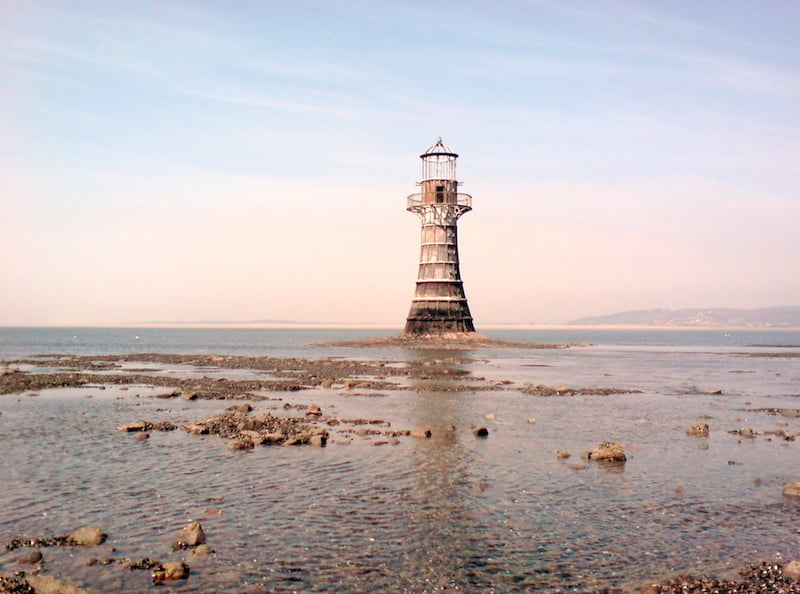 Keep your eyes peeled for a variety of birds, such as peregrines, guillemots and razor bills, along with Atlantic grey seals skipping in the waves below.
The peninsula is just as gorgeous inland as it is on the coast, and keen hikers should also check out the Gower Way footpath, which starts from the high hills of rural Swansea along the 'backbone' of Gower, 'Cefn' Bryn, all the way to its wildest, remotest spot; the iconic promontory of Worm's Head at Rhossili. Rhossili Downs is a favourite spot for enjoying autumns rich colours as the landscape becomes a rich combination of purple and gold.
Click here to download a full guide to walking the Gower Coast Path, along with more information on other hiking routes in the area. 
Or, click here for more things to see and do on the Gower Peninsula.