We've teamed up with reliable waterproofing brand Nikwax to bring you the chance to win a fantastic Nikwax bundle of products, worth over £100 altogether!
About Nikwax
There's truly nothing more frustrating than shelling out your hard-earned cash on expensive gear, only to find it wears out or loses its water repellency within a few short months. Nikwax is a brand that cares for your kit by providing specialist washing and re-proofing products for all your adventure gear needs.
Specialist kit needs specialist care to keep it in tip top condition, as regular detergent can often strip fabrics of their DWR coating and cause other damage along the way. Similarly, by washing your base layers and sports clothes with Nikwax BaseWash, you can be sure that your garments will come out fresher each time, preventing odour build-up and increasing breathability at the same time.
If your trusty waterproofs have begun to wet out, or you want a little extra wet weather security for your new hiking boots – Nikwax have that covered too, with an array of different re-proofing products for a wide range of fabrics.
What we really love about this brand, however, is the steps they are taking towards sustainability. Nikwax bottles have always been recyclable but by the end of 2020, 100% of Nikwax bottles will be made from recycled plastic. This means the bottles you see are now grey in colour, as Nikwax has opted out of bleaching the recycled plastic, thus eliminating the use for an unnecessary chemical in the manufacturing process. Nikwax products have always been made with care for environment and this is another great initiative in the move towards sustainability.
About the prize
One lucky winner will receive a Nikwax bundle including all of the following products;
Nikwax BaseFresh sports fabric conditioner
Nikwax Footwear Cleaning Gel
Nikwax Down Wash Direct
Nikwax BaseWash sports fabric cleaner and conditioner
Nikwax TechWash cleaner for waterproof clothing
Nikwax TX.Direct Wash-In waterproofing for wet weather clothes
Nikwax Cotton Proof waterproofing for cotton fabrics and canvas
Nikwax Down Proof waterproofing for down filled garments
Nikwax Fabric & Leather Proof spray-on waterproofing
Nikwax Nubuck & Suede Proof sponge-on waterproofing
This fantastic Nikwax bundle should provide you will all the tools you need to keep your kit in tip top condition, for gear that performs as well as you do. Click here to view the full range of Nikwax products.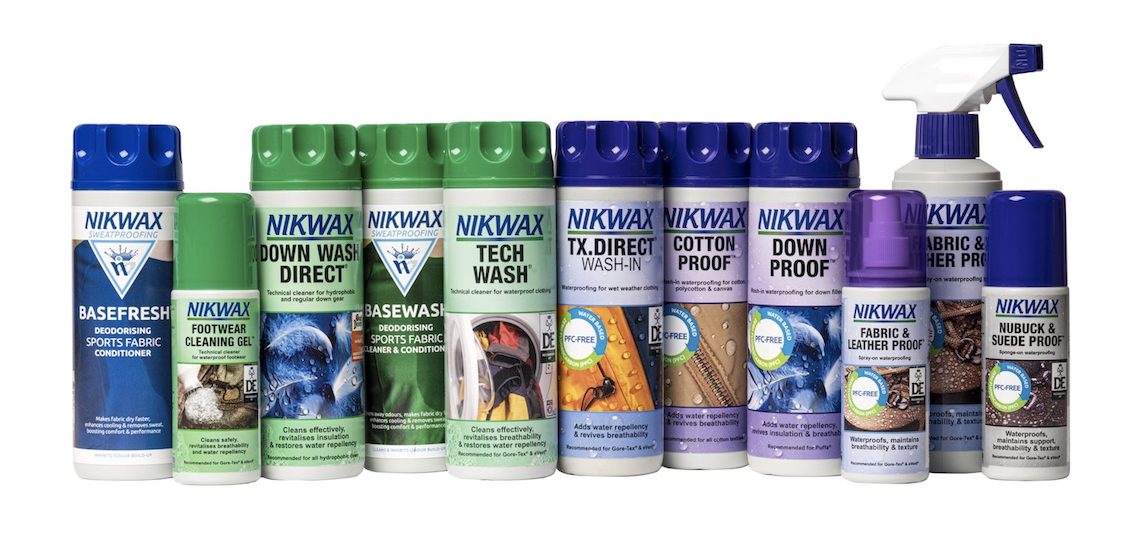 To be in with a chance of winning, simply answer the following question;
Terms and Conditions
All entries must be received by 23:59 on Sunday 8 March 2019. Entries after this time will not be counted.
Entrants must be at least 18 years old.
The prize is non-transferable, non-refundable and there are no cash equivalents.
The winner of the competition will be chosen at random from all those who entered and will be notified within 28 days of the competition closing.
Only one entry per person.
Entry implies acceptance of these terms and conditions.
You can unsubscribe from Adventure Travel and Nikwax's email database at any time by clicking unsubscribe at the bottom of one of our emails.
The organiser reserves the right to cancel this competition, or to change any condition of this competition, without notice.
Acceptance of these terms and conditions is a condition of entry.
No purchase necessary.