It's an adrenaline-filled winter adventure in Switzerland – without setting foot on a ski slope. James Forrest heads to Interlaken to kayak on Lake Brienz and paraglide above the Alps…
My kayak glides over translucent waters, floating in nirvana between this glacial lake and the mountains; and my daydreaming mind drifts to a blissful halfway house, a mental sanctuary between reality and fantasy. Everyday worries and anxieties melt away. I wonder whether they've been banished forever to the towering crags of the encircling, snow-capped Jungfrau mountains, or if they've sunk to the dark reaches of the 260m deep Lake Brienz. Either way, I feel happy and free.
This is my winter adventure in Switzerland, with a twist. Not a ski binding or pair of goggles in sight. No lift passes, salopettes or carving skis needed this week. I'm here in Interlaken to experience the best of the Swiss Alps without heading for the ski slopes. Kayaking, paragliding, jet-boating and ice skating are on the menu. On the face of it, there's no shortage of adrenaline-inducing adventure here – but will the lack of skiing leave me unsatisfied? It's an experiment and I'm eager to find out the answer.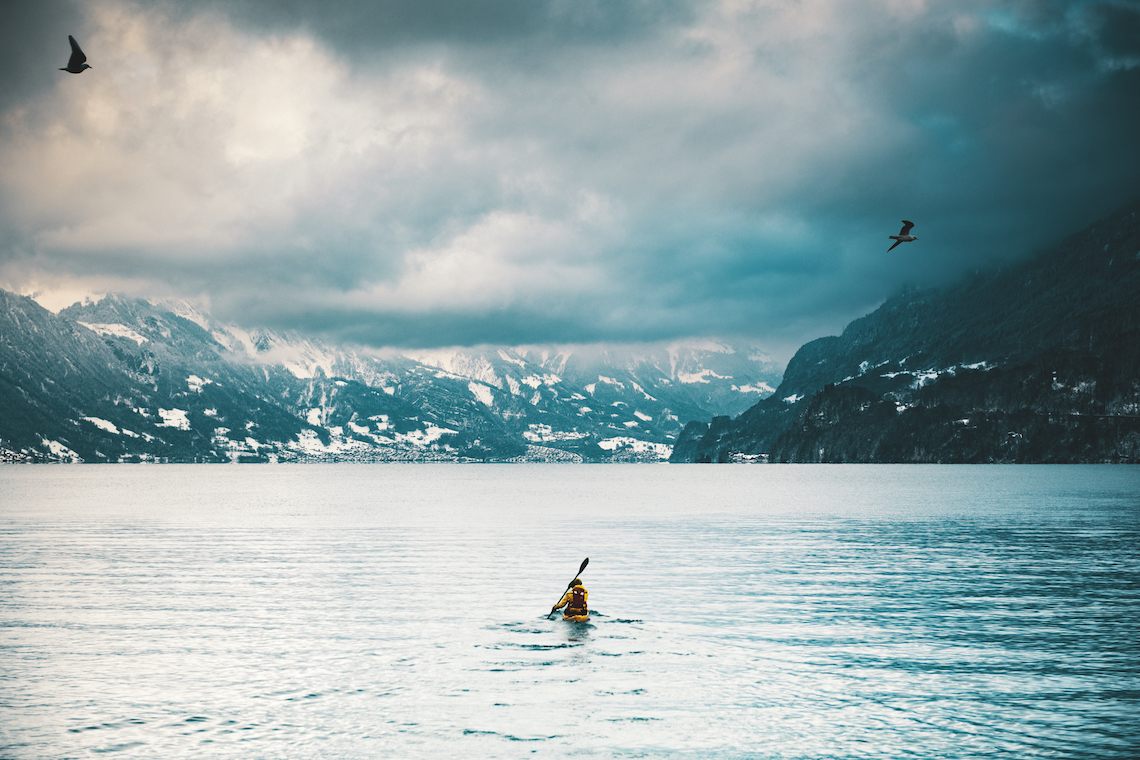 Rewind 24 hours to the start of my winter adventure in Switzerland, when I stepped off my SWISS plane, proudly adorned with Switzerland's national flag, and headed for the train station at Zurich airport. If this was England, I'd have been in a nervous sweat about the likely cancellations, delays and discomfort of my onward travels by public transport. But Swiss efficiency calmed my anxiety and the journey – a train to Thun and a connecting bus to Merlingen, a lakeshore resort 10km to the west of Interlaken – went without incident, courtesy of my all-inclusive Swiss Travel Pass.
I checked in to the BEATUS Wellness and Spa Hotel, my base for the next three nights of my winter adventure in Switzerland. Through my room's window Niesen, a ruggedly pyramidal mountain soaring to a snow-capped 2,362m pointed summit, is framed perfectly across Lake Thun. It's a view that leaves me giddy with excitement about what lies ahead.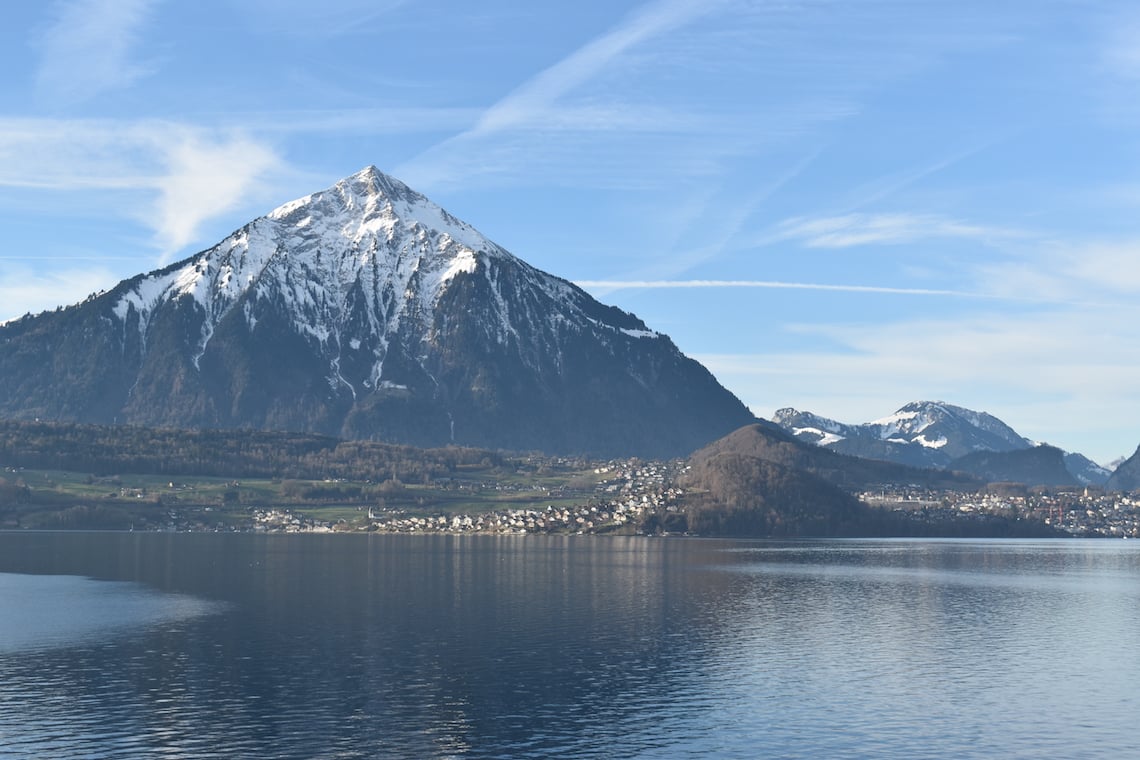 'It's called glacial flour', says instructor Dave, as our kayaks glide peacefully through the mirror-like, still waters of Lake Brienz the following morning. 'Glaciers high on the mountains around us grind the bedrock, causing fine rock particles and silt to become suspended in the meltwater – this gives the lake its beautiful, turquoise colour.'
We paddle past the Lutschine river, the source of this meltwater. It's like a life-giving vein, flowing endlessly and purposefully into the lake, forever connecting the mountains and the valleys. 'Four hours ago this water was ice on the glacier', explains Dave, the Manchester-born Swissophile who runs High Tide Kayak School. It's a fascinating thought, but a sobering one too, considering the glacier-melting climate crisis our planet is in.
I paddle away from our group, eager for some solitude. From the seat of my kayak, I raise my eyes to the surrounding mountains. Towering peaks enclose the lake, rising gracefully out of the water. Their lower slopes are green, cloaked in thick vegetation and dotted with small villages and roads; their rocky uppers are shattered by craggy excrescences, sweeping ridges and jagged snowy summits. But it isn't the majestic mountains that capture my attention. I'm mesmerised by the simplest of things: the ripple of concentric circles created by a single drip falling into the still water, and the diminutive whirlpool, a cone-shaped vortex of swirling H20, formed by my paddle. It might just be cold hard physics in action – but it feels like art.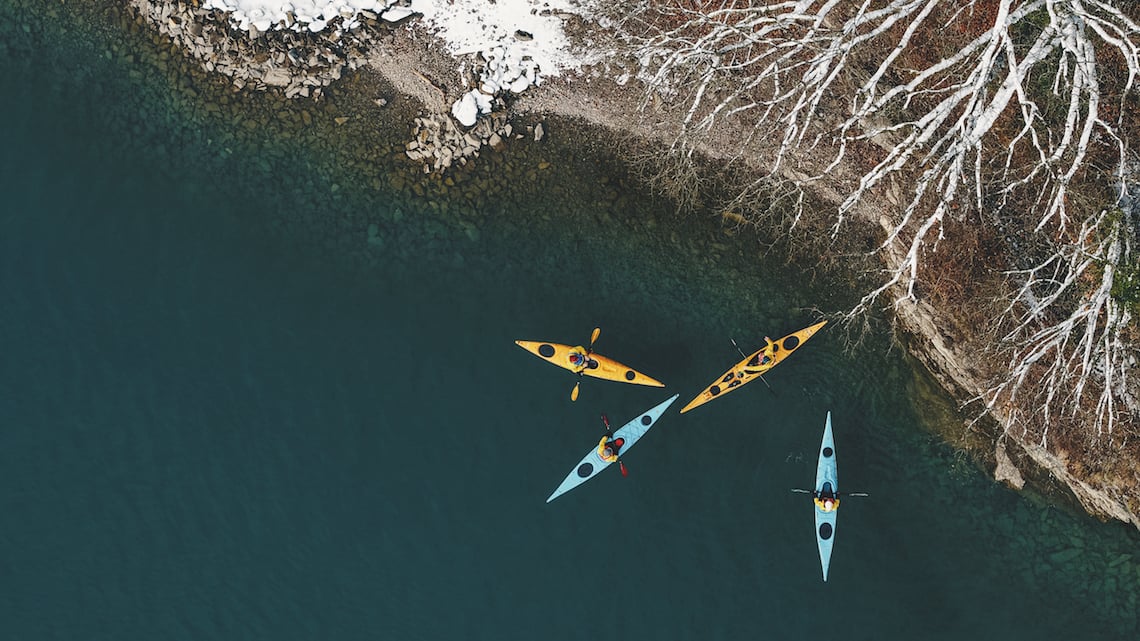 My kayak bobs this way and that, dancing in harmony with the gentle flow of the lake; a whisper of wind blows, filling my lungs with the awakening rush of fresh air; and I cup my hands into the water, raising a crisp, refreshing mouthful to my lips (the words of Dave – 'it's as pure as Evian' – ringing in my ears). The relaxation spirals me into a daydream. I feel like I could drift away into eternity, destined to spend the rest of my days floating atop this fjord-like heaven.
'This way,' shouts Dave, jolting me out of the daydream. I head over to rejoin the group, their colourful kayaks – reds, yellows and oranges – popping in technicolour against the blue-green waters. At times we paddle hard, exploring a shoreline of beguiling cliffs and little stony beaches; at others we rest and float, calmly relenting to pull of the lake and feasting on the superlative scenery. I look up at the snow-capped mountains, but I don't feel any FOMO (fear of missing out). I don't care that others are slicing through powder and racing downhill at the Jungfrau ski resorts of Grindelwald, Wengen and Mürren. I'm perfectly content here, experiencing a totally new perspective on a winter adventure in Switzerland.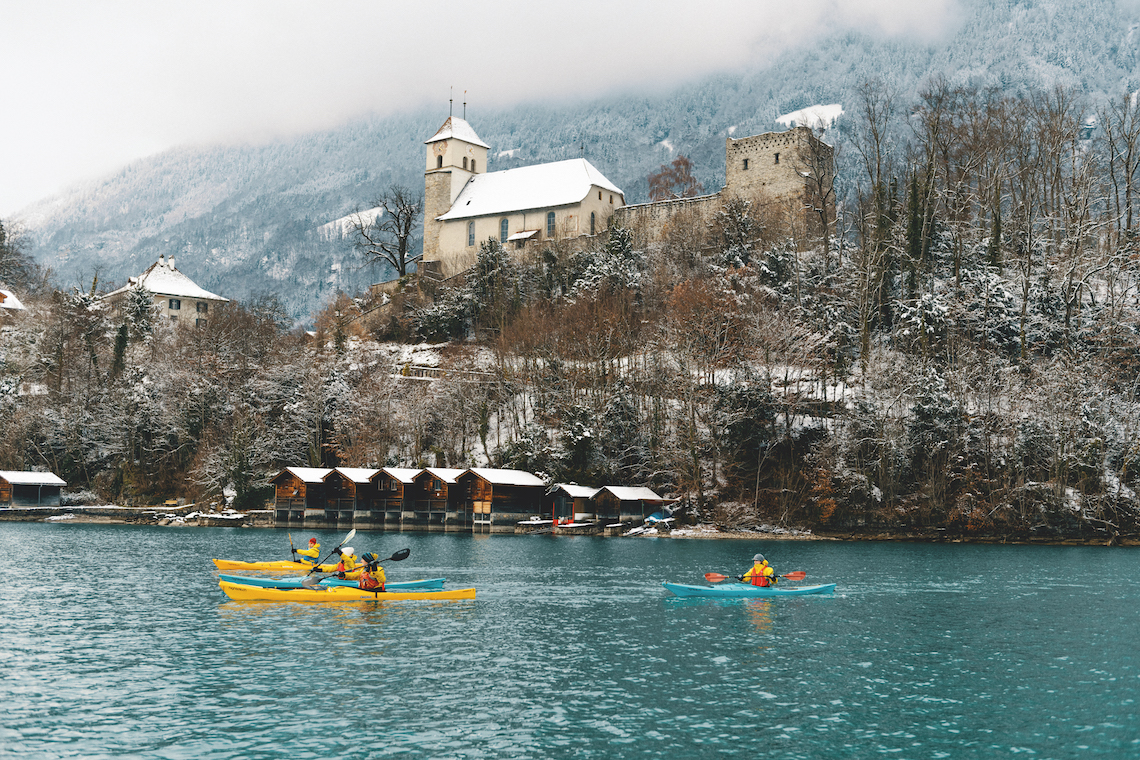 The next 24 hours are a whirlwind of different activities. In total contrast to the tranquil kayaking, we whizz around Lake Brienz aboard a slick, red jetboat, doing laughter-inducing, nerve-jangling, water-spraying 360s during the high-octane ride; before calming things down a notch or two back at BEATUS hotel, by soaking in the spa pool and sipping on coffee at the lakeshore terrace. Next comes a relaxed boat ride on Lake Thun, a service included as part of the Swiss Travel Pass; followed by a walking tour of Interlaken and an evening of ice-skating (or, perhaps more accurately, ice-shuffling) at the Ice Magic rink in the centre of the town.
But the real action comes the following morning. Butterflies fill my stomach, as I stand on a steep grassy slope kitted out in a harness and helmet. I'm poised to tandem paraglide almost 1,000m above Interlaken. 'When the wind is right we'll start running – are you ready?', says Jeff, my instructor. One step, two steps, three, four, five, six – and, then, a split-second rush of excitement, fear, adrenaline and doubt before it actually happens. Lift off.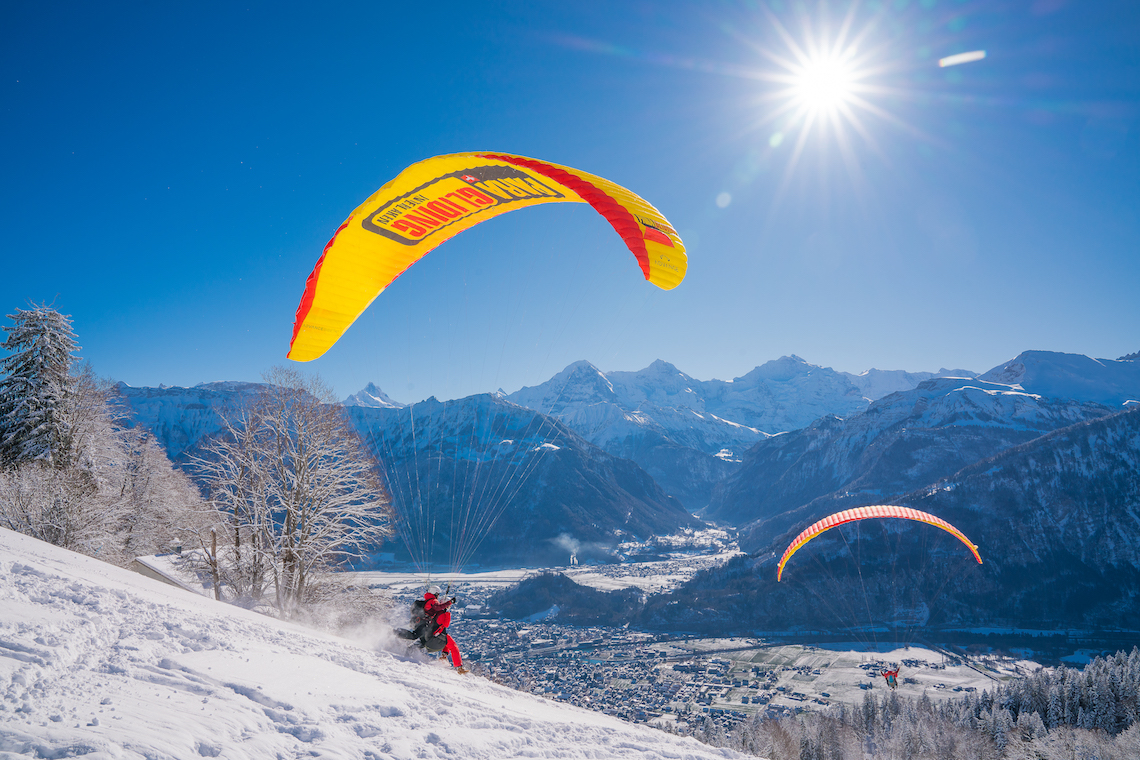 My feet leave the ground, forfeiting the solid, secure feeling of planet earth in favour of the glorious and surreal world of floating around in open air. We rise higher and higher, circling upwards into the sun-drenched blue skies like a soaring bird. And, as the take-off high dissipates, I'm consumed by the calmness and serenity of the experience. My legs dangle freely from the seat, nothing between them and the precipitous drop to the valley floor.
Gusts of wind blow in my face and my eyes dart from left to right, feasting on the views of the twin lakes of Brienz and Thun, snowy mountains and rivers that make Interlaken a Mecca for outdoor enthusiasts. It feels like we're flying, almost as if I'm living out that childhood dream of being able to take to the skies. Like the kayaking expedition, I'm seeing the world – yet again – from a whole new perspective.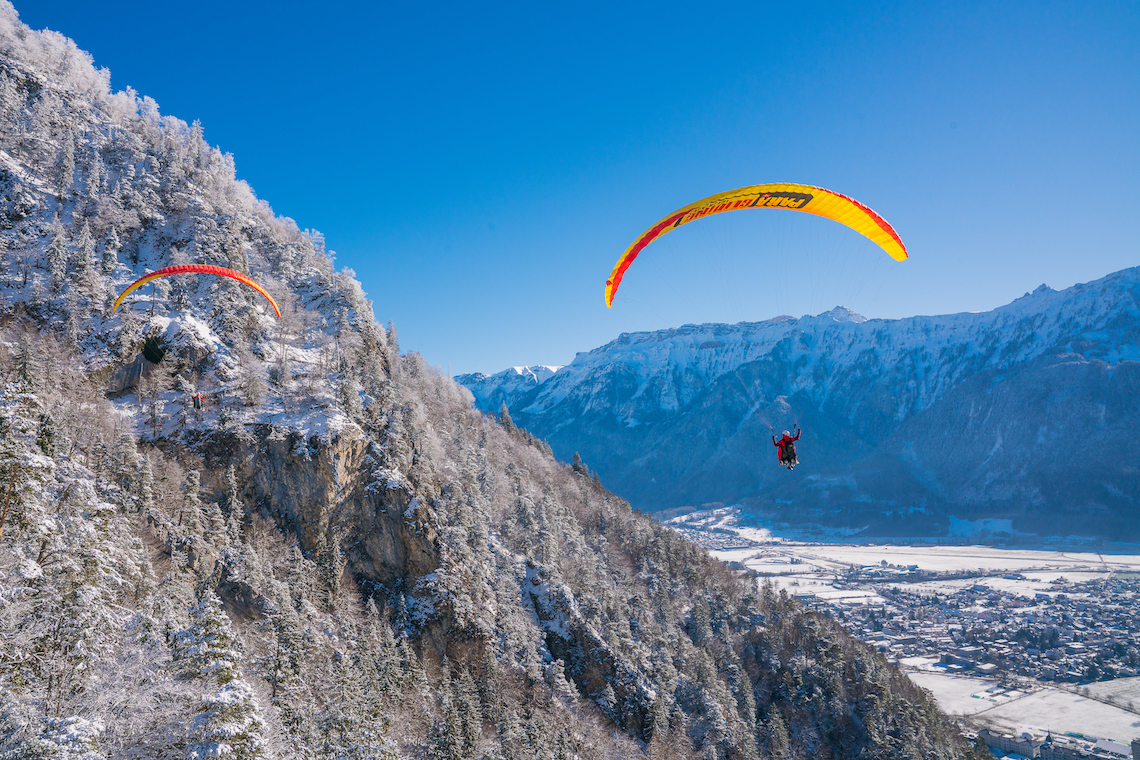 'We are going to go down in a minute, are you up for some spins?', says Jeff. 'Erm…go for it', I reply – and then the gentle floating becomes a blur of spinning and speeding and swirling. Views whirl, air rushes into my face and the ground appears to rise at a remarkable pace. I whoop with joy. But I don't have long to savour the moment, as we quickly line up for a landing in the field below. We touch down safely and high five – and it feels like a suitably epic end to my winter adventure in Switzerland. After all, who needs skiing when you can fly like a bird in a wintry alpine paradise?
Check out some of our favourite summer adventures in Switzerland here. 
Winter adventure in Switzerland: How to do it yourself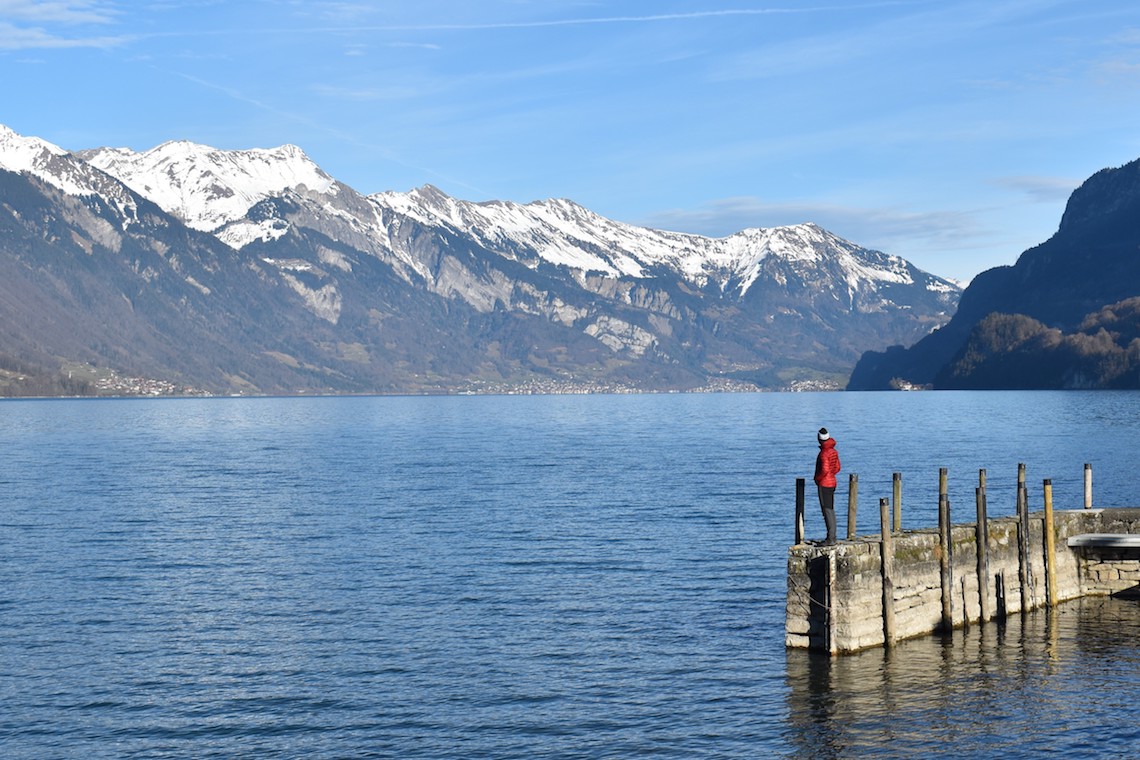 Flights
SWISS offers more than 150 weekly flights from London City, Heathrow, Gatwick, Manchester, Birmingham and Edinburgh to Zurich and Geneva. For more information click here or call 0345 601 0956.
Public Transport
The Swiss Travel System provides a range of exclusive travel passes and other tickets for tourists. The Swiss Travel Pass, for example, offers unlimited travel on consecutive days throughout the rail, bus and boat network. For more information click here.
Accommodation
Activity providers
Top of Europe Ice Magic (skating)
More Information
Click here, or call the Switzerland Travel Centre on 0800 100 200 30 or by email to [email protected]