Chamonix Mont-Blanc: Ski Touring
SKI TOURING is currently the BIGGEST niche market in skiing WORLDWIDE, according to the Ski Club of Great Britain. So WHY is it suddenly so popular, and WHERE can you go to try it?
WHAT IS SKI TOURING?
Ski touring or ski de Rrandonnée as the French call it, is simply hiking uphill on skis and then skiing back down. So why bother when you can just take the lifts?
Part of the appeal is the workout involved and the rewards that come with that, but even more so, it's about venturing into the mountains away from the crowds and making fresh tracks in pristine snow. "Ski touring offers such feelings of wellbeing, exhilaration and relaxation it just makes you want to start all over again," says Press Officer for Chamonix Valley, Claire Burnet.
The equipment used for ski touring also works perfectly well on the slopes, so there's no need for two sets of gear if you want to give touring a go. Most ski hire shops supply ski touring equipment, and the advances in its design means everything from skis to bindings and boots has become lighter and easier to use.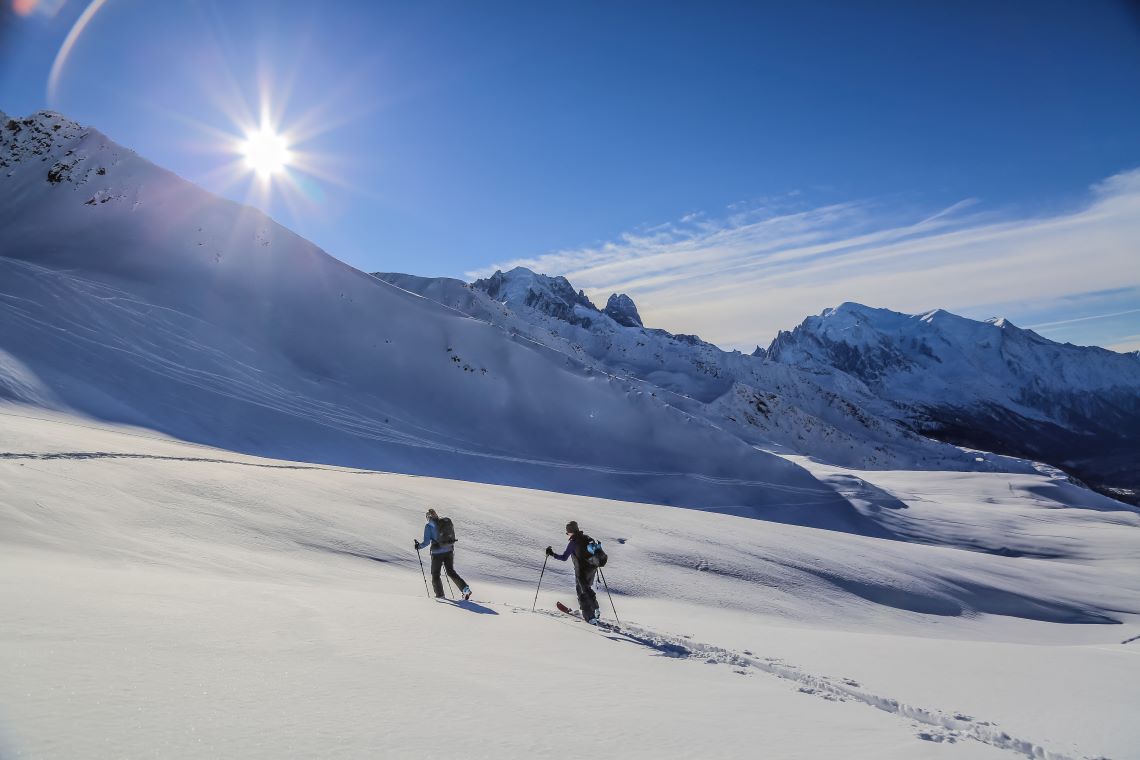 WHERE CAN YOU TRY IT?
The Chamonix Valley, flanked on one side by the Mont Blanc Massif and on the other side by the Aiguilles Rouges, offers excellent terrain for ski touring. The lifts provide easy access to a mountain wilderness that makes this region so special. Located just one hour from Geneva airport, a door-to-door shuttle service operates between the airport and the Chamonix Valley, making it super accessible.
Ski touring might be niche, but that shouldn't make it exclusive. For that reason, the Chamonix Valley has created three ski-touring routes of varied levels of difficulty for initiation and fitness training. They are: Les Houches/Prarion: elevation 841m; Argentière/Lognan via la Trapette: elevation 730m, and Le Tour/Les Autannes: elevation 701m (see map). And when you're done exploring, all three itineraries make it possible to ski back down on the piste.
Once the uphill technique is in the bag, it's time to sample some back country and glacier tours. You will now be venturing off-piste, probably into unknown terrain, so be sure to take a guide who knows the lay of the land intimately and who can ensure you have a memorable adventure for all the right reasons.
Begin at the Grands Montets in Argentière and take advantage of the Bochard lift which reaches an altitude of 2,766m. From there, a short ski tour up, with less than 300m elevation, will bring you to the Col des Rachasses at 3,030m. On the other side of the Col (shoulder), a stupendous 1,000m off-piste descent on the Rognons and Argentière glaciers awaits you.
Other famous itineraries departing from the Grands Montets include the Col du Passon, the Col du Chardonnet, and of course, the famous Haute Route which links Chamonix with Zermatt. For more glacier itineraries, the Aiguille du Midi at 3,842m is a fantastic starting point and many tours finish with a magnificent descent of the breath-taking Vallée Blanche.
Equally the Aiguilles Rouge range offers great ski-touring terrain, with an incredible backdrop of the Mont Blanc range to boot. Classic tours include the Crochues- Bérard traverse, Col des Dards, Col du Beugeant and Mont Buet (also known as the 'Mont Blanc des Dames').
For something completely different, the Argentière ski school offers 'Ski Touring Under the Stars', an evening outing for groups of 2-5 people. Suitable for novice ski tourers, participants hike through the forest to the Croix de Logan before being treated to a magical moonlit 800m descent of the renowned Pierre à Ric ski run.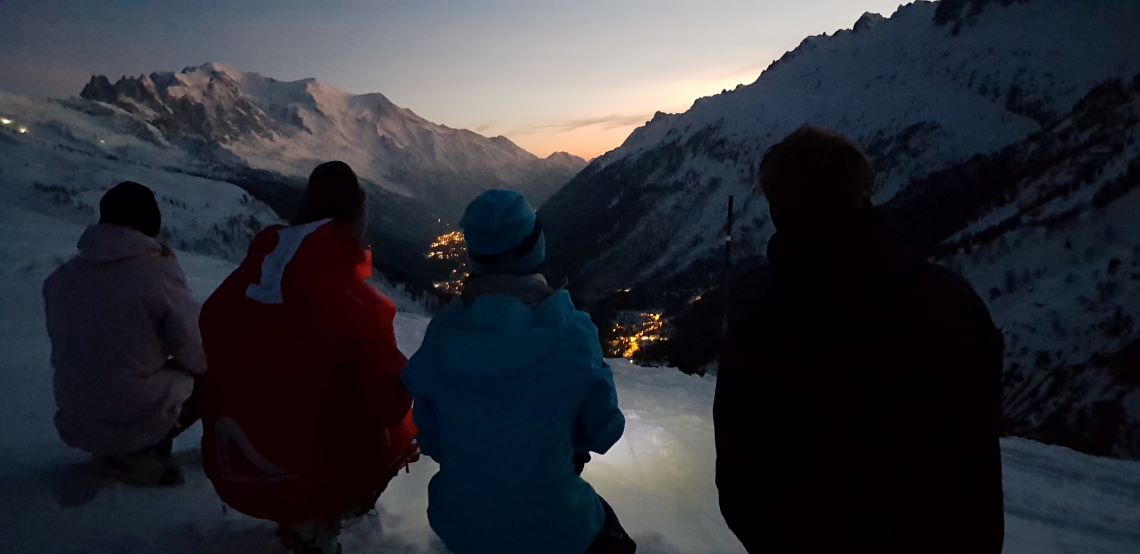 WHEN SHOULD YOU GO?
The ski season begins in early December and runs through until early May. For more information on Ski touring in Chamonix, see www.chamonix.com, www.ski-school-argentiere.com