The YORKSHIRE DALEs are well-known among UK adventurers for their challenging PEAKS and BREATHTAKING vistas. But BURIED beneath the spectacular landscape lies a SUBTERRANEAN world just waiting to be explored…
Words: Joey Tyson
The cave's mouth gapes out from the moorland, a frothing tongue of water surging down into the darkness. Standing at the edge of the black, a wave of apprehension grips me for a moment. To me, the mouth looks impassable, an infinite hole in the earth. To my guide, Mike Bottomley, it's the entrance to another world; an underground labyrinth.
I think of the dark; the tight, cramped spaces. The things most people associate with caves. Then we step into the water and begin to wade, and none of that matters. Almost as soon as we pass the threshold between overground and under, the boundary between sunlight and torch beam, I only have one thought: how deep can we go?
We squeeze our bodies under a dripping roof of stalactites, crawling and crouching, pushing our bags of climbing equipment before us. Contorting our bodies though the open spaces left by centuries of rushing water, we descend. It doesn't take long for the passage to open out into a vaulted cavern twice my height.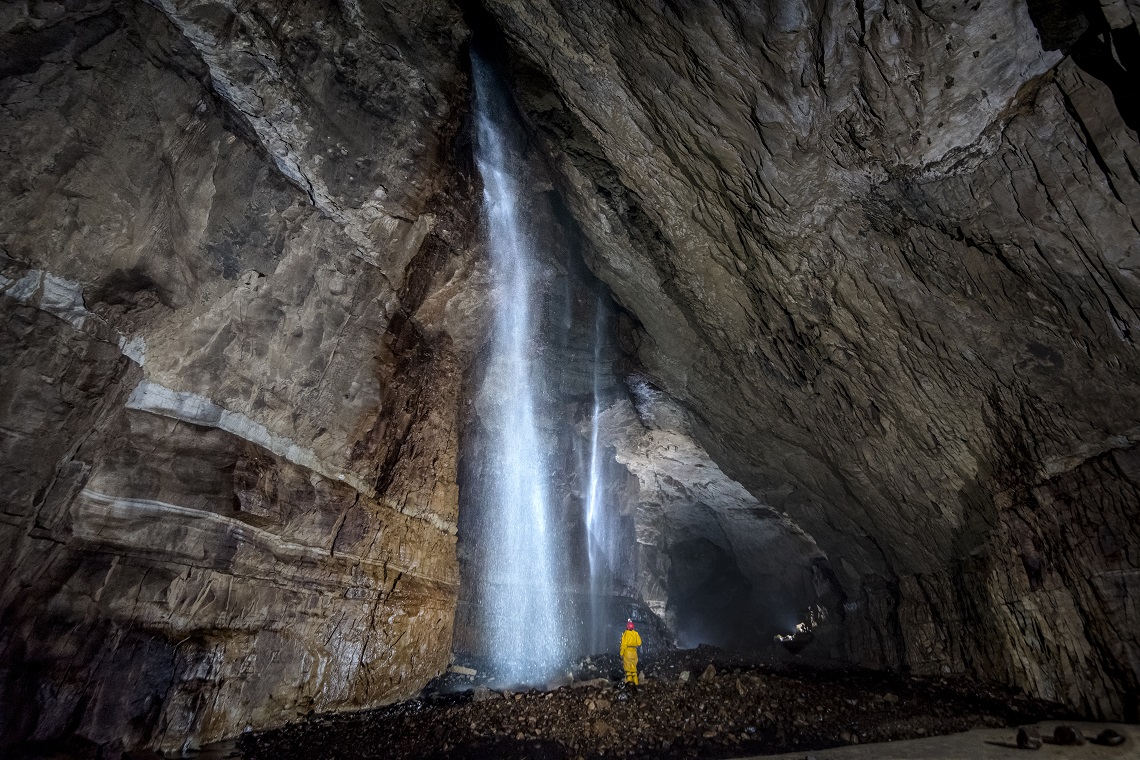 UNDISCOVERED YORKSHIRE
This is the start of the Long Churn Cave network, one of the Yorkshire Dales most spectacular cave systems. On this excursion, we'll descend 30m underground to the Alum Pot pothole. While it's not exactly the great unexplored (the route is one of Yorkshire's most popular), it feels that way to a caving newbie like me.
Unknown to most, the Dales are home to a vast maze of caves, potholes, and shafts, snaking for miles beneath the National Park. Unless you're a caver or a local or both, you'd probably never know it. Growing up just down the road from the Dales in Bradford, I had no idea this epic subterranean world even existed in Yorkshire. Despite my lack of awareness, caving is nothing new here. Local folk have been delving under the Dales since the mid-1800s, according to Mike.
Things were a little different back then, mind you. Instead of the head torches, hard helmets, climbing harnesses, and full-body jumpsuits of the modern caver, original explorers wouldn't have had much more than a few rope ladders and a candle to find their way. Was it adventure or madness that drove them into the darkness? Likely a bit of both, but I think I'll stick with the torch for now.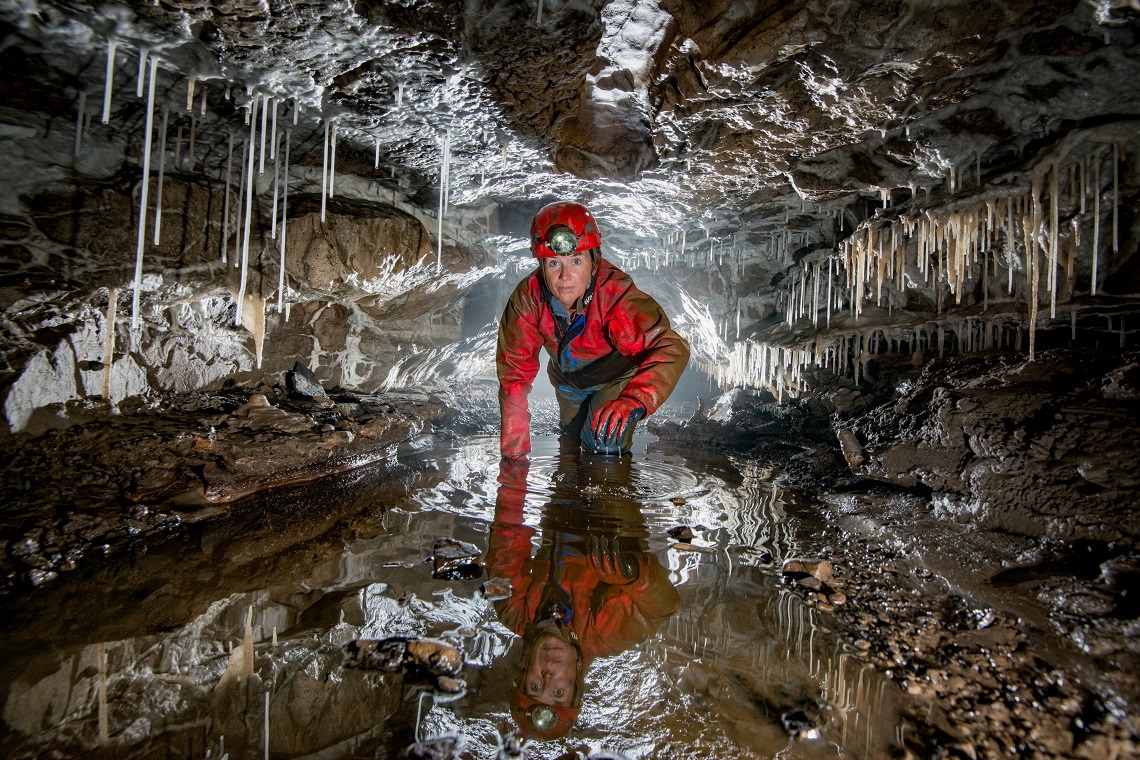 In the last hundred years or so, over 310 miles of cave have been discovered in Yorkshire. To put that into perspective, the drive between Newcastle and London is shorter in length — yet that's not even the half of it.
"The cool thing with the Dales is there's maybe five or six hundred kilometres of cave. But there's probably the same again yet to find, which is the real thing to get your head around," says Mike.
Mike runs Yorkshire Dales Guides, a local tour operator that specialises in caving and other outdoor adventures, such as rock climbing and trekking. He's been caving for over 30 years and was introduced to the underground by his father at the age of seven. In 2011, he relocated to the Dales from the Lake District to be closer to the caves, and to share his passion with others. For him, caving is adventure in its purest form; something he never gets tired of.
"More people have stepped on the moon than have been down a lot of these caves, especially ones that have just been found," says Mike, who can count the world's largest and the world's second deepest caves on his CV. "It's such an amazing, stunning, hidden world. No one really has any idea of what it's going to be like until they try it."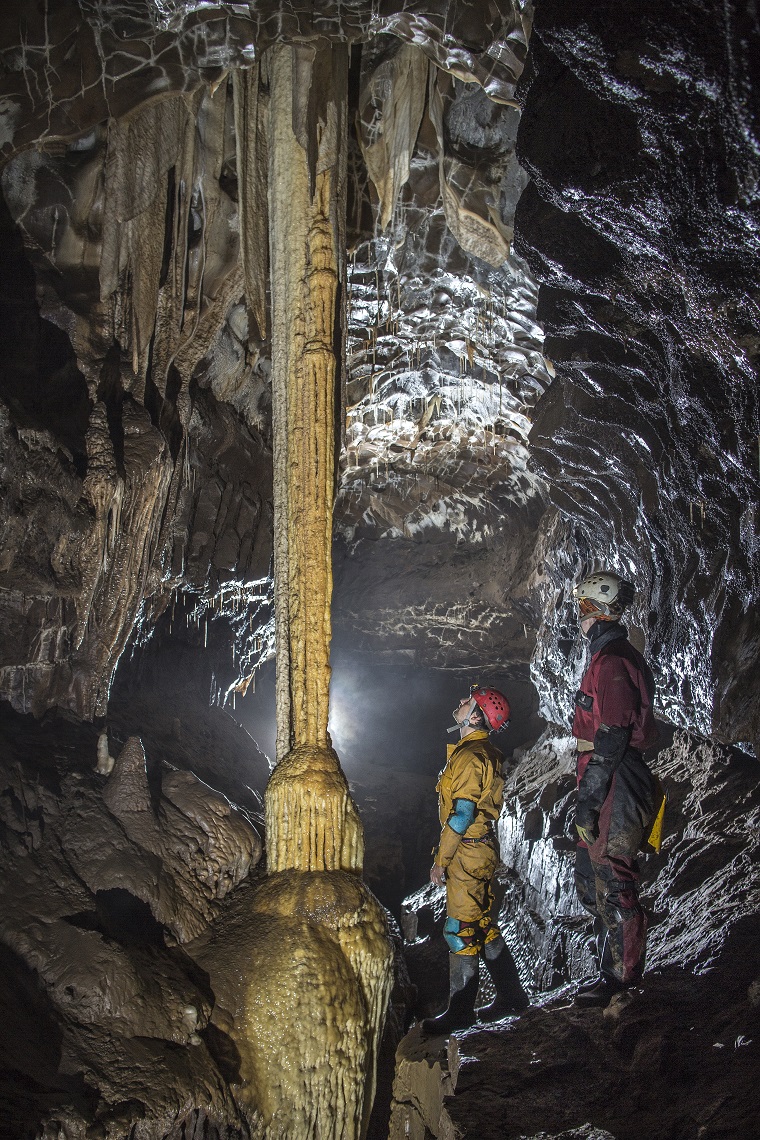 The more I learn, the more it becomes clear that Yorkshire is the caving capital of the UK. One of world's longest cave systems, The Three Counties System, lies beneath the Dales. Stretching for over 50 miles, the network touches Yorkshire, Lancashire, and Cumbria — and it could yet grow longer.
Extending the cave is a non-stop pursuit with cavers constantly trying to find new connections, painstakingly searching and digging underground. Right now, there's an ongoing attempt to connect the Three Counties with another cave system under Kingsdale, a valley on the Dales' western boundary, which, if successful, would see the network jump from the 28th longest system in the world to the 20th, taking it to over 60 miles in length.
GOING UNDERGROUND…
Our adventure will be a just little shorter than that. As we make our way down through the cave, we pass under a stream. An awesome din fills the space, the water swirling and rushing above our heads. After a few days' rain, the water level is higher than usual.
Cranked up, the noise bounces around the chamber, and it dawns on me that we are now absolutely surrounded by nature. That feeling — layers of time pressed around us; tonnes of limestone above our heads — turns out to be a strangely relaxing one.
Before long we reach Dolly Tubs, a 14m pitch down to the next chamber. In caving terminology, a "pitch" is a vertical section that requires rope or a ladder to descend. Peering carefully over the edge of Dolly Tubs, my headlamp fails to penetrate the blackness, which is pooled at the bottom like a well. From here, there's only one way down — an abseil into the void. Navigating these underworld obstacles is all part of the fun of caving.
For many, it's what makes it so addictive. Clambering around underground is a real buzz. It combines elements of trekking, canyoning (minus the jumping), and rock climbing. Sometimes it even involves diving, but that's a far more intense type of caving reserved for the really dedicated.
A few steps away from the bottom of Dolly Tubs, the shaft opens into a spectacular void: Alum Pot. We stand on a ledge looking upwards, the open mouth of the pothole crisscrossed with heavenly golden beams of sunlight. It forms what looks like a perfect oval, its steep cliff walls overgrown by trees and vegetation.
Two powerful waterfalls surge down at either side of the mouth, cascading down for over 65m. At 40m long by 10m wide, the mouth is a truly colossal sight, made more impressive by the fact that, from above, you'd barely even know it was there at all.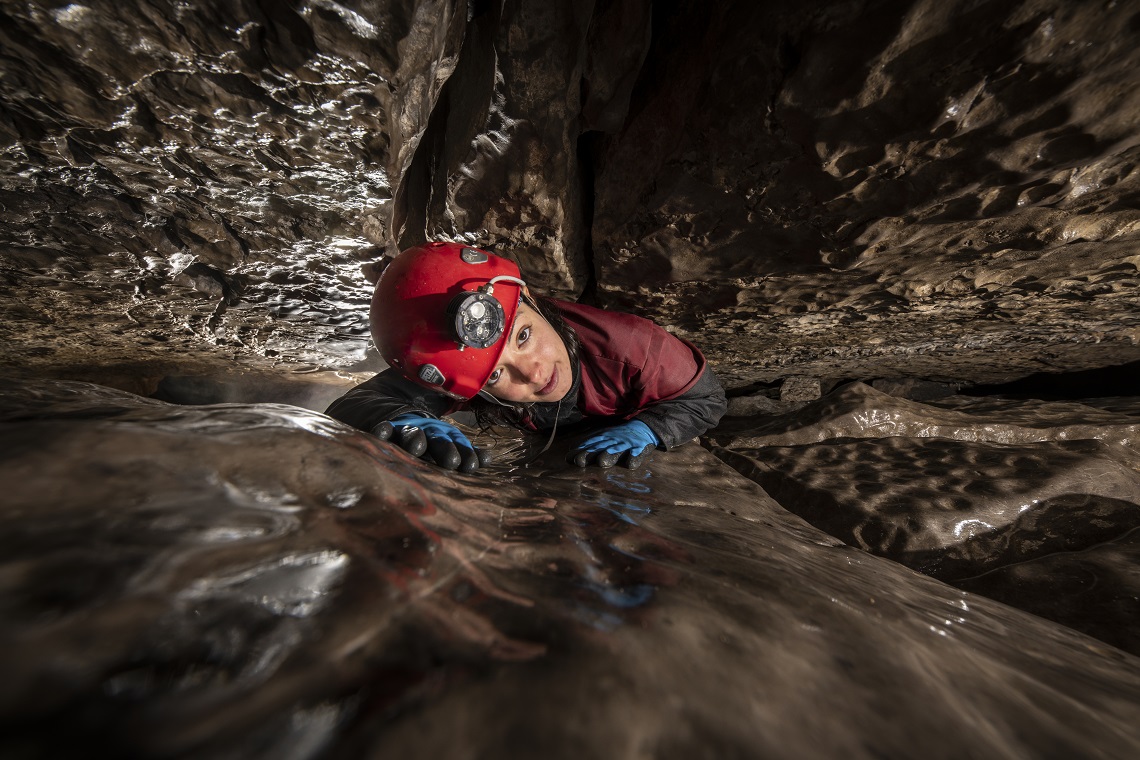 We spend the rest of the excursion exploring some of the other caves of Long Churn, a beautiful natural playground of subterranean pools, ethereal stalactites and stalagmites, and winding passages. Then, just before we begin our ascent to the surface, we stop for the moment in the middle of a long chamber, a rushing stream of water up to our ankles.
"Turn off your headlamp", says Mike. One click and the darkness is total. A blackness so complete, it almost seeps into my thoughts. After a few seconds, I find it hard to picture anything in my head other than the thick, overwhelming blackness. The only sound, the powerful surge of rushing water.
It's so dark, there's no difference between eyes open and closed. I've never encountered darkness like it. It's freaky but after a while, it becomes quite therapeutic, almost calming. A minute seems like ten until Mike clicks on his light, and we make our way back to the light of day.
GET DOWN
The easiest, safest, and most fun way to give caving a go is through an organised excursion with a company like Yorkshire Dales Guides (www.yorkshiredalesguides.co.uk). With an experienced guide, you'll get the adventure of caving, plus you'll learn the geology of these unique formations. If you enjoy caving and want to take it further, Mike recommends contacting your nearest caving club. There are clubs and instructors all over the UK (see, www.newtocaving.com), which run regular caving trips at home and abroad. If you're really serious about caving, this is a great way to build experience and meet other cavers.