Winter is a fantastic time to get out into the mountains. Fresh snow and ice sparkle in the sunlight and the mountains' corries, ridges, and buttresses are highlighted with snow making for an otherworldly experience. There's an almost elemental nature to be found in the hills, but just like any time of year, these rewards don't come without hazards. I tend to group them into three broad categories…
The hazards
Weather: The first thing we think of in winter is the weather. Cold can seep into our bodies causing hypothermia, frost nip and loss of function in our hands, while snow and ice covering the mountainsides hide path irrigation, streams and boulder-fields. It can build up into overhanging cornices that are easy to stray onto, causing them to collapse beneath us. Navigation becomes harder with snow hiding features and darkness setting in early. Winter storms bring stronger winds causing us to fall or lose kit and equipment such as maps, hats and gloves.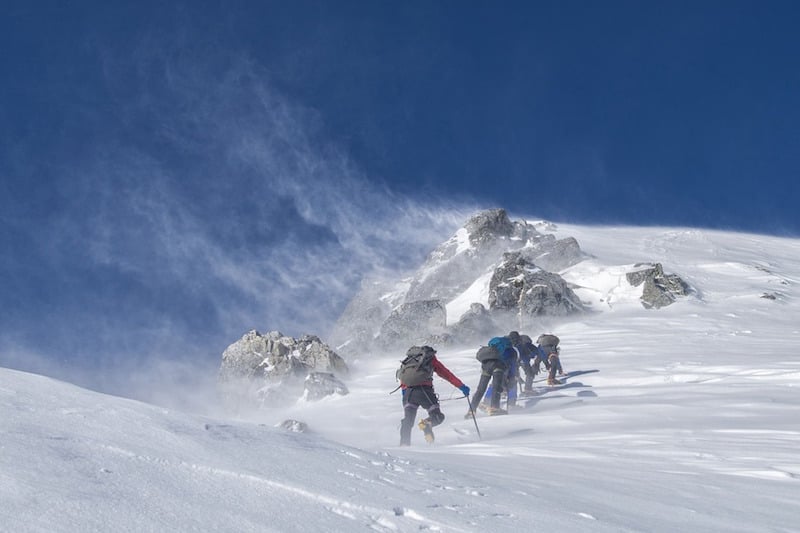 Terrain: The mountain terrain also changes in winter. Summer paths up steep hillsides become uniform slopes, while chunks of rock and ice get released with the freeze-thaw cycles. Avalanches sweep down hillsides claiming lives every year (here's how to avoid them); rivers become swollen with rain and snowmelt making them difficult or impossible to cross. Even small streams can cause rapid chilling of feet if they become submerged, ending your day prematurely.
People: The friends you travel into the hill with also become a hazard as they may move slower, be ill equipped or require more of your own energy, care and attention. Anyone around you who strays into the wrong location might set off an avalanche, possibly catching you in it.
How to mitigate the risks
All of this can make the hills a scary place to be on a winter's day. Luckily, a bit of understanding, some careful planning, and paying attention to what's happening around you can allow you to make these risks acceptable. I have three rules I follow to help me avoid falling fowl of one of the hazards…
Stay warm: Modern equipment is fantastic at allowing you to withstand adverse weather and conditions. Make sure you layer up and change your layers during the day to prevent too much moisture build up and/or getting too cold while stationary. I set out most days wearing thermals and waterproofs, then add a fleece style jacket under my waterproof as I get higher and the weather gets cooler. I also carry a warm 'belay' style synthetic jacket to put on if I'm stopped.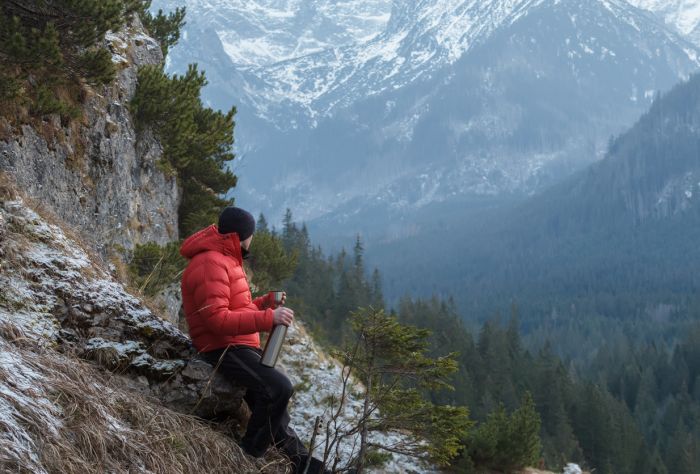 This system, plus a couple of sets of gloves, some mitts and a hat, allow me to deal with some wild weather. It's amazing how keeping moving can also keep you warm. There are tales of people walking lost through the night to be found alive while companions perished in the snow. Finally, I always carry a bothy bag to get me out the weather should the unexpected happen.
Don't fall: How do we avoid falling? This starts with good stable walking positions, choosing appropriate footwear and learning the skills needed to use it. Understanding different types of boot, what micro spikes, crampons and an ice axe are for and when appropriate to use them is equally important. Picking a suitable route to avoid steep terrain while moving at a steady pace you're comfortable with will allow you to avoid some of the unseen hazards. Then, should the worst happen, an ice axe arrest can prevent a slip becoming an uncontrolled fall.
Don't fall victim of an avalanche: Avalanches happen on slopes of 20 to 60 degrees, with 38 degrees being the most common angle. By avoiding being on or below these slopes when dangerous levels of snow are present we can move without being overly concerned. In Scotland, the Scottish Avalanche Information Service (SAIS) provide daily forecasts of the risk and which aspects of the mountain these can be found on. Check out the excellent www.beaware.sais.gov.uk documentation to find out more.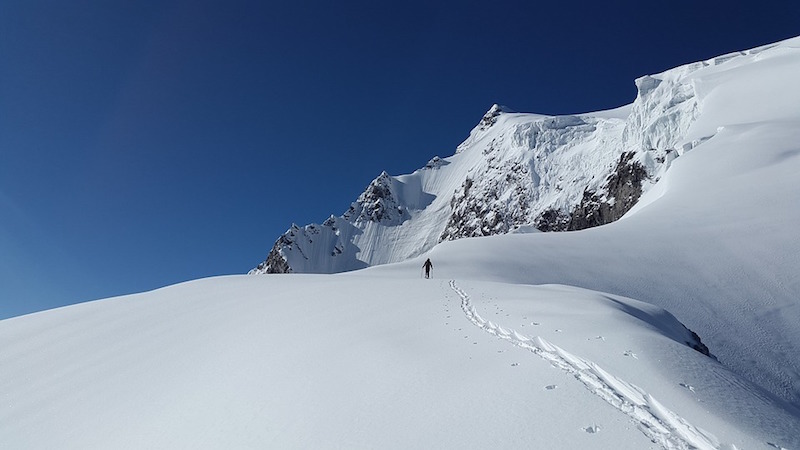 All this information can seem overwhelming and many of the skills require a little practice to get to grips with. For anyone unsure and new to winter, a good winter skills course or guided days out are great ways to get the experience needed to stay safe.
Who's writing?
Oliver Mentz is a Winter Mountain Leader and guide for Thistle Trekking. He is an experienced mountaineer who has travelled the world climbing in many cold and snowy environments. Recently, he completed a month long expedition to Greenland scaling unclimbed peaks. Closer to home, he spends his winters in Scotland, enjoying the challenges of this environment. Join him for a winter walking experience with Thistle Trekking.