Continuing our look at the world's greatest hikes, this week we explore a sacred mountain, national symbol and Japan's highest peak, the mighty Mount Fuji…
Depending on which one of the four main routes you take, the Mount Fuji climb can take between 2-10 days and is one of the most popular treks in Asia.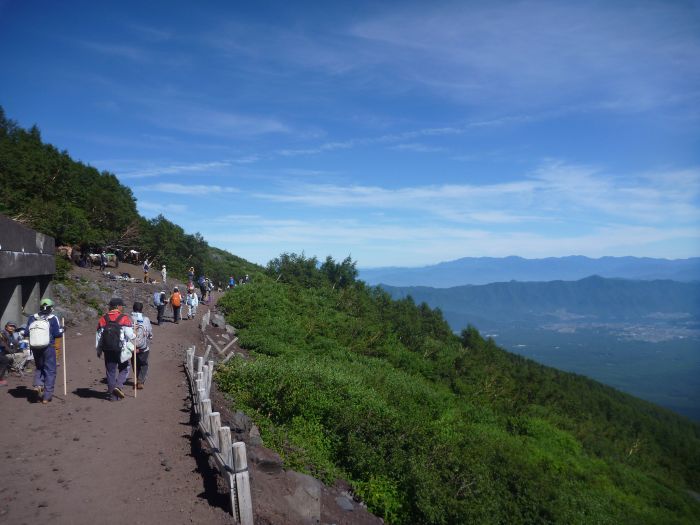 Photo: Hajime NAKANO
'You'd be wise to climb it, but only a fool climbs it more than once,' is what the Japanese say about their highest mountain, Mount Fuji at 3,776m. We agree: once you've seen Mount Fuji, you won't be able to resist – it's crying out to be climbed – but you probably won't want to battle the crowds, the night-time hiking to see the sunrise and the ash-covered paths a second time.
Still, sunrise from the top is one of the most beautiful in the world and the satisfaction of knowing you've conquered the peak – and that you won't have to do it again – huge.
There are four main routes to choose from and each have their pros and cons. You don't need to be an experienced hiker to take on Mount Fuji – there's no technical climbing involved – however you will need to be keen and willing to take on some steep sections and long periods of walking.
The most popular route is the Yoshida trail, thanks to its accessibility from Tokyo. Unfortunately this also makes it the most crowded route, but it's easy to follow and recommended for those without a guide. Public transport is available to take you from Tokyo to the fifth station, where you'll begin your hike, climbing up through the sixth seventh and eight stations towards the summit. There are mountain huts along the way where you can stay overnight, and it's worth planning where you want to stop off in advance and making a reservation as they can get busy. Camping is strictly prohibited.
Many choose to stay overnight at the eight station and then get up very early for the short final push to the top. This is certainly recommended!