From Ivybridge in South Devon to Lynmouth on the coast of North Devon, crossing parts of both Dartmoor and Exmoor in between, The Two Moors Way is a long-distance path of 103 miles (166 km), officially opened on 29 May 1976.  Guidebook author Sue Viccars tells all we need to know about this fabulous footpath…
What is the Two Moors Way?
The Two Moors Way is a largely off-road walking route devised in 1976 to link two of the southwest peninsula's two greatest moorland areas: Dartmoor and Exmoor. In 2005 the southern end of the route was officially linked with a section of the Erme–Plym Trail, running on to the south Devon coast.
Where is it?
The official Two Moors Way runs from Ivybridge north across Dartmoor, then crosses the remote rolling landscapes of Mid Devon before clipping the western edge of Exmoor and ending at Lynmouth on the North Devon coast. The Erme–Plym Trail link extends the route to the south coast at Wembury, a few miles east of Plymouth.
What's the attraction?
There is something deeply satisfying about walking right across a county, and in the south of England Devon is the best candidate for a substantial coast-to-coast route. Add to that the fact that England's third-largest county not only enjoys a wealth of varied landscapes but is also essentially rural – this route keeps far away from busy roads and centres of population – and you're on to a winner!
It's not a particularly tough route – the continuous ascents and descents tend to be short, and the highest point, on Hamel Down on Dartmoor, is at 532m – although there are some long stretches between overnight stops.
Does the Two Moors Way live up to its appeal?
Definitely. From the start on the South West Coast Path at lovely Wembury Bay (within the South Devon AONB), the route runs north via footpaths and bridleways through the undulating fields and copses of the South Hams: a safe, enclosed landscape.
South Devon's rivers – many of which start life as a Dartmoor stream – flow languidly through fertile flower-studded meadows where big chestnut-red South Devon cows graze contentedly. This green and gentle land stands in marked contrast to following section: across the granite mass of Dartmoor (often described as 'Britain's last wilderness').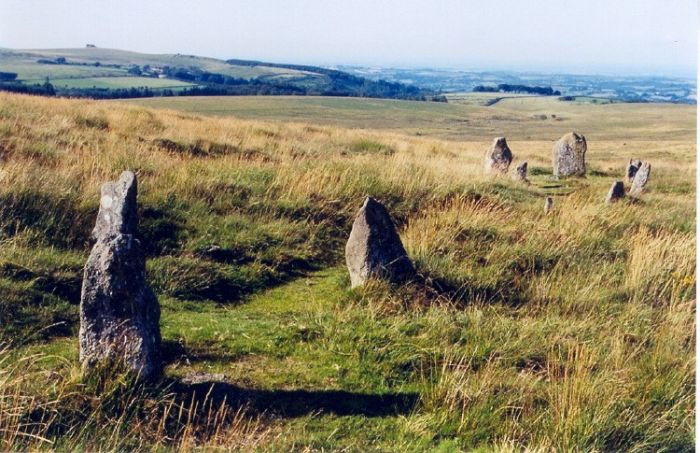 Photo: The Megalithic Portal
The first stretch of the official Two Moors Way from Ivybridge crosses remote and bleak moorland via the old Redlake Railway, used to transport china clay from Redlake Mires in the early 20th century. It is hard to envisage the moor as a busy industrial landscape, but there are continual reminders of the hand of man in the form of Bronze Age standing stones, rows and circles – Dartmoor has the greatest concentration of these sites in the country – and evidence of old tin workings.
Myths and legends abound, and the walker may at times feel as if he is alone in an eerie world. But even here there is variety: these moorland stretches are interrupted by a succession of steep-sided and sheltered wooded valleys, home to sparkling rivers and attractive hamlets. This section includes an optional alternative route via Widecombe-in-the-Moor, famed for the story of Uncle Tom Cobley and his grey mare.
Mid Devon next: 30 miles of hilly country criss-crossed by a complex network of narrow hedged lanes, scattered farms and hamlets, remote churches, a patchwork of small fields and pockets of woodland. This is 'real' Devon, far off the beaten track and rarely visited. This is the land of 'webbed paw, fin, clawed pad and pinion,' as so eloquently described by Henry Williamson, author of the classic novel Tarka the Otter.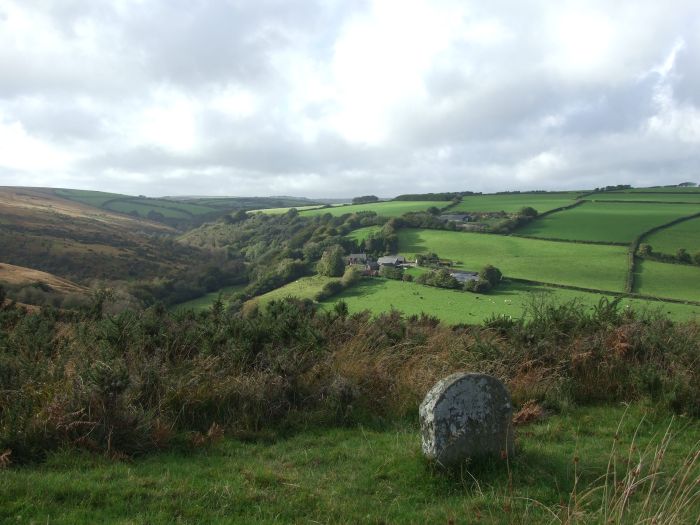 And so on to Exmoor, an altogether softer option when compared with Dartmoor's harsh granite heights. Folded sandstones and shales give rise to a smooth and rounded moorland landscape, dissected by picturesque rivers running through steep-sided combes. The route passes through that part of Exmoor designated as 'Royal Forest' in the 1200s – a royal hunting ground – still home to red deer (and Exmoor Ponies). The story is altogether different at the coast: Exmoor's towering sea cliffs are the highest in England, making for a dramatic end to the walk at Lynmouth.
How about the logistics?
The route follows rights of way throughout. The South Hams stretch is well signed; Mid Devon a little patchy; and Dartmoor and Exmoor are largely unsigned other than where a road is crossed.
The Cicerone guidebook describes the main route and optional detours as well as giving information on access to start and finish, planning the route, accommodation, transport links and more It is important to book accommodation in advance; there is a limited number of places to stay along or near the route.
Why should everyone walk it?
To get off the beaten track and explore the varied landscapes of one of England's most beautiful and most rural counties; to take a break from the 'real world' for a brief spell.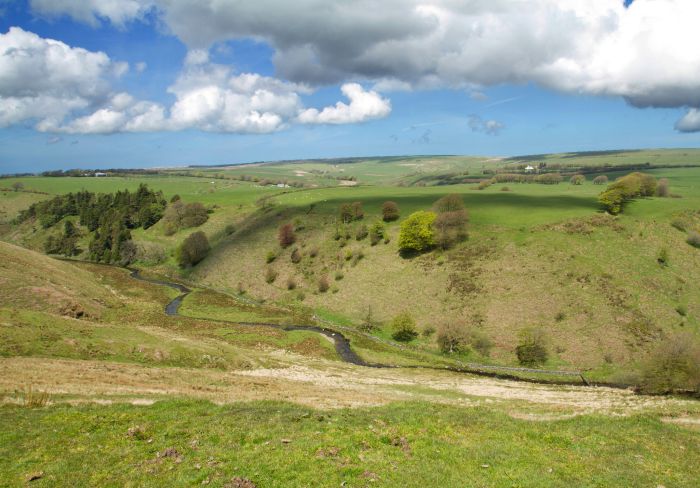 Photo: Tristan Martin
Two Moors Way facts
Trail length: 116 miles (187km).
Start point: Wembury Beach, Wembury, nr Plymouth (SX517485).
End point: The Pavilion, The Esplanade, Lynmouth (SS723497).
How many days does it take to walk? Between five and 11, depending on time available and how long you spend enjoying yourself along the way.
What should you pack? The moorland stretches can be bleak and wet at almost any time of year: come prepared for rain and wind. Parts of the route in Mid Devon can be extremely muddy.
When should you go? Any time from spring to autumn.
What are the dangers? Navigation skills needed in poor weather conditions on the moors; care required on moorland river crossings after very wet weather
What are the highlights? Dartmoor's granite tors, ponies, prehistoric sites and expansive views; Mid Devon's secluded farms and hamlets; Exmoor's beech hedgebanks, wooded combes and magnificent coastline. And being 'far from the madding crowd…'
Get the guidebook: The Two Moors Way: Devon's Coast to Coast Walk by Sue Viccars, published by Cicerone (www.cicerone.co.uk). See also www.exploredevon.info.