Stretching across an island of surreal beauty is one of Europe's longest and most challenging trekking trails that lures in many keen adventurers in. The GR20 in Corsica isn't just Europe's best, it's one of the world's best trails that normally takes a staggering 15 days to complete. With a north to south traverse from the pretty village of Calenzana to Conca, you'll be hiking, ridge walking and scrambling as this trail rises abruptly above the Mediterranean Sea with granite peaks soaring higher than 2,000m. 
Corsica is renowned for its dramatic coastline and mountain villages, and what better way to experience these than on this 112-mile voyage with 12,000m of elevation gain. Ethereal vistas including forests, granite moonscapes, windswept craters, glacial lakes, torrents and snow-capped peaks pull in around 10,000 hikers every year, in what seems to be one of Europe's most desirable challenges. As this is no walk in the park, we've put together an extensive guide to ensure you're perfectly well equipped when it comes to taking on this beastly trail. 
GR20 kit list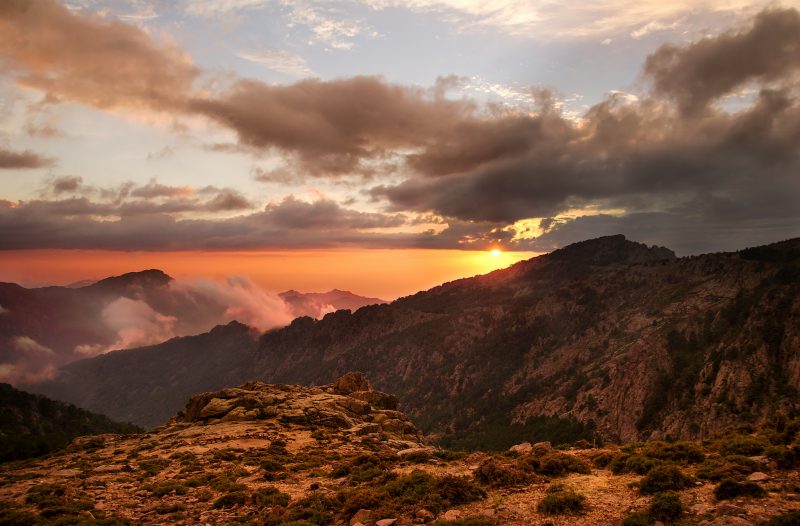 Photo: Timo Horstschäfer
For any trek, packing the right kit is crucial to ensuring you reach the finish line, let alone a 15-day mega-hike through the mountains of Corsica. If there's one thing you don't want, it's to train intensely for the physical aspects of this epic adventure and be stumped because you were unprepared with a solid kit list. So, in order for you to avoid this happening, we've put together a list of the essentials so you can maximise your time and enjoyment while exploring the grandiose GR20. 
Clothing: Sturdy hiking boots, padded and breathable socks, lightweight trekking trousers, waterproof trousers, shorts, underwear, base layer shirts (including short sleeve and long sleeve), t-shirts, a fleece jacket and a windproof and waterproof jacket.
Accessories: Sun hat, warm hat, sunglasses and some lightweight thermal gloves.
Equipment: Trekking poles, sleeping bag (comfort rating 0°C), daypack (we'd recommend 65L),  head torch and spare batteries, sun protection, water bottles x2 (1L) or 2L hydration pack (we'd recommend CamelBak).
Extras (toiletries, food and medical): Washbag, small towel, toilet paper, anti-bacterial hand wash, lunch box, fork and spoon, insect repellent and a basic first aid kit that includes antiseptic cream, throat lozengers, diarrhoea treatment, painkillers, plasters, antihistamine, bandages, gloves, rehydration salts and glucose tablets).
Optional: Sleeping bag liner, waterproof daypack cover, gaiters, trainers or sandals, spare laces, earplugs, swimwear, travel clothes, penknife and a camera (we put this as optional, but with views as good as these, you'd be crazy not to!)
GR20 itinerary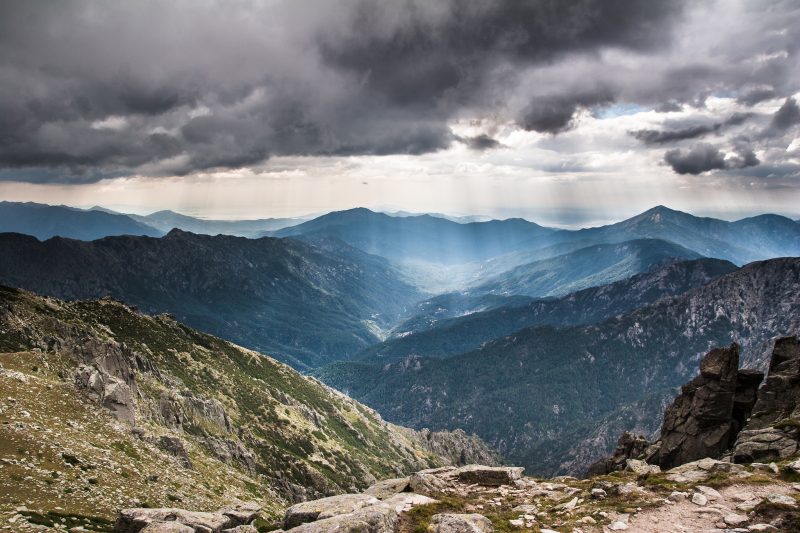 Photo: Timo Horstschäfer
They say it takes roughly two weeks to complete the GR20, and when broken down, it splits into the famous 16 stages of the trail. Following in the footsteps of KE Adventure Travel (a travel company that offers incredible GR20 walkings holidays, if you don't want to do the trip alone), here's a great itinerary to follow for the best exposure of one of Europe's hottest hikes.
Day 1: Fly into Bastia and transfer to Calvi
Rendezvous at the Bastia airport before taking a transfer to Calvi where you'll reside in a hotel. 
Day 2: Transfer to Calenzana, the start of the GR20. Trek to Ortu di u Piobbio refuge
Offering awe-inspiring coastline views and plenty of up-hill walking for the first day.
Accommodation: Camping
Distance and time: 7.4 miles, 6-7 hours
Elevation: 1,500m ascent, 230m descent
Day 3: Trek into the Cirque de Bonifatu and on to the Refuge de Carrozu
A rocky ascent into the high granite pinnacles of Corsica with a sunset finish over the Mediterranean. 
Accommodation: Camping
Distance and time: 4.9 miles, 6 hours
Elevation: 795m ascent, 1,070m descent
Day 4: Ascend to the ridge above Lac de Muvrell and down to Haut Asco
Ascend past a beautiful gorge to sweeping views of the western coastline before a rocky descent into a remote ski station. 
Accommodation: Hotel
Distance and time: 4.9 miles, 6 hours
Elevation: 690m ascent, 850m descent
Day 5: Haut Asco to Bergerie De Vallone
Pass through remote valleys beneath steep, sharp ridges before finishing off the day with a dip in the natural pools at Bergerie de Vallone.
Accommodation: Camping
Distance and time: 8 miles, 9-10 hours
Elevation: 1,600m ascent, 1,600m descent
Day 6: Trek via Ciottolu di Mori (2,000m) to Castel di Vergio
Reach Ciottolu di Mori, the highest refuge on trek at 2,000m, head along the Golu valley and into the ski lodge for a lavish night's stay. 
Accommodation: Hotel
Distance and Time: 9.3 miles, 5-6 hours
Elevation: 910m ascent, 950m descent
Day 7: Trek through beech woods and grassy meadows via Lac de Nino to Manganu
Experience vast beech woods, glistening glacial lakes and a secluded goat farm producing Corsica's legendary goat cheese, which you just have to try.
Accommodation: Camping
Distance and time: 10.5 miles, 7 hours
Elevation: 750m ascent, 565m descent
Day 8: Ascend to the Breche de Capitellu (2,225m) and cross the Col de la Haute Route
Imposing views of surrounding mountains, glacial lakes and sheer sheets of granite plunging into the valleys below.
Accommodation: Camping
Distance and time: 12.4 miles, 9-10 hours
Elevation: 1,400m ascent, 1,600m descent
Day 9: Trek to the Muratello pass and descend into the l'Agnone Valley
Follow the ridge to the Muratello pass as the Monte d'Oro massif dominates the skyline, before traversing down a flank into the glacial valley below.
Accommodation: Gite/Hostel
Distance and time: 6.8 miles, 6 hours
Elevation: 670m ascent, 1,180m descent
Day 10: Over the pass Bocca Palmente to Col de Verde (1,640m)
Panoramic views of Corsica's coastal plains and sea lagoons before traversing flanks of Monte Renoso and wildly crossing free-flowing chutes of water.
Accommodation: Gite/Hostel
Distance and time: 17.3 miles, 9-10 hours
Elevation: 1,090m ascent, 970m ascent
Day 11: Trek across the Col de Rapari and the Col de Laparo (1,538m) to the Usciolu refuge (1,750m)
Begin the day on a forest trail up the high ridge beyond the skyline, skirt around three majestic summits and visit the water springs along the way. 
Accommodation: Camping
Distance and time:9.9 miles, 7-8 hours
Elevation: 1,290m ascent, 830m descent
Day 12: Follow a spectacular ridge to the Bocca de l'Agnone, and across the Manganu plateau
Scramble the rocky ridge of Arete a Monda and reach the wild beauty of Bocca de l'Agnone (1,570m), the highest and biggest plateau on this Mediterranean island.
Accommodation: Gite/Hostel
Distance and time: 9.3 miles, 7 hours
Elevation: 500m ascent, 800m descent
Day 13: Trek over the col Bocca di Chiralba (1,743m) and the pinnacles of Bavella
Reach the Bocca di Chiralba in the shadows of Monte Incudine's glorious summit, take the alpine paths to the pinnacles of Bavella and scramble up the rocky slopes with the aid of fixed chains.
Accommodation: Gite/Hostel
Distance and time: 9.9 miles, 8-9 hours
Elevation: 1,000m ascent, 1,325m descent
Day 14: Trek to Conca, the end of the GR20. Transfer to Bastia
There'll be granite spires and pine tree forests before heading down and out of mountains for a well-earned drink (or two) in the old port of Bastia. 
Accommodation: Hotel
Distance and time:12.4 miles, 8 hours
Elevation: 690m ascent, 1,680m descent
When to visit Corsica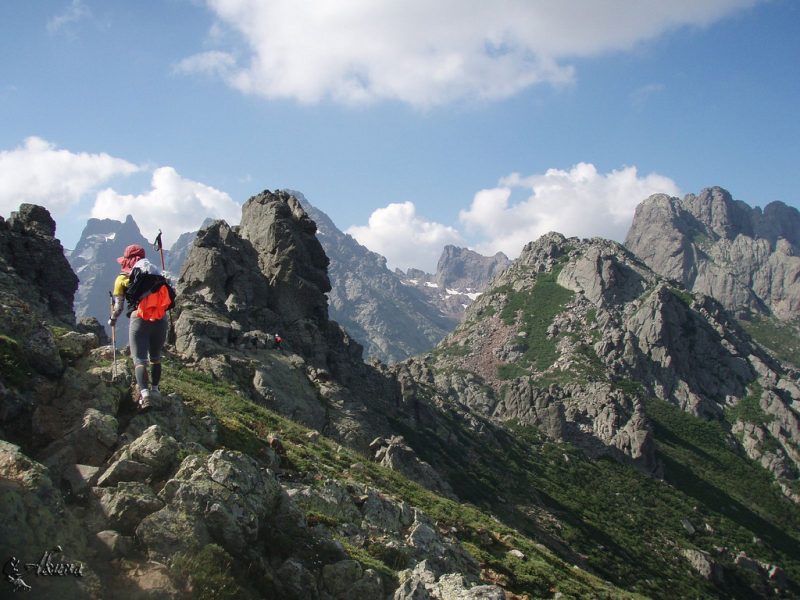 Photo: Akunamatata
As you can imagine, the mountainous Mediterranean island of Corsica, as you can imagine, flourishes primarily over the summer season, reaching an average temperature of 22C in July. However, for the GR20 however, you'll be looking for temperatures a bit lower than that to maximise your chances of completing the trail without any traces of dehydration. The trail is accessible from mid-May to mid-October, but we recommend hiking in June or September for the perfect climate. July and August are the warmest and busiest months, but may be better suited to a week of relaxation after you've conquered the GR20. Put your feet up and relax on the sandier areas of this French island, sprinkled with a dash of Italian culture, as you enjoy the clear blue waters, glittering bays and irresistible food and wine spots dotted around the sea-front. There's more to Corsica than just this impressive hiking trail, but it's better to throw in some down-time with the knowledge you've just spent the last 15 days on your feet. 
How to get to Corsica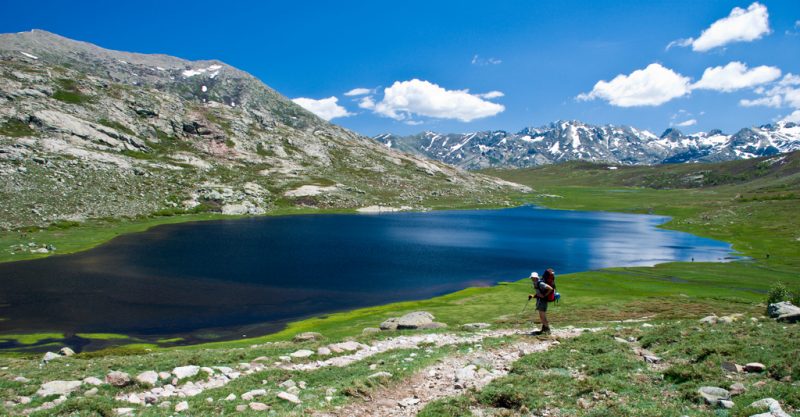 Photo: Jean-Baptiste-Bellet
Set in the west of Italy and the south of France, Corsica is very straight forward to get to. There are plenty of flights that leave UK airports regularly that fly to the island, which in total has four airports. However, with the purpose of walking the GR20 in mind, the best airport to fly into, if you're approaching the trail from north to south, is Bastia Airport. From here, the trail is easily accessible by bus transfer, and there's a charming town draped in history ready to be explored in the meantime.  
GR20 facts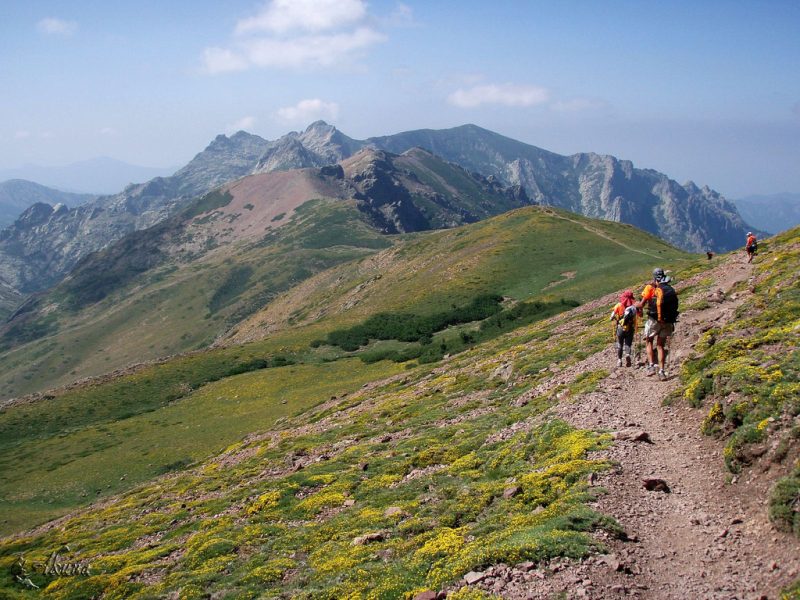 Photo: Akunamatata
Duration: 15 days
Overall distance: 112 miles
Total ascent: Approximately 12,000m
Minimum elevation: 300m
Highest point: 2,271m
The record time set for completing the GR20 was broken in 2016, and now stands at just 31 hours and six minutes. The trail was completed by French ultrarunner François D'Haene who broke Corsica's Guillaume Perretti's previous record of 32 hours. 
The name GR20 is an acronym, standing for Grande Randonnée, which when translated into French, becomes 'long hike'. They're definitely not wrong there!
With the overall ascent of the trail reaching 12,000m in total, this means it is equivalent to one and a half Mount Everests. No, that's not a bad thing to tick off your bucket list and have on your climbing CV.