The south of Bavaria is often considered one of the most stunning regions in Germany, known for its quaint mountain villages, iconic castles, pretty architecture and hearty cuisine. The Bavarian Alps come alive in the winter, when a smothering of snow transforms each pretty village into a winter wonderland. Incredible activities such as snow-shoeing and ski touring await, with excellent lodging available for an authentic experience.
We got together with the guys at NBF Alpine Adventures, to find the top four incredible winter adventures you can have in the region of Allgäu – deep in the heart of the Bavarian Alps. Whether you like to appreciate the scenery from a cosy rustic retreat, or spend a rewarding day tearing up the slopes on skis, there truly is something for everyone in this iconic region.
Stay in a rustic Bavarian lodge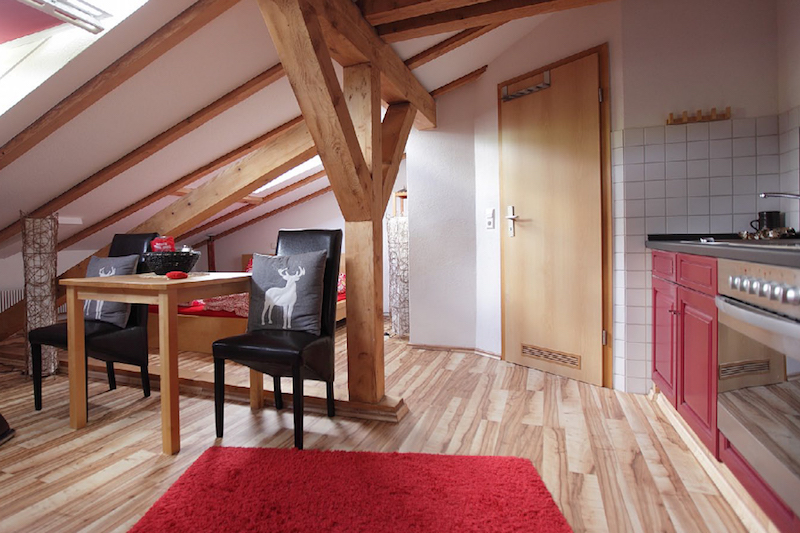 After an authentic experience? Why not hole up in a rustic Bavarian lodge for a fantastic insight into the world of Bavaria. Enjoy home-cooked local specialities such as the legendary Wienerschnitzel or Sauerbraten, experience friendly Bavarian hospitality and explore the peace and tranquillity of the surrounding mountains by foot or on skis. Do as much or as little as you like, making sure to give yourself time to soak up the unique Bavarian atmosphere. A truly invigorating winter break.
Head on a snow shoe adventure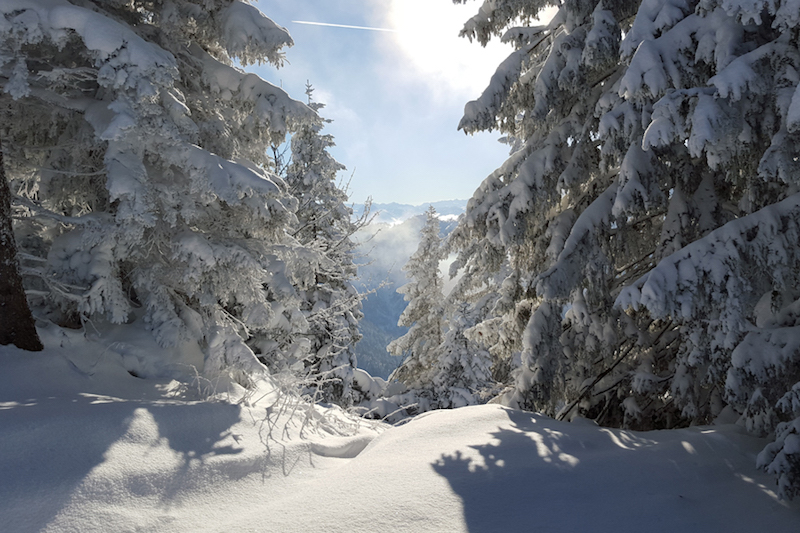 Snow shoeing is the best winter alternative to hiking, allowing you to explore exceptional mountain scenery draped in snow, without the need for skis or any other more technical equipment. Snow shoeing is suitable for all ages and abilities and you can pick up the technique in a matter of minutes, giving you plenty of time to get out there and explore some of Bavaria's most secluded and untouched alpine locations.
Head deep into the winter landscapes with ease, using the large surface area of the snowshoe and your poles to help you cover ground which would usually be off-limits. Just like a summer's day hike, you'll be rewarded with the opportunity to uncover some spectacular scenery, and a real sense of achievement at the end of each day. Master the technique and tour the fairy-tale landscapes with the help of a knowledgeable guide, and then head out on your own snow-shoe adventure.
Learn how to ski tour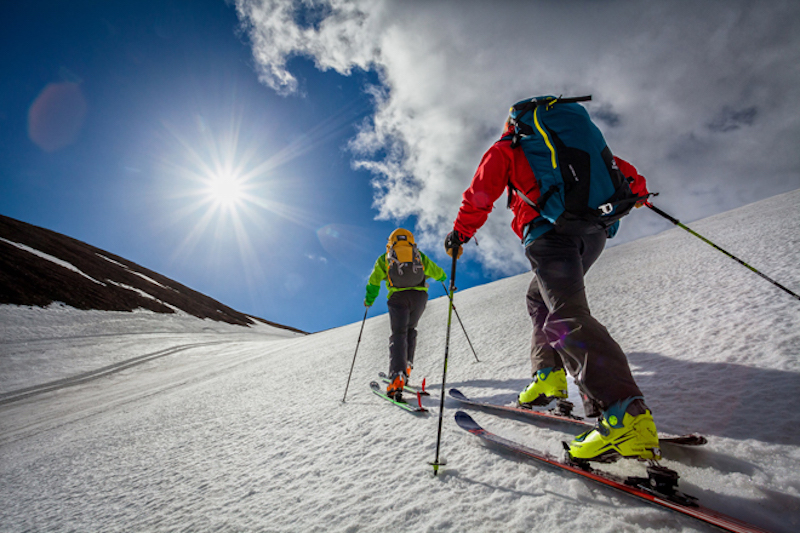 If snow-shoeing doesn't take your fancy, why not learn how to ski tour? It's a great way to explore the mountains without the crowds of alpine ski resorts. You'll get to know all about snow craft, avalanche safety and the basic principles of off-piste ski touring before heading out into the wilderness to explore, with access to Bavaria's most stunning backcountry and the opportunity to challenge yourself on tricky ascents and thrilling off-piste downhill.
Staying in quaint, comfortable lodging away from the hordes of big-name ski resorts will ensure you have this winter paradise all to yourself. It also helps to lighten the load of your backpack and improve flexibility in comparison to a traditional hut-to-hut ski tour. Expert guides will be able to arrange each day's tour depending on snow and conditions, returning every evening to your Bavarian home for the trip, where you can enjoy local cuisine and fantastic hospitality.
Hit the slopes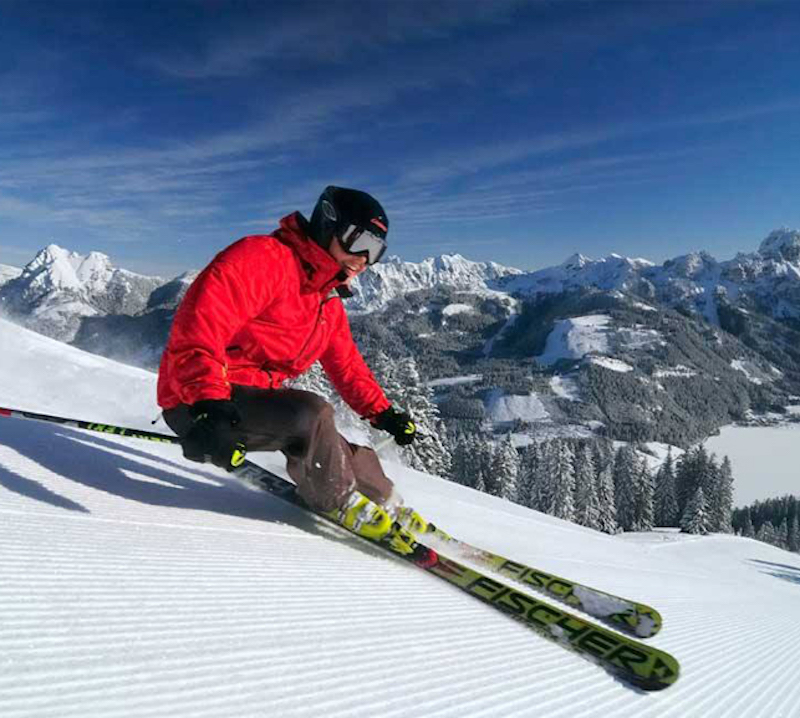 Bavaria might be better known for its ethereal wildflower meadows and the pleasant sound of alpine cow bells in summer, but the excellent range of skiing here in winter is possibly its best kept secret. Optimum snow conditions and bright blue skies await on a ski holiday to the relaxing Gunzesried/Ofterschwang ski area, which offers plenty for experienced skiers and beginners alike.
It's an excellent place to learn the ropes if you've never tried it before, and BASI (British Association of Snowsport Instructors) are on hand to ensure you pick it up in no time. Learning how to ski or snowboard has never been this picturesque!  For the more advanced, a world of off-piste and snow park fun awaits, with specialist guides offering incredible insights into the local area.
How to have the perfect winter adventure in Bavaria
Whether you choose to explore this beautiful region on foot, snow shoe or ski, there's nothing like having the stress taken out of your trip. NBF Alpine Adventures offer tailor-made holidays to Bavaria which include five days exploring in whatever way you choose, with expert guides and qualified instructors on hand.

You'll be able to stay in one of their three well-equipped yet authentic lodges, away from the hustle and bustle of busy alpine towns. Whatever your chosen activity, you can rest assured the price you pay includes all the added extras like ski hire and lift passes, so there are no nasty surprises once you arrive. Friendly drivers will deliver you from the lodge door to your chosen ski area each day, so you can simply kick back, relax and not worry about the logistics.
The folks who run NBF Alpine Adventures are ex-military, so the company also offers special discounted rates for the military, emergency services and national health service personnel. To book, contact them direct, or check out their offers for more great discounts. You can also stay updated by following them on Facebook or Instagram.