www.karrimor.com | £45
The Kodiak 30 is a basic-looking 30-litre daysack from Karrimor. At £45 it's still one of the more affordable bags in this review, and it's suited for use out on the hills or as a general travel pack or around town. Feature-wise the Kodiak 30 offers all the basics you'd expect from a daysack. It's got two wand pockets, a daisy-chain cord on the front to leash gear to, a lid with a good-sized pocket and key clip to keep things handy; an axe loop for snowy conditions and a rain cover for those wet days.
The backsystem on the Kodiak is quite basic, but that doesn't mean it's bad. There's a comfortable amount of padding in areas where you'll need it and if you're carrying light loads (which you probably will be given the size of the pack) it's not going to cause many problems. There's a flimsy framesheet in the back. While it doesn't really provide much support, it does give the pack the advantage of being easy to roll or fold up when not in use, making it ideal to shove in a larger bag if the need arises.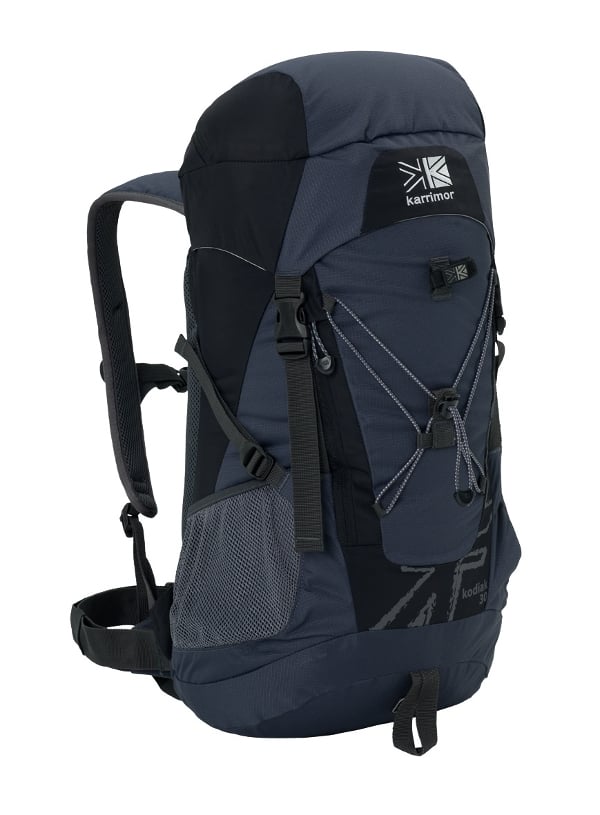 There's also a wind tunnel on the back and what Karrimor has called a Supercool system which has been included to help reduce sweat build-ups and overheating. It may provide a bit of cooling but you'll still get sweaty when the blood starts pumping.
All in all, the Karrimor Kodiak 30 is a decent pack for short hikes and its ability to fold away so easily makes it a good choice if you're looking for a daysack that'll stuff into a bigger travel pack. It's also priced quite nicely – at £45 you won't be feeling the need to take out a second mortgage when you buy one of these.
Karrimor Kodiak 30 Verdict
There are better packs on the market, but at £45 it's worth considering if you're on a budget.