www.montane.co.uk | £110
The Montane Atomic Jacket has been on the racks of outdoor shops for years. No doubt it remains popular because of its affordable price tag and its great, all-round functionality. But does it still stand up to the other waterproof jackets on the market?
The jacket scores highly in its packability, rolling up no larger than a bag of sugar. It's lightweight, too (335g for a size XL). If you're after a jacket that'll spend a lot of time in your rucksack, this is a good choice.
The Atomic has Velcro-adjustable cuffs, plus a drawcord-adjustable waist that is easily used with one gloved-up hand. It has a very good hood, with volume adjusters and a stiffened peak, so it is easy to get the best fit for your head. This was actually a surprising and pleasant feature on a jacket of this price.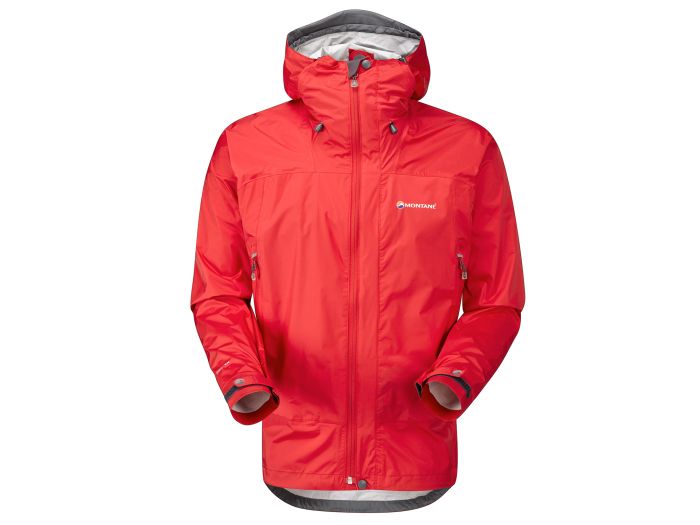 In terms of ventilation the Atomic leaves a lot to be desired. There are no under-arm zips, and while the two pockets, which are large enough to happily swallow an OS map, are mesh-backed, I wouldn't like to have them wide open just to get some cool air into the jacket, leaving their contents free to fall out.
Waterproofing is provided by Pertex Shield fabric and the zips have internal storm flaps to offer an element of water resistance. Honestly, I would have preferred more adequate protection in these areas, perhaps with a more substantial double storm flap. I wouldn't be confident of the jacket's ability to keep me dry if I was in heavy rain for extended periods.
Montane Atomic Jacket verdict
The Montane Atomic Jacket is a good, lightweight and packable budget option.
This review first appeared in Adventure Travel magazine issue 120 (Nov/Dec 2015) as part of a wider group test. Since then, we've completed a more recent run down on the best waterproof jackets for men on the market.