www.ospreyeurope.com | £65
The Osprey Flare 22 Daypack and I became very good friends this summer. From sunny camping trips in Dorset to volcano treks in Bali, it quite literally came everywhere with me. It's been battered and beaten through various travels this year and it's bounced back every time. However, it's not monkey proof – that cheeky little fella (in the photo above) opened up the main compartment and stole my food. Sad times for my rumbling stomach.
The first thing that attracted me to the Osprey Flare 22 Daypack was the colour – Eggplant Purple. Which is a beautifully rich, pinky-purple colour (that of the aubergine emoji on iPhone) and I just fell in love with straight away. However, if purple isn't your thing, fear not, because the pack is also available in a more conservative black or a bright blue.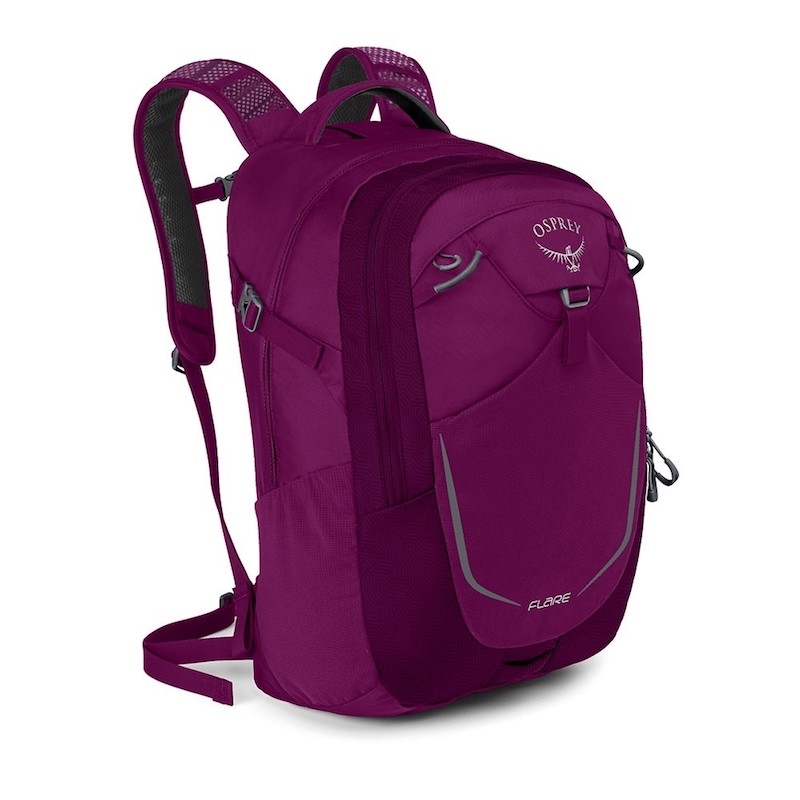 I also chose the Osprey Flare 22 Daypack because of its size. I often find that 30L is a little too large for a daypack for me, as I don't like to carry too much around with me. Too much space gives me the room to overpack and too much stuff = too heavy. I found my little 22 was the perfect size to fit a down jacket, waterproof layers, a water bottle, my camera, the camera's tripod and a satisfactory number of snacks.
Comfort wise, the Osprey Flare 22 Daypack didn't let me down. Padded shoulder straps saw the pressure taken away from my shoulder area and reduced discomfort when carrying the pack – even when it was loaded full of stuff. The hip belt isn't padded, but it is adjustable (along with the chest belt) in order to help evenly spread the weight of my things across my back.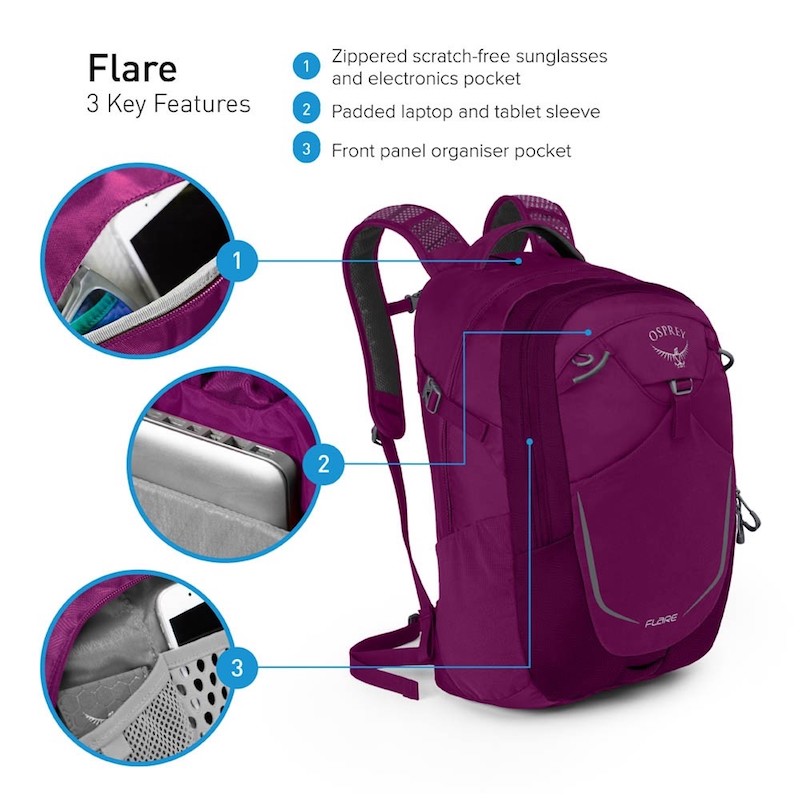 Storage and organisation is where the Osprey Flare 22 Daypack really shines. It's got two mesh stretch pockets on either side of the pack, which are perfect for stashing water bottles within easy reach and one big mesh stretch pocket on the front that is secured via a clip with another a smaller zip pocket above.
You'll also find that the outside has one large zipped pocket with tons of organisation inside such as three mesh stretch pockets, one generously sized zipped pocket and a further five pocket sleeves. Inside the main compartment, you'll find one large mesh zipped pocket and a stash compartment for a hydration pack, though you'll have to let the hose poke out of the main compartment's zip.
With organisation as good as this, not only did I take the Osprey Flare 22 Daypack on my adventures, but it was a friend to me in the urban jungle too. I've spent many a day with it loaded up with my laptop, stationary and overnight things when travelling to London for work or to visit friends. With the added features of a large padded grab handle, compression straps and attachment loops, it's a pack that is versatile enough to use in most situations.
Osprey Flare 22 Daypack verdict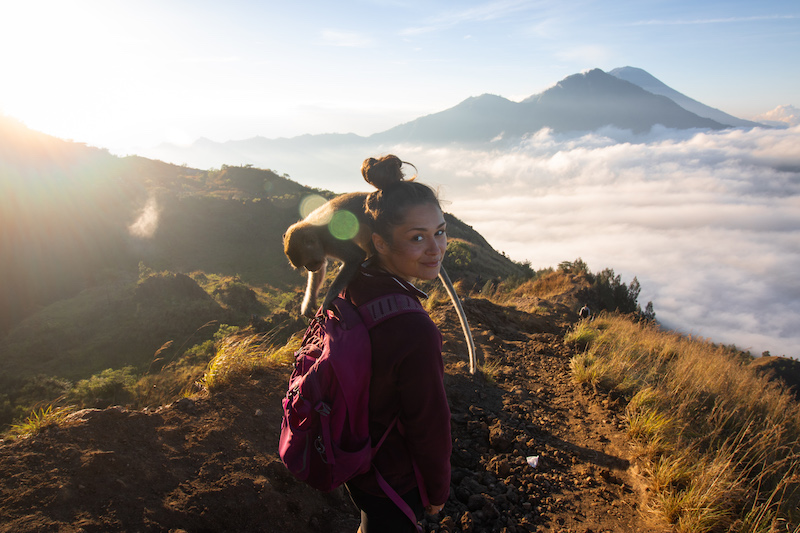 All in all, I was thoroughly pleased with the Osprey Flare 22 Daypack. From adventure to commuting, it offered everything I needed for a whole host of different trips this year. It's quite honestly taken a beating and has survived to tell the tale, all the while looking unscathed and still stylish. This pack has ticked all the boxes and I would recommend it to any adventurous traveller who doesn't want to carry too many things on their journey.
When travelling abroad and on longer trips, I have paired my Osprey Flare 22 Daypack with the Osprey Rolling Transporter 120 – they've worked hand-in-hand brilliantly. I can fit everything inside of the Rolling Transporter, including the Flare daypack, which I then use on smaller day trips and hikes during my time away. Be sure to head over to the Osprey website, to check out the brand's full range of products.