www.pacsafe.com | £169.90
I live in Stratford upon Avon during the week for work, but I commute back home for the weekend. I also find myself working away with Adventure Travel magazine in different parts of the UK or abroad across the year. Therefore, I need a bag that'll fit everything in, keep my stuff safe, organised and protected. Enter the Pacsafe Venturesafe Anti-Theft 45L Travel Pack – that's a mouthful to say, I know, but bear with me.
Not only do I travel and commute with this pack, but I've also taken it on a few camping trips this year – it literally comes everywhere with me! The Venturesafe Anti-Theft Travel Pack really is all singing, all dancing when it comes to storage, features and security. So, let me tell you more.
The 45L size of this pack is perfect for a few night's stay. I've also had no issues taking it as hand luggage on flights, fitting it in overhead storage compartments on trains, cramming it into tiny gaps on the tube and walking around bustling cities with it on my back. There's plenty of room for all my things and I find that the pack distributes the weight evenly across my back, with the help of padding to the shoulder straps and hip belt for comfort.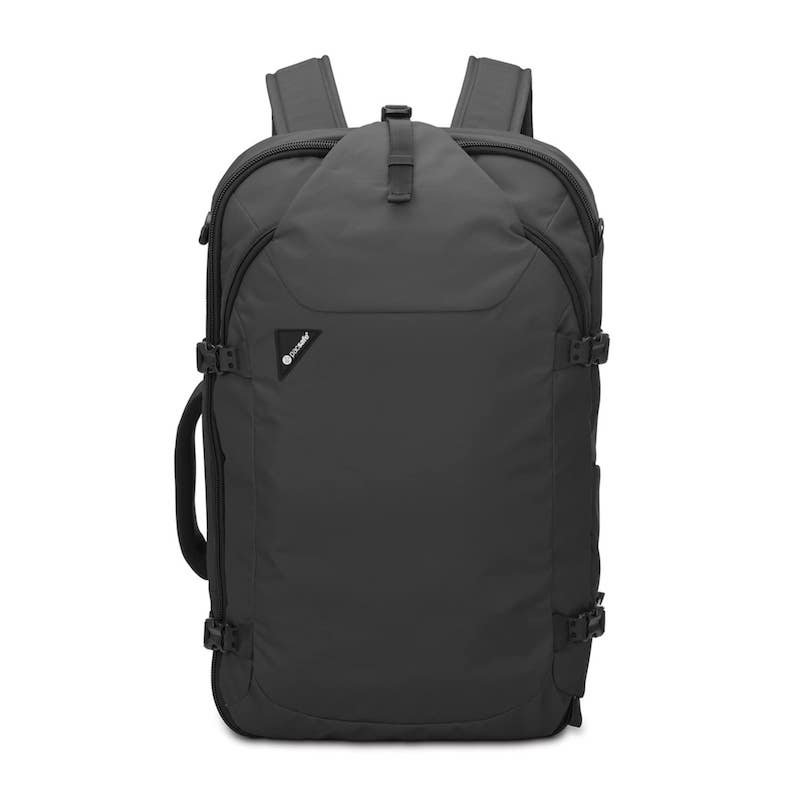 Security wise, this pack will be your best friend. It features a puncture and knife resistant back pocket; therefore, thieves can't slash the material (which is created using eXomesh Slashguard technology that has been developed by Pacsafe) to quickly steal your belongings inside. The zips are lockable via the twist lock system and inside one of the pockets is a small wallet containing a locking cable. I can walk about the tube stations of London, Germany, Paris, anywhere, without the anxiety of pickpockets or thieves being able to get to my stuff.
When it comes to organisation the Pacsafe Venturesafe Anti-Theft 45L Travel Pack is a dream. In the main compartment (that opens via a large zipped opening, as a suitcase would), there is a large zipped mesh pocket, which is the size of the pack's lid. This is perfect for stashing all your bits and bobs together and the mesh material makes it easy to spot where everything is. The bottom of the main compartment lays flat, which also makes it very easy to pack your folded clothes or packing cubes and once you've finished packing in the main compartment, there are compression straps to keep all your stuff secure inside.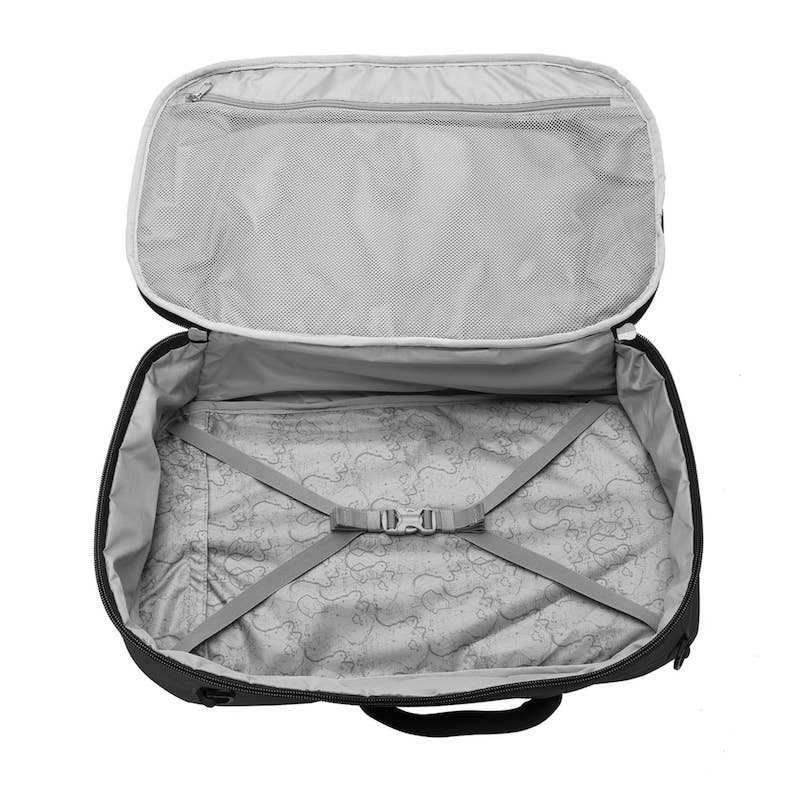 There is a large zipped pocket to the front of the Pacsafe Venturesafe Anti-Theft 45L Travel Pack (this is the one that features the eXomesh Slashguard technology). This is just brimming with organisation and contains one large laptop sleeve, one large and one small zipped mesh pocket, two small non-zipped stash pockets and one detachable, zipped, mesh wallet that contains the locking cable. There's a place for everything!
Once you've packed all your things into the main compartment and the large front pocket, you can lock the zips for security and use the compression straps to help keep everything secure. For extra ease when travelling, there is a large grab handle situated at the top of the pack, which is also padded – it seems Pacsafe have thought about everything!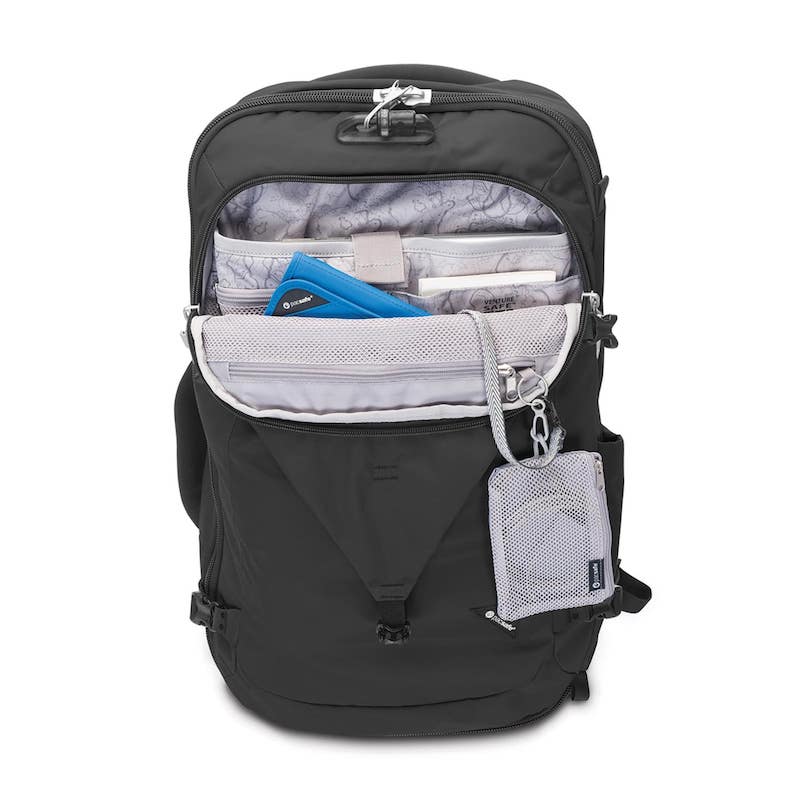 When I'm travelling abroad or further across the UK, I like to pair my Pacsafe Venturesafe Anti-Theft 45L Travel Pack with the brand's RFID Safe V140 Passport Holder and the Coversafe S25 Secret Bra Pouch. The passport holder has so much organisation, which makes life a lot easier and anxiety free, knowing that all your documents are kept safely and neatly in one place. It's also quick to grab when you need it.
The passport holder features a mesh stash pocket for your passport, a smaller mesh stash pocket for your ID, five credit card slots, a small zipped internal pocket and a large exterior pocket. When I travelled to Bali earlier this year I fit everything in it – two passports, ID, credit cards, headphones, eye mask, ear plugs, receipts, boarding cards, printed documents and the Coversafe S25 Secret Bra Pouch. It's like Mary Poppins designed it.
The bra pouch is fantastic. When you're travelling with lots of cash while on holiday or you're simply just worried about your money, cards and keys when travelling around cities or unknown places, you just pop your things in and clip it to either the shoulder strap, the side (under one of your arm pits) or in the middle (between your boobs). The material is super soft, so it won't irritate your skin. It's also washable because, let's face it, things can get a little warm there sometimes, especially in hot countries.
Pacsafe Venturesafe Anti-Theft 45L Travel Pack verdict
Pacsafe Venturesafe Anti-Theft 45L Travel Pack is a dear friend to me. It's clocked up the miles this year and, in some places, has taken an absolute battering. It survived, my stuff survived, and it's still in great nick. I really don't have any complaints – I'll be using this bag for many years to come. I also think it's a very stylish looking pack, I have it in black and I absolutely love it.