Naomi Dunbar heads to the depths of the Westfjords to escape the busy tourism of southern Iceland and discovers the mystery of sea monsters, humble fishing towns and their stories…
If you've never been to Iceland, I can promise you one thing, it'll be like nowhere you have ever visited. It's often described as an unearthly land and you don't have to be there for long to realise why. This Jurassic Park-looking island in the North Atlantic spits, bubbles and blows through the cracks in its craggy lava fields. Its beaches are vast and black, and its volcanoes and mountains cast the most bewitching shadows across the landscape.
I visited Iceland for the first time about four years ago and traversed its south eastern edge like the vast majority of its tourists. Now, don't get me wrong, this part of Iceland is absolutely breath-taking. The waterfalls of the Golden Circle, the natural phenomenon of the Geysers, the crystal-like ice of the Vatnajökull Glacier – it's all fantastic, but it comes at a price; elbowing your way through crowds of other tourists to see the best sights.
The otherwise stunning landmarks were too often ruined by the vast amount of people bumping into me while holding selfie sticks and overcrowding the views. Coach loads of people would pull up and deliver yet another sea of Ugg boots, fur-lined anoraks and, much to my surprise, Louis Vuitton bags. Doesn't really scream adventure, does it?
This time, I wanted to experience an authentic side to this wonderfully rugged island, and I had been told that the Westfjords in the north was the place to fulfil this need of mine. One local even referred to the region as the 'Iceland of Iceland' and I was more than intrigued to find out why. So, flying into Keflavík International Airport, I gladly skipped the likes of the Blue Lagoon and, to fill some excess time before my internal flight the next morning, headed over to Reykjanesbær's black and rather dramatic rocky beach.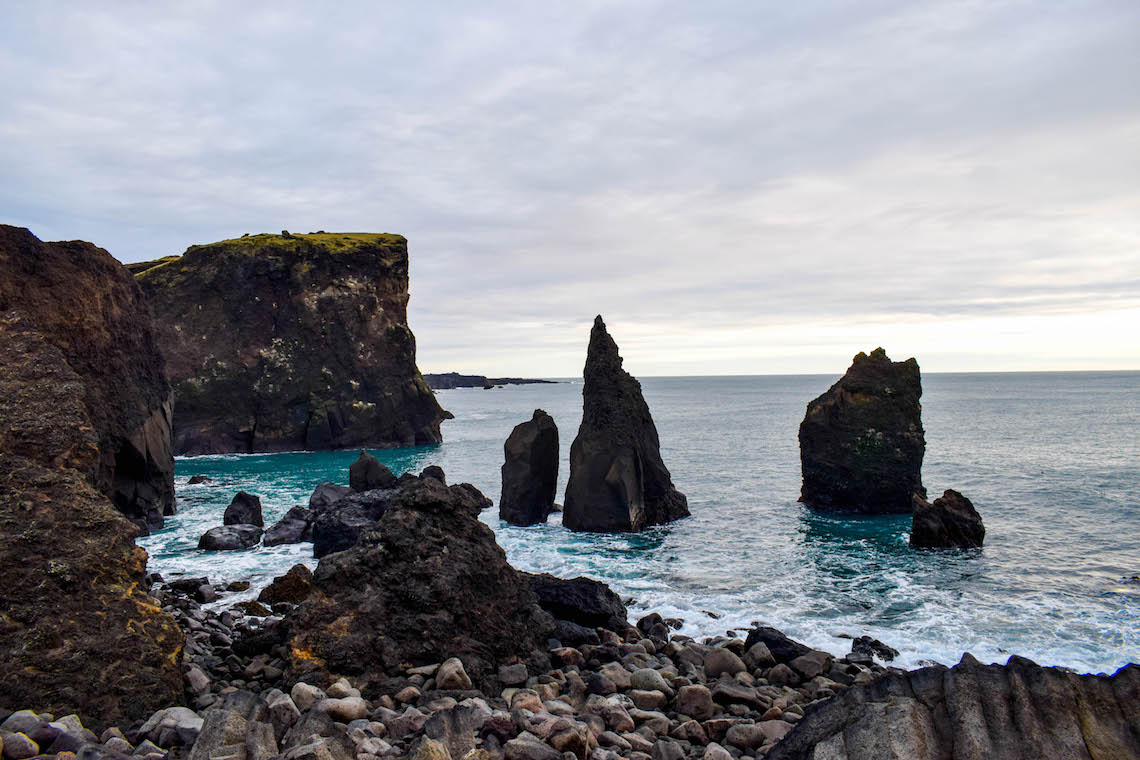 After having the best soup of my life (the Lobster soup at Café Bryggjan in Grindavík, no questions asked, just go) my tour guide gave me two options. Go back to the hotel to rest or explore the 2,000-year-old underground Leiðarendi Lava Cave. Well, there certainly isn't much competition between the two, is there?
Not one for the claustrophobic among us, you'll find yourself negotiating a lot of this cave hunched over on all fours or, much to my amusement, rolling like a pencil through its low ceilinged and sometimes narrow tunnels. Making your way through dark and mysterious caves is pretty exhilarating and admiring the patterns and textures that the lava made thousands of years ago is fascinating. There's also an extraordinary range of coloured rocks, some being red, but my favourite part was the bacteria growing on the ceiling of the cave. 
Shine your torch light onto this natural substance and it starts to sparkle and glitter like stars. Incredible. I have to say the least favourite part for me was, deep inside the cave, our tour guide pointing out shapes in the walls of the lava that look a bit too much like troll's faces. That gives you chills when you're surrounded by darkness.  
The next day, I was up early for my internal flight with Air Iceland Connect for a short, 40-minute journey up to the Westfjords. Boarding an aeroplane with no more than nine rows of seats and powered by propellers filled me with childlike excitement, as did the free in-flight coffee and chocolate – nice touch.
As we landed, I felt the busy bustle of the south instantly shake off me and I particularly loved the hatch in the wall where you can see staff carrying your luggage directly from the plane and onto the airport's one, very small, conveyor belt. The Westfjords gave me a pretty wet and windy welcome, but this only fuelled my excitement more as I could just feel, as I marvelled at the most fantastic snow-kissed mountains surrounding this tiny airport, that I was going to have one heck of a wild adventure.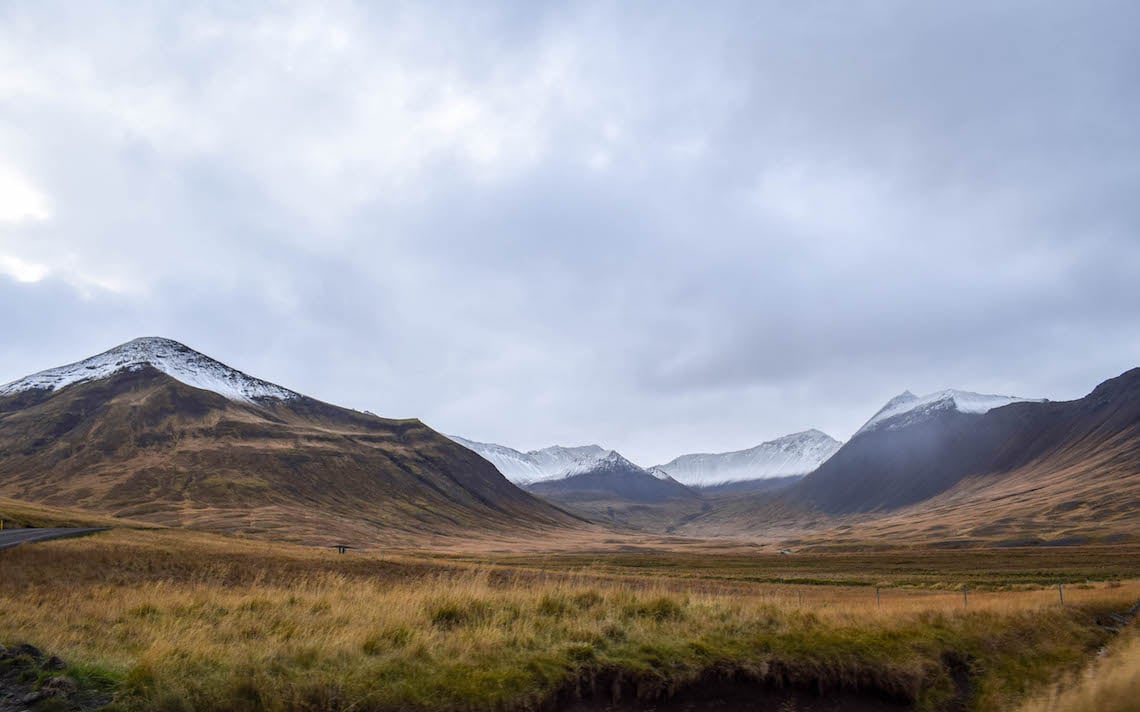 I set off with my wheels firmly hugging the tarmac and the rain lashing against the windscreen. These magnificent roads snake you through theatrical valleys, bends push you through glorious fjords and the corners suck you in and spit you back out into valleys more striking than the last. In fact, it would be sensible to add at least an hour or two onto any journey you take through the Westfjords, otherwise you'll be late – the constant need to stop to photograph the new view is totally overpowering.
During the few days spent there, I found myself scratching my head. Why less than 7% of the tourists who visit Iceland come to the Westfjords is beyond me. What are the other 93% playing at? Is it a pure lack of knowledge about the area or just laziness? It's not difficult to get to, it's not crowded and the payoff is considerably better. I can only describe the scenery as the kind of sexier, more daring older brother of southern Iceland that'll leave you wanting more. These visitors are missing out on a far greater, more enriching experience which leaves you feeling invigorated and with a deeper understanding and love for this volcanic piece of magic.
The hiking opportunities in the Westfjords are countless and the scenery this region offers is the perfect backdrop to any walk. The only con is that you'll have a difficult time deciding which valleys, mountains or fjords you want to dive into and you'll find yourself wanting to extend your trip so you can feed your new addiction and explore more. 
If history or literature is your thing, then the Haukadalur Loop would be one to add to your itinerary. Not far from the village of þingeyri, this roughly three-to-four-hour hike is the setting of the Gísla saga, a famous Icelandic saga. Written before the middle of the 13th century, it tells the story of Gísli, a tragic hero who must kill one of his brothers-in-law to avenge another. Gísli is outlawed and forced to stay on the run for 13 years before he is finally hunted down and killed.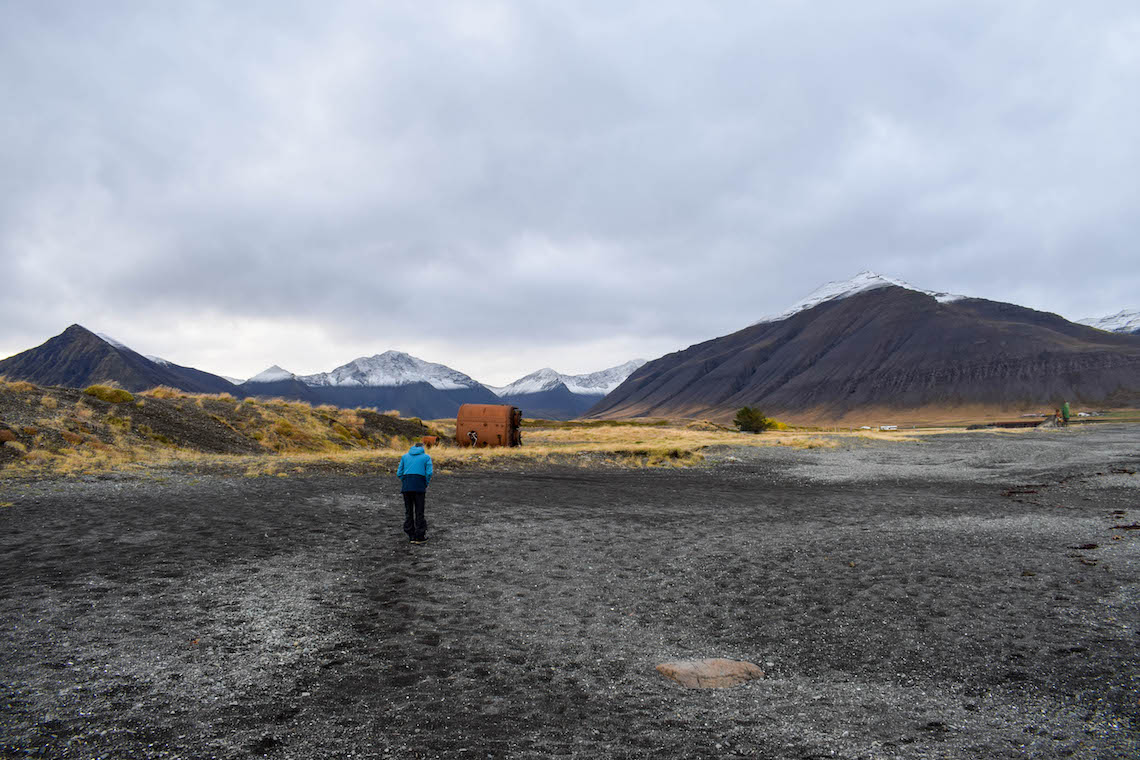 Stories aside, this isolated hike brings a feeling of true peace and quiet, giving you the opportunity to enjoy its remarkable scenery all to yourself. With a handful of landmarks dotted across your journey, sights such as Thvera Creek and Lake Seftjorn will make this hike one incredible show.   
If you're looking for something more panoramic, then the Kubbi hike will tick this box. This steep, two to three hour hike offers sublime views of some of the highest mountains, deepest valleys and quaintest waterfalls. Keep pushing through the burning of those legs as you climb ever higher, because when you reach the top, you'll be blown away by the mesmerising view of the fjord surrounded by its grand mountains. Picture worthy stuff right there. Whatever kind of hike you're after, I'm confident the Westfjords will give it to you. 
Not only are you overwhelmed by walks and hikes to keep you entertained, but the Westfjords offers so much more adventure. Quaint fishing towns play dot to dot along the coastline and are enriched with the Icelandic people, their humble stories, fantastic humour and their pure love for the land. And even though they don't get anywhere near the same level of tourism as the south, they still offer some glorious museums and exhibitions to see.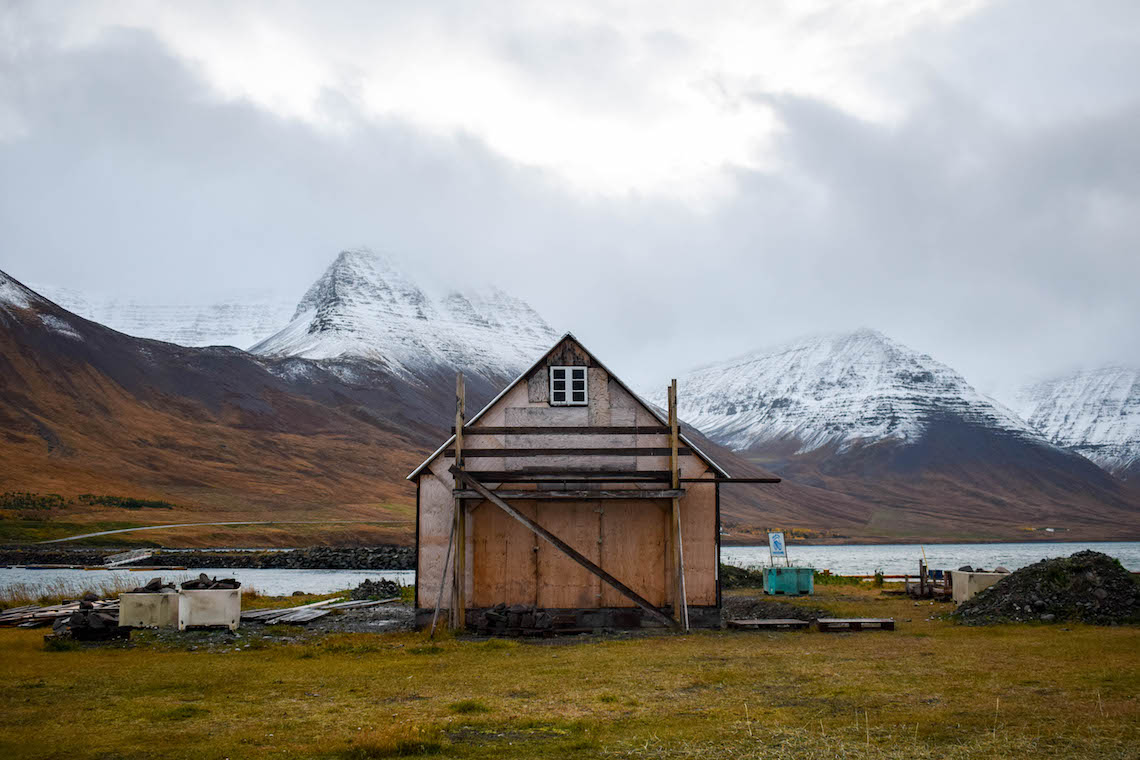 I'm not usually one for museums or exhibitions, I'd much rather be doing something active. However, I completely lapped up the few I visited along my route in the Westfjords, as they offered something different and concepts I've never seen before. The first being the Museum of Everyday Life in Isafjordur. This is only the size of a small shop, but it had the most impact on me. It's a museum of stories. The walls are lined with old books with vintage photographs stuck inside of them that relate to a short story written by one of the locals. Some tell harrowing tales of the winter, some expose uncensored insights into the gritty Icelandic life. Some will make you shed a tear of sorrow, while others will give you tears of laughter.
My favourite story by far was accompanied by a photograph of a sweet looking old lady and said, "When I was in my first year of high school, my grandmother sent me money in an envelope. On a slip of paper in the envelope was written: 'If you buy yourself booze with this, then I hope you get diarrhoea.' That was the only letter she ever wrote me." 
The second museum was Hljóðfærasafn Jóns, in þingeyri, a tiny little instrument museum jam packed with every type of instrument you could imagine. This interactive museum is run by an Icelandic man named Jon who has been enjoying playing instruments since he was a young child – he is so into music. It's lovely to see and he can play every single instrument in there. There must be hundreds! The best thing about this museum is that you're free to have a go at any of the instruments in there – picture my rather unmusical self murdering the accordion and the didgeridoo and just feel lucky that you didn't have to hear it for yourself. Anyway, great fun was had and next door is a Viking museum! 
The third museum was the one I was most excited about visiting; the Sea Monster museum in Bíldudalur. Sea monsters and their haunting tales are very famous amongst the communities of the Westfjords, and the stories and memorabilia inside this spooky museum show a darker side to this beautiful land.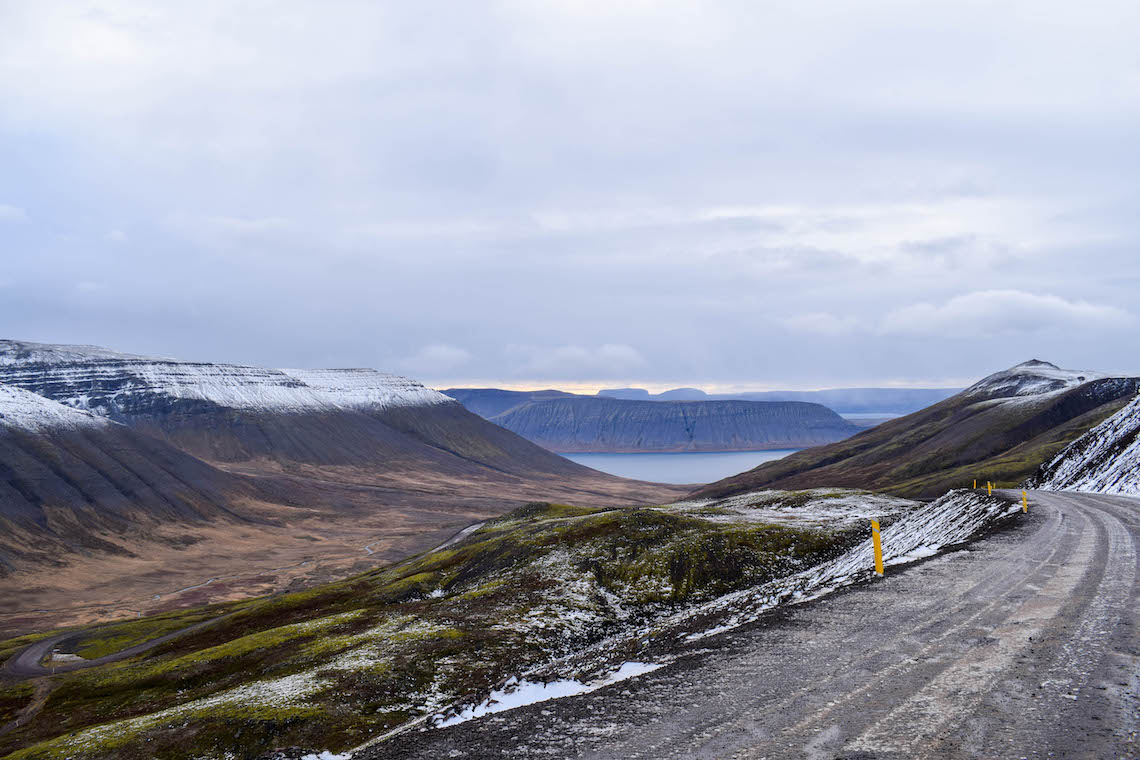 I learnt that there are four types of sea monsters that lurk in the darkest parts of the waters and they each have their own distinctive features. The Fjörulalli (Shore Laddie) is a ram-sized creature with brownish-grey fur from which mussels and barnacles grow, Hafmaður (Sea Man) is described as the ugliest thing you could ever see, measuring two metres tall with a set of long, sabre-like teeth, Skeljaskrímsli (Shell Monster) is a black scaly animal, stocky in build with a large head and massive mouth, and Faxaskrímsli (Combed Monster) is identifiable by its bright red mane and flashing green eyes.
A story which stuck out to me in this museum was printed alongside a miniature, and slightly gruesome modelled scene; 'sometime after 1930, a deformed calf was born on a farm called Otradalur. It had two heads atop its four feet. No one had ever seen such a horrifying creature, and everyone agreed that a sea monster must have had its way with the cow. The unfortunate cow never recovered from these awful events and had to be slaughtered.'
These museums are a great time filler should you be caught by some unexpected weather, need an excuse to stop for a well-deserved coffee or just fancy being inquisitive, but there is an abundance of outdoor activities available in the area too. A favourite of mine was Rauðasandur beach. As you may know, most of Iceland's beaches are black, but you'll find most of the beaches in the Westfjords are golden or pink.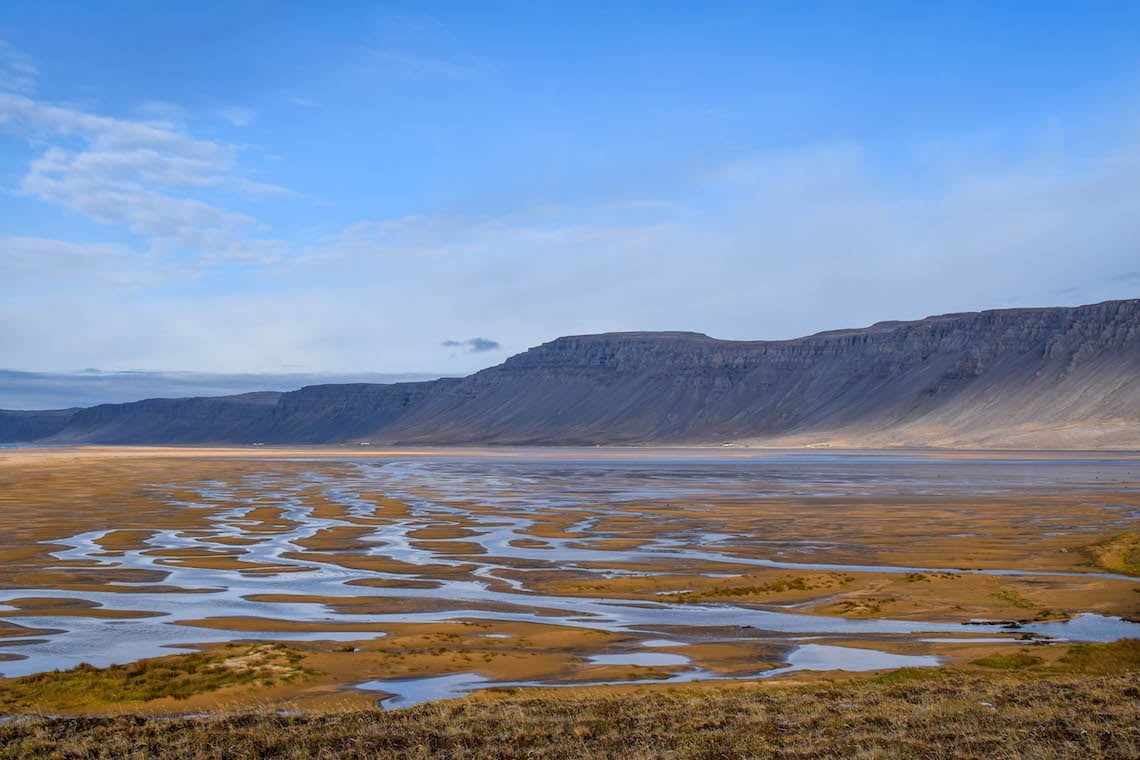 I was particularly drawn to this beach as its translated name is 'Red Sands beach'. Though it's not bright red in colour, the sand takes on the most incredible rich, burnt orange colour from pulverized scallop shells. If you visit this enormous beach during low tide, you may also be met by a magnificent black pattern embossed onto the sand. I believe this occurs due to the darker mussel shells being washed up, but the patterns were most hypnotising. This proved to be a great walk and fantastic photo opportunity and I spent almost an hour looking at the intricate whole scallop shells that had survived the tide. 
If you're looking for a quieter spot to enjoy the natural geothermal pools of Iceland, then Hellulung Pool is one of your best bets. In fact, when I visited we were the only people in the pool or the surrounding area for a good hour. Hellulung is small, fitting six people comfortably, and is approximately 60cm deep. It was about two degrees when we stripped down to our smalls, so the bath-like 38-degree temperature of this pool was very welcome. We sat quietly and enjoyed the tranquillity this hotspot offered us with spectacular sweeping views out to the Vatnsfjörður fjord. 
Perhaps the most magical moment of my Westfjords experience and a definite 'bucket list' tick of mine was a very early morning boat trip out on the Arnarfjörður fjord. We set off, blurry-eyed and yawning, from our guesthouse in the village of Bíldudalur, which is nestled on the edge of the fjord. Taking a gentle cruise into the middle of the fjord we set eyes on the towering, snowy mountains and thousand-of-years-old volcanoes that framed the water. This scene was painted in a glorious dewy light from the pink sunrise that mirrored off the calm waters of the fjord.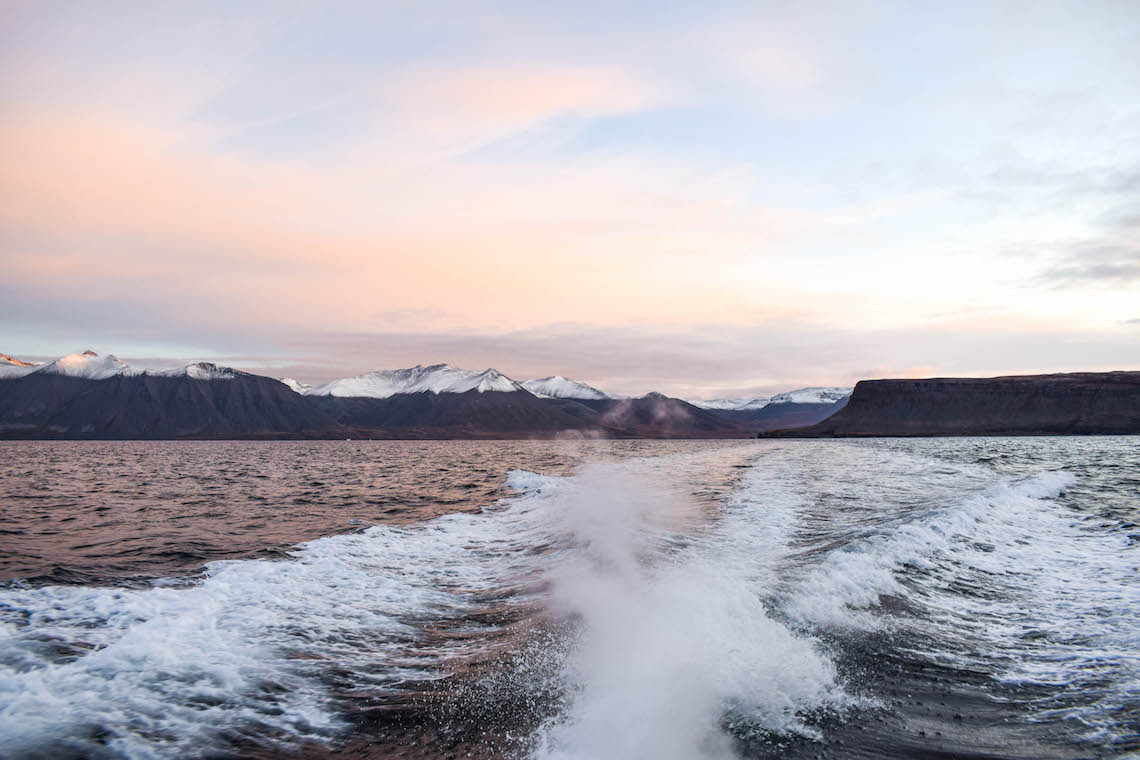 I was fully immersed within this poetic picture and enjoying the moment when I saw it. The bumpy back of an adult Humpback came up to the water's service and made an almighty blow. Then, before I could shout 'whale!', another one came to the surface. I stood there in silent awe, watching these beautiful creatures dance in and out of the water; slick bodies cutting through the surface then huge tails crashing down. We thought they had finished, when we saw another, slightly smaller tail do the same thing – which was most probably a calf. How cute!
As mornings go, this is well and truly up there. There are a couple of companies that run boat trips into the fjord for whale watching, but we went with the owners, Fríða and Gummi, of the Harbour Inn guesthouse which we were staying in, in Bíldudalur. Gummi drives the boat himself, so if you pop in to see them, you'll be able to book your trip. Their guesthouse is conveniently placed just beside the harbour. 
If you have the time, I recommend you drive back to Keflavík International Airport. The internal flight is fun and more convenient, but by doing so you miss out on some of the most phenomenal views you'll ever see in your life. It'll most probably take you the best part of the day, but there are plenty of good stopping places along the way giving you the opportunity to see some of the things you may have missed. Having done both, my opinion is that the Westfjords road trip scenery is far superior to that found in the south.
Check out some of our favourite hikes in the volcanic playground of Iceland here. Or if you'd love to go hiking under the curious glow of the midnight sun, and help fight breast cancer, then click here.