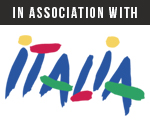 The Italian Dolomites are famously known as being one of the most breathtaking mountain landscapes not only in Europe, but in the world. As I'm sure many of you know, these dramatic peaks are located in north-eastern Italy and form part of the Italian Alps. The area is host to seriously staggering panoramic views, and one of the most popular ways to enjoy the Dolomites' exceptional mountains is by via ferrata.
Marmolada via ferrata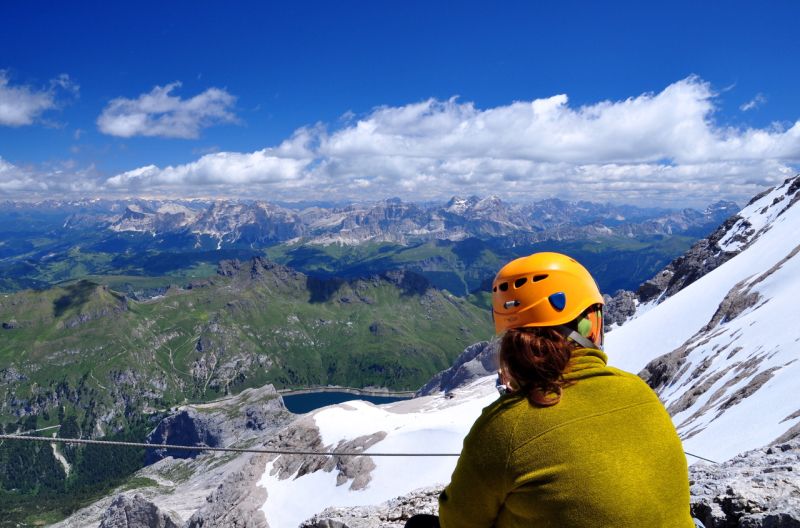 Grade: Demanding
WOW factor: 3/5
Marmolada, 'Queen of the Dolomites' they call her. Towering at 3,343m high, she is the tallest mountain in the Dolomites and just being in her presence is simply awe-inspiring. The icy maiden also cradles the only large glacier in the Dolomites, which stretches and glitters over her rocky frame. So, what better way to experience this majestic beauty than to clip oneself onto cables and traverse the sheer rock faces while clinging on like a limpet?
Via ferrata (Italian for 'iron road') is a fantastic way to climb and enjoy these difficult peaks, as you're given the added security of being attached to strong steel cables, ladders and iron rungs, which makes seriously dangerous routes less risky for those of us who are climbers of a non-professional standard (the polite way of saying novice).
Cresta Ovest (meaning western ridge) to Punta Penia, on Marmolada, is an exceptional via ferrata route which takes climbers on a journey over smooth rocks, intricate crevasses, vast crags and the sparkling ice of Marmolada Glacier. Dating back to 1903, the route is said to be the oldest via ferrata in the Dolomites.
The panoramic views at the top are so staggering that they'll make every single difficult step and challenging reach completely worth it. To tackle this route, you'll need sturdy mountaineering and climbing equipment, with crampons being a necessity. The route is quite demanding, so you will require a decent fitness level and climbing experience would be beneficial.
Via ferrata alternatives
If you don't fancy tackling the Dolomite big guns, why not start off with an easier route: Averau (easy), Cir (easy), Col dei Bos (moderate), Ra Gusela (moderate) or Innerkofler (easy).
The Tre Cime di Lavaredo loop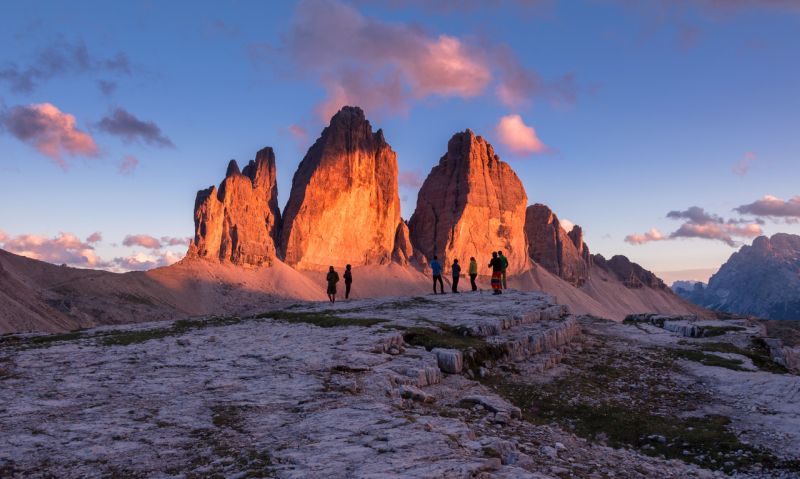 Grade: Easy
WOW factor: 2/5
One of the most famous sights in the Dolomites is Tre Cime di Lavaredo, a set of three distinctive peaks stood shoulder-to-shoulder in the landscape. The best way to experience the beauty of these astonishing peaks if to hike the Tre Cime di Lavaredo loop, which is an easy-going trail that will take you around three to four hours to hike. If you're savvy with your timings and get to the peaks in time for the golden hour (a period shortly after sunrise or before sunset in which the light is softer and redder), then you'll be able to witness the sensational scene of the three peaks illuminated and painted in deep orange, red, pink or yellow light.
Make sure to bring your camera with you, as you won't want to miss snapping this magical moment. If you're patient enough to wait for complete darkness and have a tripod for your camera, try taking a long-exposure photo by slowing the shutter speed down, opening the aperture wide and selecting a high ISO, to capture a mesmerising image of the stars above the Tre Cime di Lavaredo peaks.
Where: Dolomites
Route length: 9.5km
Time: 3-4 hours
Lago di Braies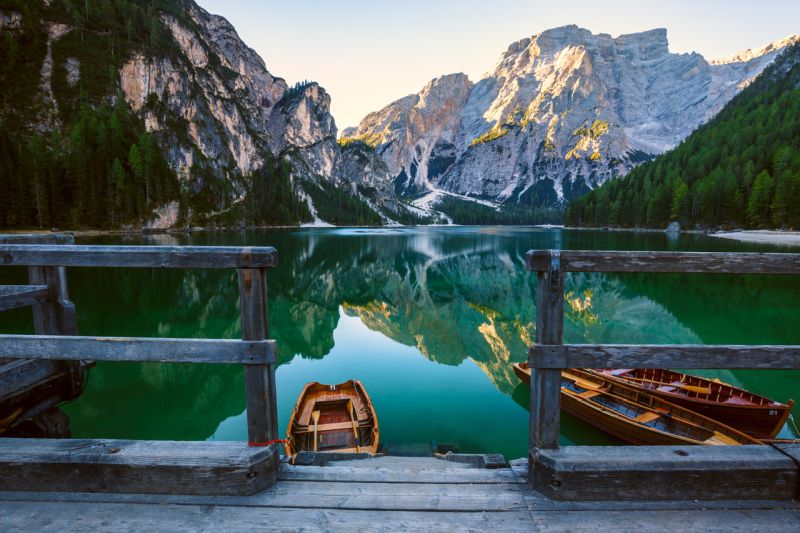 Grade: Easy
WOW factor: 2/5
Lago di Braies (Lake Braies or Pragser Wildsee) is an absolute must see when visiting the Dolomites. This picturesque lake is situated in Prags Valley, South Tyrol and is one of the largest and deepest natural lakes in the whole of the Dolomites. It's a very well-known and popular photography hot-spot which attracts many visitors each day, therefore, it's advisable to visit the lake as early in the morning as possible to capture that perfectly tranquil image of the lake when it is at its most peaceful and still. The vibrancy of the bluey-green water is magnificent and you'll be captivated by the majestic snow-capped mountains which form a perfect frame around it.
There is a very pleasant walking trail which takes you around the lake, it's easy to do so and should take around an hour and a half. It's well worth doing as you'll be blown away by how beautiful the lake looks from every new angle. From mid-June to the end of September you can hire small rowing boats which, should you get to grips with using two-paddles, is a relaxing way to soak up the surrounding beauty. You can also fish and in the summer, swim in the lake (by all means, you can swim all-year-round – if you're brave enough!).
Where: South Tyrol
Time: 1.5 hours
Access: via car or foot
Let's go…
If you fancy exploring all that the Dolomites has to offer then head over to www.colletts.co.uk, who offer a range of fantastic Italian adventure holiday and tour packages.
Get here: The closest airports are Venice, Italy and Innsbruck, Austria.
Eat this: Frico (omlette with cheese) served with polenta.
Stay here: Bolzano – a great hiking base.
Drink this: Grappa – a fiery liqueur commonly drank after a meal.
Spot this: Ibex – a species of mountain goat, the males have large curved horns.