Situated in the heart of the South Atlantic Ocean, this small British island territory may be one of the remotest places on Earth, but it is also one of the most extraordinary places you can visit. Its unique character and unspoilt beauty lies in contrasting and spectacular scenery, a rich cultural heritage and an environment extremely rich in biodiversity. These are just some of the reasons why this remote jewel is the perfect place for active exploration.
Getting there is part of the adventure. Until the airport opens in early 2016, the main way for tourists to get to the island is aboard the RMS St Helena. This is one of only two ocean-going vessels in the world still to carry the venerable title of Royal Mail Ship, held in the past by so many famous British passenger liners. In addition to carrying passengers in well-fed comfort, she is a lifeline for residents on her island namesake, as she carries all their goods and supplies to St Helena.
St Helena has been called the 'Galapagos of the South Atlantic'. A wealth of weird and wonderful plant, bird and invertebrate life evolved here following the island's volcanic birth, some 14 million years ago. Due to its geographical isolation, the island is
home to over 500 endemic species. There are around 85 endemic flora, 10 species of fish, over 400 invertebrates and one land
bird species – the charismatic but critically endangered Wirebird, or St Helena plover. None of these are found anywhere else in the world, and new species are being discovered on a regular basis.
This natural diversity and abundance means that the island is an adventure's paradise, offering a wide range of activities on one of the most remote islands in the world.
SCUBA DIVING, SNORKELLING, SWIMMING WITH WHALE SHARKS AND DOLPHIN TOURS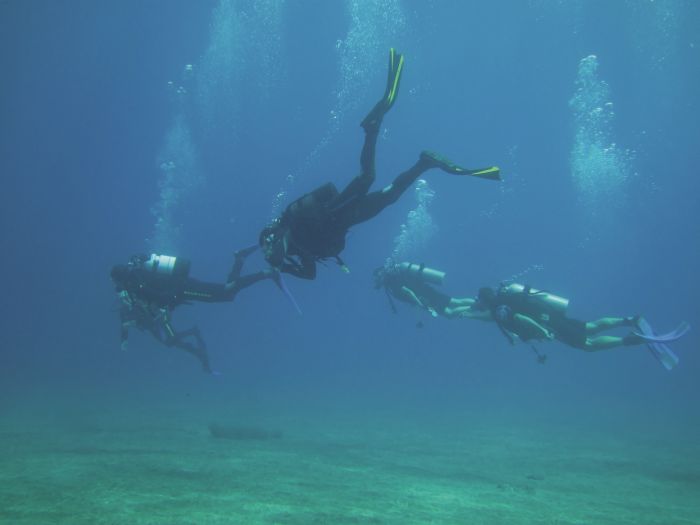 Clear, warm waters, 18th century wrecks and fascinating marine life, including many species only found in St Helena's waters, make the island an irresistible snorkeling and scuba diving destination. The water temperature around St Helena varies between 19 and 26 degrees Celsius over the year, and underwater visibility is generally between 15 and 25 meters.
Around January, Whale Sharks make their annual appearance in these waters. The Marine Conservation Unit on St Helena reports that the size of the aggregates has shown a marked increase in the last few years. Whale sharks congregating in such numbers are rare, and it affords the diver the unforgettable experience of swimming with these gentle giants.
Snorkeling and scuba diving can be enjoyed all year round. And what better place to get certified? PADI dive instructors are available for diving lessons.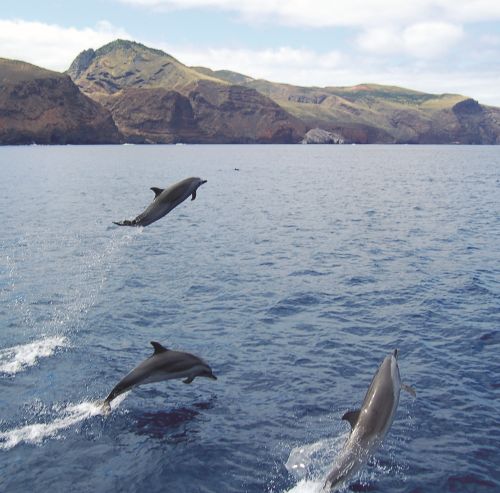 Another unforgettable experience is a dolphin tour. Both Bottlenose and Pantropical Spotted Dolphin play in these waters, and it is not unusual to be surrounded by a pod of 300 Pantropicals, of which a resident school lives around the island. And if this is not exciting enough, you may just be able to spot a Humpback Whale and her calf while out there. These awe-inspiring giants are known to visit St Helena from June to October. They are often seen very close to shore, passing by James Bay harbor. Several boats offer dolphin tours, as well as marine bird watching trips.
FISHING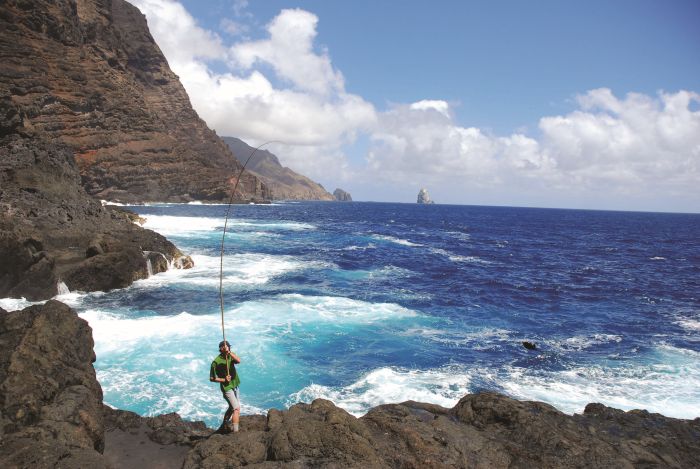 St Helena offers a wide range of quality fishing experiences, be it for a quiet day of fishing off the rocky coastline, or the thrill off deep-water sports fishing. Different fishing grounds surround the island and many varieties of fish can be caught. In the main season, between April and August, Marlin, Wahoo and Sailfish are plentiful. Other varieties include Barracuda, Tuna, Bullseye and Conger Eel.
HIKING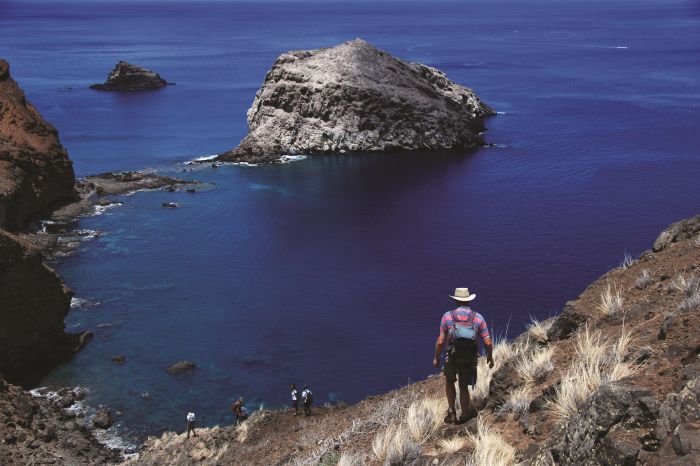 The island's unspoilt landscape of lush green central peaks and breathtaking coastal rock formations provide an exceptionally diverse range of habitats and features of geological interest. St Helena is on the United Kingdom's tentative list for future UNESCO World Heritage Sites.
There is no better way to explore St Helena than on foot. Devised by the St Helena Nature Conservation Group, the Postbox Walks offer spectacular views and routes that take you though a startling array of environments and microclimates. Here you will discover 400m high cliffs, rugged coastlines and rocky shores, hidden valleys, stark deserts and dreamy cloud forests.
Walks are rated on a difficulty scale out of 10. The more arduous walks are not for the faint-hearted and should only be attempted in the company of an experienced guide.
For further information, please visit our website at www.sthelenatourism.com or contact us at [email protected]