Want to ski in a PRISTINE off-piste WILDERNESS far from the madding crowds? Then SKI-TOURING is for you. Strap on some 'skins' to the bottom of your skis to stop you sliding backwards, and you can climb any mountain. The reward? BREATHTAKING vistas and DARING dives into clouds of soft, fluffy snow. Take Austria's NOCKBERGE TRAIL and you can do all this in the lap of luxury…
Unless you're content to settle for day trips from your hotel, ski-touring generally involves staying in crowded dormitories in mountain huts. All of the great ski tours, from the Haute Route to the Gran Paradiso take you from one spartan hut to the next.
As drawn as I am to the unspoilt powder fields, the physicality of ski-touring and rugged mountainsides, my interest in all things rough and ready fades as fast as the last rays of winter sun come late afternoon. In the evenings, I am drawn like a moth to a flame by the warmth of soothing spas and the elaborate creations of chefs in plush restaurants.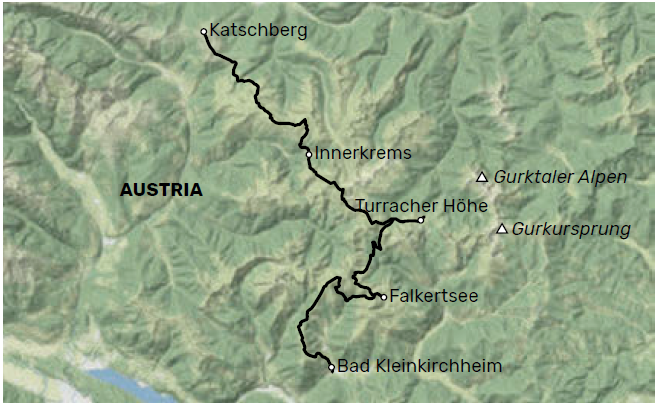 So what to do? Three years ago, some ingenious Austrians came up with a solution. The Nockberge Trail, in Austria's southerly region of Carinthia, takes you from one luxury spa hotel to the next — and your luggage is transported for you.
I was so sold on the idea, I stopped reading the brochure at this point, skipping over the bit about fitness, ski expertise, blah, blah. After all, with a spa, gastronomic dinner, and luxury bedroom at the end of each day, what else was there to worry about?
REALITY DAWNS
Lisi, our guide, gave us a relaxed briefing over cocktails at the Hotel Lärchenhof in Katschberg, where I arrived after my 75-minute transfer from Klagenfurt airport. She did check we had working avalanche beepers and touring gear, though. Looking back over my notes, I see she also mentioned we would be covering 12 miles the next day, but with a four-course dinner of seafood starters and venison mains awaiting us, my mind was on other things.
Another concession to fair-weather tourers like me is that each day starts on a ski lift. So, on the first morning, we took the chairlift to the top of Mount Aineck at 2,220m to speed us on our way. Not that we wanted any more speed, as we skidded over meringue-like crust, until it softened into delightfully deep snow across steep meadows.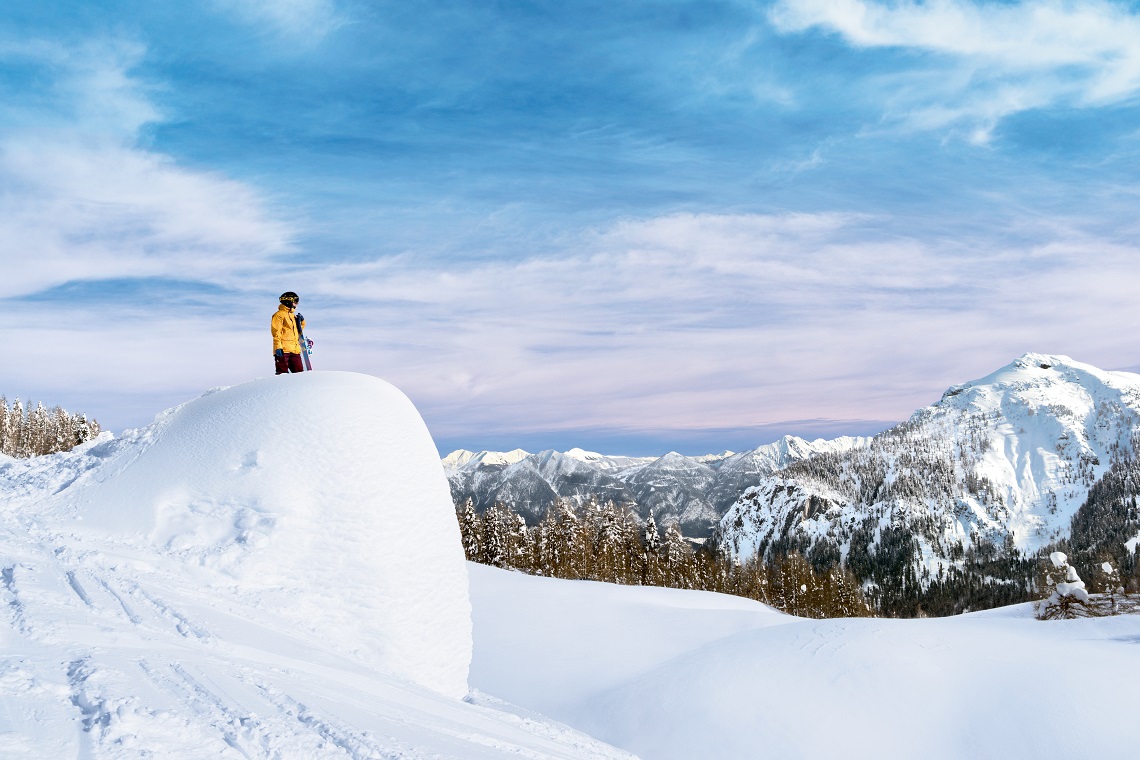 Then it was time to get out our touring 'skins'. These are so-called because historically they were made from seal skins, but the modern versions are carpet-like strips that are even more effective at stopping you sliding backwards down the mountain.
We fixed these to the bottom of our skis, released our heels using our special touring bindings, and set our boots to 'walk mode'. And so began the first of our ascents, to be followed by a second wonderful drop though pure powder.
"Can we have our packed lunch now?" asked Gaby, a 66-year-old Austrian lady, who was as elegant as her turns in powder.
"Are there any coffee stops en route?" I chipped in. "Can we catch a taxi halfway if we find it too much?" asked Ico, a fit 52-year-old Dutchman on behalf of his wife, Annemiek, who was struggling with the descents. To which Lisi's answers were no, no, and no. Only Björn, a 44-year-old seasoned ski tourer from Bavaria, seemed unfazed.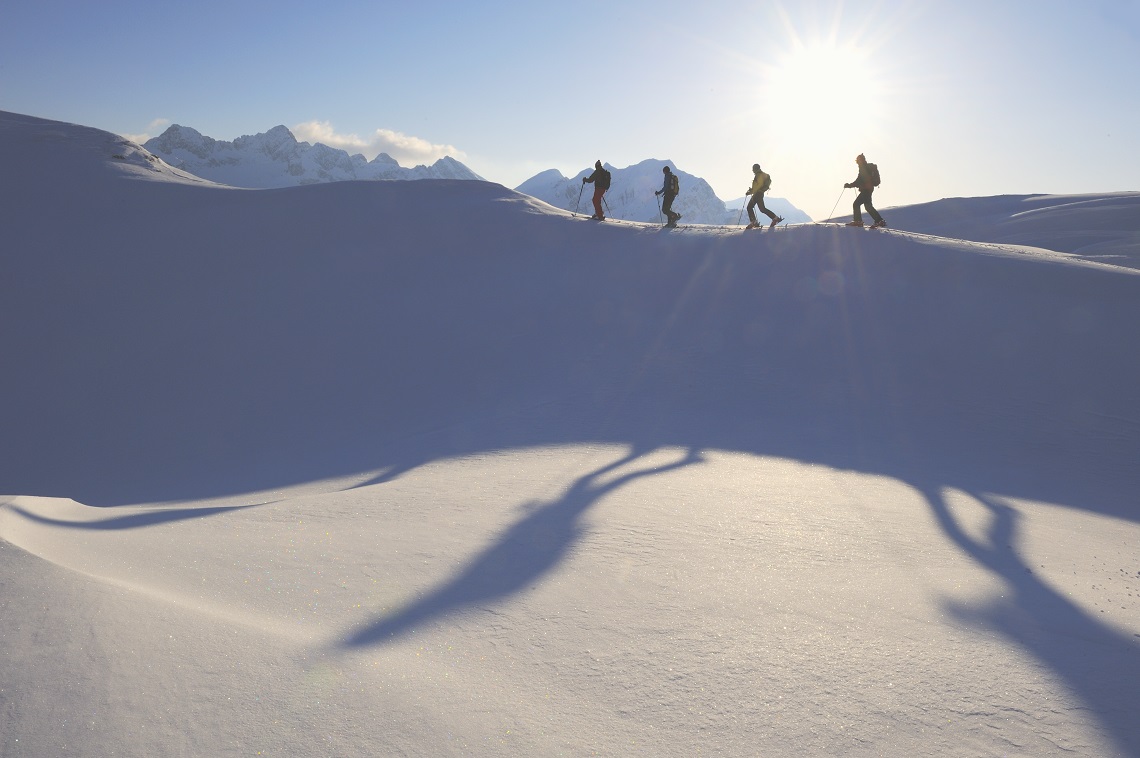 We finally got our lunch, albeit without coffee, at a deserted farmhouse on a steep hillside offering lovely views over the Nockberge mountains. And then we sweated it up to the top of the Schwarzwand, or 'black wall', at 2,214m. Here, I fancied, we would ski straight down to our spa-hotel.
But no. We battled for miles along a seemingly endless ridge against a bitter east wind that only wanted to push us back to Katschberg. The one thing that kept me going was the schnapps that Gabi produced from her backpack. And when we finally reached the resort of Innerkrems, the lifts were long closed and the sun was setting.
Our luggage was waiting as promised, however, and the spa was a fantastic antidote to 900 vertical metres of climbing which had felt like double that. The oompah band in the restaurant soon livened us up, especially as we had a late start the next day.
TAKING THE PISTE
Lisi had warned us that the forecast was poor. Deciding it was too risky to venture into the white-out, she instead led us through orchards up the sheltered mountainside behind the hotel, getting us to practise our kick turns. These are a curiously balletic move — like a plié — requiring you to place your feet (and skis) parallel, but facing in opposite directions. This is a vital art to perfect as you zigzag up the steepest slopes, where you can't afford to have your skis pointing straight up the mountain at any one time, lest you start slipping backwards.
By midday, the fog was gone and soon we were skiing down in bright sunshine, bouncing in the powder back to the hotel, where along with our luggage, we all squeezed into a taxi to Turracher Höhe. It was at this beauty spot, in a hotel overlooking the frozen lake, that I was able to do a full-length two-hour spa-tour — trekking through the white-out of the steam-room, sweating up a storm in the Nordic sauna, before enjoying the icy thrill of the descent of water from an ice bucket over my head. And then I did it all over again.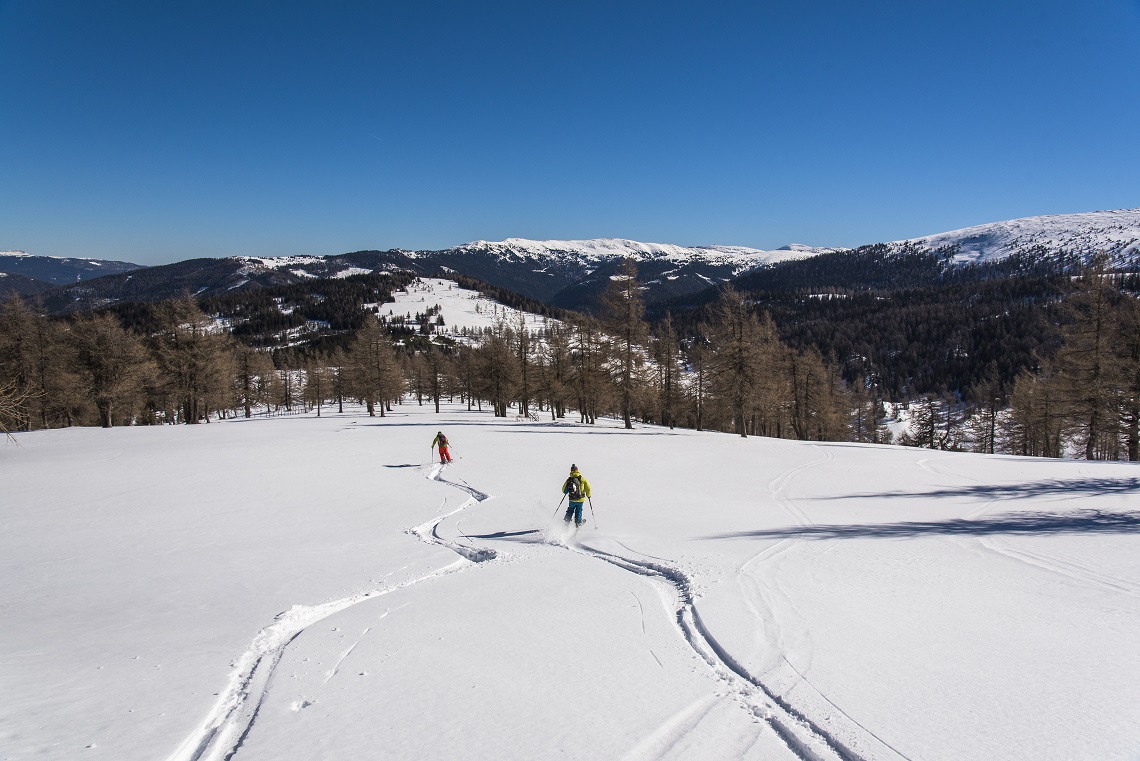 Another delight was that I could gorge myself on all the food I clapped eyes on — from tender beef in the evening to a full English breakfast in the morning while creating elaborate sandwiches for my backpack. There was no danger of putting on weight.
I felt positively upbeat on the lift. But soon we'd left the piste and were skiing through dense forest, the heavy snow making sharp turns difficult. At one point it looked like Annemiek would turn back. But we made it down, with varying degrees of elegance, to follow a long, winding road up the mountain.
This time Gaby had a tot of red wine to fortify me at our lunch stop. And when, at 3 pm, we saw the mountain we had to climb, we both hit the schnapps again for strength. It worked, though by the time we made the saddle of the Steinnock mountain it was getting dark.
Lisi gestured to the peak at 2,197m topped with a giant cross. "Oh, don't worry about that," I reassured her. "I'm sure we're all happy to head down by now." "No, you don't understand," she explained. "We have to go over the peak to reach the ridge on the other side."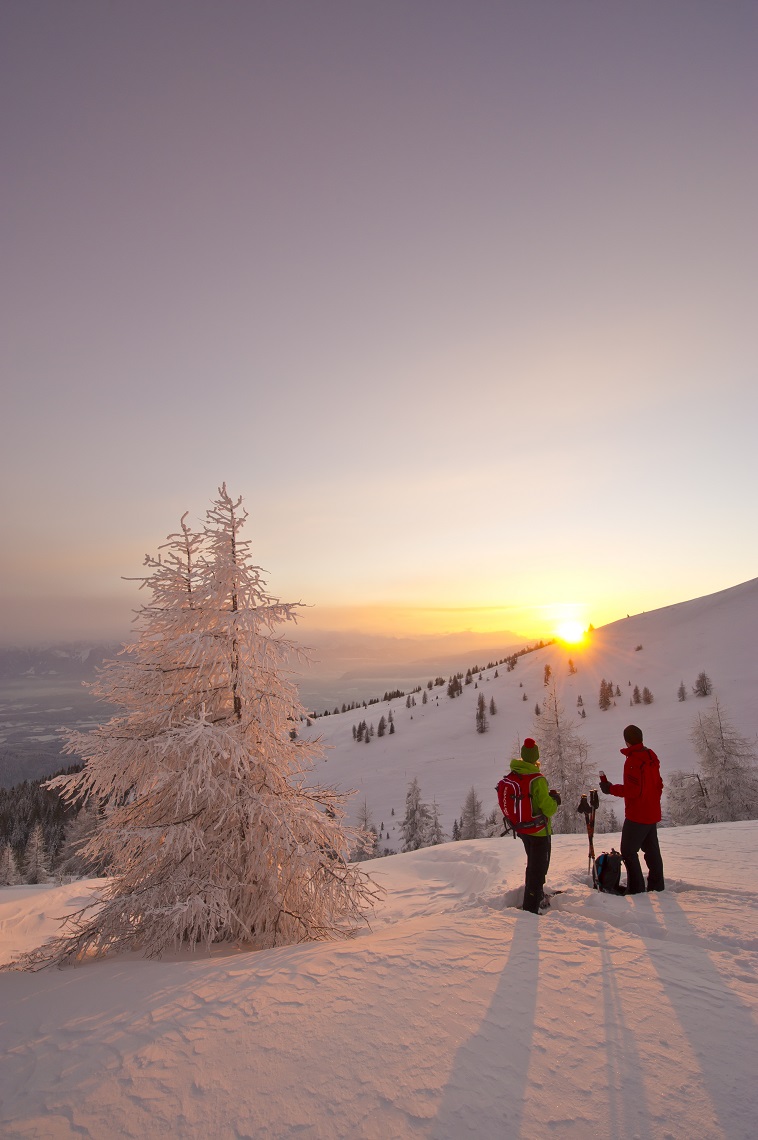 Oh. Dear. God. We fastened our skis to our rucksacks and hiked up the steep slope, taking a few minutes to capture some stunning sunset shots and sign the book under the cross. My legs were almost trembling with exhaustion by now, so when Lisi told us the next section was a no-fall zone I wondered, not for the first time, what I was doing here.
First, we had to navigate a ridge with steep drops either side. Then we had to do tight turns to avoid a cornice. Finally, we had to pick up speed to get over another narrow section.
I thought that was all the tricky bits done when I saw Lisi bashing her skis into the icy snow repeatedly, shifting forward two paces at a time. She was creating two tracks to make sure we didn't slip down the mountainside. When I crossed, I dug my edges into the ice so hard my knees hurt. By the time we reached the pistes of Falkert it was pitch black and, being short-sighted, I had to follow Lisi a metre behind.
But we had made it, and waiting for us was another superb spa, more lovely Grüner Veltliner wine to toast our success over dinner, followed by a cosy bed.
A SECOND HELPING
I had to fly back the next day, missing the last leg to Bad Kleinkirchheim, but vowed to return. Sure enough, exactly a year later, I travelled back to Turracher Höhe to complete the middle stage we hadn't been able to do the year before. After all, had Gaby and I not proved that few of us sybarites are too soft to enjoy ski touring, as long as we have all the necessary creature comforts?
I wasn't disappointed by the beauty spot. On the frozen bay in front of the Seehotel Jägerwirt there was a curling match taking place, and I shyly agreed to give it a go myself later on.
I warmed up with a decidedly soft adventure offered by the resort and free to guests: a sunrise snowshoeing expedition to the AlmZeit mountain hut for breakfast with one of the resort's appropriately uniformed 'ski butlers' — well I did confess to being a sybarite. Although even here alarm bells started to ring as I found myself stopping more and more to "admire the sunrise" (get my breath back) as we neared 2,000m above sea level. But once we'd packed our butler off with the snowshoes and picked up our skis from the top of the gondola, I was bombing around again.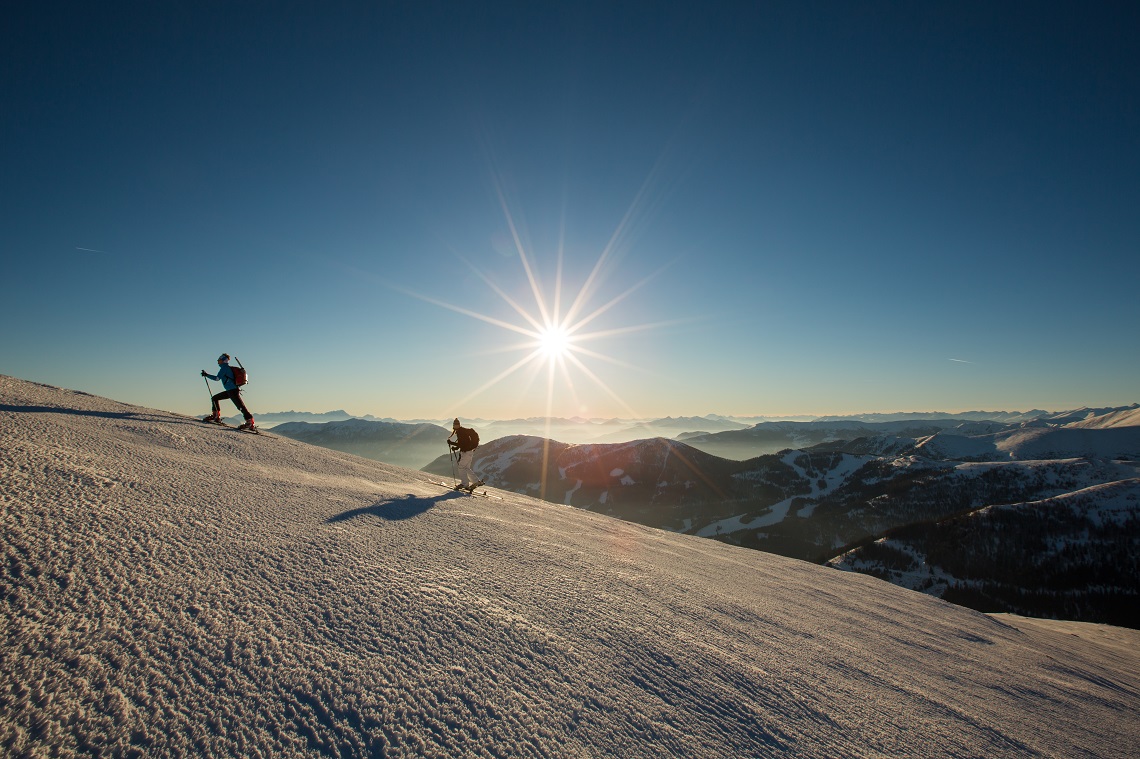 And I was leading the pack when the same butler showed a group of us around the 42km of runs — and crucially 16 lifts — of this small but intriguing resort (the last lift being a skidoo that drags you across the frozen lake). Not to mention the obligatory spa-trek around the saunas, steam room, and outdoor pools of the hotel.
However, I was missing the satisfaction of travelling under my own steam, deluded as I was over my levels of fitness. Perhaps a tour of Turracher Höhe's 16km of glorious cross-country pistes — slapping my skis herring-bone style up the steeper inclines — should have alerted me to the fact that I really was even less prepared than I was 12 months previously. Yet I was still hungering to do that second stage of the Nockberge Trail with my new guide, Florian. And he delivered, taking me to open pastures where I could trace my own squiggles in fresh powder. Our first climb took us past abandoned barns, their snow-covered roofs sparkling at us in bright sunlight.
You don't have to do the trail with a guide to benefit from the hotel booking and luggage transfer service. If you are an experienced ski-tourer equipped with maps, a compass, and altimeter, you can do it at your own pace or with companions. Indeed, we passed a man who must have been in his 70s doing just that. But I wouldn't have dreamed of doing this without a guide. Florian had a knack for finding fresh powder, and we skied down a gloriously snow-filled gully, before climbing anew.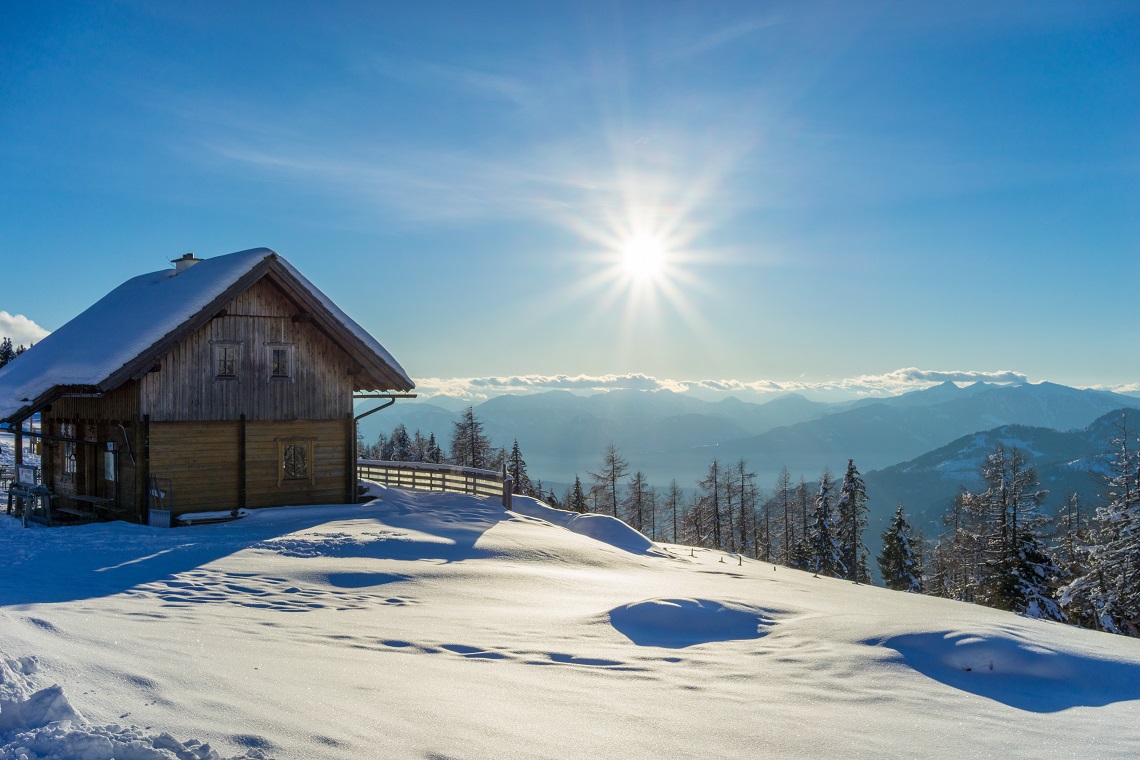 But now I was flagging and knew I couldn't scale the fearsome Gregerlnock. I could scarcely lift my skis to do the required kick turns. What was wrong…? Of course! I was missing Gaby and the schnapps.
We skirted the 2,296m peak — only to climb a forest trail that was steep and icy. Ski-touring bindings come with an adjustable heel that you can raise, so that even on a considerable incline, the soles of your boots are level. But even with my heels raised to the highest level, my skins couldn't stop me sliding backwards.
He may not have had schnapps, but Florian did conjure a pair of crampons from his backpack, which he attached to my skis. Giddy with exhaustion, I made it out of the woods in the direction of the hotel. "Colin, you're a fighter," said Florian, impressed. 'Yes, but one who likes to spa as much as spar,' I thought to myself.
So, have I learnt my lesson — that my ski-touring pretensions are really not up to the physical requirements of the job? Well, that evening, I probably would have agreed with that statement.
But now I'm not so sure. Amnesia can be a wonderful thing, and it would be lovely to do that final stage from Turracher Höhe to Bad Kleinkirchheim. So, let's see — where did I put Gaby's number?
Colin travelled as a guest of Carinthia Tourism (visitcarinthia.at) and stayed at the Seehotel Jägerwirt (seehotel-jaegerwirt.at) in Turracher Höhe.
For more on the Nockberge Trail, see nockberge-trail.com
---
Who's Writing?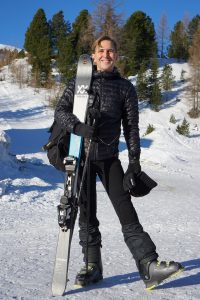 Colin Nicholson started skiing at the tender age of two in Moscow's Lenin Hills at the height of the Cold War and hasn't stopped since. His love of languages and different cultures has led him to rejoice in the warmth of the incredibly diverse communities that live in the coldest of climates: from forgotten villages on snowy plains to popular resorts in the Alps. Today, exactly half a century after he started skiing, he acts as a ski correspondent for ski magazines and national newspapers, and vows to keep covering all aspects of the weird and wonderful life of the mountains for another half-century.