WHAT SUP?
Adventurer and environmental activist LIZZIE CARR has got three PADDLEBOARDING world firsts under her belt. She's also written the first SUP guide on the market, launched a PODCAST, and founded global ENVIRONMENTAL movement PLANET PATROL. But five years ago, she was a project manager who sent work emails in the middle of the night.
"I always say that cancer was my worst nightmare and, in some ways, my greatest blessing because it gave me a perspective on life at 26 that I don't think a lot of people get until much later, if at all. I've loved the outdoors for as long as I can remember.
I grew up in Tenerife and was always around the water, but my first real taste of adventure came when we moved back to England and my mum became a Girl Guide leader. She took me along on the trips, so I got to try abseiling, canoeing, kayaking, archery, camping, and building campfires at a young age.
PRIORITIES
Other than that, my childhood was pretty normal and I did everything the textbook way — the way you're conditioned to believe you should. I went to university, got a degree in English Literature, did a grad scheme and started climbing the corporate ladder. I got a job in a creative agency and pay rises and promotions were my measures of success. I would work until 10 o'clock in the evening and if I woke up in the night, I'd check emails. That was the nature of the industry. I was ambitious and thrived on the fast pace but, equally, it was quite draining.
I wasn't unhappy but I wasn't fulfilled. And I was already getting itchy feet, which is why, when I was 25, I took a sabbatical and went eco-venturing. I travelled overland through sub-Saharan Africa, where I undertook some rhino conservation work, and from Malaysia back to Europe. I rode horseback in Outer Mongolia, caught the Trans-Siberian Railway and hiked through the western provinces of China where I was shocked by the sight of thousands of plastic bottles trapped in a section of the Yangtze River. But I didn't head off intending to find meaning and carve out a new way of living. I wanted this break so I could come back refreshed and recharged, ready to get back on the corporate ladder.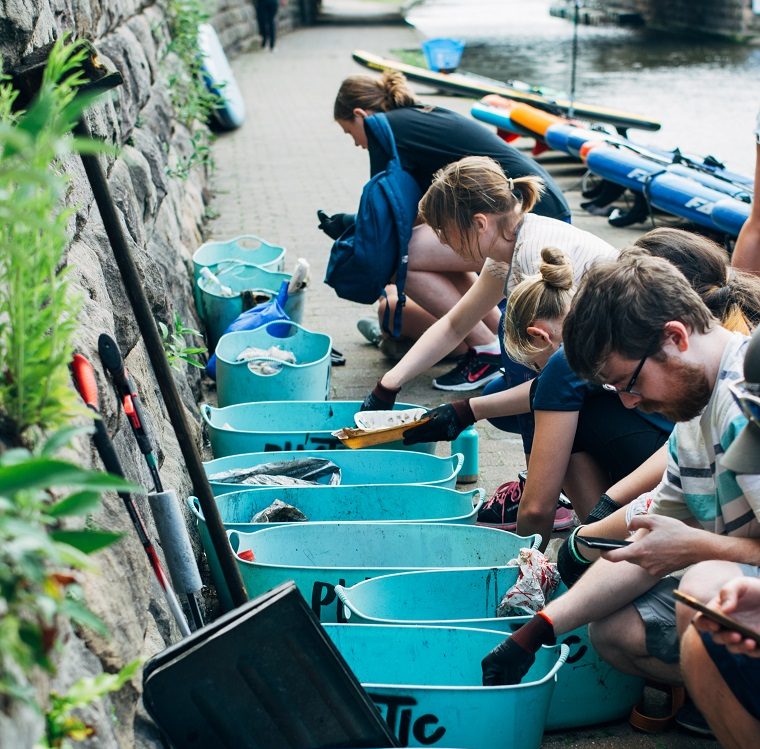 I was diagnosed with thyroid cancer soon after I got back. Cancer ripped through my life like a whirlwind. When I was in hospital, I recognised all these changes that I should make to my life.
When you're faced with your own mortality, what you want and what you value become almost crystal clear. I bargained with the powers that be: 'If I get better, I promise I'll exercise every day, I'll quit my job and I'll do something really meaningful. I'll be an all-round better human.' But as soon as I recovered, I went back to my old life. I craved familiarity and that meant going back to the routine of a structured office environment.
But when I remembered the thoughts and feelings that had overwhelmed me in hospital, I felt a huge sense of guilt. Some of the people around me in the hospital didn't survive, yet I wasn't doing anything to live a better life and make the most of my second chance.
ALL CHANGE
I knew I wanted to do something different with my life and although I didn't know what it would be, going through cancer gave me the confidence to dare to consider options that didn't feel accessible to me before.
I'd started paddleboarding as soon as I began my recovery. I went to stay with my dad on the Isles of Scilly, which is where I paddle-boarded for the first time and fell in love with it. Back in London, which is where I lived, I'd go out on the water whenever I could. It was my place to escape and I feel really lucky that I found it when I did. I honestly don't know what I would have done without it.
It was a slow journey from there to my first big adventure on England's waterways. I spent all my time paddleboarding, trying to figure out my why. In some ways, I was lost, but as I was paddling, I felt a deeper connection to nature than I had in a long time. Equally, I was becoming more aware of the problem with plastic pollution. Whenever I was out on the water, I litter picked and the more I paddled through rubbish the more frustrated I got.
Plastic bags got caught on my paddle, bottles rolled from one end of the board and popped out the other. I saw swans chewing on sweet wrappers, bird nests made up almost entirely of plastic pieces and I kept thinking, 'This just isn't right. We are in the middle of a plastic pandemic and it's being normalised. It needs to be called out and addressed. We can't carry on ignoring it.'
At that time, there was very little campaigning about plastic pollution. It became a consuming issue for me and I did a lot of research to understand the long-term impact of single-use plastics. One day, as I was paddling, I had an idea. 'What if I paddleboard the length of England, photograph every single piece of plastic I see and plot it on an interactive map?' My first-hand experience could show people the extent and scale of the problem.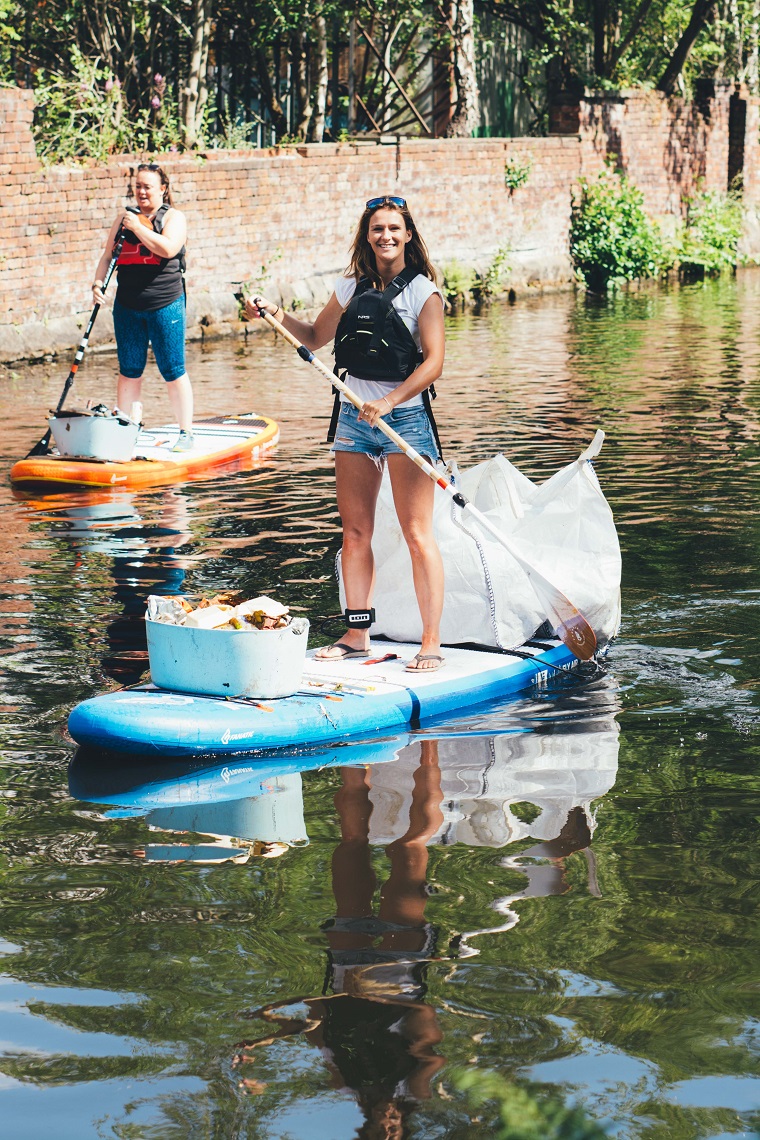 PLASTIC, PLASTIC EVERYWHERE
It was a 400-mile journey from the most southerly to the most northerly points of England's connected waterways. It wasn't a sponsored expedition and although I had a rough idea of the distances I wanted to cover each day, there was no fixed plan. Back then, I didn't own my own paddleboard so I borrowed one from my local club, put all my camping gear on the front and set off on this citizen science adventure.
The route was from Godalming in Surrey to Kendal in Cumbria and I was the first person in history to paddle its entirety, solo and unsupported. I covered the distance in 22 days and plotted more than 3,000 photos of plastic waste on an interactive map.
It was particularly challenging because I was still adjusting to medication from my cancer diagnosis, which added another layer to the expedition, but there was a part of me that wanted to prove to myself that cancer wouldn't hold me back. Everyone who knew me assumed I would go back to work afterwards, including me. But I was inundated with messages from people all over the world supporting my efforts and asking how they could help. I decided to turn my interactive map into a crowdsourcing app so other people could contribute litter they found, too.
In 2018 I officially registered Planet Patrol as a non-profit organisation. It combines free access to activities like paddleboarding, yoga, and parkour and participants are required to litter pick as part of it — that's their payment, or 'nature tax.' In 2017, I became the first female to paddleboard the English Channel. This challenge was all about highlighting microplastic contamination in oceans and connecting this with where it all starts – our inland waterways. I took water samples along the way and worked with a university to show just how many microplastics there were. The results were frightening.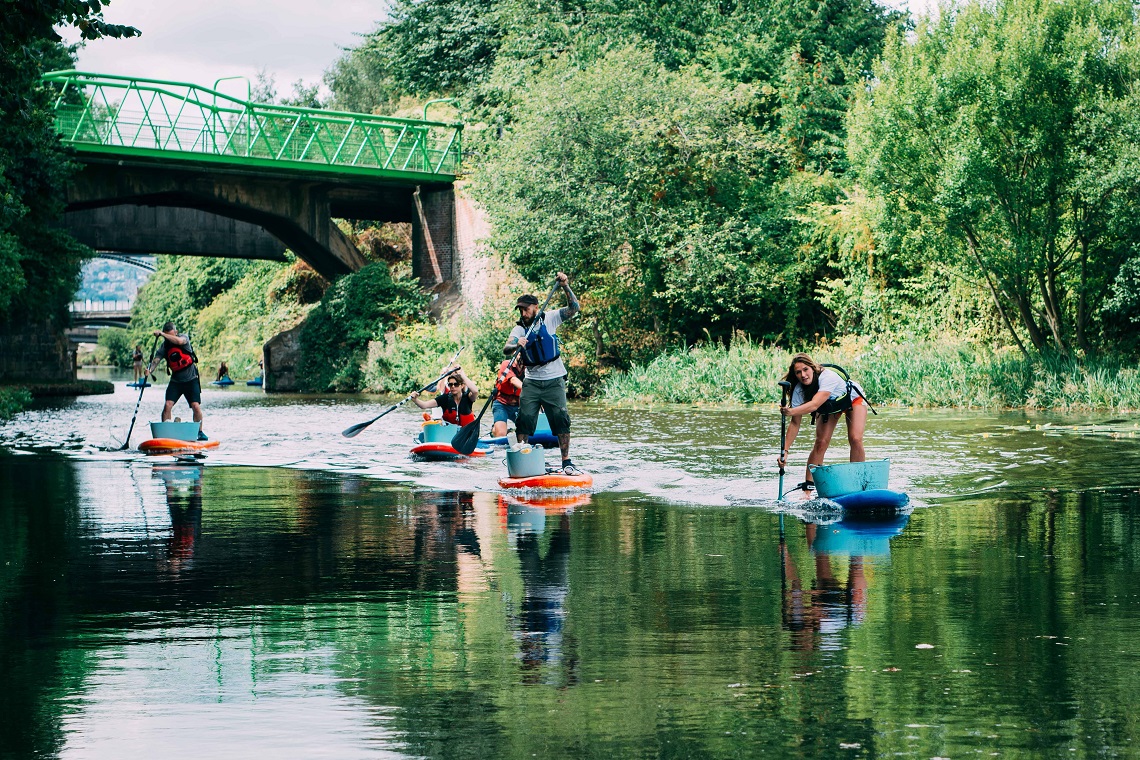 Over the last few year's Planet Patrol has snowballed. More than 15,000 people have taken part and more than 300,000 pieces of litter have been logged across 85 countries. The model was working effectively in the UK and I was meeting with big polluting brands and government about the work I was doing, but plastic pollution is a global problem. I realised it was time to take Planet Patrol to the USA where plastic pollution is an even bigger problem. The USA is one of the world's biggest consumers of single-use plastics and they're hugely culpable in terms of manufacturing as well as usage.
We're all connected by the same waters. What leaves the shores of one country washes up on the beaches of another. It's really important that we recognise plastic pollution — and climate change issues — is not something we can view in isolation.
I completed my third world-first SUP challenge by paddleboarding the tidal River Hudson, in 2018. Over eight days I travelled 170 miles collecting water samples, organising local beach clean-ups and beta testing Smartfin technology, which used a sensor on my board's fin to collect data and create a baseline for understanding ocean-warming indicators for the tidal Hudson. It put my campaigning efforts in front of more than 44 million people around the world and by the end of that year, once David Attenborough's Blue Planet II had aired, the issue of plastic pollution was propelled into the mainstream.
PLANET PATROL
My campaigning is centred around system change. That's why taking photos and collecting evidence are such important components. The age of the self-indulgent adventurer is over. Furthest's, fastest's, first's and so on are great achievements and I'm proud of what I've done, but, for me, adventure should be a vehicle to spark people's awareness and action on wider environmental, ecological or humanitarian issues.
The mission now is for Planet Patrol's global volunteers to log 1 million pieces of litter in the app – so get involved! When I first started campaigning, people thought I had lost the plot! When I told my family I was going to paddleboard the length of England, they just thought, 'Oh my goodness, she's had cancer, she's quit her job, she's started paddleboarding and she's banging on about plastic. She's literally having an early midlife crisis!'
When people started getting in touch to say they understood where I was coming from, it was a massive relief. I felt really alone when I started out. Those messages made me realise I wasn't. That's what gave me the confidence to build Planet Patrol. Since the first few people joined me for flapjacks and chats as I paddled England's waterways, thousands more have got involved. Some of them tell me how it's changed their lives, whether they've had cancer or whether they're diehard environmentalists. It's helped people in ways that I never expected it to and, more than anything else, I'm so proud of the community it's become.
Planet Patrol has created an entire army of activists. When everyone is united, you can do so much more and there's so much more power behind it. Now I've had a child, it feels even more personal. Seeing corporations and governments abusing the planet that your child is growing up on is a real driving force. I want to be able to tell her, 'I really tried my best to make the future better for you.'"
You can find out more about Planet Patrol and join free clean-ups at planetpatrol.co. Download the Planet Patrol app to help gather photographic evidence of litter. For more information about Lizzie and her adventures see lizzieoutside.co.uk.
---
WHOS WRITING?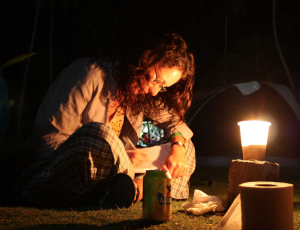 Emma Field is a travel writer specialising in UK travel and tourism. In the past, she's travelled overland from Holland to Singapore via Mongolia solo, then around the edges of India and from Rio to Winnipeg. Nowadays, epic overland journeys are harder to plan with two tiny routine-lovers in tow, so she mostly gets her kicks outdoor swimming, exploring the UK and interviewing remarkable people who have made adventuring their way of life.