WANT
HOKA ONE ONE TENNINE HIKE GTX
It's fair to say no single piece of kit has divided opinion at WFA HQ quite like Hoka One One's TenNine Hike GTX boot. I mean, look at it. This is marmite design at its best. To me, they're a work of art, and nothing's going to get people talking on the trail quite like a boot that resembles something from a Back to the Future movie. (These are basically the hiking boot equivalent of a hoverboard). But there is method in the madness when it comes to the GTX's unique looks.
See that weird frill of a platform sticking out the back? It's not just for show. Hoka refers to it as HUBBLE heel geometry, but what it basically means is that – along with the brands signature Meta-Rocker in the midsole and 4mm offset – these boots absorb the foot's impact, work with the rolling motion of your natural gait, and spread the load, so you spend less time decelerating when your heel hits the ground and more time accelerating on toe-off, propelling your forwards on the trail. You can feel it, too. It took me quite a while to stop doing my Mr Soft impression while happily bouncing along.
Now, from the clever bits that you can't see to the bits that you can: The Hike GTX has all the usual bells and whistles you'd expect from a high-performance hiking boot, including a Vibram Megagrip outsole with 5mm lugs that hug the mud and shingle; breathability courtesy of Hoka's Ariaprene fabric (which also makes them a per snug fit); and plenty of Gore-Tex leaf product (read: Sustainability) waterproofing in its bootie, to keep the insides nice and dry.
The Hike GTX is exceptionally lightweight for an all-terrain boot, but the price of that fancy heel technology is that they're also very bulky. To give you an idea, the sole of a ladies' size 6 measures 32cm x 12cm at its widest point, so what you lose in grams you gain in volume. These are not the kind of boots you throw in your backpack as an afterthought. Having said that, they're so unbelievably comfortable you'll likely never want to take them off your feet.
Will they appeal to everyone? No. Are they more than just a quirky gimmick? I'd say, definitely, Yes.
£140, www.hokaoneone.eu
---
NEED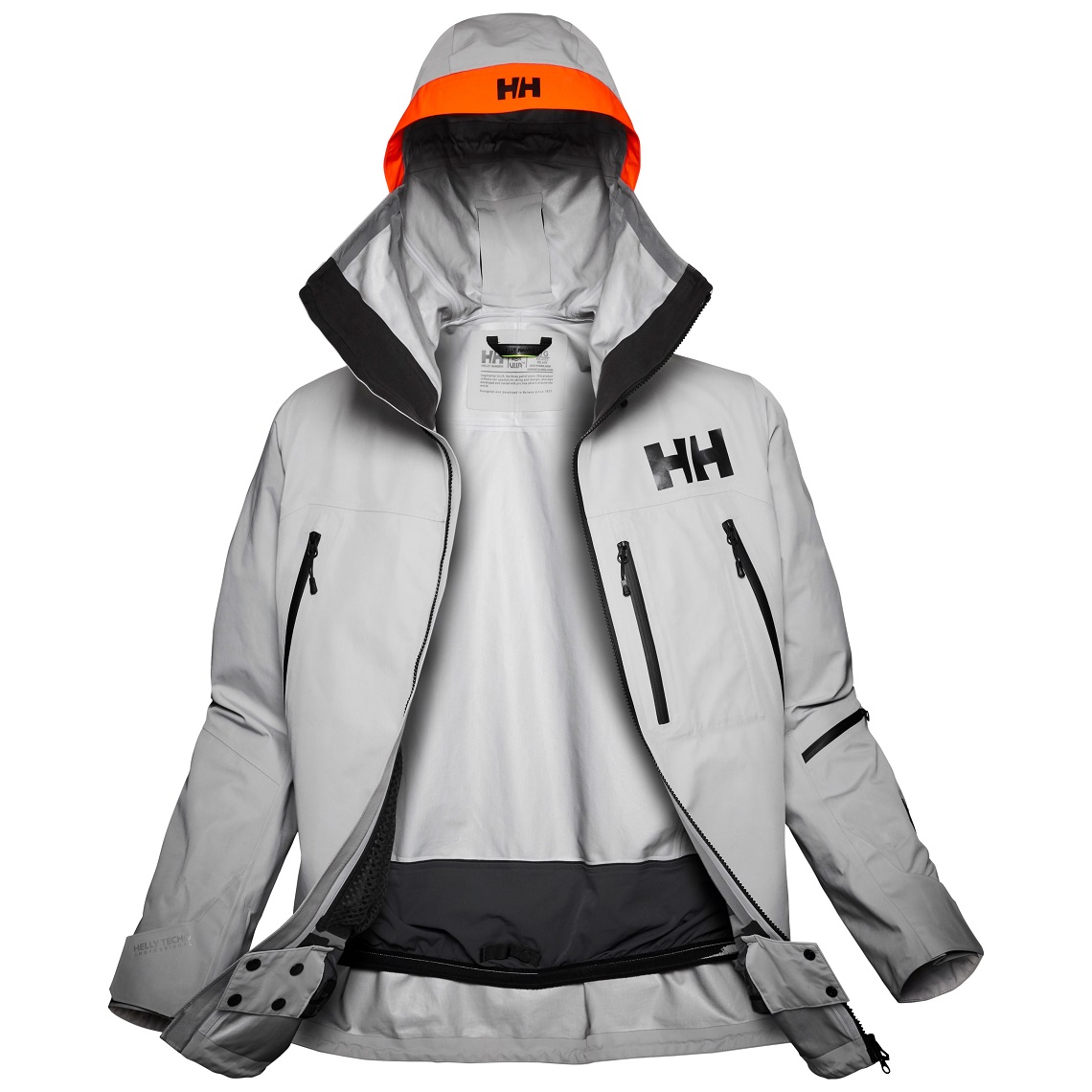 HELLY HANSEN ELEVATION INFINITY SHELL JACKET
Innovation has been at the heart of outdoor gear for as long as I can remember. Brands are always looking for ways to improve their products and technologies, constantly pushing boundaries and discovering new ways of doing things. For Helly Hansen, most recently, this innovation has come in the form of LIFA Infinity Pro, a three-layer fabric which has the potential to completely revolutionise the brand's waterproofing technology.
The beauty behind the high-performance fabric is that it's constructed in such a way that eliminates the need for harmful chemicals to be used in the waterproofing process. The material is inherently water repellent, meaning it doesn't need to be coated in a Durable Water Repellent (DWR) at any point in its life. This is a game-changer for many practical reasons (we'll go into those in a second), but the environmental benefit is perhaps the most important. 'Normal' DWR coatings use man-made solvents (PFCs) to provide a water-resistant barrier, but they're temporary and have to be reapplied over time to stay effective. They're also harmful to the environment, shedding toxic bi-products into the ecosystem.
Once released into the environment, they take a long time to break down and, before they do, they can negatively impact living organisms in various ways, including by damaging reproduction and causing tumours to develop. Eliminating these nasty chemicals is a big win from an eco-conscious perspective, but it also has benefits for you as a consumer. With a DWR not needed, you'll never have to worry about re-proofing your gear, making it more durable and easier to care for.
Helly Hansen's LIFA Infinity Pro Technology has been included in the impressive Elevation Infinity Shell Ski Jacket, a product that's so impressive that it was the 2020 ISPO Gold Award winner in the snow sports segment, while it was also declared the best product in the hardshell jackets category.
Revolutionary shell aside, the Elevation is packed full of useful features to make your life on the slopes more comfortable. The fit and cut of the jacket allow for an unrestricted range of movement, ventilation is taken care of by well-placed pit zips and there are plenty of pockets for storage, including a 'Life Pocket' which features Aero-gel Insulation to protect your phone's battery in cold weather. The high collar and brilliant helmet-compatible hood will keep the biting wind chill off at bay, while the included snood is a thoughtful touch that's delightfully soft to wear.
£650, www.hellyhansen.com