Keep Houlding On
As one of the biggest names in British MOUNTAINEERING celebrates his 40th, Emily-Jane Cave catches up with LEO HOULDING, to look back over 30 YEARS of climbing achievements and get the LOWDOWN on his latest adventures…
The year is 1990. Madonna is Voguing, Will Smith is TV royalty, stonewash denim is a thing, and on a small cliff somewhere just outside his hometown of Appleby, Cumbria, a young Leo Houlding is about to get his first taste of top roping.
"I'm not sure what my original inspiration was," Leo admits. "But a friend of my dad's called Malcolm Cundy was the vehicle that got my father and I into climbing. He was an inspiring character – not just in teaching us to climb, but also telling us all these stories about these crazy friends of his and these crazy expeditions he'd had as a climber."
A partner of legendary British Mountaineer Doug Scott, Cundy's tales of climbing-do and the adventurous lifestyle that came with them were as much a draw for 10-year-old Leo as the climbing itself, which he says he loved instantly. "I always enjoyed the physical side of climbing as well as the problem-solving that's involved," he explains. "In some ways, it's a simple life: you live in tent in a remote place, but in other ways, it's a very challenging life, a lot of hard living, hard climbing, and people doing amazing stuff. Then there's the adventure of it, too, the going into strange cultures, strange lands, and spending a great deal of time in nature. Climbing is a lifestyle rather a than a sport."
It's a lifestyle that Leo has spent the last 30 years living, breathing, and honing. A Berghaus ambassador since the age of 17, Leo is constantly pushing himself to take on more technical routes, to go further, and to achieve what, from an outside perspective at least, seems unachievable. "If you don't try you don't succeed," is his philosophy. His multitude of first ascents include Mount Huashan, China; The Prophet on El Capitan, Yosemite; and in 2012, Leo became the first person to climb the east face of Cerro Autana, one of the Amazon's most sacred mountains. "Don't be afraid to aim high," he says. "Most people would never have attempted these projects and that guarantees them to fail… but you've got to be willing to accept failure as well."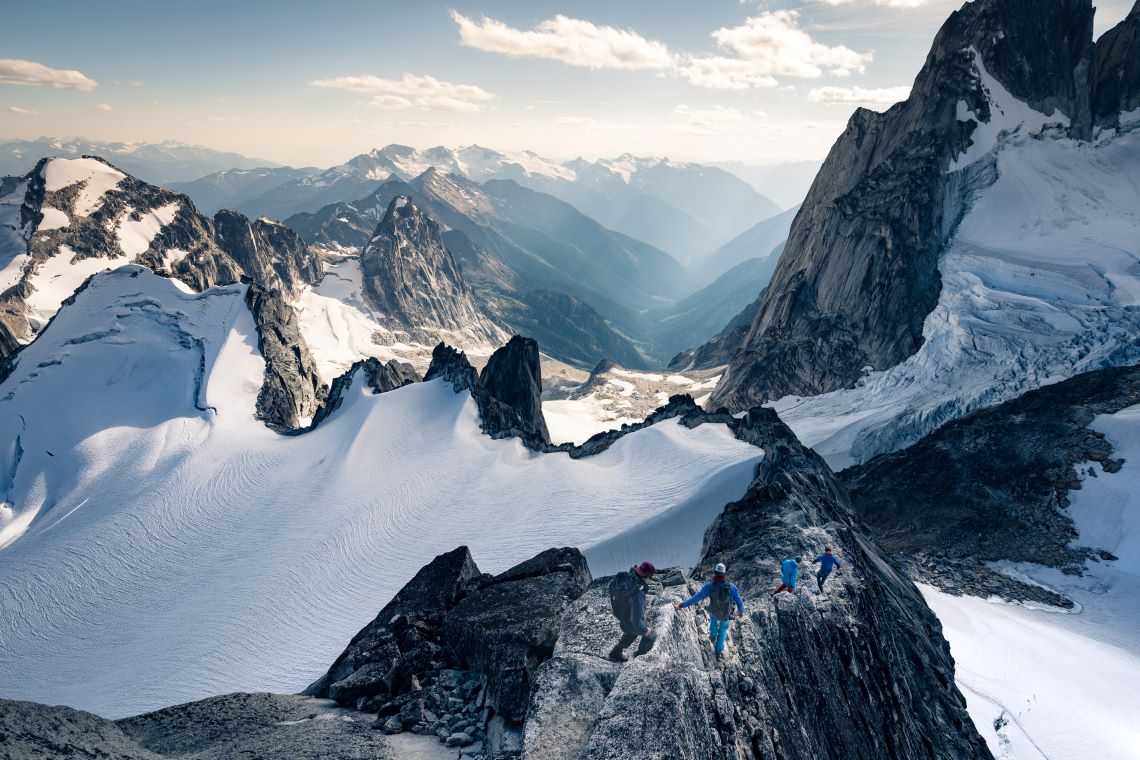 Photo: Adrian Samarra
CAREER HIGHS AND CLIMBING LOWS
Experiencing 'failure' in one form or another is an inevitable part of striving, something Leo found out in 2002 while attempting the first ascent of Cerro Torre in Patagonia, a notoriously difficult climb thought to be one of the most technical peaks in the world. The fall left him with a severely broken ankle, which needed surgery to repair it, and a further 12 months of physio before it was fully healed. Despite the damage, Leo defied his surgeon's predictions that he'd never climb again, and if anything, the incident only served as a very steep learning curve. "It wasn't a freak accident," he admits. "It was just being 21, and male, and thinking you're indestructible and finding out the hard way that you're not. It was a mistake and I learned from that. But I wasn't put off coming back to [climbing]. I've never found anything that's as fulfilling and meaningful in life."
So, 30 years in, what's been Leo's biggest adventuring challenge to date? "Other than having two little kids!?" he laughs. "In 2017 we kiteskied unsupported for 1,200 miles across Antarctica, I think that was the most adventurous experience of my life."
The expedition was Spectre, an ambitious two month project together with Jean Burgun and Mark Sedon to climb the Spectre in the Trans-Antarctic Mountains, arguably the world's most remote peak. The trip saw the team pulling loads of up to 200kg and reaching speeds of up to 40mph while kite-skiing out on the ice.
The appeal of the expedition for Leo was twofold: the remoteness of the location and the draw of the mountain itself. "I like very technical pointy mountains that don't have much snow and ice on them." he says with fondness. "The Spectre is also more than 600 miles away from the nearest base and that's beyond the range of a ski plane without refuel. It can take days or even weeks to get there, because you need the weather to be good in various places, so it's orders of magnitude more committing than somewhere you can fly to easily. I really liked the idea of combining a super-long polar journey using kites with a highly technical climbing object. It's the ultimate need-skill adventure in my opinion."
The Spectre expedition required more than just mountaineering skill, however. The trio endured weeks of merciless conditions including 60mph winds and temperatures of -40C, which coupled with the windchill factor were closer to -70C. "We were pretty close to the South Pole in the middle of November. You really are balls against the wall!" Leo laughs. "We didn't get out of the tent for the first four days. I knew it was going to be hard, but it was way harder than I was anticipating. On that trip, we were all badass characters but we were right at the limit of what we could deal with almost constantly in terms of how cold it was, how windy it was, and psychologically, just how far we had to go and how much we had to do."
It wasn't all frozen balls and mental torture though. "Thanks largely to Jean and Mark we had a great time. If you watch the film, you can see there's a lot of laugher and joy and fun. Even during some of the worst moments there were a lot of smiles and laughter. You get out what you put in and the more difficult and ambitious the dream the more fulfilling it is."
One of the most hair-raising moments of the trip came when the team was kiting just half a mile from the base of the Spectre. After crossing 250 miles of snow and ice and countless hidden hazards, Leo's sledge disappeared down a crevasse, almost taking him with it. "As we were approaching [the Spectre] I slowed down and I think that's what the problem was," he explains "We were crossing the crevasse laterally and the snow bridge just collapsed. I was suddenly ejected backwards and being dragged back across the ice towards this big hole. It was just incredibly violent, and before I knew what was going on, I stopped." The thing that saved Leo was a knot in his trace, the line connecting him to his sledge. "You put knots in for that very reason, and sure enough, one of the knots bit into the side of the crevasse and held the weight of the sledge." Thankfully, the only thing lost was time spent rescuing the sledge, which involved lowering Jean into the crevasse so he could unpack it before the team pulled it to safety.
From cavernous lows to soaring highs, the expedition was a real rollercoaster. "One of the highlights was right towards the end of the expedition when we finally got perfect kiting conditions in deep powder snow," he recalls. "It started off with this incredible solar phenomenon you get in the polar region, a Solar Parhelion. it's kind of like a rainbow made by the refraction of light through ice crystals in the upper atmosphere. It just looks like something out of a sci-fi movie. Then the wind picked up from the right direction. I'm not a religious person but it really felt like we'd had this amazing blessing and we were able to do over 100 miles that day."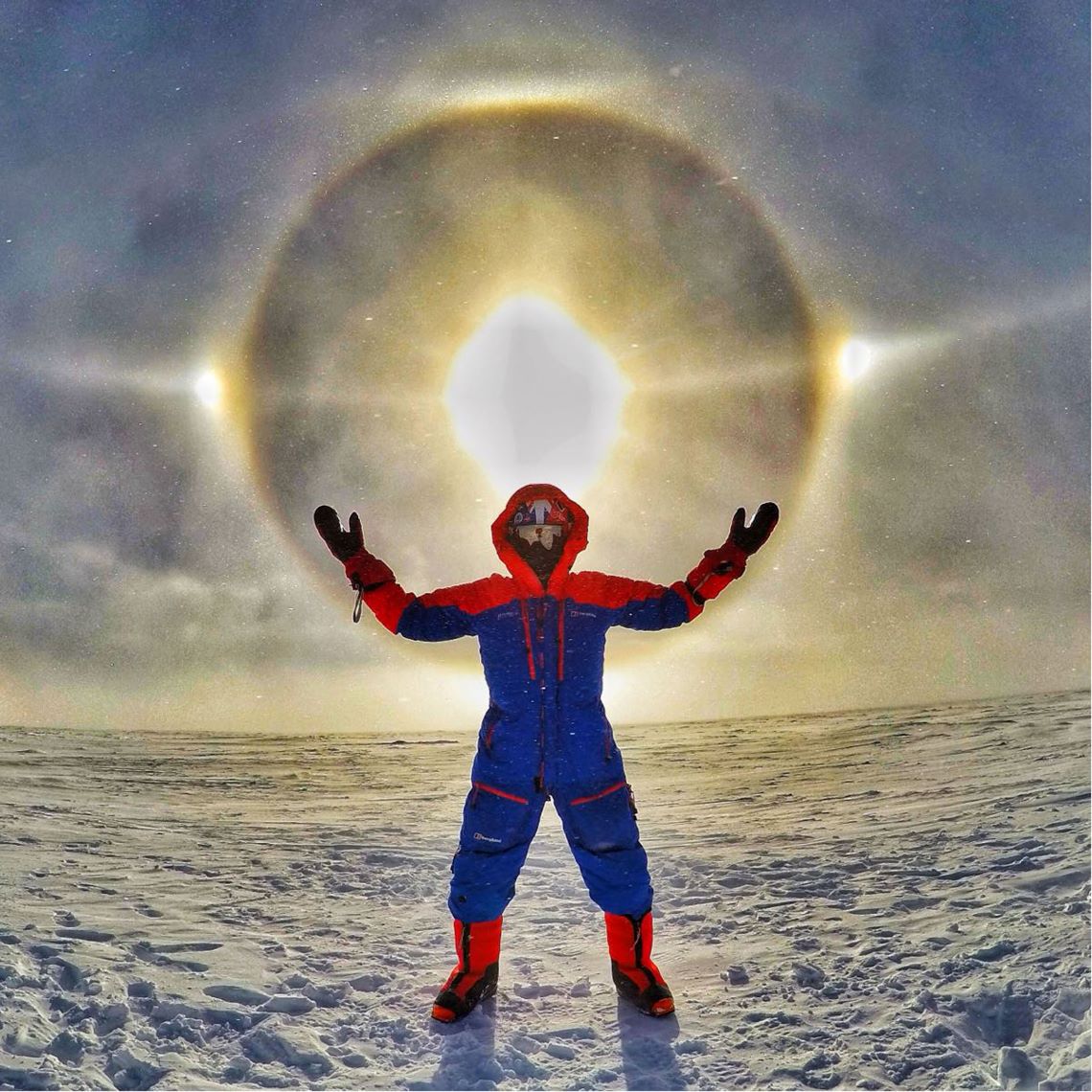 Photo: Mark Sedon
TAKING STOCK
Fun as a it was, kite-skiing is harder than it looks on film, apparently. "We didn't film any of the technical kiting because it was a self-filmed expedition, so when it was hard going there was no way you could stop and get the cameras out," he explains. "Every time you see it on film it's like 'oh that looks easy and fun!' but that was about 10 percent of the kiting we did, the other 90 percent was not quite like that!"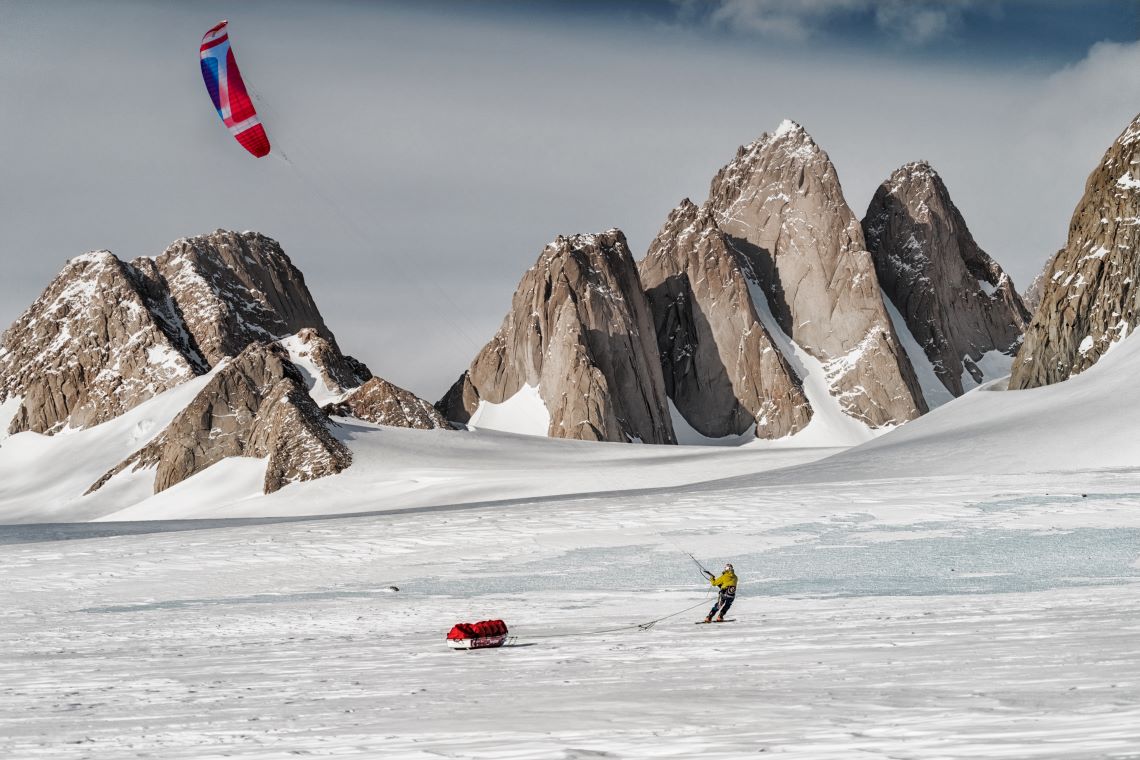 Photo: Mark Sedon
Despite the expedition's success, there's one aspect Leo would've liked to have done differently. "We didn't climb the route I wanted to, we climbed [the Spectre] via a different route, which was a lot easier," he says. "We were at our limits and to attempt a difficult climb when you're already so close to the edge would have crossed the line of what we felt was acceptable safety. It's been kind of pissing me off ever since that we stood underneath one of the finest unclimbed lines on the Earth and the weather was too unstable, but if a storm hits you at 85ȣ South on the Spectre, you're going to die, basically." One for the future, then? "I would like to try again and take a little bit more equipment," he says. "I'd take a portaledge, which is a heavier piece of kit, but it means you can have shelter on a vertical cliff."
So how have big expeditions like Spectre shaped Leo's outlook? "You can't guarantee success with good planning, but you can almost guarantee failure with poor planning," he reveals. "People don't realise how much groundwork goes into making these projects successful. I used to be a lot more slapdash with the planning; now it's quite meticulous and then the battle is half won before you set off."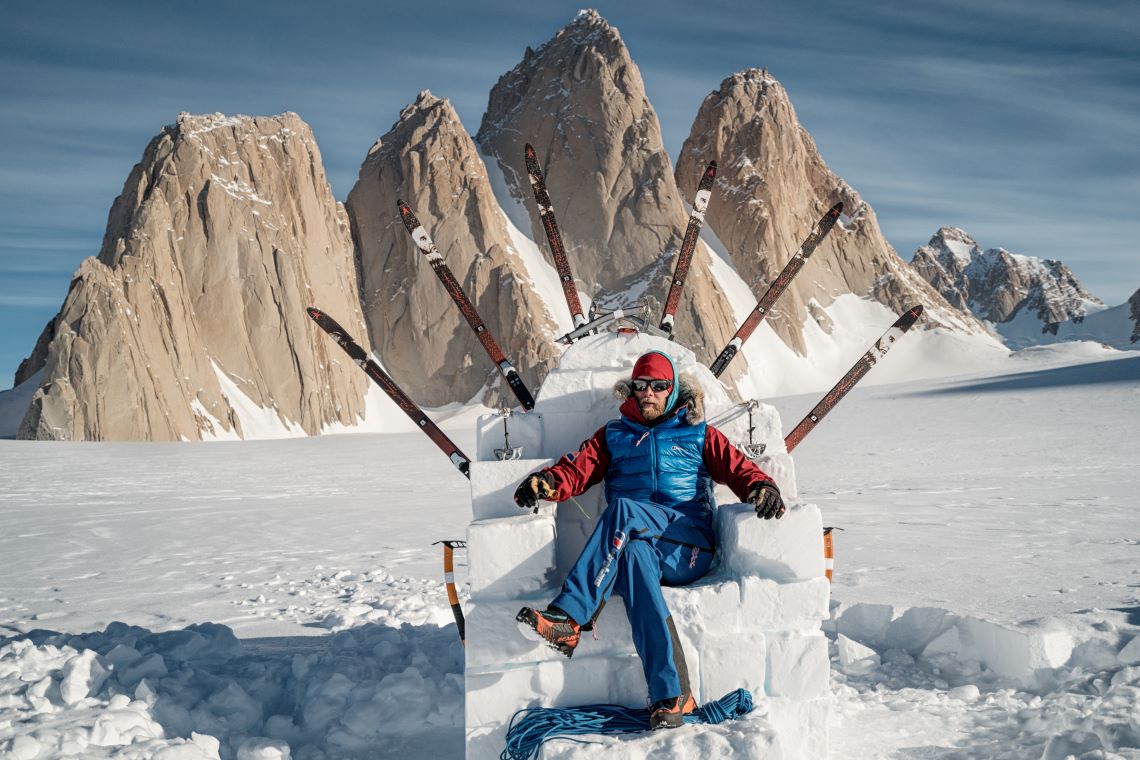 Photo: Mark Sedon
NEW ADVENTURES
From the Polar regions to the Sahara Desert, Leo's love of exploring has taken him to some of the most spectacular places on Earth in search of new heights and adventure. His most recent expedition was in December 2019 when he climbed a new route up the Great Northern Prow of Mount Roraima, a 600m sandstone face deep in the Amazon rainforests of Guyana. "It looks like a ship sticking out of the jungle," Leo enthuses. "It's there that The Lost World was based, the famous Arthur Conan Doyle book. It's a real place, with 600m waterfalls, and you really wouldn't be surprised if you saw a pterodactyl fly past."
Among Leo's team were a competent young climber from his village back home in the Lakes and two of the Amerindian porters, who Leo offered to take to the summit. "It was a trading of skills," he explains. "We couldn't have got to the base of the cliff without their help and guidance through the jungle and clearly they couldn't have climbed [Mount Roraima] without us, so there was a trading of knowledge. We trained them up on how to climb ropes and spent two weeks on this giant cliff, it was amazing."
The film of Leo's Mount Roraima expedition is currently in production and plans are to release it later this year or early next. "We haven't even got a working title yet," he says. "But it will hopefully get wider distribution than some of my other films which tend to end up in their own sphere. It's more multifaceted, because you've got this young girl, who's totally out of her depth on her first big expedition, and these two Amerindian guys, who are real characters. They're a big part of the story."
When you're used to planning big expeditions like Spectre and Mount Roraima, a birthday outing with the family up the Piz Badile is practically a stroll in the park, right? "Yeah, that was a little different!" he laughs "We've done quite a bit with the family and it's a very safe objective. We didn't even know if we were going to get away this summer, like everyone, but it transpired we were able to go to Switzerland, and it just so happened there was a good stable high pressure before my birthday."
The Houldings took four days to make the ascent on the Piz Badile via the North Ridge (1,000m) to the summit in July this year. Freya, 7, made the 3,308m climb under her own steam, becoming the youngest person to do so, while Jackson, 3, became the youngest person to stand on the summit. He hitched a ride on mum Jessica's back in a carrier. He also wore a harness, which was roped onto his mum's harness as an extra precaution.
"The kids are amazing!" Leo exclaims, "Particularly Freya. She's this skinny little thing but she's got real resilience and determination in the mountains. We got [to the summit] at 10-to-sunset, so it was perfect timing. There's a little bivvy hut on the top with some bunk beds and the next day was my 40th birthday, which was a coincidence, but a very welcome one. It's magnificent up there. A pair of golden eagles flew past when we were at the top. It's a very special place."
So what advice does Leo have for other families looking to be more adventurous? "When we go out and about in the Lakes, we avoid things like the main path up Scafell Pike and go scrambling instead. When you get into steeper terrain and the kids start using their hands, squirming through tunnels in the lower valleys, that kind of stuff, it's engaging and playful."
"Kids also love camping. If you're keen, invest in some half-decent kit. A good-quality tent, sleeping bags, and air mattresses are worth their weight in gold. When I go on an expedition, my sleeping arrangement is deluxe! People often talk about rouging it; I don't rough it when I go on an expedition – I smooth it. There's enough rough out there, so smooth it off as much as you can."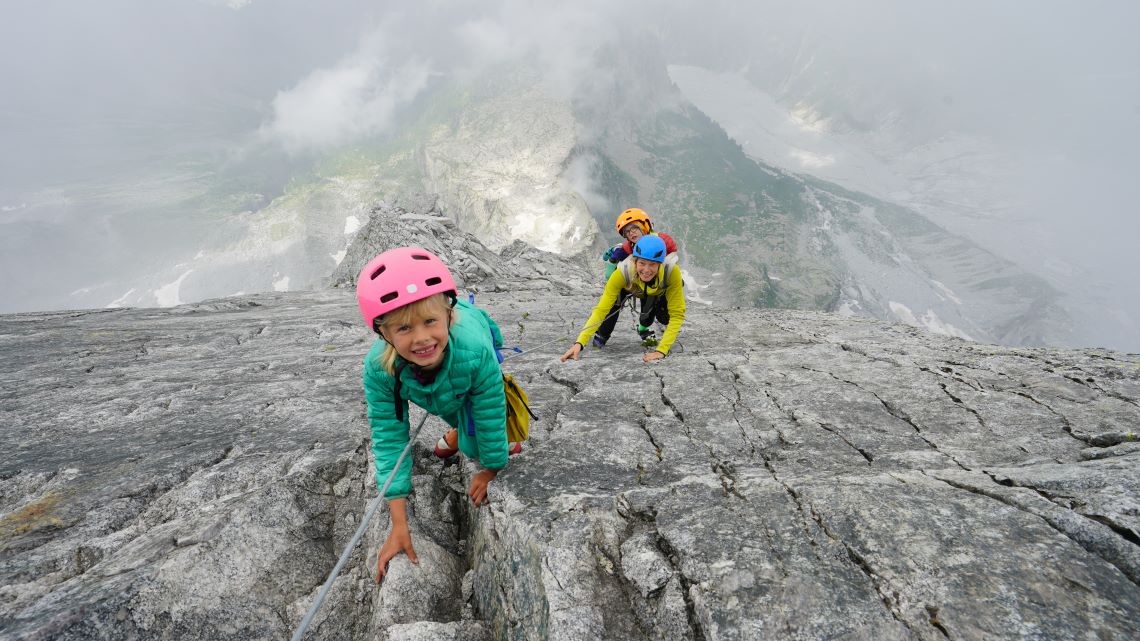 Photo: Leo Houlding
Above all, though, safety is the most important consideration. "If you are bringing inexperienced people like kids into potentially hazardous environment you obviously have to operate well with your own capacity," he iterates. "You can't be pushing toward your own limit when you've got kids in tow. There's no way I'd recommend most people take their young family up the North Ridge of the Piz Badile unless you're somebody like myself who has a great deal of experience."
A trustee for the Outward Bound Trust, Leo's 30 years' experience of adventuring outdoors is something he's keen to share with young people, particularly those from underprivileged and urban backgrounds. "Outdoor adventure at some level or another is something everyone should have in their lives," he insists "But also the secondary benefits of being scared, trying hard, working as a team, those are valuable in all walks of life, not just climbing mountains."
As someone who's grown up an adventurer, what would Leo have been if he'd taken a different path, then? "I couldn't possibly say…" he ponders "Adventure and nature have always been important to me, and I've found that now I'm a bit older it's those elements – going into really wild and remote places and dong exciting stuff – that's where my drive for climbing comes from. I did very well at school and was good at science. Perhaps if life hadn't gone this way, I might have tried to forge a path doing something in the outdoors, like field science."
And what does the next chapter look like in the life of Leo Holding? "I might write a book," he declares. "I think I probably have enough material for a pretty interesting book by now." We utterly concur.