WANT
KEEN NXIS EVO WATERPROOF BOOT
I love the start of a new year. I've already signed myself up for all sorts in 2022, including my first obstacle race: a 10k dash through fields, forest, mud, and lakes with a few man-made challenges thrown in for good measure. I'm not a runner, nor have I ever been one, so it's going to be interesting to say the least.
One thing I know I won't have an issue with, though, is my footwear, because I've been breaking in my NXIS EVO WP since last December. I have total faith that these puppies will see me through to the finish line, no matter what state I'm in when I arrive.
Built with Keen's unmistakable looks, the NXIS is a combination of the brand's multi-award-winning hiker, the Targhee, and a trail-running shoe. This means you get all the rugged stability and protection of a hiker in a fast, lightweight package that'll see you over a variety of changing terrain with aplomb.
The lovely boxy toe, a signature feature in Keen's footwear, has been treated to the same protection you'd expect from a hiker, but with a new 'spilt' shape, which shaves weight off the front end without compromising on safety. There are also some nice, deep lugs underfoot, which give you confidence over the wet, muddy stuff.
The ankles and heel cup use what Keen calls the 'KonnectFit heel-capture system', a kind of y-shaped brace that works with the lacing to support the heel and ankle to help prevent twisting and rolling. It's a great idea and definitely makes the shoe feel more secure than your average trainer.
The NXIS are treated with an eco-friendly PFC-free water repellent and have a waterproof breathable membrane, to help keep feet dry. The vented mesh upper is made from recycled PET plastic and is super flexible and breathable; the TPU (thermoplastic polyurethane) overlay ensures it's also durable, so it'll stand up to some serious punishment on the trail.
Inside, you get plenty of space to spread your toes – another nice feature of Keen's footwear – and a super comfy, removable PU footbed with arch support. It's also been treated with an eco-friendly odour control, so your feet stay sweet! The mid-rise option is shown here, but Keen does a low-rise version of the NXIS, too if you prefer your runners low-cut. If you have an all-terrain challenge coming up this year, you'll want a pair of these.
£145 | www.keenfootwear.com/en-gb
---
NEED
JACKERY SOLAR GENERATOR 1000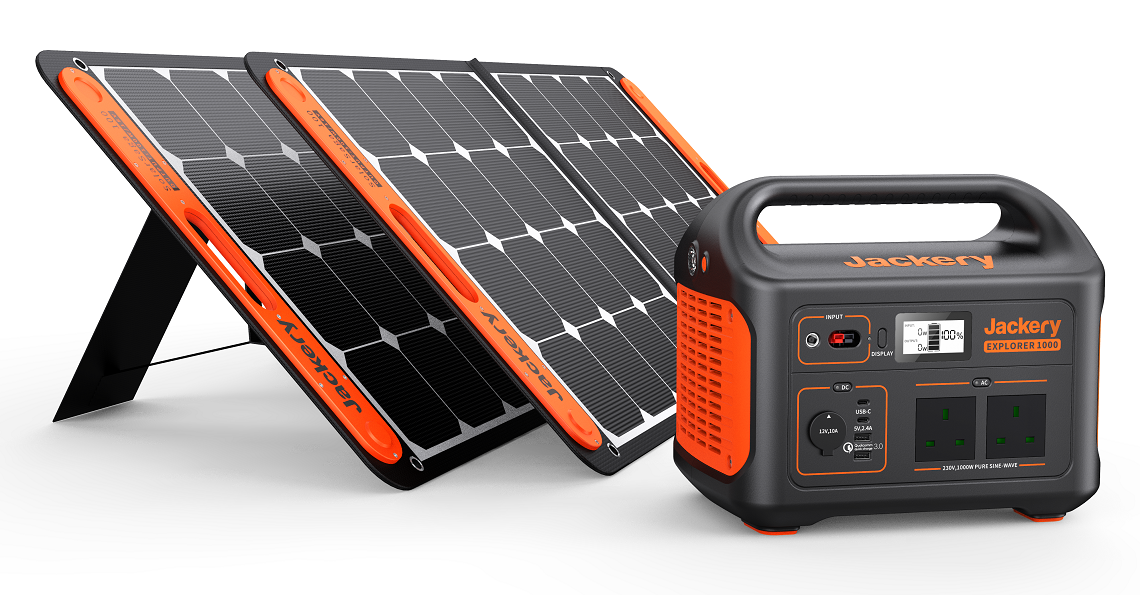 As the sun sets on a day's adventuring and you arrive back at camp, soul nourished and dog tired, there's nothing better than relaxing around the fire with friends, sharing photos from the day, and chilling out with some tunes.
But to do that, you need power to charge speakers, phones, laptops, cameras… you get the picture.
Founded in 2012 by a bunch of innovative engineers, Jackery certainly knows a thing or two about portable power. Based in California, with its 13 million acres of wilderness and 1,500 miles of scenic rivers, the Jackery crew are right at the forefront of develop- ing sustainable, accessible power solutions for adventurers on the go.
Ideal for off-road excursions, camping trips, and day hikes, the Jackery Solar Generator 1000 is the ultimate techy's companion in the wild. With it, you get both the Explorer 1000 Power Station and a pair of clever, eco-friendly SolarSaga 100W panels that'll keep gadgets going even when you're well beyond the beaten track.
Weighing in at just under 10kg, the Explorer 1000 is compact but powerful. Fully charged, it'll give you 100 phone charges, 12 laptop charges, and up to 14 hour's screen time. The Solar Saga 100W panels are foldable and fitted with a handy TPE rubber handle, so they're easy to assemble and transport.
If you're someone who likes a few creature comforts when you go off-grid, the Jackery Solar Generator 1000 is well worth checking out.
£1,559.99 | www.amazon.co.uk/jackery