Sleeping bags are a thing of beauty. The feeling you have when you slide into one after a long day's walking, escaping the cold and entering a realm of comfort and warmth cannot be underestimated. And, generally speaking, down sleeping bags are often just that bit warmer and more comfy than synethetic bags. So much so that sometimes it can feel as though you are wrapped up in the clouds.
We've already revealed the best synthetic sleeping bags. Now it's time to bring you our verdict on six of the best down sleeping bags. The bags have been rated on weight, pack size, warmth, level of features and value. Read on to find out our thoughts, and let us know if you think we've missed off an absolute corker.
Alpkit Pipedream 400 review
www.alpkit.com | £200
I'm a big fan of Alpkit gear and the firm's Hunka bivy has served me well throughout the years. So I was keen to test out the PipeDream 400 sleeping bag. It's up there with the best looking down sleeping bags on test and it feels incredibly comfortable against the skin too.
The bag uses Nikwax Hyrophobic down, which is said to stay dry and retain loft up to 60 times longer than untreated down. A DWR coating also helps tackle any moisture issues. With a fill power of 750, the PipeDream offers a great deal of loft and we love how toasty it feels inside. We'd expect this bag to handle much of what Britain has to offer in terms of temperatures.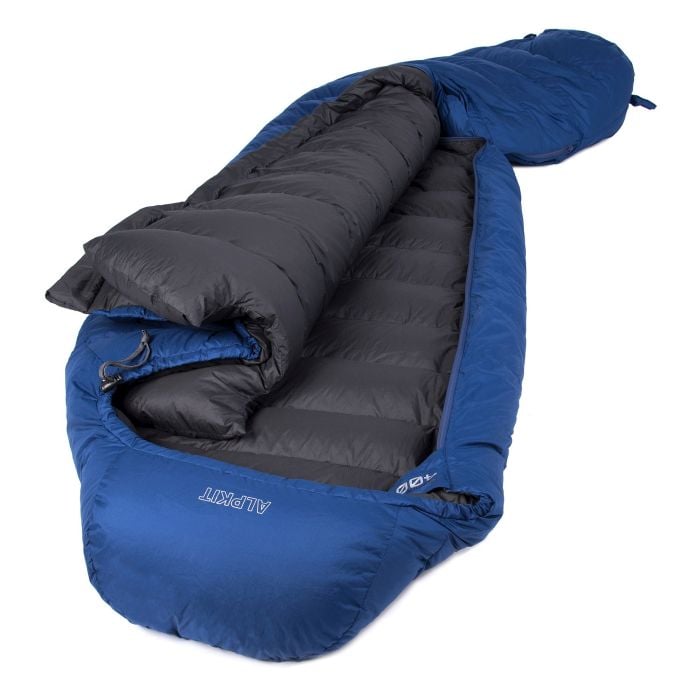 Unfortunately, we were slightly disappointed with the neck and zip baffle. It's not very big and seemed like it was brushed aside fairly easily, affecting its ability to eliminate cold spots. Although the neck baffle was well insulated, we would have preferred if it ran all the way around the bag rather than just in the chest area as there were gaps allowing cold air to flow into the bag. The hood offered a great deal of insulation, but it was also slightly roomier than other down sleeping bags on test, and it needed much more adjustment to cinch in.
At 876g, we'd have no complaints carrying the PipeDream 400 around in our rucksack, especially considering its compact pack size. There was no zip pocket but drying loops are attached to the bottom of the bag.
In a line: The Alpkit Pipedream 400 is a warm and comfortable sleeping bag that would benefit from a few more features.
Weight: 8/10
Pack size: 8/10
Warmth: 8/10
Features: 7/10
Value: 8/10
Overall: 7.8/10
Criterion Traveller 500 review
www.criterion-sleepingbags.co.uk | £225
In truth, Criterion was a brand that I wasn't actually aware of before this test, so I was intrigued to see what it had to offer. One of the first things you notice about the firm's Traveller 500 sleeping bag is that it offers a very impressive loft. This is down to the 680+ fill power, and with a comfort rating of -7C the sleeping bag should handle anything you throw at it in the UK.
I found the sleeping bag to be extremely comfortable, and there were only a few things that let it down. The zip seemed to catch on the material occasionally and a more effective anti-snag design would have been preferred. We liked how the neck baffle went all the way around the sleeping bag, but it did feel like it would benefit from slightly more insulation and the drawstrings felt quite harsh against the body. The hood carried on in the same vein. It did a pretty decent job of cinching in around the face, but it seemed quite basic in its design.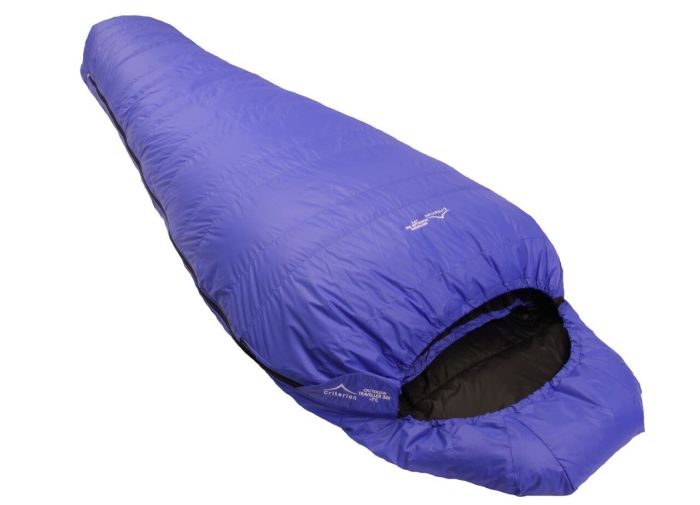 If anything, I would say that this bag is functional above all else. There's nothing fancy about it, no special features or innovative designs, but it works. It does what it says on the tin and it does it at a very respectable price. Additional features include drying loops and an inner pocket large enough to hold a smartphone.
In terms of weight, the Criterion Traveller sits in the middle of all of the down sleeping bags on test weighing in at 1,033g, and impressively it's one of the most packable too, so we'd have no problem carrying it around for a few days.
In a line: The Criterion Traveller 500 is a functional sleeping bag that does what it says on the tin.
Weight: 8/10
Pack size: 8/10
Warmth: 9/10
Features: 7/10
Value: 8/10
Overall: 8/10
Mountain Equipment Helium 600 review
www.mountain-equipment.co.uk | £270
We loved Mountain Equipment's entry into the synthetic sleeping bag test and we have to say, we're just as enamoured with the brand's entry into the down review too. Essentially, you literally feel like you are crawling into a cloud when you get into it. The comfort level is off the scale and this is matched by the bag's performance.
With a lower limit of -8C you'd expect the Helium 600 to pack a punch, and it certainly does. The 700 fill power offers exceptional levels of loft and warmth, and once again Mountain Equipment offers a good night's sleep guarantee, this time down to -10C. This means that if you don't feel the bag is as warm as you expected, they will replace it with a warmer one.

The Helium 600 performs in terms of features too, with a very good anti-snag zip and a comprehensive neck baffle and hood that we couldn't fault at all. It pulls in very well around the neck and head, eliminating the risk of cold drafts creeping in. The drawstring toggles are placed well out of the way and once you've crawled into the bag you'll never want to leave. The zip baffle offers a good level of insulation too, though we'd prefer it to be a bit larger to reduce the danger of it being moved out of place when you fidget in the night. We were also fans of the stuff sack which came in the form of a waterproof dry bag – great for protecting the bag when you're on the move.
>>> Prefer to go synthetic? Check out six of the best synthetic sleeping bags on the market in 2017
We also found the ergonomics of the bag to be pretty spot on. The foot box offered a great compromise between not too wide and not overly restrictive, while the upper body area had the optimum amount of space, though if you are tall you'll want to opt for the longer version.
As good as the Helium 600 is, there are one or two things counting against it. While a lack of interior pocket is something that can be forgiven, we were a little disappointed that the pack size was the largest out of all down sleeping bags on test. While this isn't a deal breaker, there is some stiff competition in this review and others pack down smaller. The same can be said for weight which, at 1,174g, is certainly nothing to be sniffed at, but this is the second heaviest down sleeping bag we've tested. Get past that, though, and you've got a very, very good sleeping bag on your hands that is hard to beat.
In a line: The Mountain Equipment Helium 600 is an extremely warm, high-quality bag that will not disappoint. One of the best down sleeping bags on the market.
Weight: 8/10
Pack size: 7/10
Warmth: 10/10
Features: 9 /10
Value: 10/10
Overall: 8.8/10
Rab Extra Long Neutrino 400 review
rab.equipment/uk | £340
Rab has long been a big player in the outdoor gear market, and anything with its logo on is generally going to be well built. With that in mind, it was encouraging to see that the Extra Long Neutrino 400 sleeping bags are hand-filled here in the UK. With a fill power of 800 and a lower comfort rating of -3C, you'd expect this to be a warm sleeping bag and that was certainly the case. We're sure the bag could handle pretty much anything the UK would throw at it, and the Nikwax Hydrophobic down filling would certainly help in that regard.
As with most of the other sleeping bags in this price bracket, the Extra Long Neutrino 400 is feature-heavy with a decent-sized interior zip pocket, hanging loops, a close fitting neck baffle and a very effective anti-snag strip alongside the zip. Beyond this, the zip baffle is of a generous size and does away with any worries of cold spots in this area. While the hood is simple to adjust and well-insulated, we did find that it was slightly looser than some others, and you had to pull the drawstring a very long way to get anything like a close fit, so the ergonomics of this could be improved.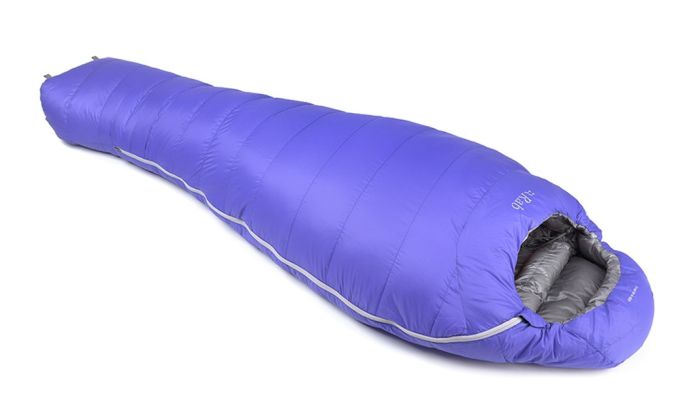 The loose fit of the hood is something that seems to be a theme throughout the sleeping bag and it is one of the roomier options on test, which may suit some who prefer extra space. Despite this, the pack size is very respectable, sitting in the middle of the rest we're reviewing here. The same can be said of the weight (1,044g), too. We're also a fan of the waterproof stuff sack, which has a drawstring closure inside, followed by a waterproof roll-top closure.
In a line: The Rab Extra Long Neutrino 400 is a very good, high performance sleeping bag that is reflected in the price.
Weight: 8/10
Pack size: 8/10
Warmth: 8/10
Features: 9/10
Value: 8/10
Overall: 8.2/10
Montane Minimus review
www.montane.co.uk | £340
Montane's offering for this three-season down sleeping bag test is the Minimus. As you would expect for £340, it has a lot going for it. One of the biggest talking points here is the waterproof outer, which is constructed from PERTEX Shield +, a fabric used in technical Montane clothing. This is a great asset, though we're yet to see how it affects the performance in warmer climes.
Another aspect we are big fans of is the silicone spots on the bottom of the bag. These help stop you from slipping down your mat, and it's a great touch. Inside you'll find two decent pockets, while the neck baffle and hood offer good insulation and cinch in close to the body when needed. Having said that, this process is not as user-friendly as a couple of other down sleeping bags in this test.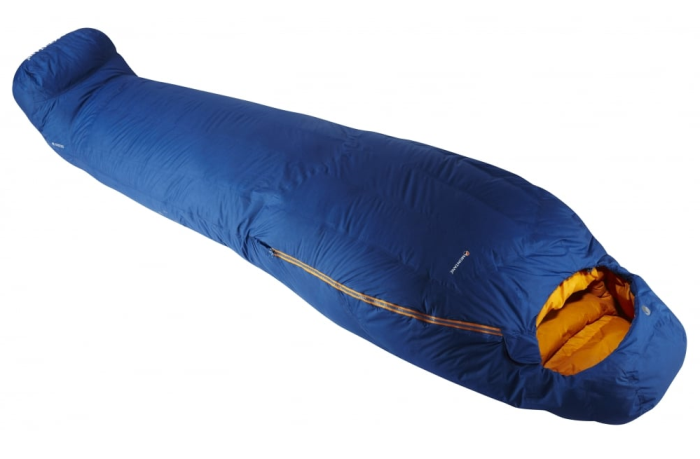 Strangely, the zip only goes down half of the bag, which isn't a big issue unless you were hoping for ventilation toward your feet. On the plus side, it will increase the temperatures down there as there will be no chance of cold spots emerging by the zip. Even where the zip does exist, there is a decent baffle which is filled with a good amount of insulation.
The thing that is working against the bag is its pack size. It's the second largest of the down sleeping bags on test. This isn't a massive issue, as it is still of a reasonable size, but at this price point we would have liked to have seen it compress down smaller. Luckily, the size doesn't translate to weight, which hovers at a respectable 973g. Another aspect that may frustrate some is the toe box, which can feel quite restrictive on the underside. Apart from that, the fit is pretty much bang on with just the right amount of room.
In a line: The Montane Minimus is an extremely well-thought out and functional sleeping bag that is worth a look.
Weight: 8/10
Pack size: 7/10
Warmth: 8/10
Features: 10/10
Value: 8/10
Overall: 8.2/10
Haglofs L.I.M Down review
www.haglofs.com/gb/en | £340
When we think of Haglöfs we generally think of very good quality and innovative gear that always performs. For me, this has never been clearer than now, as I test the brand's intriguing L.I.M Down sleeping bag.
The bag has been designed specifically with speed hikes and races in mind. As such, it is incredibly lightweight and packable. In fact, it's the lightest (477g) and smallest (when packed) of any of the down sleeping bags on test. To achieve this, the brand has done away with both the zip and the bottom of the sleeping bag. Instead, there is a toggle at the bottom which cinches in and forms the bottom of the bag. Surprisingly, the drawstring closure by the feet does a pretty good job at keeping the heat in, though we're not convinced it's as effective as a proper, insulated foot box.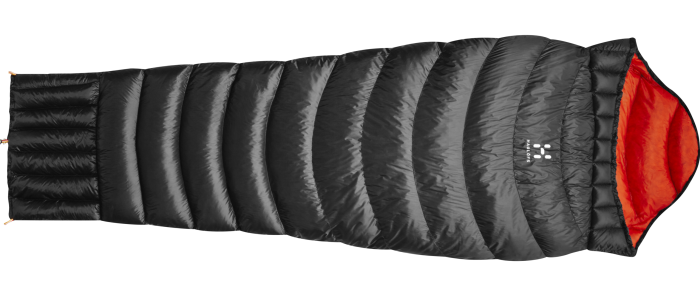 The brand's quest to go lightweight also means that there is little in the way of features. There is no neck baffle or interior pocket and the hood doesn't shape to the head well, while the adjustment is very basic and straightforward. Despite this, the bag still manages to provide a lot of warmth, thanks to high quality 800 fill down insulation. With a lower comfort rating of 1C, there are warmer down sleeping bags on test.
>>> Tempted by trying wild camping? Here are five essential tips for wild camping beginners
With so many standard features, you may be questioning why this sleeping bag is one of the most expensive, but this will be down to the quality of materials used and, as we all know by now, lightweight gear usually entails a high price tag.
In a line: The Haglöfs L.I.M Down is an unbelievably lightweight and packable bag. This is one of the best down sleeping bags on the market for those on fast moving adventures.
Weight: 10/10
Pack size: 10/10
Warmth: 8/10
Features: 7/10
Value: 7/10
Overall: 8.4/10
Mammut Sphere review
www.mammut.ch | £350 (reg), £370 (long)
Founded in 1862, Mammut has a huge amount of history. The brand has long honed its ability to make kit that meets the needs of athletes and travellers. The Swiss brand's entry into this test is the Sphere, a sleeping bag with a fill power of 800 and a lower comfort rating of -7C. The warmth is apparent minutes after you get in the bag and you would have no trouble keeping toasty on excursions in the UK.
The outer material is windproof and water repellent, which is great for those who enjoy wild camping without a tent. In terms of fit, you'll find the bottom of the bag slightly slimmer than other down sleeping bags on test. Having said that, it's not overly restrictive and it should help thermal efficiency. At 6ft 2in, the regular bag worked for me, but you may need the longer option if you're any taller.

Despite Mammut saying the zip has been revised to reduce jamming, we actually found it to snag quite often. Ironically, it was actually catching on the anti-snag strip, so this wasn't ideal. We found the baffle running alongside the zip to be very effective and it always stayed in place. We were slightly disappointed that there was no proper neck baffle, with only a drawstring and some material in its place. Presumably, Mammut left it out in an effort to save weight and volume.
In truth, the quality of the down fill seems to make up for the extra warmth this would have provided. It's also worth noting that the hood is well-designed and cinches in around the face in all the right places. The only irritating thing was that I did find the drawstring would occasionally flop onto my face.
In a line: It's among the more expensive down sleeping bags, but the Mammut Sphere is a high-class performer.
Weight: 9/10
Pack size: 9/10
Warmth: 9/10
Features: 7/10
Value: 7/10
Overall: 8.2/10
These sleeping bags were first reviewed in Adventure Travel magazine issue 127 (Jan/Feb 2017). To stay up to date with the latest gear news and reviews, or for inspiration for future adventures, check out the latest issue of Adventure Travel magazine via our online shop.