Is there anything better than finishing a long day's walking, getting some grub and then sliding into a warm, comfortable sleeping bag for a well-deserved kip? Well, OK maybe add in a couple of beers and then we're onto a winner. But for that all to be possible, you need a sleeping bag that is going to do a job, and do it well. So, to help you out, we've tested and rounded up six of the best synthetic sleeping bags out there (find the best down sleeping bags here).
These three-season synthetic sleeping bags have been tried and tested based on criteria including weight, pack size, warmth, features and value. Take a look below and let us know if you think we've missed out a bag that deserves to be on this list.
Vango Ultralite 900 review
www.vango.co.uk | £90
Vango has a reputation for manufacturing affordable kit and that is certainly the case here. The Ultralite 900 is one of the cheapest bags on test at £90, and it just so happens to be one of the best too.
The bag really feels like it has been well thought out with a lot of great features. The anti-snag zip isn't always the smoothest, but it does have a substantial zip baffle which helps keep the heat in, while the hood is really well designed and cinches in effectively so that it closes in around your head. It also has a substantial neck baffle that does a great job of keeping the warm air in and the cold air out. You'll also be glad to hear that the effective drawcord toggles are kept out of the way throughout the night.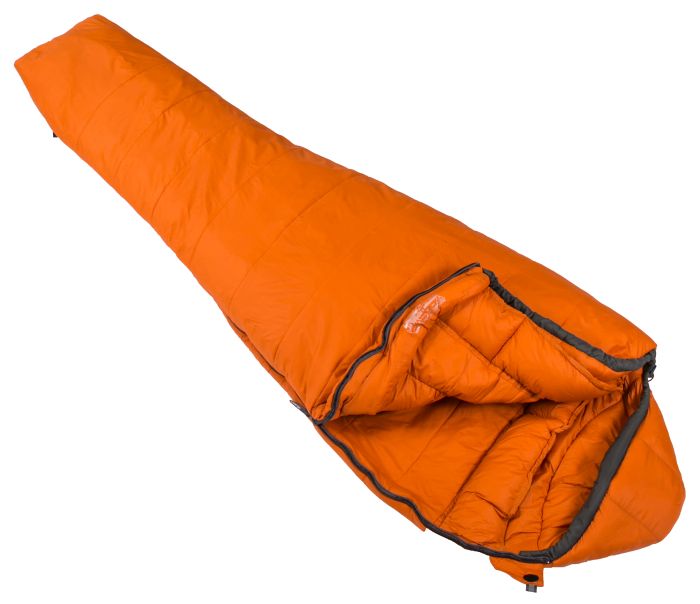 It's easily packable thanks to the four-strap compression stuff sack and offers the second best pack size of the synthetic sleeping bags on test, so it'll fit into your rucksack without too much trouble at all. The interior pocket is of a good size, but it's quite basic in its construction with a thin material and a Velcro fastening.
At 1,438g it's not the lightest on test, but it's also not the heaviest, and its warmth ratings are also impressive, with a comfort temperature of 0C and a lower temperature rating of -5C. This means that the bag should be able to handle pretty much whatever the UK decides to throw at you. Considering the Ultralite 900's price, pack size and well-built nature of its features, this is a bag that comes highly recommended for those on a budget.
In a line: The Vango Ultralite 900 is a great bag that offers a lot for the money.
Weight: 7/10
Pack size: 8/10
Warmth: 8/10
Features: 9/10
Value: 9/10
Overall: 8.2/10
Robens Carpathian 1400 review
www.robens.de | £109.99
Robens is best known for its camping equipment, and its entry into this three-season sleeping bag test is the Carpathian 1400.
First thing's first, the warmth of the bag is unquestionable and it is bettered only by Mountain Equipment's Aurora II. It has a lower limit of -7C, which is impressive given its pack size, and a comprehensive neck and zip baffle effectively work toward eliminating cold spots. The neck baffle is actually one of the largest on test and we found that it kept cold draughts out effectively. The hood also pulls in well, though we found that the drawcord needed a lot of adjustment to cinch it in completely, and this meant there was a lot of gathered material.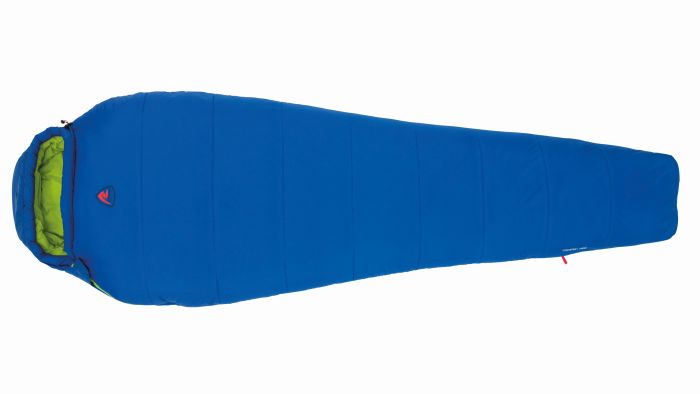 We had no real complaints in terms of the fit of the sleeping bag, and it should be suitable for all shapes and sizes, offering slightly more room than others in the test. Feature wise, the bag comes with solid hanging loops which are always good to see, and there is also a generously sized interior pocket.
>>> 5 of the most adventurous camping experiences on Earth
One of our favourite aspects of the Robens Carpathian 1400 is actually the stuff sack. It is exceptionally designed and helps compress the sleeping bag to a very reasonable size considering the warmth that it provides, so it shouldn't be too much trouble fitting it into a rucksack.
Upon inspecting the product, we actually found that the stitching was poor in parts with loose thread hanging out – something we were surprised to see from a Robens product. In truth, this is likely to be an issue with the individual sleeping bag rather than the entire line. Another thing that holds the bag back from getting a higher rating is the zip, which we found wasn't quite as smooth to operate as others.
In a line: The Robens Carpathian 1400 is a good all-round sleeping bag offering a great level of warmth. If you're on a budget, this may be one of the best synthetic sleeping bags for you.
Weight: 8/10
Pack size: 8/10
Warmth: 8/10
Features: 7/10
Value: 8/10
Overall: 7.8/10
Vaude Kiowa 900 review
www.vaude.com | £135
Vaude's entry into this synthetic sleeping bag test is the Kiowa 900, a sleeping bag that has been specifically designed with trekking tours in mild climates in mind. Immediately, it's clear that the stuff sack is extremely well constructed and, along with the compression straps, it does a good job of keeping the pack size respectable, so we wouldn't have too many issues throwing it into a rucksack for a weekend in this regard.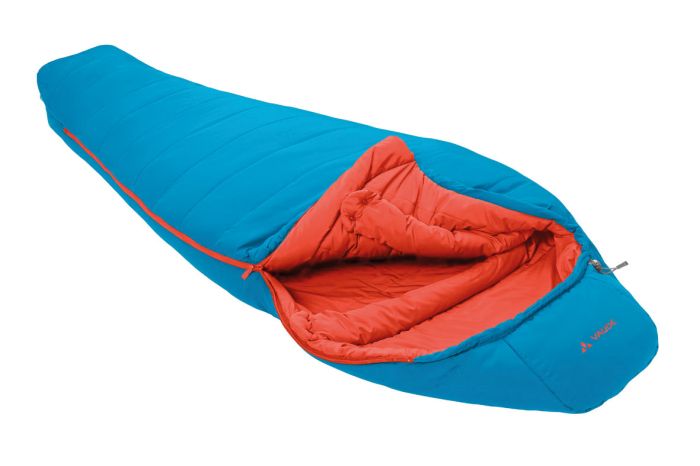 The fit of the sleeping bag sits pretty much smack bang in the middle of all of the products on test, providing adequate space without sacrificing its thermal efficiency, and it should suit all sort of body types. The lower limit may only go down to -2C, but this is a bag that feels exceptionally warm. The comprehensive neck baffle cinches in around the shoulders well and the hood pulls in tightly around the face when needed, so there shouldn't be too many problems with cold drafts coming through over the course of a night.
Extra features include hanging loops on the bottom, a large interior pocket and an anti-snag zip, though the latter wasn't the most foolproof and we did find that it would catch occasionally. As well as a decent pack size, the Kiowa 900 isn't too bad in terms of weight (1,549g), so we'd be more than happy carrying it in a pack for a few days. At £135 it's good value too, and we love that it has been made from sustainable materials using resource-conserving manufacturing methods. While it's not the lightest, warmest or smallest, it is an extremely comfortable option that is worth taking a look at.
In a line: The Vaude Kiowa 900 is a good all-rounder that won't disappoint.
Weight: 8/10
Pack size: 8/10
Warmth: 8/10
Features: 8/10
Value: 9/10
Overall: 8.2/10
Marmot Trestles Elite 20 review
www.marmot.eu | £135
For over 40 years Marmot has been known for designing high quality clothing and outdoor equipment, and sleeping bags represent one of the brand's finest areas, so we were excited to get our hands on the Trestles Elite 20. We always like to see an extra storage sack come with a sleeping bag, so it was encouraging to see that this was the case here.
One of the places where the Trestles Elite 20 excels over other bags on test is with the anti-snag zip, which is expertly made and hardly ever catches. On the opposite side there is actually another zip running a short way down which makes it much easier to get in and out of the bag as well as helping keep you cool if the mercury rises. Both zips are also protected by a well-insulated baffle to help prevent cold spots.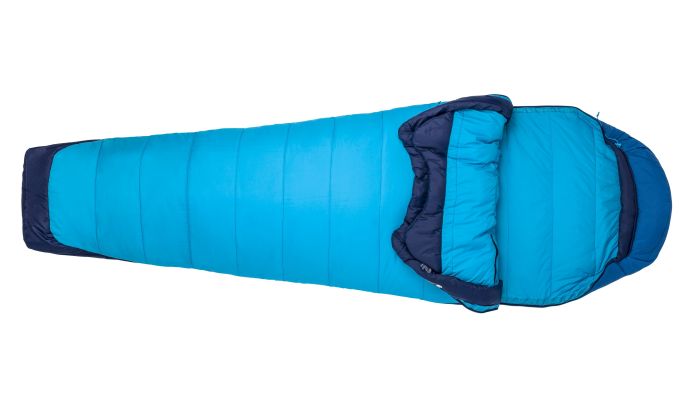 The bag's pack size and weight are also impressive. Not only is the bag one of the lightest on test (1,281g), but thanks to the compression straps, it also packs down to be one of the smallest, too. There would certainly be no issue fitting this into a rucksack for a multiday expedition. So, if weight and pack size are key to you, this may be one of the best synthetic sleeping bags around. The warmth it offers is also something worth applauding. The bag has a lower limit of -5.8C and the high loft and soft materials certainly help ensure a comfortable night's sleep in this regard.
>>> 7 of the most incredible campsites in the UK
For all of its positives, there are a couple of areas that let the bag down. One of these is the neck baffle. It only exists in the chest area of the sleeping bag and isn't nearly as substantial or insulated as many others on the test, meaning it is less adept at keeping out draughts – especially as there is no drawstring adjustments for this part of the bag. And while we love that the hood features a similar two-way adjustment as the Montane Prism, it was slightly more awkward to operate.
In a line: The Marmot Trestles Elite 20 is a brilliant, lightweight option for multi-day trips.
Weight: 9/10
Pack size: 8/10
Warmth: 8/10
Features: 7/10
Value: 8/10
Overall: 8/10
Mountain Equipment Aurora II review
www.mountain-equipment.co.uk | £200
Mountain Equipment's entry may be the most expensive bag on test, but as with most of the manufacturer's kit, you know it's going to be of a certain quality, and as it turns out, it is one of the best synthetic sleeping bags we had on test.
Intriguingly, Mountain Equipment says that the sleeping bag should provide a good night's sleep down to -10C, and if you don't feel it is as warm as you expected it to be they will upgrade it to one with a warmer specification. In practise, we don't think this guarantee is going to be used very often as the bag is exceptionally warm. It seems to have a greater loft than any others on test and the ergonomics appeared to be spot on for me. The hood encloses the head effectively and is great for keeping in warmth. While the bag's alpine fit was perfect for my 6ft 2in, slender frame, those with a larger build may want to try it out in the shop first.

The zip baffle is thick and well insulated and there were no cold spots here. Likewise with the neck baffle. The hood and neck baffle toggles are well placed and easily tuck out of the way. Both are effective at cinching in the bag around you.
There is an internal zip pocket, and an anti-snag zip that does a pretty good job, only catching every now and then. The only thing the Aurora II seems to be missing is a pair of substantial drying loops. I'm a massive fan of this sleeping bag and the only thing that would make me think twice before buying is the pack size. The compression straps help improve this, but even then there are considerably smaller bags on test. Apart from this, it is pretty much a perfect three season sleeping bag.
The weight is less of an issue as there are much heavier bags on test. With the quality of manufacturing and design we are OK with it not being the lightest and, for the amount of features and the high level of warmth, a few hundred grams is a small price to pay.
In a line: The Mountain Equipment Aurora II is an effective sleeping bag offering excellent warmth and functionality. Highly recommended.
Weight: 9/10
Pack size: 8/10
Warmth: 8/10
Features: 9/10
Value: 8/10
Overall: 8.4/10
Montane Prism review
www.montane.co.uk | £175
British brand Montane is known for its high-quality technical gear, and as soon as you pull the Prism out of its storage sack you can see why. Within seconds it's easy to see that this is a well thought out sleeping bag, with each feature, of which there are many, seemingly carefully considered. One of the first that catches the eye is the non-slip silicone grips on the underside of the product which help stop you from sliding down your mat in the middle of the night – a nice touch.
Upon slipping into the bag, it's quickly noticeable that the ergonomics are spot on and the fit is pretty much perfect. This extends all the way to the hood, which has to be one of the most user-friendly in test. We liked how easy it is to pull in around your face, leaving you comfy and warm. This is achieved with the split, colour-coded drawcord which allows you to adjust both the top and bottom part around the face individually. The neck baffle is also well designed, offering a very good level of insulation, and the drawcord toggle tucks away well.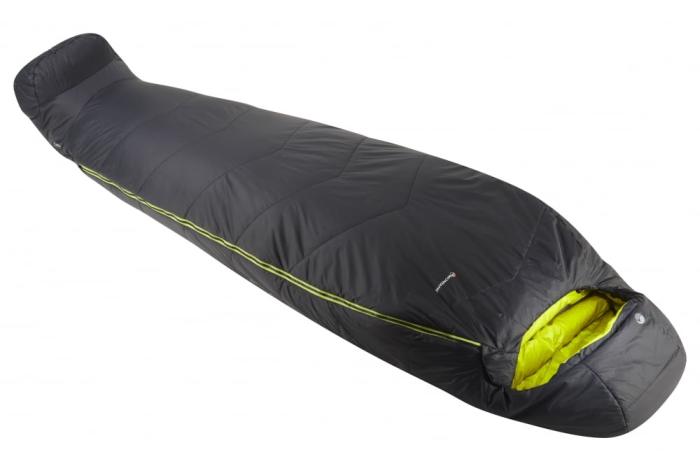 The Prism has a lower comfort rating of 0C, so it should cope with most situations you would find yourself in while on UK adventures, especially taking into consideration the impressive hood and baffles.
Inside, you'll find two pockets. The first is ideal for small items and the second is a larger mesh pocket which is designed for water bottles. Additional features we like include a separate storage bag and a waterproof stuff sack, offering great protection for the bag itself. When packed away the sleeping bag is quite malleable and this certainly helps when trying to fit it into a rucksack.
There are, however, a couple of things you'll want to take note of. The toe box has been specifically designed in a 'flipper' shape in order to allow for a natural foot position while sleeping on your back. While there was plenty of room for your feet, we did find that the underside of the foot box was restrictive and at times could be quite uncomfortable. You'd want to try this out in the shop before buying to check that it doesn't bother you. Apart from this, the bag does everything that it needs to, and it does it well. It might be one of the more expensive offerings, but you certainly get what you pay for, and that's why it makes it onto our list of the best synthetic sleeping bags.
In a line: The Montane Prism is a well-featured sleeping bag that won't let you down and is one of the best synthetic sleeping bags on the market.
Weight: 8/10
Pack size: 8/10
Warmth: 9/10
Features: 9/10
Value: 8/10
Overall: 8.4/10
These sleeping bag reviews first appeared in issue 127 (Jan/Feb 2017) of Adventure Travel magazine. To stay up to date with the latest gear, and to find inspiration for future adventures, check out the latest issue of Adventure Travel magazine via our online shop.