After walking boots, waterproof jackets are one of the most important pieces of kit you'll ever invest in, so it pays to make sure you purchase something that's going to do the job. But it doesn't have to cost you an arm and a leg. Below, we have tested and rounded up the best waterproof jackets under £250 to show that good quality kit is out there for affordable prices (click here to see the best women's waterproofs).
But what makes a good waterproof jacket? Of course, it has to keep the elements out, but it also needs to offer good ventilation, come with a practical and easy-to-use hood, have a collar that protects your neck, decent cuffs, a hem which can cinch in well, multiple pockets ideal for snacks and maps, zips that stand up to the weather and ideally it will look good and fit well. Here's some worth checking out…
Salomon Outline Jacket review
www.salomon.com | £175
At £175, the Salomon Outline is the cheapest jacket in this men's group test and, at just 355g in a size XL, it's also one of the lightest (second lightest, to be precise). That low weight should give you an idea of what sort of waterproof shell this is, but if it doesn't, allow me to spoil the surprise. The Outline is a minimalist jacket that does away with many features that you'd expect in exchange for a feather weight and tiny pack size.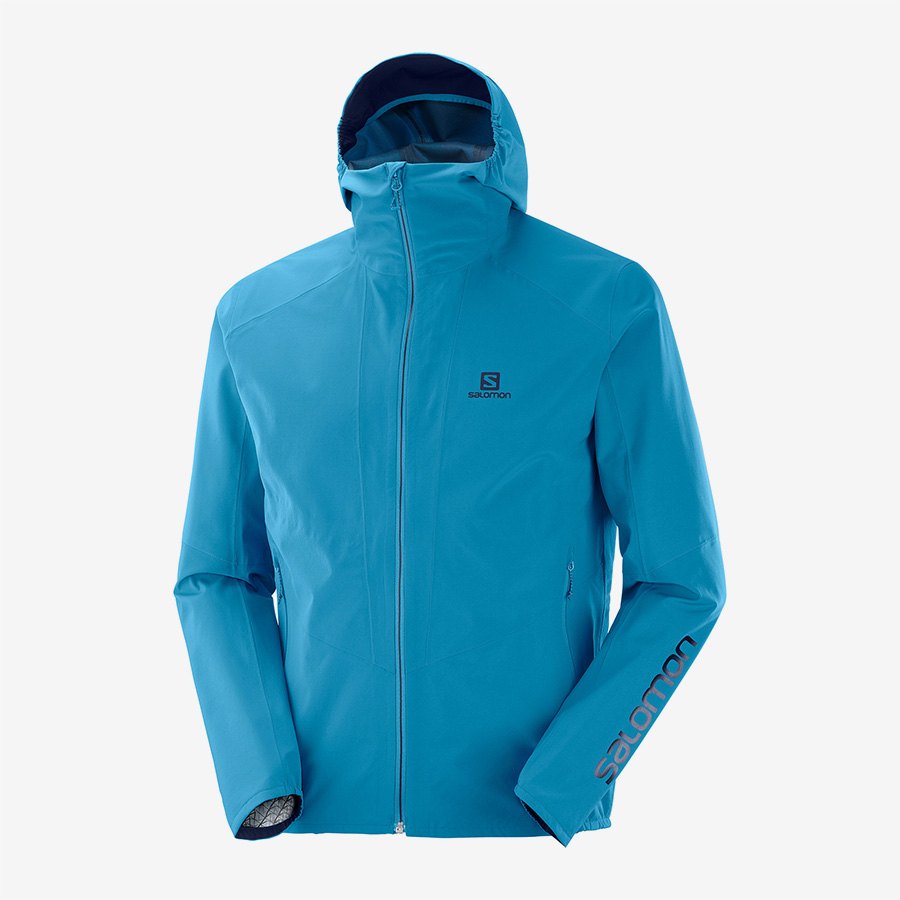 The jacket's constructed using AdvancedSkin Dry 20K/20K, a waterproof membrane with a hydrostatic head of 20,000mm. To keep things as light as possible, you'll find 2.5-layer construction on the body, while more exposed areas of the jacket feature three-layer panels.
The fit of the jacket is certainly on the athletic side, with a short torso and a tighter-than-usual fit. This all comes together to create a jacket that's comfortable and soft to the touch, though it feels a bit inadequate when the weather turns for the worst.
Along those lines and in keeping with the lightweight nature of the Outline, the hem, cuffs, and hood are all elasticated with no means of adjustment. This is fine if the conditions are right, but when you need to batten down the hatches, you won't be able to do so and it's all too easy for water to sneak in through the gaps. The outer fabric also wets out rather quickly.
In a line: Minimal weight, but also minimal weather protection
Weight and pack size: 9/10
Weather resistance: 7/10
Features: 6/10
Ventilation: 6/10
Value: 8/10
Overall: 7/10
Alpkit Balance review
www.alpkit.com | £189.99
The tag on the Alpkit Balance reads, 'the classic waterproof jacket; simple design, low weight and high breathability'. Really, I could leave the review at that, but let's dive a little deeper into things. Indeed, at 398g in a size XL, the Balance is the fourth lightest jacket in this group test. While this can often mean a sacrificing of features, Alpkit has managed to pack quite a bit into this piece of kit.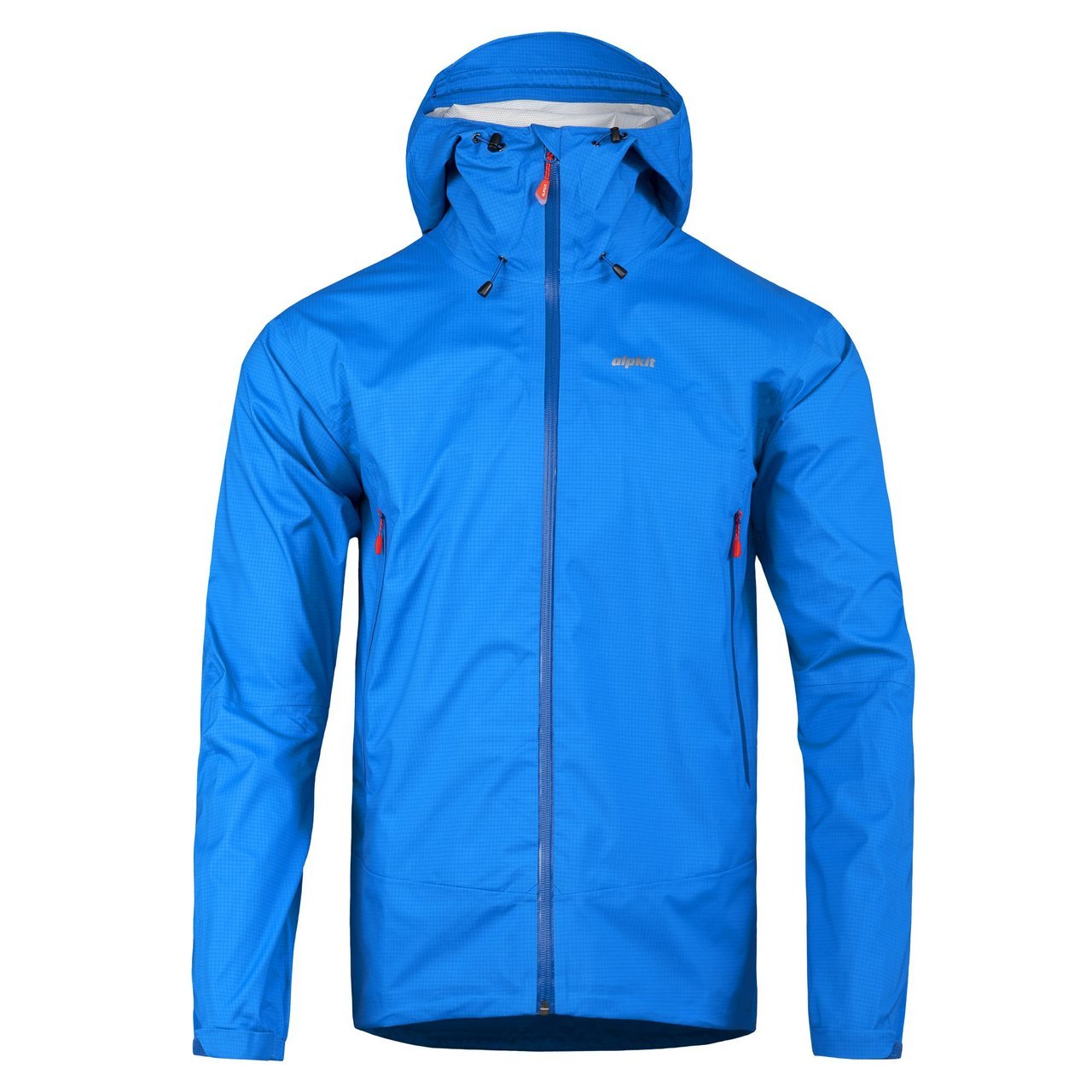 The fit of the jacket is great, the tail drops low to give extra protection to the lower back, the cut is spot on with no movement restriction, and the high collar is both comfortable and well placed. The hood is excellent as well, with a stiffened peak and an easy-to-use volume adjuster. The cuffs and hem are all easily adjustable for when you need to keep draughts out, and there's enough stretch on the arms to allow for them to be rolled up.
The two pockets are well-situated for use while wearing a rucksack, and they're both pleasantly large. Where this jacket lacks is in ventilation. There are mesh panels in the hand-warmer pockets, though this is all you get. The main zip is not two-way and there are no dedicated vent points.
If you run warm, you'll likely overheat in the Balance when lugging a heavy pack, but I was pleasantly surprised by jacket's affordability, low weight and small pack size.
In a line: A well-featured jacket considering its light weight.
Weight and pack size: 9/10
Weather resistance: 9/10
Features: 8/10
Ventilation: 7/10
Value: 8/10
Overall: 8/10
Patagonia Stretch Rainshadow review
www.patagonia.co.uk | £190
What can I say about Patagonia's Stretch Rainshadow jacket? It looks incredible. Our black version is sleek and stylish, and I would be just as happy wearing it around town as I would on the hill. However, it doesn't perform quite as well as it looks in heavy downpours. In light rain or short showers it is fine, but when faced with heavy and sustained rain it does wet out after a while. As such, breathability levels took a tumble and water vapour struggled to escape.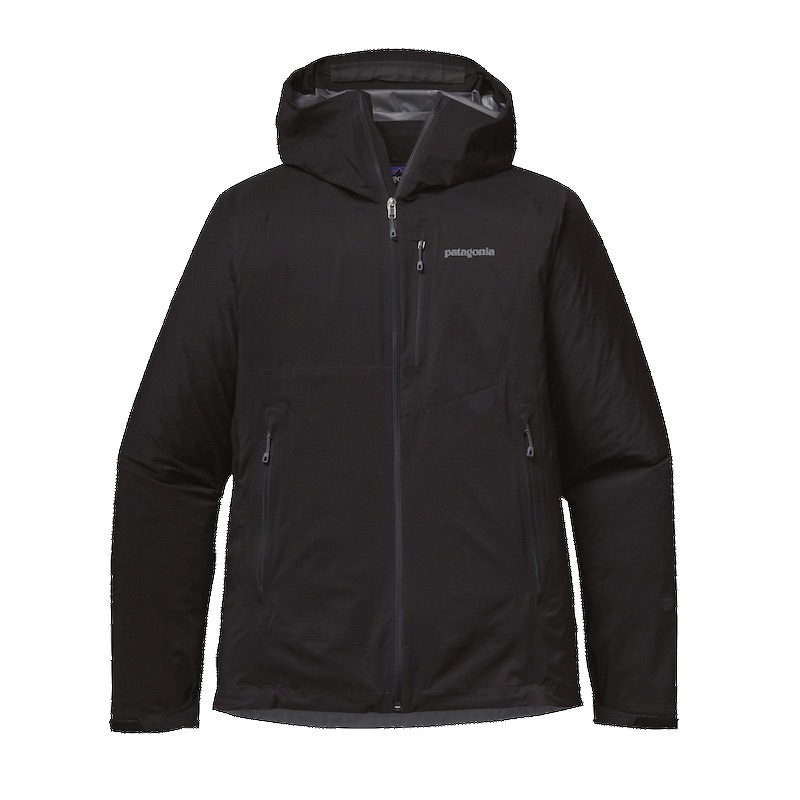 Despite being one of the lightest (297g in size medium) and most packable waterproof jackets on test, it carries a lot of really good features. It has a simple-but-effective helmet compatible hood which does a great job at cinching in closely thanks to the adjustment point at the back.
Hem adjusters pull the garment in at the waist, while the cut was favourable and at no point did we feel exposed when moving around and reaching up high. The range of movement is great and the two map-friendly hand-warmer pockets are easily accessed, even when wearing a bag. Due to the light material and large armpit vents, temperature regulation is also impressive, but there are slight question marks over the product's durability due to how thin it is.
In a line: The Patagonia Stretch Rainshadow Jacket is good looking, well featured and is best suited to summer use and short showers.
Weight and pack size: 10
Weather resistance: 7
Features: 8
Ventilation: 8
Value: 8
Overall: 8
Mountain Hardwear Exposure II jacket review
www.mountainhardwear.com | £199.99
At a penny under £200, the Mountain Hardwear Exposure II is one of the cheapest waterproof jackets to make use of a Gore-Tex membrane to keep you dry. It's a 2.5-layer Gore-Tex Paclite shell with a PFC-free coating, so it's light, comfortable and very packable. At 440g in a size XL, it's the fifth lightest jacket in this group test.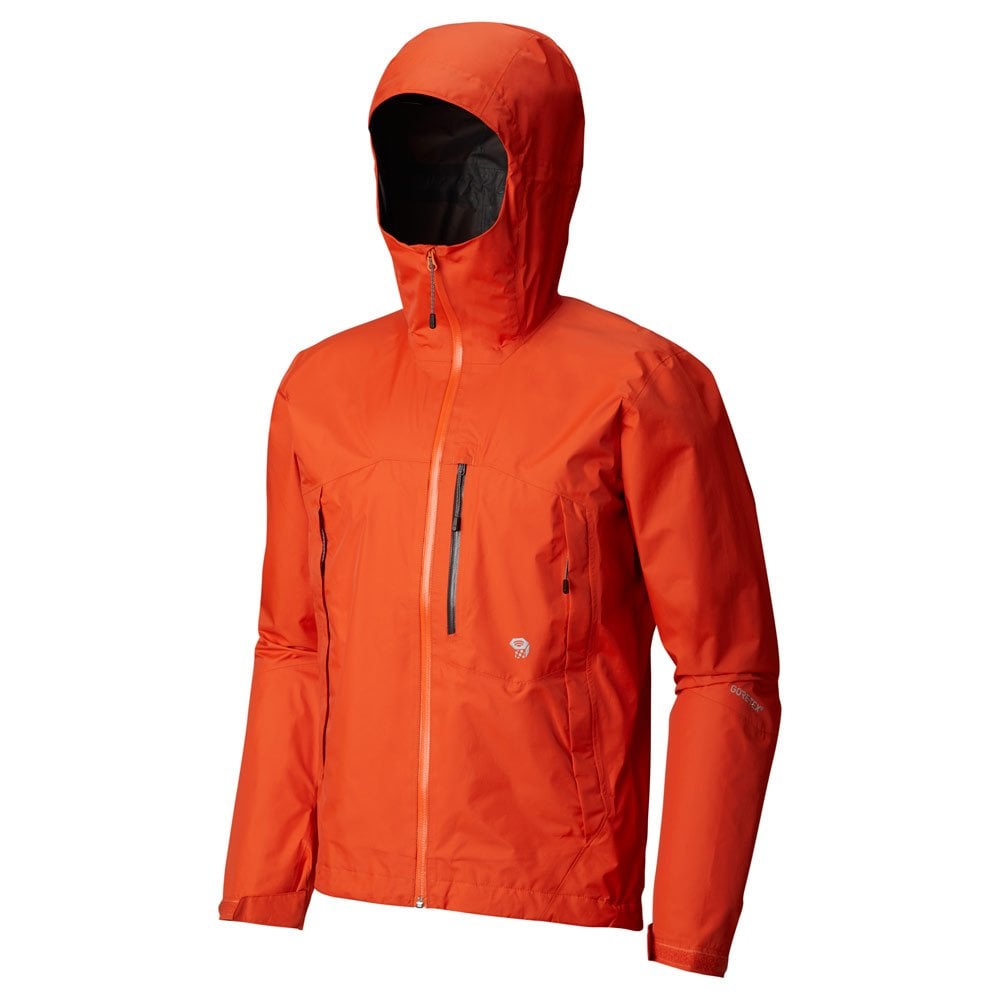 The Exposure II is very well features and it ticks most of the boxes for a waterproof walking jacket. It has a nice, long cut to the torso, a high-rising collar that's lined with a soft microfleece, Velcro adjustable cuffs, easily adjustable hem cords (with neat quick release mechanisms), two well-placed and nicely-sized hand-warmer pockets, a chest pocket, and effective pit zips. The hand-warmer pockets are also mesh-lined, further aiding ventilation in a big way.
If there's one area that I would like to see improved, then it's the hood. While it does have a volume adjuster, it's pretty useless. Try as I may, I just couldn't get a good fit; the hood wouldn't turn with my head and in strong winds it kept blowing down.
I also don't understand why the hand-warmer pocket zips aren't waterproof. As they are, they're covered by a small storm flap, though it's not enough to keep heavy showers at bay, meaning water will ingress here. As the pockets are mesh-lined, it means you will get wet while wearing this jacket.
In a line: A great jacket but not suitable for extended use in downpours.
Weight and pack size: 8
Weather resistance: 6
Features: 8
Ventilation: 9
Value: 8
Overall: 7
Outdoor Research Foray Jacket
www.outdoorresearch.com | £200
The Foray Jacket is Outdoor Research's entry for this test, and it's one of those jackets that just does everything you want it to do. It has a nice, long cut both on the arms and torso ensuring decent coverage, while there is plenty of room for multiple layers. The cuffs are brilliant, combining Velcro and elastic to ensure you have a secure fit without it being restrictive in any way.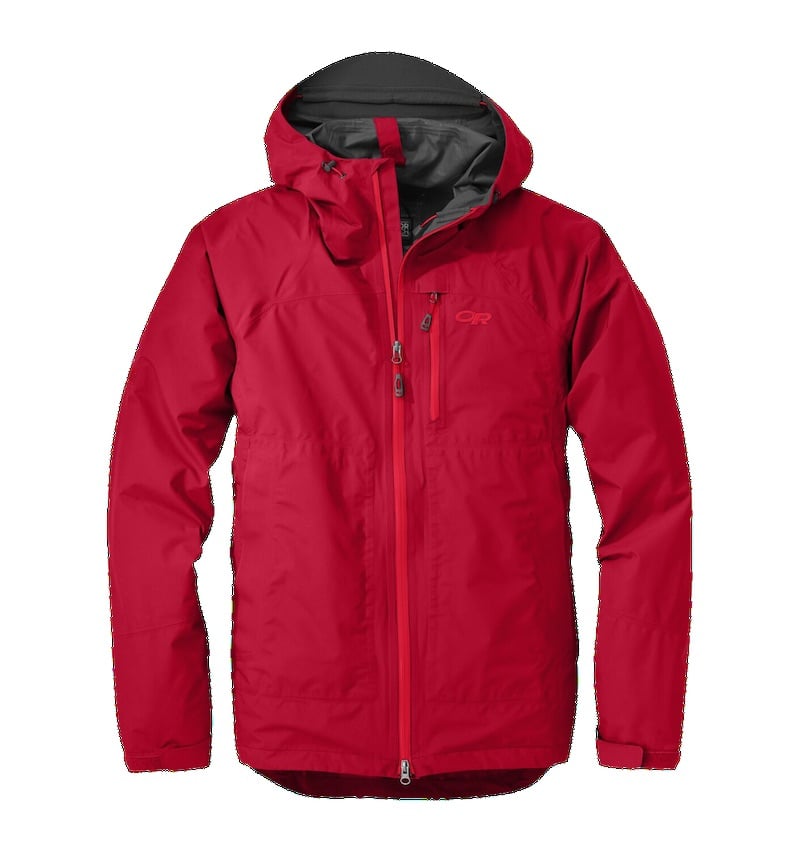 The two (rucksack friendly) hand-warmer pockets are covered by substantial storm flaps that do a good job of keeping the wet stuff out and you'll have no problem fitting an OS map in here. A chest pocket adds extra storage, while the helmet compatible hood does a great job with three adjustment points and a large laminated peak protecting you from the weather.
It particularly excels in the ventilation department with the brand's TorsoFlo technology. Essentially, it consists of a pit zip on each side of the jacket that extends from the base of the bicep, all the way down to the bottom of the jacket, allowing a great amount of air through. The jacket is packable, pretty lightweight (420g in medium) and offers fantastic protection against whatever the weather throws at you. It dries quickly too.
In a line: The Outdoor Research Foray Jacket will stand up to pretty much anything you throw at it.
Weight and pack size: 8
Weather resistance: 9
Features: 9
Ventilation: 10
Value: 9
Overall: 9
Salomon X-Alp 3L Jacket
www.salomon.com | £200
The X Alp 3L Jacket comes with a super sleek design both in visual and practical terms. With a great fit, a long cut and long sleeves you can be sure that you are well protected from the elements. Although, the Velcro on the cuffs could do with covering a larger area, as I found it didn't get much purchase when fastening. There's a singular hem toggle which helps keep the wind out, but I did find this a bit fiddly.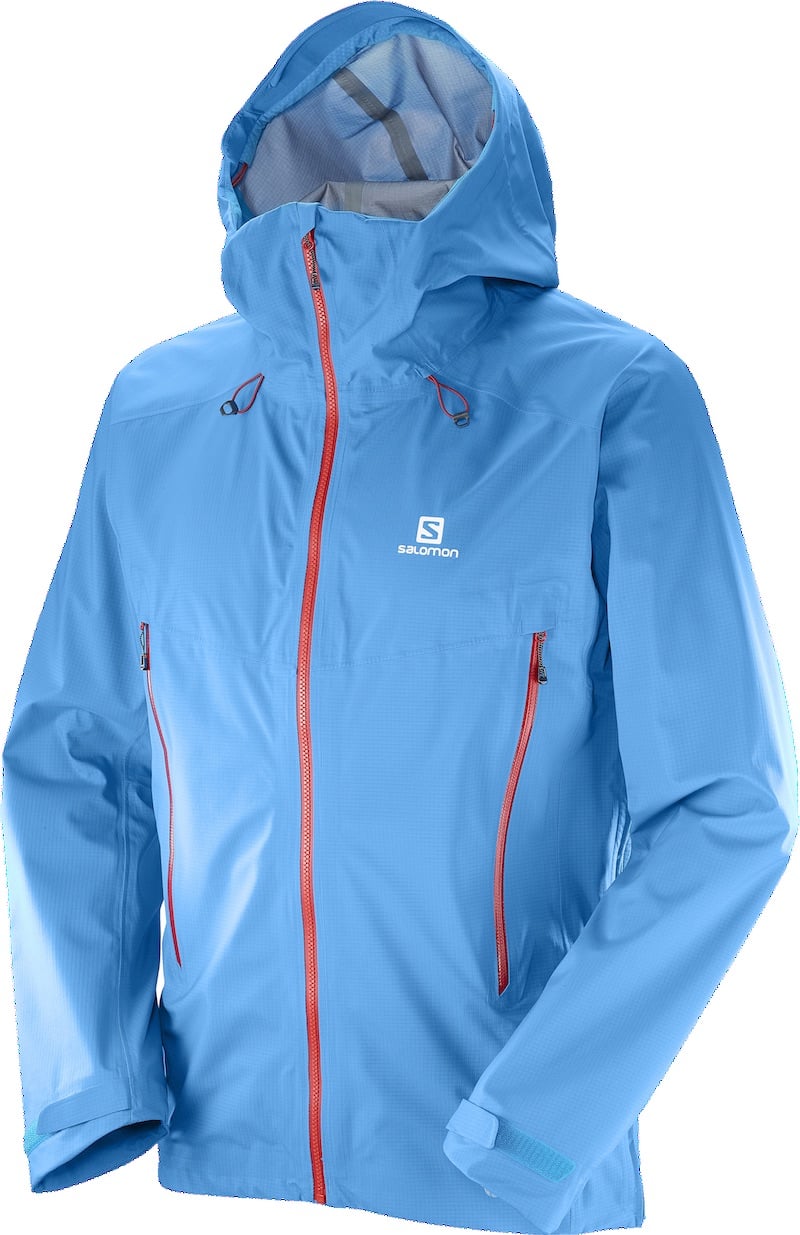 The X Alp 3L does a great job against the weather, keeping us dry and comfortable in heavy downpours. It doesn't wet out quickly and when the storm clouds disappear, the jacket dries impressively quickly. A huge helmet compatible hood with a large wired peak protects the face, but the collar is a little loose, regardless of how much adjusting you did.
The jacket is well ventilated thanks to the integrated Flowtech venting system. Essentially, on each side of the garment you can zip up from the bottom of the garment to the armpit, offering brilliant ventilation when things get sticky. Bigger zip pulls would be appreciated as it does get quite fiddly. With a pretty decent pack size and weight (422g in medium), the X Alp 3L is well suited to most excursions, but we did feel some of the features needed a little refining.
In a line: The Salomon X Alp 3L Jacket is a great all-rounder that is just let down by a few minor gripes.
Weight and pack size: 8
Weather resistance: 9
Features: 7
Ventilation: 9
Value: 8
Overall: 8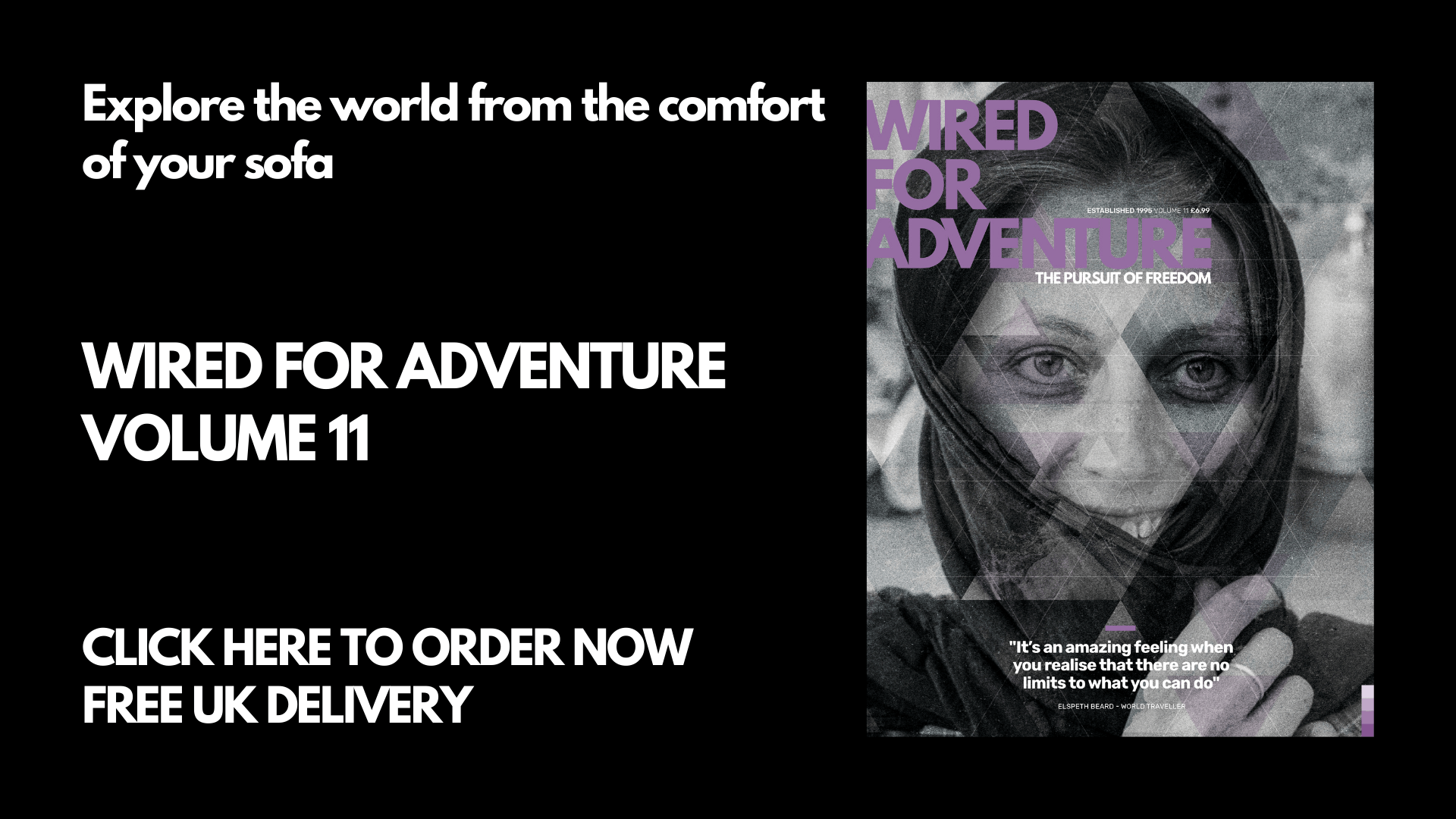 Sprayway Nant Jacket
www.sprayway.com | £210
The Nant Jacket is new from Sprayway for autumn/winter 2017 and features the brand's classic logo which was recently reintroduced – a great move in our eyes! Our sample came in an awesome electric blue, which we loved, and for all intents and purposes it looks like a traditional walking jacket. It acts like one too, doing its job impeccably well. The wind doesn't touch you, while the rain just runs straight off of the fabric, and we had no issues with the product wetting out. After use, it dried impeccably quickly with most of the water just shaking straight off.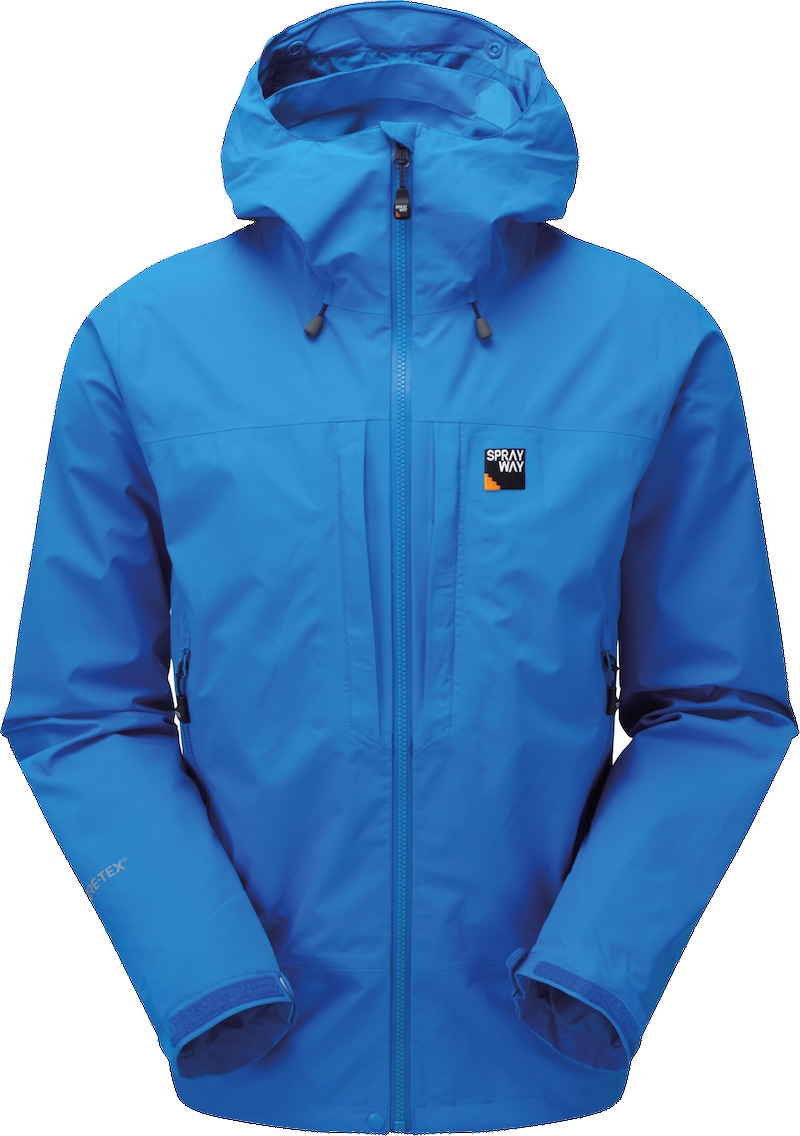 A helmet compatible (just) hood is great at keeping the rain off your face with the wire-peaked brim and three adjustment points doing their job perfectly. The fleece lined collar pulls in nicely to eliminate any rogue drafts or stray water. There were great storage options with two map-friendly chest pockets, an interior pocket and two hand-warmer pockets, but we found the latter were awkward to get into while wearing a hip belt.
There are also questions about the Nant Jacket's ventilation, with a lack of two-way zip or pit vents being missed. The entire jacket is also lined, so it does get a bit warm in the summer. Pack size is respectable, but doesn't match some of the lighter jackets on test.
In a line: The Sprayway Nant Jacket is a well-made, traditional hiking jacket offering great protection against the elements.
Weight and pack size: 8
Weather resistance: 9
Features: 8
Ventilation: 6
Value: 8
Overall: 8
Haglofs Virgo Jacket
www.haglofs.com | £225
The Virgo Jacket feels luxuriously soft against the skin and, with a two-tone colourway, it looks the part too. We had one in the Habaniero colourway which was basically a combination of red and orange, and it was a breath of fresh air style-wise. The sleeves are plenty long enough, the cuffs are easily secured with large Velcro tabs and I didn't have any issues with the jacket riding up either. There are two hem drawstrings which are easily adjusted with one hand and two hand-warmer pockets, but unfortunately you can't fit an OS map into these. You'll also find an interior pocket which is ideal for valuables.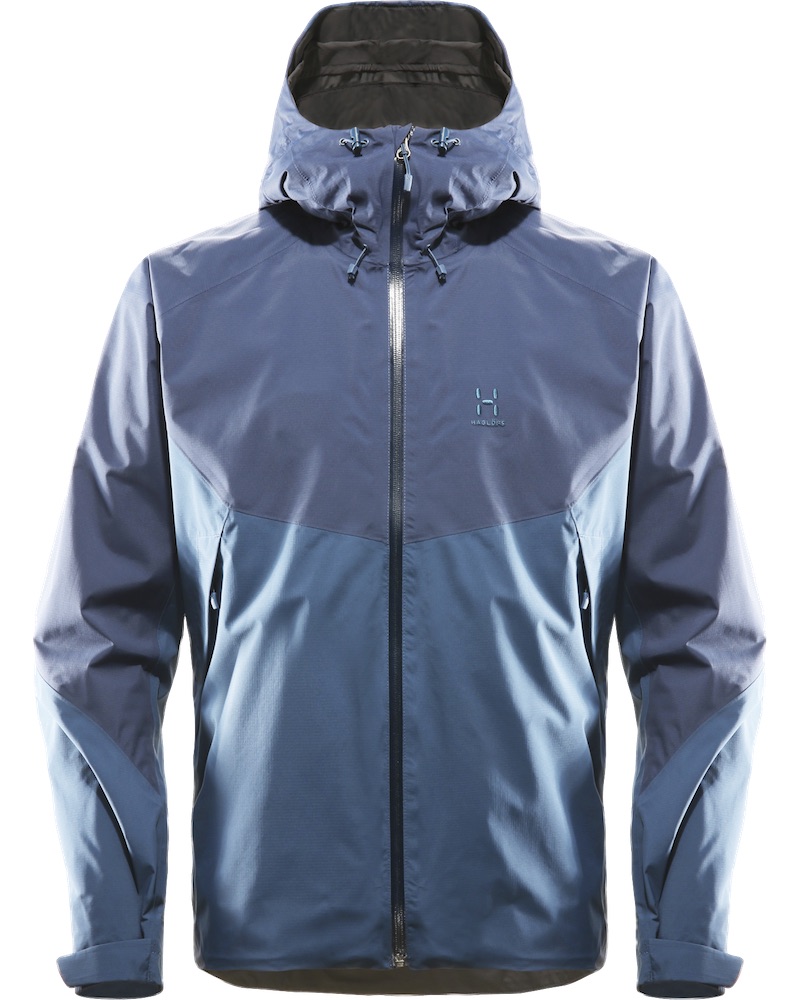 The Virgo Jacket faced up to heavy rain like a champ, with water running straight off throughout a sustained heavy shower, and it dries quickly too. The hood, which is adjustable in three places, provides great coverage against the wind and cinches in well. A lack of armpit vents and two-way zip was a shame and ventilation suffered as a result. Due to the half polyester, half mesh lining you may find you run hot in summer, but outside of this you should be fine. Despite the inclusion of a lining, the Virgo Jacket is pretty light (427g in a medium) and packable, so I'd have no qualms about chucking it in my bag for a weekend of multi-day hiking.
In a line: The Haglofs Virgo Jacket is fashionable and stands up to poor conditions well.
Weight and pack size: 8
Weather resistance: 9
Features: 8
Ventilation: 6
Value: 8
Overall: 8
Filson Swiftwater Rain Jacket review
www.filson.com | £225
The first thing I noticed about the Filson Swiftwater Rain Jacket was how soft and lightweight the jacket feels. It's lovely to wear, although I did notice that it comes in larger than other brands. As such you may want to consider sizing down should you opt for one. This isn't a huge issue though, as it leaves plenty of room for inner layers to keep you warm when the temperatures drop. Velcro straps on the wrists and a drawcord-adjustable hem allow you to fine tune the fit once it's on.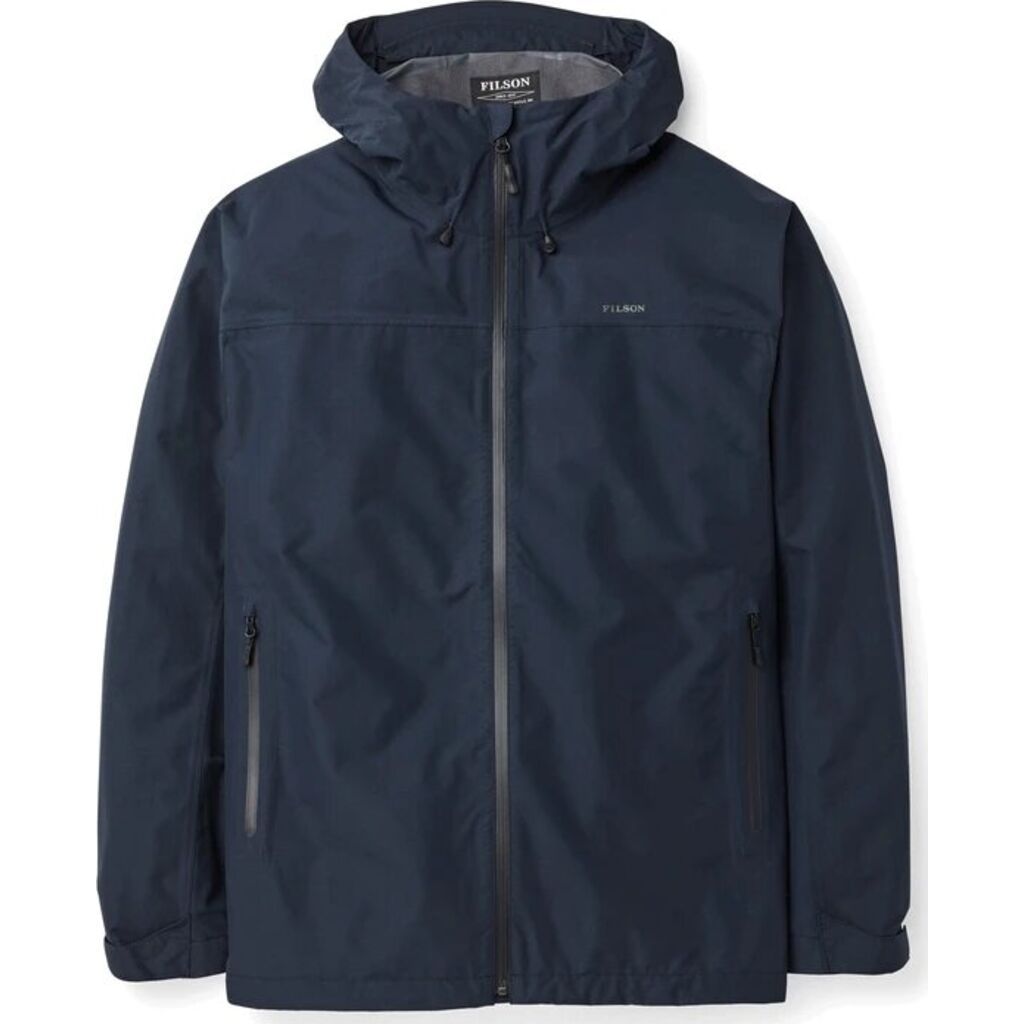 Coming in at £225 the jacket is towards the upper end of our £250 price scale, but it justifies this pricing with a range of really useful features. The hood features two handily located adjusters at your collarbones, as well as a volume adjuster and a structured brim that ensures a perfect fit throughout a full range of movement.
There's no two-way zip, but the front closure is protected by an internal storm flap, at the top of which is a soft micro-fleece chin guard. The pockets are huge, and you can stuff the jacket inside them to pack it up although in practice I found this cumbersome and tricky to do.
During testing the downpours simply bounced off the jacket with the DWR doing its job admirably and it dried quickly once out of the wet. The pockets and front closure are both protected by a YKK AquaGuard zipper. For all its positives, the Swiftwater lacks any significant ventilation, so you'll likely overheat if lugging a big rucksack.
All in all, this is a great lightweight waterproof jacket that looks good enough to wear on the streets and on the hills. It's lightweight, packs up small and dries very quickly, making it easy to chuck into a rucksack for when bad weather strikes.
In a line: Trendy, light weight, packable… a damn good jacket.
Weight and pack size: 8
Weather resistance: 8
Features: 9
Ventilation: 8
Value: 8
Overall: 8
Mountain Equipment Odyssey Jacket
www.mountain-equipment.co.uk | £240
Mountain Equipment is a brand renowned for making top quality kit, and it continues here with the Odyssey Jacket. One of the first things you notice upon pulling the jacket on is the cut. The sleeves are almost excessively long, but this does mean you'll never have an issue with them riding up, while the length of the jacket also provides suitable coverage and the range of motion is unhindered. Two hem cord adjustments are easy to use with one hand and ensure the rough stuff is kept well at bay.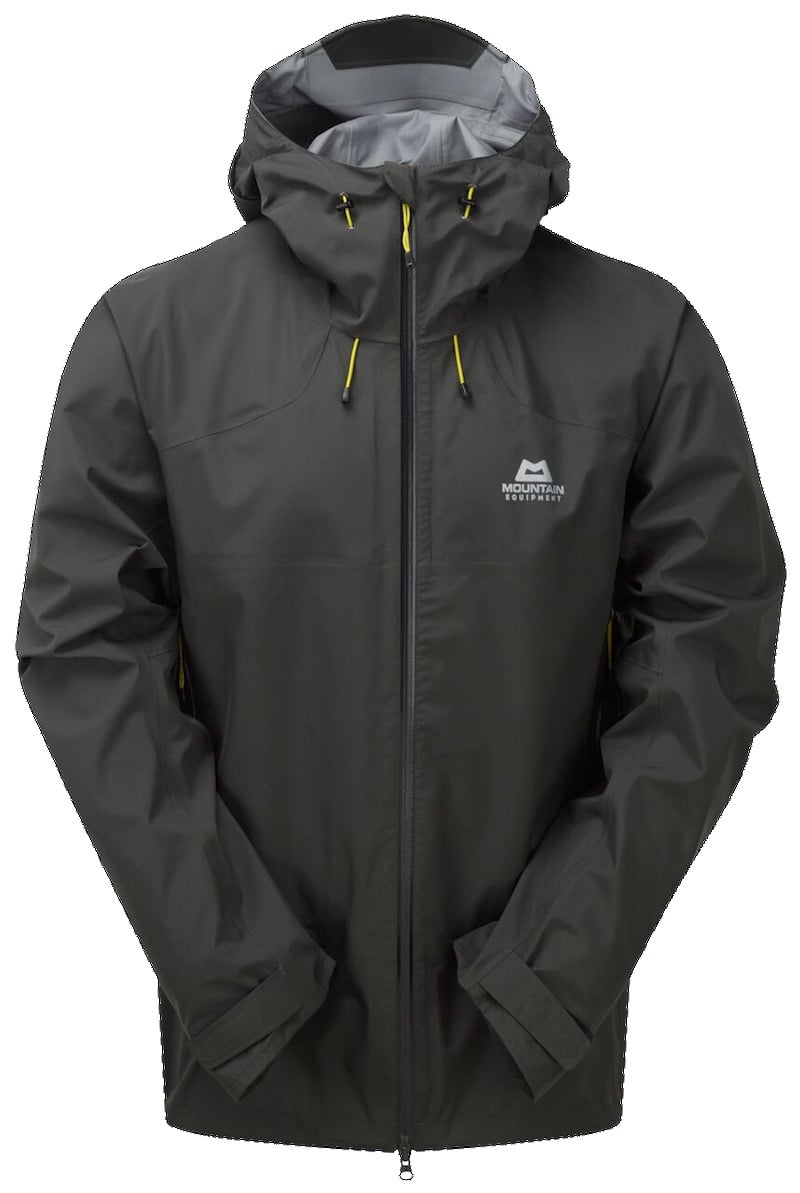 In practise, the jacket faced up to the weather impressively, shedding rain without a problem, drying quickly and acting as a good barrier against the wind. The wired hood offers great coverage and has a large peak, while the chin guard pulls in nice and snug so you won't have water dropping down your neck. It's helmet compatible and has multiple adjustment points meaning you can easily achieve the perfect fit.
You also get two hand-warmer pockets that are just big enough to hold a map, plus pit vents and a two-way zip to aid ventilation. The 3-layer Drilite fabric also feels fairly durable and it stands up well to damage on the hills. It's not too heavy (389g in medium), packs down small and looks good too, making this one of the best waterproof jackets on the market.
In a line: The Mountain Equipment Odyssey Jacket is a fantastic waterproof that will face up to the task impressively. Best in test.
Weight and pack size: 8
Weather resistance: 9
Features: 9
Ventilation: 8
Value: 9
Overall: 9
Mammut Masao Jacket
www.mammut.ch | £240
After spending some time with the Masao Jacket I have really come to love its understated looks. The blue 'Orion/Atlantic' colourway works really well and the fit and cut are pretty much spot on. The sleeves are wonderfully long and are fastened by brilliantly robust and functional straps. Toggles on each side of the hem are operable with just one hand and ensure you won't be exposed to any drafts here.
There isn't a feature we want that the Masao didn't have. Both hand-pockets were large (easily taking a map) and were accessible with a rucksack on, while a chest pocket offered extra storage. An internal mesh pouch with headphone outlet offers a perfect place to keep your phone too, while large pit vents and a two-way zip helped offer decent ventilation.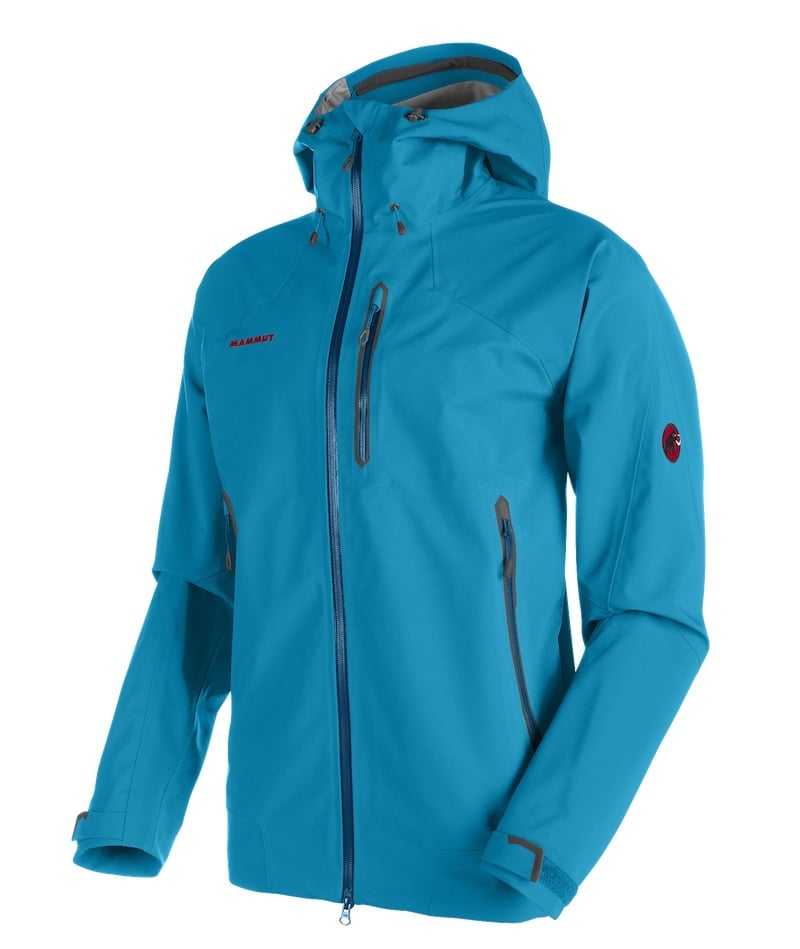 Even in the heaviest and longest of showers the water just runs off, while the helmet compatible hood keeps you nicely covered thanks to multiple adjustment points and its perfect ergonomics. Eventually, the shoulders started to wet out a bit, but we never got touched by the moisture and the garment dried impressively quickly afterward. It's not one of the lightest (564g in size medium), but it is packable, so I'd happily carry this around for days on end.
In a line: The Mammut Masao Jacket is an incredibly well-built, versatile option that is one of the best waterproof jackets in this test. Highly recommended.
Weight and pack size: 8
Weather resistance: 9
Features: 10
Ventilation: 9
Value: 9
Overall: 9
Arc'teryx Alpha SL Jacket
www.arcteryx.com | £240
Arc'teryx is best known for its technical gear and the Alpha SL Jacket doesn't shy away from that reputation, but it does prove you don't have to spend mega bucks to get kit from this respected brand. Waterproofing is provided by Gore-Tex Paclite and a DWR finish which, as you might expect, does a brilliant job at shedding water. It shook dry in a matter of minutes too, while the hood provided decent coverage with its massive laminated peak. I did, however, feel that it was excessively large and somewhat dwarfed my head, but presumably this is due to the fact the waterproof jacket caters for technical users who need a helmet.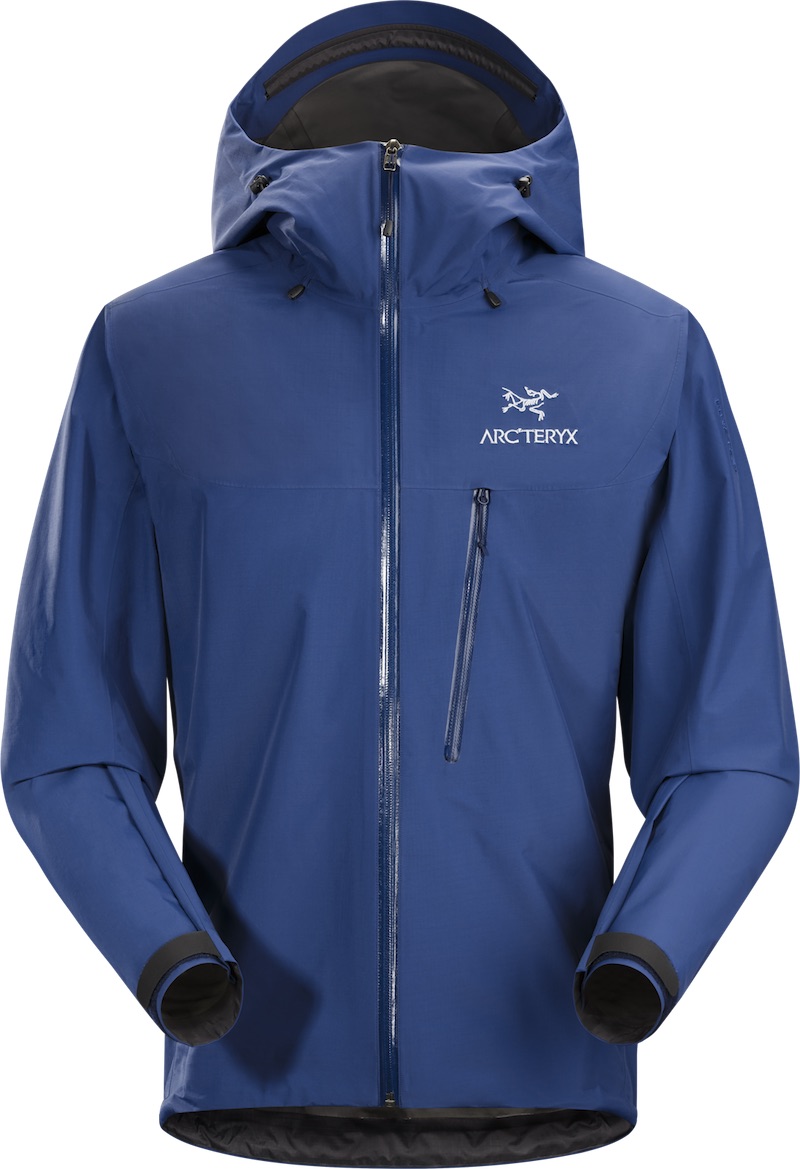 Interestingly, you only get one chest pocket and nothing else, so storage is a bit limited, but you can still fit a map in there. A lack of pit zips means ventilation isn't quite as comprehensive as others on test. The sleeves are long enough to avoid any wrist exposure, but we would have liked a slightly longer cut as the jacket does ride up slightly when reaching upwards on scrambles. One of our favourite things about the Alpha SL Jacket is just how small it packs down into its stuff sack and, at only 316g (size medium), we'd have no issues with carrying this around all day.
In a line: The Arc'teryx Alpha SL Jacket is a lightweight, minimalistic garment that packs a punch.
Weight and pack size: 9
Weather resistance: 9
Features: 8
Ventilation: 7
Value: 8
Overall: 8
Sherpa Lithang Jacket
www.sherpaadventuregear.co.uk | £240
Sherpa's entry into this test is the Lithang, and I've got to say, I love the little details such as the prayer flag zip tags. This is a proper jacket that comes with deep hand-warmer pockets that provide plenty of storage for maps, snacks and valuables. We had no problem accessing these while wearing a rucksack. A napoleon chest pocket and inside pocket offer additional space.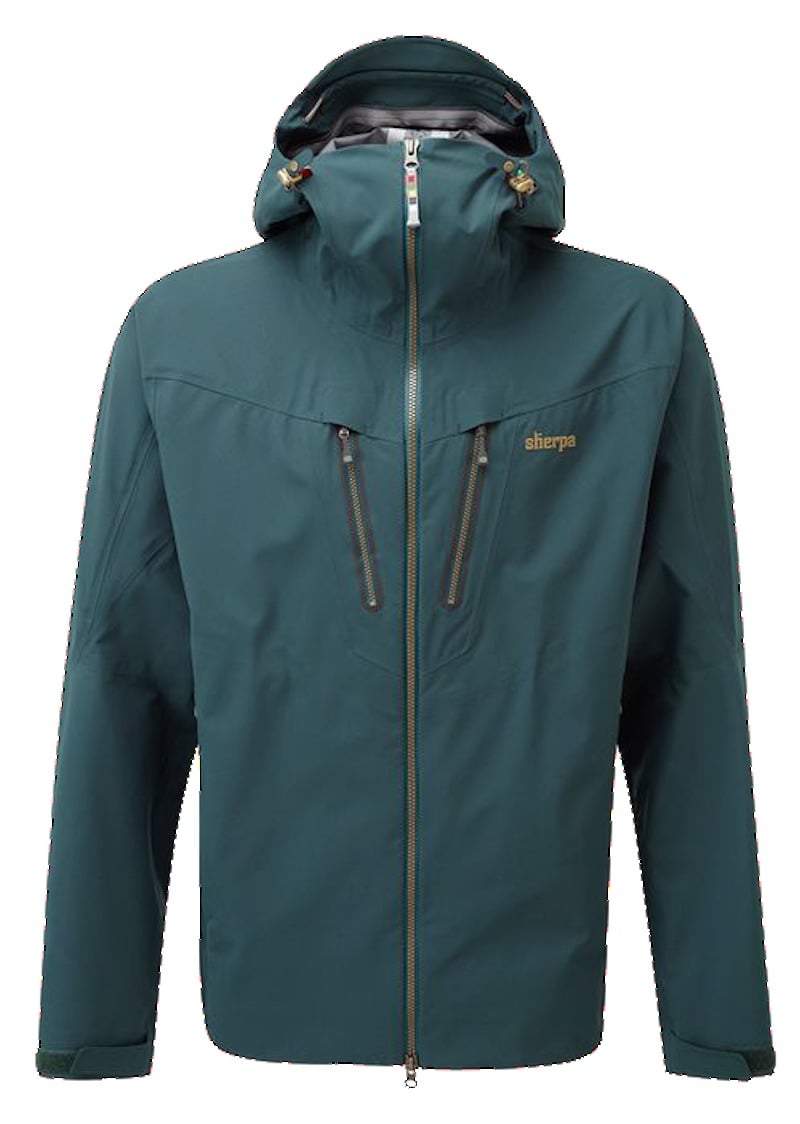 The fit is roomy, the range of movement is great and the sleeves and cut of the waterproof jacket is plenty long enough to keep you covered while scrambling. Deep pit zips offer a good amount of ventilation, which is needed, as Sherpa's 3-layer Himaltec shell fabric is heavy duty compared to some of the lighter options here. While we love the resulting durability, it heats up quickly.
The helmet compatible hood has a wired peak and multiple adjustment points, but it is pretty roomy and takes quite a bit of effort to get a good fit. It did wet out quite quickly, making it feel heavy and affecting breathability, but we had no issues with water repellency. Drying times were middle of the road too. It's one of the heavier jackets on test (587g in medium) and also one of the bulkier, but it's one of those that won't let you down when you need it.
In a line: The Sherpa Lithang Jacket is a solid all-rounder, but not one for the lightweight brigade.
Weight and pack size: 7
Weather resistance: 8
Features: 9
Ventilation: 8
Value: 8
Overall: 8
This post was updated in March 2021 to include up-to-date product information and to add new reviews. To stay up to date with the latest gear news, previews and reviews, plus ample amounts of adventure inspiration, check out our most recent issues.
GET WIRED FOR ADVENTURE TODAY
Life's great adventures always start with an idea. And Wired For Adventure magazine is where you'll find them.
Inside Volume 11, read about Elspeth Beard's 35,000-mile solo trip round the world on two wheels, visit the Land of Volcanoes in El Salvador, and meet the gardener turned daredevil photographer capturing Hawaii's waves like never before. Order your copy here and get FREE UK delivery.