As the spectacular autumn displays come to an end and the last flame-coloured leaves drift from the trees, a frost-dusted winter finally peeks it's head around the corner. With colder weather and shorter days staying put for a while, it can feel a bit like adventures have shut up shop for the year. Luckily for us, that's not the case on winter walks in Scotland, where a bit of nippy weather and a chill in the air is certainly no reason to stay indoors. The hardy folks beyond the border have a veritable selection of hiking routes, that are all perfect for a brisk walk on a chilly winter's day.
We teamed up with Arc'teryx, to take a look at the Beta AR waterproof jacket – a firm favourite in the Arc'teryx arsenal for over two decades – and to bring you a selection of the finest winter walks that Scotland has to offer. If you are heading off on one of these sensational walks, then you'll certainly need a high quality piece of kit to keep you warm and snug, not to mention dry, while you're hitting the trails. You can find our full review of the jacket we recommend here, but in the meantime, here's nine fantastic frost-filled walks you simply can't miss while visiting Scotland this winter.
The Hermitage, Perthshire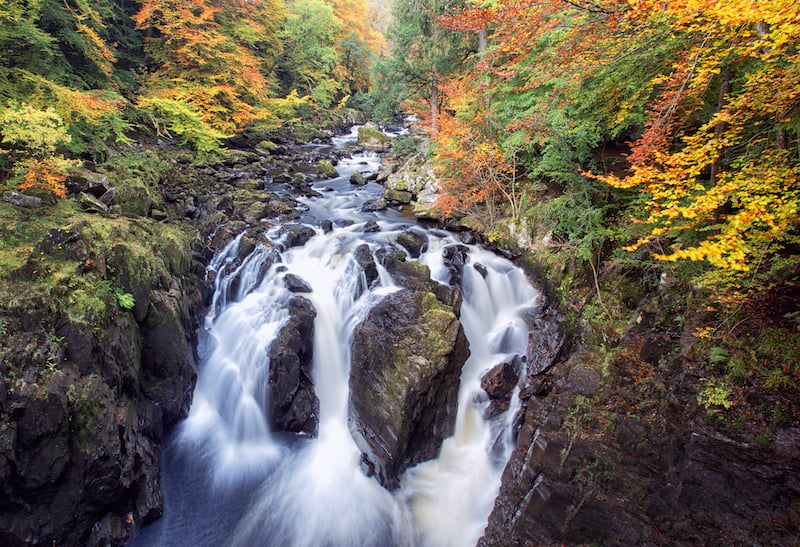 Photo: Pxhere
A spectacular walk for the colder seasons, this woodland ramble is sensational in autumn when the woods are set alight by beautiful display of colour. Come winter, the tumbling falls freeze into a glittering show of ice, while the frost dipped countryside views will take your breath away. Wrap up warm and head to The Hermitage Car Park to begin this four-mile walk.
Ben Lomond, Trossachs National Park

Photo: Pseudopanax
One of Scotland's most popular peaks, Ben Lomond truly comes alive in winter when the hordes of tourists have all but deserted its flanks, and a dramatic sweep of snow lingers over its summit. Use the popular south-ridge route, making sure you have all the appropriate gear for hillwalking on snow (ice axe and crampons) as well as experience using them. You can begin this tough 7.5-mile walk from Rowardennan Car Park.
Buachaille Etive Mòr, Glencoe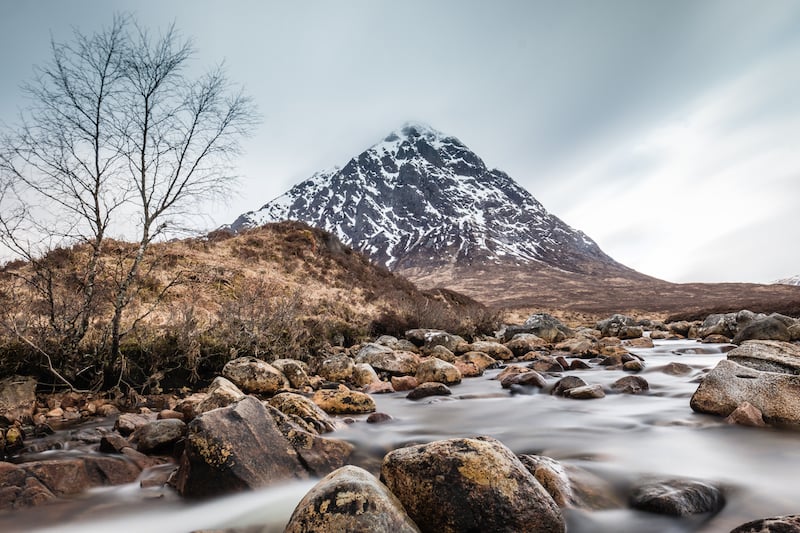 Photo: Ian Dick
One of the great pleasures in life is warming yourself up in a welcoming pub after a long, brisk winter's day walk. This classic Scottish walking route is truly sensational on a fine winter's day, where you'll be rewarded with picture-perfect mountain views of magical Glencoe and a roaring open fire on reaching the Clachaig Inn at the end of the walk. Again, ensure you have the correct equipment and knowledge for hillwalking in winter before you set off from Altnafeadh on this 8.25-mile hike.
Loch Morlich, Cairngorms National Park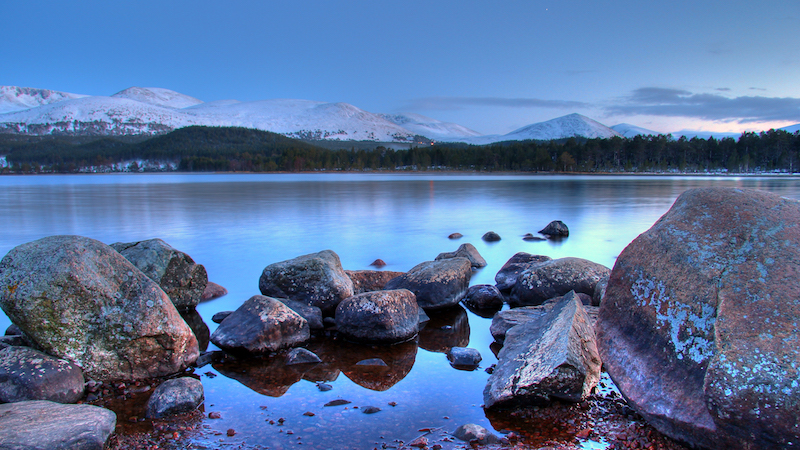 Photo: Graham Norrie
Hike in the shadow of the snow-smothered Cairngorms on this circuit around Loch Morlich, which is enclosed by mystical woodland and fringed by swathes of sandy beaches. Good paths and stunning views make this one of the best winter walks in Scotland for a clear, crisp day with the still waters of the lake reflecting the tranquil surroundings. Begin at the Loch Morlich Car Park for this 3.75-mile route.
Rosslyn Glen, Midlothian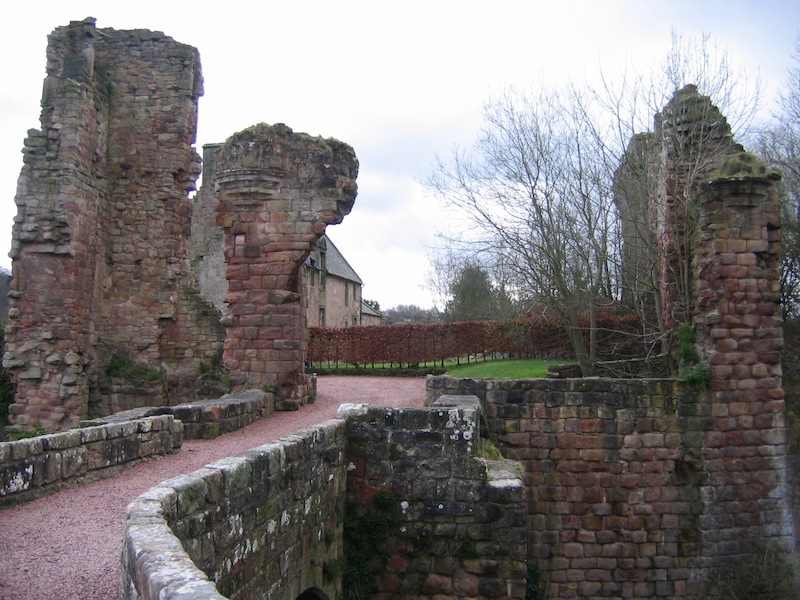 Photo: Supergolden
There's something very Game of Thrones about the ruins of a castle, deep in the throes of midwinter. This picturesque walk will take you to the extraordinary ruins of Roslin Castle, down a tumbling of steps and through a wooded gorge with the atmospheric remains of an old gunpowder mill punctuating the walk. You can start this historic 2.75-mile route at the Rosslyn Chapel Car Park.
Kinlochleven, Scottish Highlands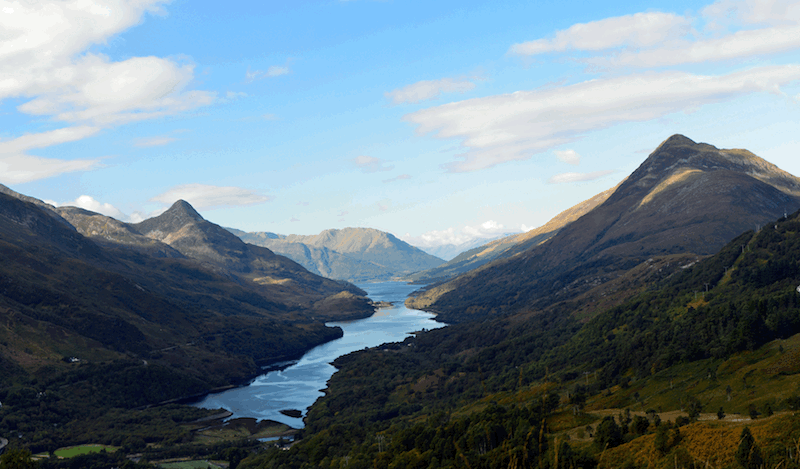 Photo: Stu Smith
This is a fabulous walk that tackles the final day of one of the most famous long-distance walks in Scotland: the epic West Highland Way. Taking on the West Highland Way in winter is a spectacular challenge and a great way to beat the crowds (and midges). But if you only have the day then make sure you choose the final portion of the trail, where you can immerse yourself in the splendour of the remote valley among frozen streams and frosty woodland. The 12.5-mile walk begins in Kinlochleven.
The Falls of Glomach, Scottish Highlands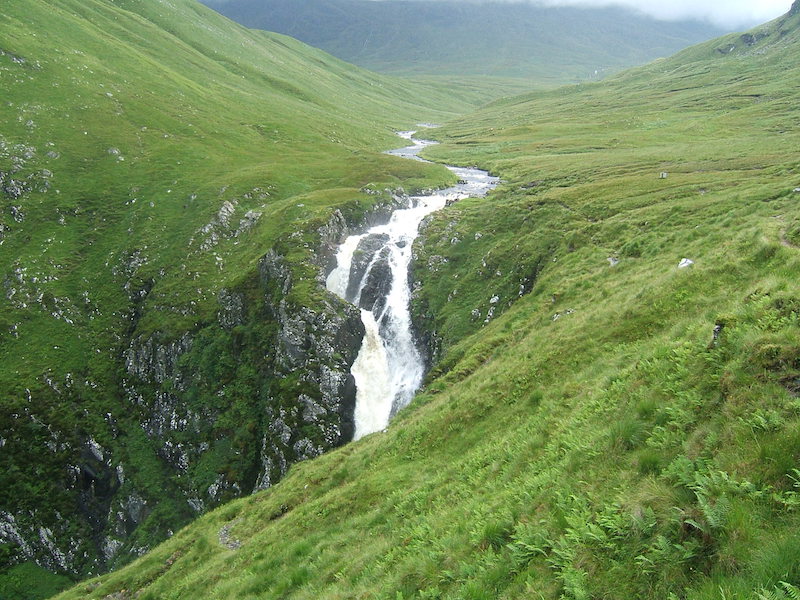 Photo: Lhoon
These spectacular falls cannot be reached by car and are as magnificent in winter as they are summer, so it's well worth the 11-mile hike to pay them a visit. With an enormous drop of 113m, the thundering falls juxtapose perfectly with the remote silence of the surrounding wilderness. The walk begins at Morvich, a tiny settlement deep in the heart of the highlands.
Rothiemurchus Forest and the Iron Bridge, Cairngorms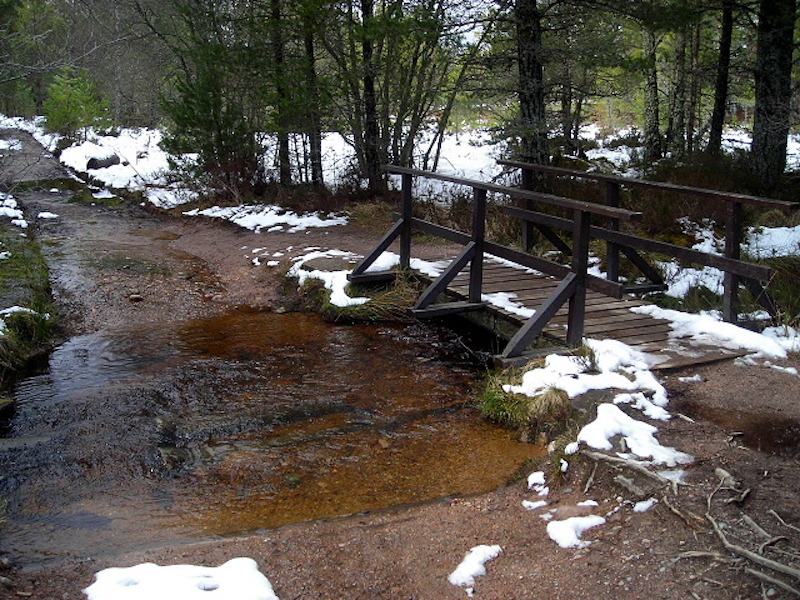 Photo: Iain Thompson
Perhaps one of the best walks in Scotland for wildlife-lovers, this route takes you through the spectacular Caledonian Forest, where you should keep an eye out for ospreys, capercaillies and even wild cats. The woods are even more enchanting with a dusting of snow, and a clear day will also bring excellent views of the Cairngorms looming in the distance. Start the circular 4.75 mile walk at Rothiemurchus Camp and Caravan Park.
Ben Chonzie, Perthshire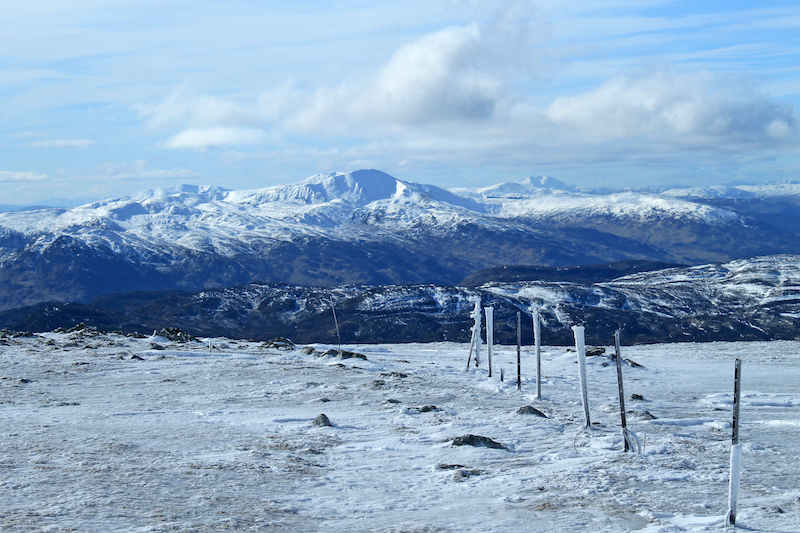 Photo: Portengaround
Armed with crampons and an ice axe, this walk is perfect for giving hikers a sample of mountaineering. An easy munro to bag in summer, Ben Chonzie becomes a different beast altogether in winter, where snow on the ground can bring difficulties. You'll soon be rewarded, however, by excellent views from the peak of Glen Turret. Keep an eye out for the mountain hares, whose fur turns from brown to white in winter. Begin the 7.75-mile walk at Glen Lednock.
Gear up for these winter walks in Scotland
Walking in cold weather can be an unpleasant experience without the right equipment, especially if the heavens decide to open as well. Scotland is well-known for it's incredible views, sensational hiking and changeable weather, so you'll need a high-quality waterproof jacket on hand to keep the rain and wind at bay.
This is where the Arc'teryx Beta AR jacket comes in. This high-quality waterproof has been an expert in keeping the wet stuff out since it first burst onto the scene in 2000, and Arc'teryx has been refining and improving it ever since. Lightweight, packable and with the right fit to get some layers underneath, this is the perfect versatile, reliable jacket to take along with you on a cold weather hike. Don't forget to read our full review here.