Have you ever wondered what a professional driver's dream road trip is?
When your job sees you travelling around the world and driving the highest-spec cars for 11 months of the year, it would have to be a pretty special one to stand out.
F1 legend Daniel Ricciardo told us all about his dream trip, which he took at the beginning of this year with best-friend Blake, before his season with Italian team AlphaTauri kicked off. The Perth native regaled us with the stories of his drive down Western Australia's Coral Coast Highway and shared the joys of adventuring in one's own back yard.
With hiking, skydiving, swimming with sharks and kayaking all on offer on this 14-day trip, it's no surprise that this adventure could thrill a man who drives at 200 miles-per-hour for a living.
Here's Daniel's perfect Australian road trip itinerary, complete with his tips and tricks as a west coast local. Our full chat with Daniel will be in Wired For Adventure Volume 20, but until then, hit the open road like an F1 driver with this Western Australian adventure, (though preferably within WA's statutory speed limit!).

Lights Out and Away We Go
Perth and Nambung National Park
Starting out in Perth, Daniel's home town, spend a few hours soaking up the best of the city before heading out to the Pinnacles Desert in the Nambung National Park.
As the final suburbs of the most isolated city in the world fall away you will drive straight into an otherworldly landscape of scorched sand and strange formations. These bizarre monoliths date back 30,000 years and look as though they were dropped randomly into the desert from above. There aren't many places in the world that look less earthly.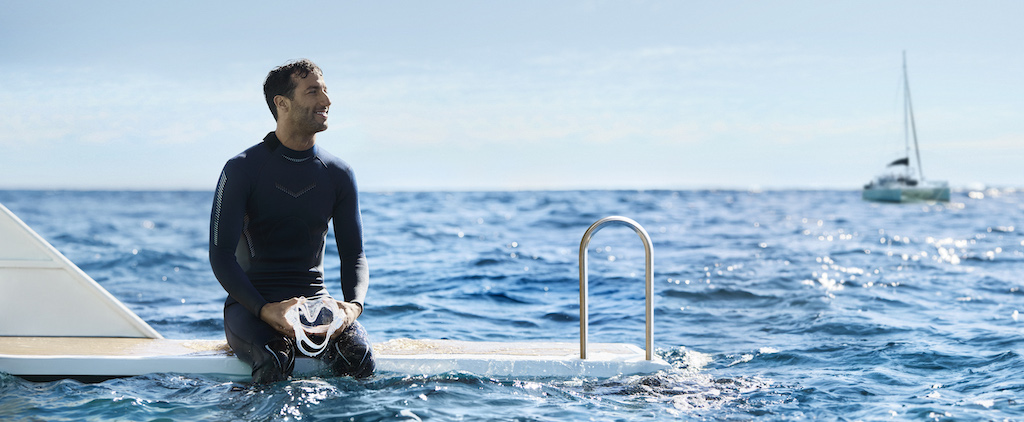 Jurien Bay
Cruising on to Jurien Bay you'll want to keep Daniel's advice in mind:
"It might sound simple but trust me on this – have a pair of board shorts or a bikini ready and with you at all times"
Once you've met the adorable, but sadly endangered, Australian sea lions, Jurien Bay is the perfect place to throw on your swim suits and wade off the unbelievable beaches. The Three Bays Walkway will transport you from one gorgeous beach to the next and you'll want your bathers at the ready.
"I learnt my lesson after my board shorts were in the bottom of my suitcase jammed in the back of the boot. Rookie error!"
Greenough, Geraldton and Kalbarri
From Jurien, you'll spend a few days heading through Greenough, Geraldton and Kalbarri. Along the way you'll witness the bizarre and wonderful of Australia's west coast, including the Greenough leaning trees and the famous pink lake (Hutt Lagoon) near Kalbarri.
It's no wonder that this part of the world is uniquely special to someone who's travelled so extensively. These natural phenomena are truly mind-bending and worth every mile on the road.
Equally as impressive is the Kalbarri National Park, with unique rock formations and river gorges that are as spectacular as their surrounds.

Shark Bay
Once you arrive at Shark Bay you'll be spoilt for choice for adventure. From visiting the friendly Monkey Mia bottlenose dolphins to 4-wheel-drive tours you could spend weeks here and not get bored.
The moment that Daniel said he would never forget from his road trip was speaking with aboriginal representative Darren 'Capes' Capewell here.
"He was just a great bloke – hilarious and an amazing ambassador of Western Australia, but he talked Blake and I through the importance of not only connecting with each other but connecting with the land itself."
Capes is a descendent of the Nhanda and Malgana people who have subsisted in the area (known as 'gutharraguda' in Malgana) for more than 30000 years. He set up Wula Gura Nyinda Cultural Adventures to show visitors the beauty of the land and educate them on Nhanda and Malgana culture and practices.

Carnarvon, Coral Bay and Exmouth
On the final stretch of this trip you can experience something that was almost too extreme for professional thrill-seeker Daniel: swimming with whale sharks (the world's largest fish).
"When I first got told about heading to Ningaloo Reef, swimming with whale sharks, that definitely sounded extreme but I'm so happy I did it, genuinely unforgettable."
No matter the time of year, you can have an unforgettable mega-fauna experience at Ningaloo Reef, with whale sharks from March to August, humpback whales from July to October, turtle tours from September to March and manta rays all year round. There are strict guidelines in place to protect these creatures from the impacts of tourism, so make sure you head out with a reputable guide. In many instances, your tour's observations and photographs will be used by conservation centres to better understand the behaviours of the animals as well.
As you head to your final destination of Exmouth, you can experience the sun rising and setting over the same ocean on the same day at Sunrise Beach. This is just another surreal phenomenon to cap off an unbeatably unique trip.
The Drive of a Lifetime
Daniel's dream trip is pretty unforgettable and if you're searching for flights to Perth or Exmouth right now we wouldn't blame you.
You'll be able to read about Daniel's adventure of a life-time in his own words in Wired For Adventure Volume 20, but in the meantime, check out his short film below.