It's that time of year again. Mornings bring with them a blanket of frost, the leaves are shaking themselves free of the trees, and we're getting geared up for some winter adventures. With the right kit, a little chilly weather needn't stop you from hitting the trails, and that's where these women's synthetic jackets come in.
We recently tested out eight of the best women's down insulated jackets, and you can read about them here. As every adventurer knows, there are pros and cons to down jackets, primarily their ability (or lack thereof) to still keep you warm in humid or wet conditions, which is usually where synthetic jackets take centre stage.
Women's synthetic jackets are generally able to maintain insulating properties when wet, and also often work out cheaper than down insulated jackets.
When you live in the UK, it's safe to say a jacket that can keep you warm, even when it's raining, is a god send. So with that in mind, we set about testing out seven of the best women's synthetic jackets on the market right now, so you can figure out which one to splash your hard-earned cash on.
Craghoppers
Compresslite III Hooded Jacket
www.craghoppers.com | £65
As the cheapest of the women's synthetic jackets on test, I was unsure of what to expect from the Craghoppers Compresslite III, but was pleasantly surprised by the snug feel as soon as I pulled it on.
I was also pleased to find an included stuff sack tucked inside the pocket. The jacket is fairly lightweight at 377g (size 8), so once I'd thrown it into my pack, I hardly noticed it was there.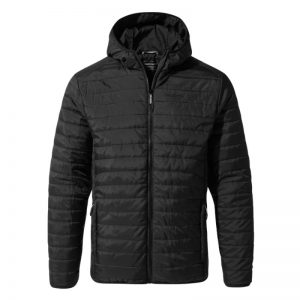 Admittedly, there are a few features missing on this jacket, the most problematic of which is the lack of volume adjusters on the hood. Despite the elasticated trim, there's no way to get a tight fit around your face and neck, meaning when the wind really picked up, not only was the cold draught able to get right inside, the hood was at constant risk of blowing down altogether.
The elasticated trim on the cuffs was enough to keep the cold weather from creeping in there, and I could quite easily tuck a pair of gloves in too, which was handy. However, there was a lack of hem adjustment, which was a shame.
Further features included two hand-warmer pockets, but I'd have liked to have a chest pocket for my phone to keep it away from the worst of the weather.
There's also an eco-friendly water repellent coating for light rain protection, but I found the range of movement was limited by the outer shell of the jacket. At £65, this is a very affordable option, though it's probably better suited to travel than more rugged outdoor adventures. 
In a line: A great value option to throw in a pack as a handy layer.
Warmth: 8
Weight and Pack Size: 9
Features: 6
Range of Movement: 7
Value: 8
Overall score: 7.6
Highlander
Lewis Insulated Jacket
www.highlander-outdoor.com | £99.99
This Highlander Lewis jacket is pretty light as women's synthetic jackets go, at just 371g in a size small, and that's probably the first thing you'll notice about it. This is thanks to the nylon shell fabric and TECLOFT insulation, which certainly keeps the weight down, but isn't the most effective insulator compared to some of the other women's synthetic jackets on test. That said, I'd probably pack this more as a mid layer, rather than something to rely on as an outer layer when temperatures really start to drop.
I also wasn't particularly keen on the fit of this jacket, as it was a little on the big side around the waist, where there were no drawstrings to keep cold draughts out. Meanwhile, the top and arms of the jacket felt too tight and restrictive, which hindered my range of movement.
Having said that, I was pleased to see three adjustment points on the hood, with one Velcro fastening at the back and two toggles at the front, which helped achieve nice snug fit around the face.
Just like the Compresslite jacket from Craghoppers, Highlander's submission had no chest pocket, which I always like to see, but there were two stuff pockets inside for your gloves or hat. The other two exterior pockets are fleece-lined, for added comfort, and these have zips with long pulls to help you grab hold when wearing gloves. At this price, it has to be worth considering as a mid layer.
In a line: A low-cost option that's fine as a mid layer or for casual low-level walks.
Warmth: 7
Weight and Pack Size: 8
Features: 7
Range of Movement: 6
Value: 7
Overall score: 7
Sprawyway
Uska Jacket
www.sprayway.com | £125
Just like the Sprayway down jacket we had on test, the Uska is a new synthetic offering for the autumn/winter season. In terms of design, it is almost identical to the Malin Jacket (Sprayway's down insulated jacket), with many similar features, but with a synthetic fill.
Of course, because of the synthetic fill, the Uska is heavier than the Malin, weighing in at 373g in a size 10, but then again, it's cheaper too, and still packs down relatively small despite there being no included stuff sack this time.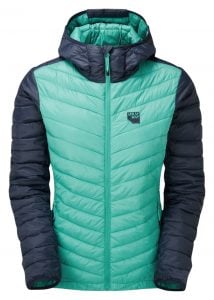 The TecShell 20D polyamide outer fabric has a PFC-free DWR coating to shed light rain and is quick drying, while the warmth of this jacket comes from an InsoFILL loose blown synthetic fill, which I found performed well in cold, windy conditions.
Just like the Malin, you'll find two exterior hand-warmer pockets with long zip pulls and one interior chest pocket to keep your phone or camera batteries protected. Again, the hood is elasticated, yet lacking volume adjustors to really seal heat in, but there is a drawcord at the hem, a storm flap under the main zip and elasticated cuffs to reduce draughts in those areas.
For me, both Sprayway jackets performed well in terms of warmth and looked great, but both were lacking a couple of key features that I could have really done with in particularly cold environments. For hill walking on the weekend, however, you can't go too far wrong here.
In a line: Ideal for chilly campsites and breezy walks in the hills.
Warmth: 8
Weight and Pack Size: 7
Features: 8
Range of Movement: 6
Value: 7
Overall score: 7.2
Kathmandu
Lawrence Insulated Jacket
www.kathmandu.co.uk | £159.99
I immediately had a little more confidence in the performance of this jacket when I saw the insulation was PrimaLoft ThermoPlume, which means it's made up of water-resistant synthetic fibres which are known for their ability to mimic the performance of down insulation.
Once I'd pulled it on, I found it was too big, and even with a mid layer on underneath it still felt too roomy, so you may want to consider dropping a size. There are drawstrings on the hem to tighten the fit around the bottom, but for some reason Kathmandu has decided to do away with volume adjusters on the hood and instead has a zip there to pack the hood away to a very bulky high neck collar. I'm not sure about this, and it certainly looks pretty odd.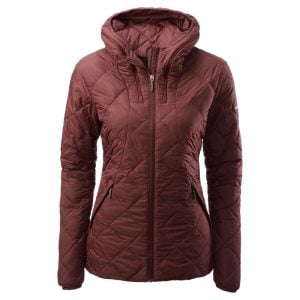 It also means there's no way to protect your face when the winds reach gale force. Further features include two fleece-lined hand-warmer pockets, plus an interior chest pocket with an eyelet for your headphones, and while all three pockets have zips, they are pretty fiddly to grab hold of in gloves.
At 487g, this is also the heaviest of the women's synthetic jackets we had on test, and it doesn't pack away particularly small either, despite the pocket bag located in the back of the hood. Having said this, Kathmandu advertises this feature for use as a pillow, a purpose it serves rather well.
In a line: Best for casual strolls in the countryside rather than more serious mountain pursuits.
Warmth: 8
Weight and Pack Size: 7
Features: 7
Range of Movement: 6
Value: 7
Overall score: 7
Haglöfs
Essens Mimic Hood
www.haglofs.com | £180
The Haglöfs Essens Mimic Hood features a high-loft synthetic insulation known as QuadFusion Mimic, which is designed to imitate the best qualities of down, (lightweight, compressible warmth) while still retaining the excellent wet weather capabilities of synthetic. In reality, its weight is on par with the other women's synthetic jackets in this test (393g, size small), and without a stuff sack, the packability is limited too.
Having said this, the 100% recycled polyester fibres certainly did offer a down-like level of cosiness when put to the test in cold conditions, and the fluorocarbon-free DWR coating helped to shed light rain when it arrived. The range of movement of this jacket is excellent, and is helped along by the stretch fleece shoulder inserts and Pertex shell fabric, which made a little low-level scrambling no problem at all.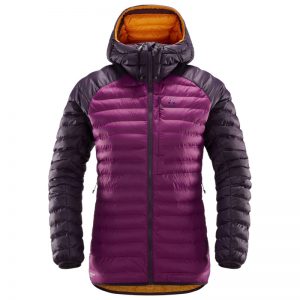 The cuffs and hem are elasticated rather than adjustable, but I didn't find this to be a problem thanks to the snug fit anyway. You've also got three adjustment points around the hood (two at the front and a volume adjuster at the rear), along with a small peak at the top for added protection from wind and rain. The jacket has two big hand-warmer pockets and one chest pocket, though the zip pulls were slightly fiddly to operate while wearing gloves. All in all, the Essens Mimic Hood is a decent all rounder for outdoor pursuits.
In a line: A reliable and functional piece of kit.
Warmth: 9
Weight and Pack Size: 7
Features: 8
Range of Movement: 9
Value: 8
Overall score: 8.2
Outdoor Research
Refuge Hooded Jacket
www.outdoorreasearch.com | £180
One of the first things you may notice about this jacket is its short cut (I'm 5ft 2in, so for me it was about right, but anyone taller may find this to be an issue), especially when it rides up during any reaching or scrambling.
That aside, the Refuge Hooded Jacket uses the brand's VerticalX insulation, which proves a good level of warmth for the weight (395g, size XS), and performs even when wet. Having said that, I did find a couple of the other women's synthetic jackets slightly warmer.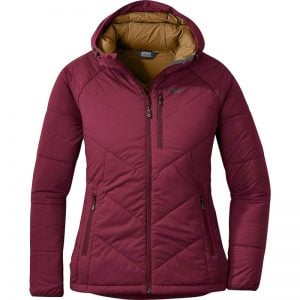 In terms of features, the Refuge has lovely elasticated cuffs and a glove-friendly adjustable hem to keep draughts at bay, while three drawstring adjustments allow you to get a perfect fit with the hood. You'll also find pockets aplenty, with two hand-warmer pockets, an interior and exterior chest pocket, and two internal stash pouches that are perfect for storing your gloves or hat.
The left-hand pocket doubles as a stuff sack, which is always nice to see, but be prepared to tussle with it for several minutes in order to get the whole thing in there, and make your peace with the fact that you may never get the zip done up.
Overall, Outdoor Research has produced a garment that you could happily throw into a rucksack for a day of hiking, knowing that it's there to offer much needed warmth when you need it in exposed conditions.
In a line: A well-designed jacket that is well suited to off-the-beaten-track adventures.
Warmth: 8
Weight and Pack Size: 8
Features: 9
Range of Movement: 7
Value: 7
Overall score: 7.8
Mammut
Rime IN Flex hooded jacket
www.mammut.com | £210
Swiss brand Mammut is known for creating gear that performs in harsh, mountain environments, so I was expecting big things from the Rime IN Flex, especially considering the high price point. It certainly looks the part, with a straight, no-nonsense design and simple, bold colour choices such as phantom black and the bright red we had on test.
It's filled with OTI stretch insulation, which not only helps keep you cosy, but also helps with freedom of movement when out on the mountain. Additionally, the elastic, water-repellent Pertex Quantum Air outer ensures you don't feel restricted, even when climbing.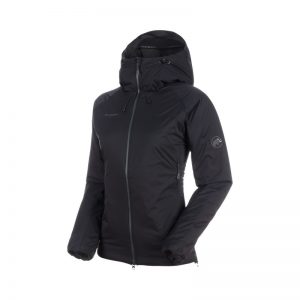 Speaking of climbing, the two huge hand warmer pockets are harness and backpack compatible, with long zip toggles that are easy to grab hold of in gloves. The smaller zipped interior pocket is also great for valuables.
To achieve a close fit that prevents cold air from creeping in, you'll find drawstrings at the hem, elasticated cuffs and three toggles to adjust the hood, which is also helmet compatible. At 395g (size small), it's on par with the other women's synthetic jackets here, though I wouldn't say it packs down particularly small.
Overall, I'd say that while pricey, this jacket certainly performs in mountain environments, where you really need to rely on your gear, and it's ideal for those that spend a lot of time around campsites and on top of breezy summits.
In a line: A jacket that's truly at home in testing mountain environments.
Warmth: 8
Weight and Pack Size: 7
Features: 9
Range of Movement: 9
Value: 8
Overall score: 8.2