Winter is well and truly on the horizon, and with it, the exciting prospect of some winter adventures. There's no better feeling than heading out on a frost-laden morning, all wrapped up in your cosy down jacket ready to hit the trails.
These days, there are so many women's down jackets on the market, it can be hard to know which one to splash your hard-earned cash on. With many women's down jackets priced at over £100, it's not something you want to get wrong. To help you out this winter, we've tried and tested eight of the best women's down jackets on the market right now, listed in order of price, with an option for every budget.
Mac in a Sac
Polar Reversible Down Jacket
www.macinasac.com | £84.95
Mac in a Sac isn't exactly the first brand you think of for women's down jackets, so I was intrigued to see how this offering fared. Paying under £100 for a down jacket makes a welcome change, and we've seen it online for less than £50, which makes it even more tempting. It also packs down incredibly small, perhaps even small enough to get in your pocket, and it's the second lightest jacket on test at just 259g (size medium), so it's great as a just-in-case layer.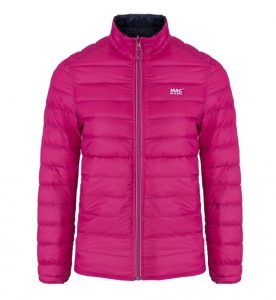 The jacket itself has 80g of RDS-certified duck down at a fill power of 600, which provides a decent level of warmth, though it is probably best utilised as a mid layer or outer layer in milder weather. There is a durable water repellent (DWR) coating, but it's worth noting that this down is not hydrophobic, so it won't perform as effectively when it's damp.
Unfortunately, there's no hood, which leaves your face vulnerable to the cold, and there's also no drawstring at the hem to get a tight fit and keep draughts out, although the cuffs are elasticated. You'll also find two hand-warmer pockets and a couple of stash pockets inside, though these aren't very secure, as the openings are on the side, rather than the top. The Polar is reversible too, so you can dress to match your mood.
I'd say, if you're looking for a low-cost option that can be thrown into any bag for cold weather emergencies, or a highly packable mid layer option, then this is a good choice, but it's not warm enough for more serious mountain excursions. 
In a line: A low-cost down jacket with excellent packability, but limited features.
Warmth: 7
Weight and Pack Size: 10
Features: 6
Range of Movement: 7
Value: 8
Overall score: 7.6
Alpkit
Filoment Hoody
www.alpkit.com | £129
I found the Alpkit Filoment Hoody fit slightly on the small side, which is something I've experienced in the past with this brand. This means there is no room for a mid layer underneath, so I'd definitely consider ordering a size up from what you normally wear. Insulation is taken care of with responsibly-sourced, PFC-free, water-repellent down with a fill power of 650, while a DWR polyester outer helps remove the worry of your jacket getting wet and losing its lofting abilities.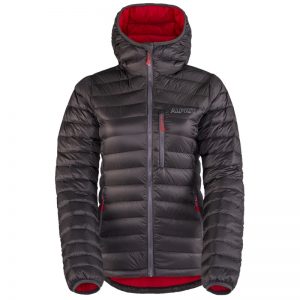 Meanwhile, you'll find several useful features on this jacket, such as glove-friendly drawstrings at the hem and one on the back of the hood to keep the icy winds at bay, with elasticated cuffs that are just stretchy enough to get gloves underneath too. Two hand-warmer pockets and one exterior chest pocket provide ample storage for essentials, although I'd have liked to see a chest pocket on the inside, to keep batteries from dying.
The main zip is also protected by an insulated zip baffle and, in general, I found the Filoment Hoody delivered an impressive level of warmth. Plus, it's pretty lightweight (265g, size eight) and packs down nice and small too, although a stuff sack would have been handy to get it really compressed. Overall, I was very impressed with this jacket from Alpkit, and at this price it would make a very versatile option for a range of adventures.
In a line: A good-value, versatile down jacket.
Warmth: 9
Weight and Pack Size: 8
Features: 9
Range of Movement: 9
Value: 9
Overall score: 8.8
Columbia
Delta Ridge Down Hooded Jacket
www.columbiasportswear.co.uk | £169.99
I first came across this jacket at a trade show in Munich, when the ground was a thick with snow, and I remember thinking how handy it would have been to take it away with me there and then. It looks kind of futuristic, especially the inside, which is lined with an Omni-heat thermal reflective lining for extra warmth.
In use, it quickly became clear that this, and the 650 fill power RDS-certified down was doing its job of keeping me toasty. Columbia has also used stitch-free baffles on the Delta Ridge, which helps prevent cold spots from forming, while the outer material is water resistant. However, the down itself hasn't been treated, so if it does get wet, it's unlikely to maintain its loft.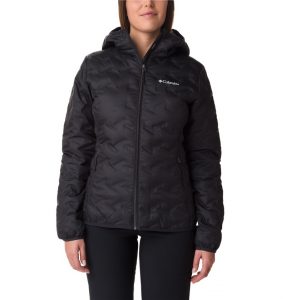 In terms of fit, I felt this jacket left a little to be desired. It comes up big, and there is no way to adjust the hem or hood to get a tighter fit. This also means cold air can easily creep inside the jacket, and it's difficult to see clearly when looking around with the hood up. There are two zipped exterior pockets and two interior stash pockets, but I would have liked a chest pocket.
It's also worth noting that this is the heaviest of the women's down jackets we tested (406g, size eight). You get a decent level of durability, but these heavier materials do compromise the jacket's pack size. It's a shame, because I felt the new technology really does a good job of keeping you warm.   
In a line: A high-tech jacket that keeps you warm, but is let down by weight and a lack of features.
Warmth: 9
Weight and Pack Size: 6
Features: 7
Range of Movement: 7
Value: 7
Overall score: 7.2
Sprayway
Malin
www.sprayway.com | £170
The Sprayway Malin jacket is a new garment for this autumn/winter, so I was excited to get my hands on one to test it out. Sprayway is a British brand with over 40 years of experience in the UK outdoor market, so I was expecting a jacket that's geared toward use on home soil. First of all, the jacket looks great and fits well, with just the right amount of room to get a mid layer underneath if needed. It's insulated with 700 fill power water-repellent duck down, which I found was plenty warm enough for a chilly hike in the hills.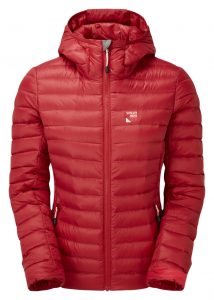 As you would expect from a quality down jacket, it's reasonably light (346g, size 10) and can be compressed down easily to fit inside the included stuff sack, which is always handy when packing a bag. Two large hand-warmer pockets and one interior pocket provide plenty of space for stashing essentials, and the zip pulls have easy-to-grab toggles for ease when wearing gloves. There's also a drawstring at the hem and elasticated cuffs, which help prevent cold air from getting inside, although I was disappointed to see there was no way to adjust the hood to the same effect.
I also found that the arms rode up and the back of the jacket was a little restrictive when scrambling or climbing. However, overall this jacket provided more than enough reliable warmth for chilly summits, and looks good too, making it versatile enough for casual use.
In a line: A versatile jacket that's good for casual winter walks or everyday use
Warmth: 8
Weight and Pack Size: 8
Features: 8
Range of Movement: 7
Value: 7
Overall score: 7.6
Odlo
Hoody Cocoon N-Thermic Warm Insulated Jacket
www.odlo.com | £170
Norwegian brand Odlo has a reputation for providing excellent quality, technical kit, minimalist in style with a clear nod to its Scandinavian roots, so I was interested to see what the Cocoon N-Thermic had to offer. It features a Pertex Qantum outer with a PFC-free DWR finish, offering a light and strong windproof fabric that's also abrasion resistant.
Inside the jacket, a premium 750 fill power down helps to keep things cosy, though there is less of it than in some of the other jackets. It has two zipped hand-warmer pockets and one zipped interior pocket, although the pulls on these were awfully fiddly when wearing gloves. Speaking of gloves, there are also two interior stuff pockets to stash your winter accessories.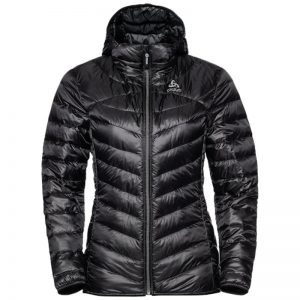 The fit was spot on, although I'd have liked to see a way to adjust the hem and hood to eliminate cold draughts as much as possible. Plus, although the fabric was stretchy enough to allow a decent range of movement, the arms did ride up with any more serious scrambling.
At just 257g in a size small, it's the lightest jacket we had on test, and it packs down really well too, though a stuff sack would have been handy to keep it compressed in my bag. I'm never that keen on shiny black, so luckily this jacket also comes in a range of subtle shades. It's certainly lightweight and packable enough to take with you into mountain environments and it looks good enough to wear around town too.
In a line: An extremely lightweight and versatile piece of kit.
Warmth: 8
Weight and Pack Size: 10
Features: 7
Range of Movement: 7
Value: 7
Overall score: 7.8
Vaude
Kabru Hooded Jacket III
www.vaude.com | £240 
Vaude is a brand that prides itself on sustainability, so I was pleased to see this jacket came with a Green Shape stamp of eco-friendly approval. The Kabru hooded jacket uses RDS-certified, 800 fill power down, while a PFC-free DWR coating on the outer material helps keep moisture at bay. The Pertex Quantum shell is windproof and really soft, giving the Kabru a wonderfully deluxe feel. You can feel the warmth of this jacket as soon as you get it on, and there's room for a mid layer underneath, although I'm not sure how often you'll need to double up on these shores.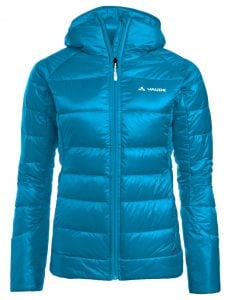 You'll also find two hand-warmer pockets and one mesh interior pocket, but a zipped chest pocket would have been a nice addition for valuables. The hem and cuffs are elasticated, as is the scuba-style hood, which, along with the high collar, creates a close fit around the face. A volume adjuster here, and toggles on the hem, would have been beneficial to help reduce any draughts. Having said that, the main zip is protected from cold air creeping in by a plush insulated storm flap.
At 342g (size XS), it's in the middle of the pack in terms of weight, but it's light in comparison to some of the synthetic options. You can also stuff it into its own pocket, making it a tiny little package to throw inside your pack. The warmth of this jacket was excellent, and thanks to its versatility and pack size, I'd just as happily pack this for adventures abroad in colder climes as I would for a Boxing Day walk.
In a line: A luxe jacket that's sure to keep you warm, and looks great too.
Warmth: 10
Weight and Pack Size: 9
Features: 7
Range of Movement: 8
Value: 8
Overall score: 8.4
Adidas
Terrex Climaheat
www.adidas.co.uk | £299.99
I first tested this jacket in Chamonix in December, so it's safe to say it was put through its paces in terms of cold weather. I had no troubles packing it in my suitcase thanks to its low weight (370g, size 8), while the fact that you can pack it away into a mesh interior pocket is a great feature. In use, the Pertex Quantum fabric provides a decent level of wind resistance, while a DWR treatment helps the garment shed light rain.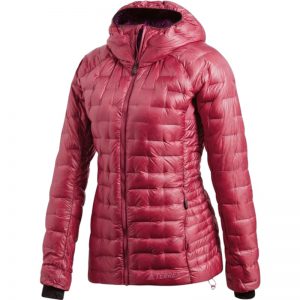 The 800 fill power HyperDRY hydrophobic-treated down means that it's lovely and warm, even in sub-zero temperatures or damp conditions, while elasticated cuffs and hem adjustments ensure you can keep the elements out and the warm air in. This is only made more effective by the adjustable hood, which fits well thanks to a volume adjuster on the rear. There's even a stretchy collar around the base of the hood to stop wind from blowing down the back of your neck.
Meanwhile, two hand-warmer pockets with large toggles, plus a mesh and zipped interior pocket, provide ample space for all your essentials. The unusual baffle stitching works to eliminate cold spots, and it looks pretty cool too. You'll even find stretchy fleece articulation on the armpits to provide an excellent range of movement, whether you're skiing in Chamonix or scrambling in Wales. At £299.99, there's no denying it's pricey, but it offers optimum warmth and packability with a full range of features, making it worth the hit to your bank balance.
See a review for the men's version here. 
In a line: Everything you need from a down insulated jacket, and more.
Warmth: 10
Weight and Pack Size: 9
Features: 10
Range of Movement: 9
Value: 8
Overall score: 9.2
Arc'teryx
Cerium LT Hoody
www.arcteryx.com | £320
Arc'teryx is known for producing high-end gear with a subtle injection of style that you don't always see in outdoor apparel and this jacket was no different. Even throwing it on to go to the gym caught me a few covetous looks, but all that certainly comes at a price. The Cerium LT was the most expensive of the women's down jackets we had on test, so I was keen to find out how it performed.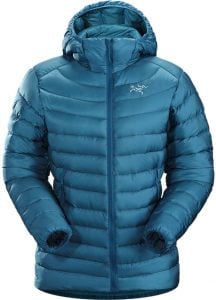 At just 264g in a size small, it feels as light as a feather, both when you have it on and when it's packed away into the included stuff sack to about the size of a pencil case. Premium 850 fill power down provides some seriously cosy, lightweight insulation, while Arc'teryx has also strategically placed synthetic insulation in spots that are most prone to moisture build up. Meanwhile, the Arato 10 nylon shell has a DWR coating and is flexible enough to allow a good range of movement.
In terms of features, the Cerium has the usual configuration of two hand-warmer pockets and one interior chest pocket, which is always handy for keeping valuable or electrical items safe from the cold. The fit was spot on, and you can really banish the cold by adjusting the hem, while elasticated cuffs ensure the same effect. There is a volume adjuster drawstring at the back of the hood and a high collar, although I would have liked to see two more toggles at the front to get a really snug fit around the face. The main zip was also quite fiddly, particularly in gloves, and snagged on the fabric occasionally.
In a line: A lovely looking down jacket with reliable warmth and packability.
Warmth: 10
Weight and Pack Size: 10
Features: 8
Range of Movement: 9
Value: 8
Overall score: 9