WFA's Becky Brown recently took a trip to Sweden to explore the natural haven of Hellasgården and the stunning Swedish landscapes that inspire leading outdoor brand, Haglöfs. Here's what happened on her Swedish adventure…
It's hard to believe Hellasgården, in the Nacka Nature Reserve, is just a 20-minute drive from Sweden's capital, Stockholm. The bustling cafes and colourful buildings I woke up to seem a world away from this tranquil woodland haven.
Nacka is home to an impressive variety of wildlife: including moose, snakes, red squirrels, and beavers. But it's hardly surprising that nature abounds here when you take in the richness of habitats supported by the stunning natural surroundings.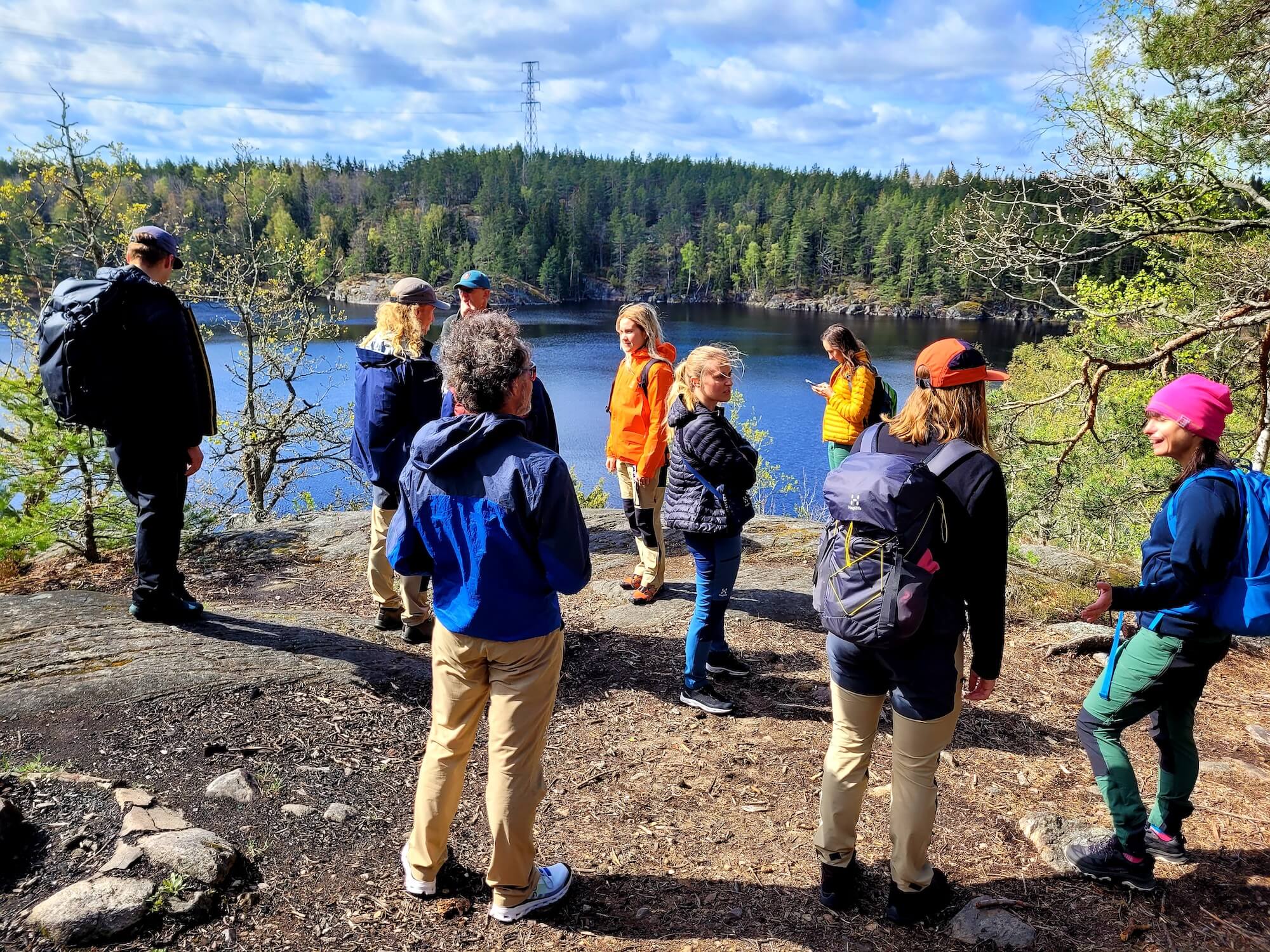 Nacka Nature Reserve
Stockholm is an archipelagic city, encompassing 14 islands and over 50 bridges that span the stretches of Baltic Sea between them. Nacka Nature Reserve – or Nackareservatet as it's known – is located on the border of Stockholm and the Nacka municipality. It's a microcosm of Sweden's expansive landscapes, famed for their spectacular ruggedness, unspoilt scenery, and sometimes demanding conditions.
This is a country of snow-capped mountains, evergreen forests, and crystal lakes. A place of extremes and an outdoor-lover's paradise. Where the midnight sun ekes out the summer days and temperatures above the Arctic Circle can drop to -30C.
In the winter, you can ski, snowboard, ice climb, and ice skate. But in the summer months, the trails are alive with people running, hiking, and mountain biking. The lakes here are also the perfect place to go swimming, kayaking, or enjoy a spot of SUP.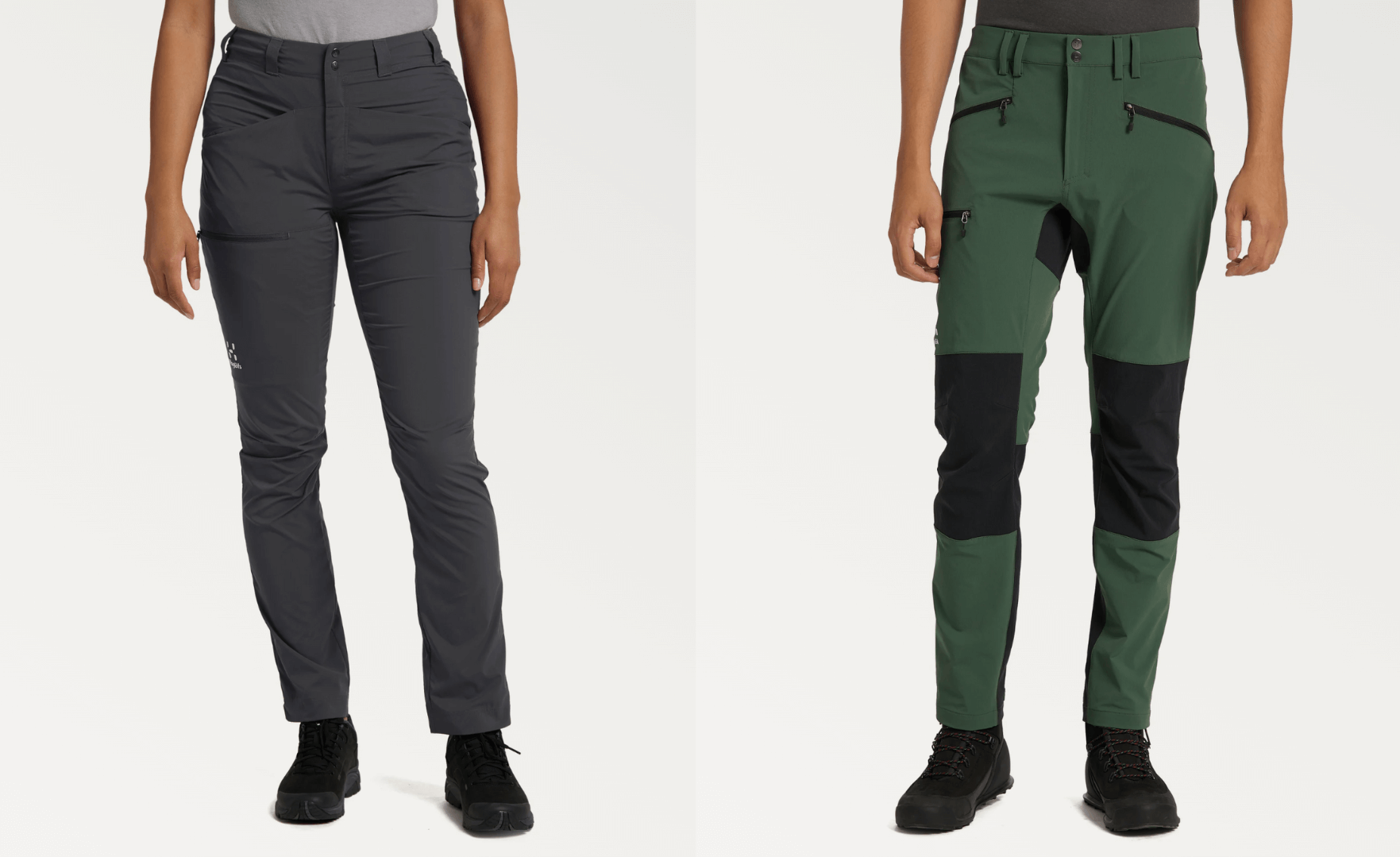 Fit for the Outside
It stands to reason, then, that with all this to explore on their doorstep, Swedish adventurers demand a lot from their outdoor gear. Resident outdoor brand Haglöfs has been kitting out this nation of outdoor enthusiasts since 1914. Founded by carpenter Wiktor Haglöf, who came up with a backpack designed to withstand anything Sweden's weather and terrain could throw at it, the brand is now at the forefront of technical innovation when it comes to performance gear and clothing.
From waterproof jackets and ski pants to backpacks, boots, and sleeping bags, the Haglöfs range offers gear that meets the demands of Sweden's extremes. Inspired by a place where the natural world is not only beautiful, but an intrinsic part of everyday life. Sustainability is also a key part of Haglöfs's design and manufacturing processes.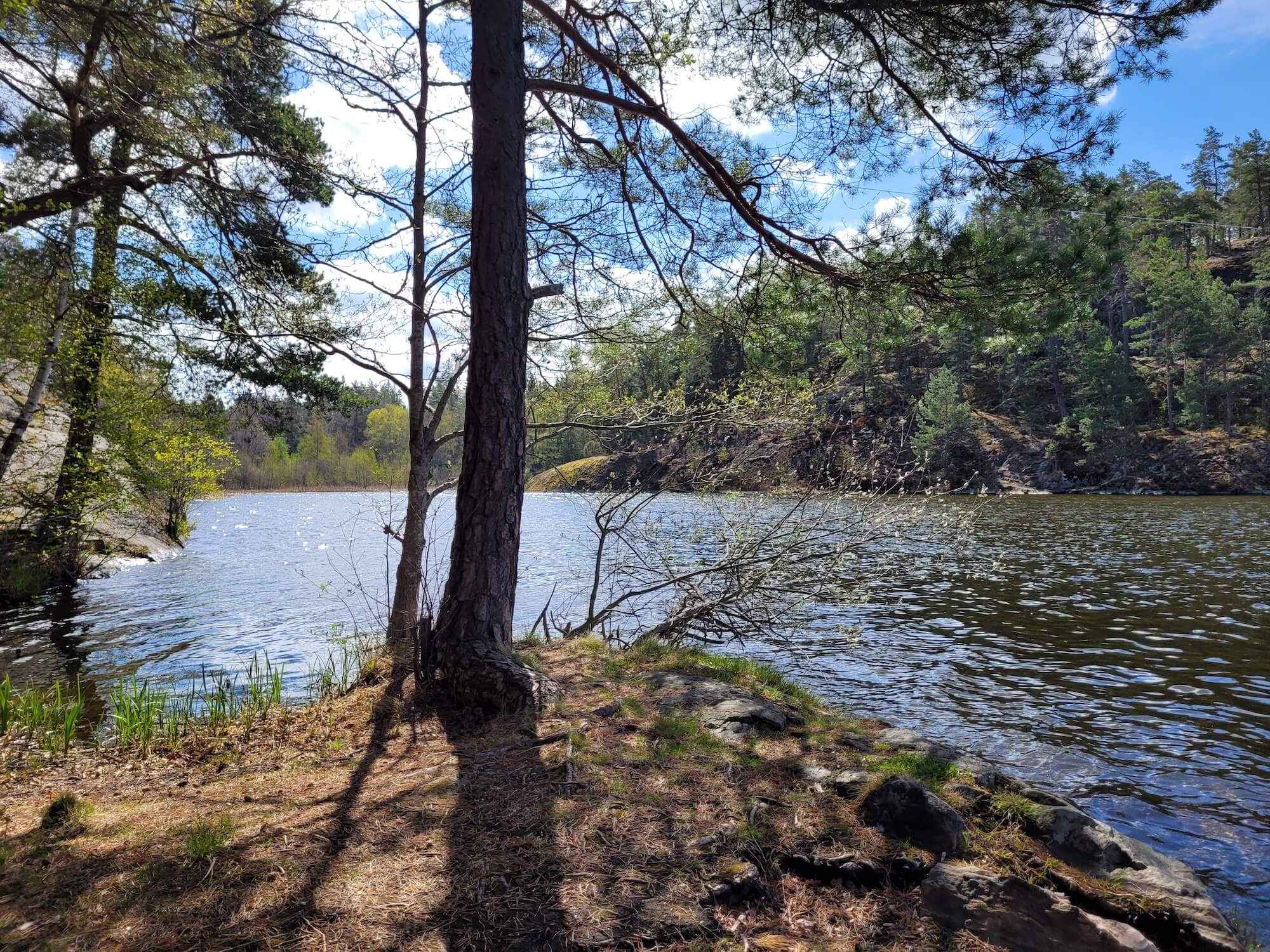 Eco-friendly adventures
For 2022, Haglöfs has launched its Fit for the Outside pants collection. And as the name suggests, the focus is very much on comfort and performance. Available in a variety of fabrics and a choice of several men's and women's cuts, this is a range that can be tailored precisely to your needs and activity. A hike around the trails of Hellasgården is the perfect way for me to put them through their paces on home soil.
The trail undulates gently over and around thick, twisted tree roots. Picking our way carefully, we weave underneath the low-hanging branches, taking care not to get caught up in them. The birds have taken up again, and the warmth of the sun begins to seep slowly through the patches of cloud.
The pants I'm wearing are part of the Lite range, a stretchy recycled fabric designed for warm-weather hikes. They're certainly comfortable. So comfortable, in fact, that I almost forget I'm meant to be testing them out. I've opted for the slim fit, which is a high-waisted cut that's tapered at the ankle. Unlike some 'skinny' trousers, these are fitted without being too restrictive, which is refreshing. And they stand up admirably to the grazes from branches and bushes, and have plenty of give for clambering over fallen trees up steeper inclines.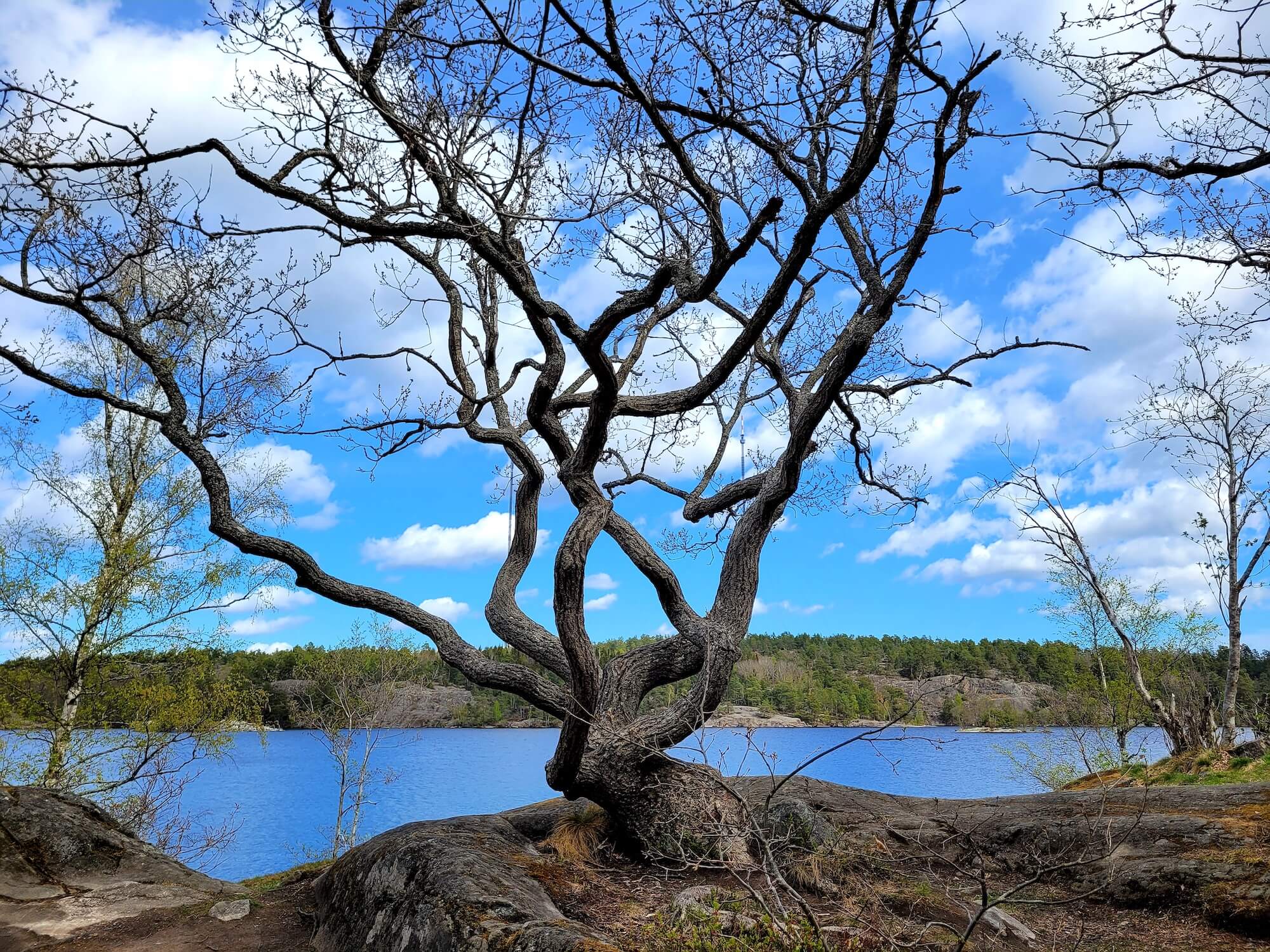 A natural haven
When we reach the lake, our guide points out the rock formations underfoot. The smooth, grey surface is scarred with the passage of glaciers from the last Ice Age. It's staggering to think who else – what else – has stood on these stones looking out over this land in the last 25,000 years. How much it's changed and how imperative it is that we do everything we can to preserve it now.
The use of recycled fabrics is on the rise in outdoor clothing, as well as more eco-friendly production methods, both of which help protect places like Hellasgården from the impact of fast fashion and climate change. Inspired by the spectacular surroundings of its homeland, Haglöfs has committed to using recycled or renewable materials in 100 percent of its main fabrics by 2025.
The brand started with its daypacks collection and is continuing to expand its range of recycled offerings with its 2023 pants. More than half of Haglöfs's new spring and summer collection contains fabrics with recycled and renewable content, right down to replacing synthetic zippers with natural buttons.
The final test for these hiking pants is a bit of light scrambling from my vantage point over the lake down to the water's edge. The bracken and scree are dry and loose underfoot, broken in places by the occasional rock that provides welcome purchase. The reinforced knees and seat on the pants are also reassuring.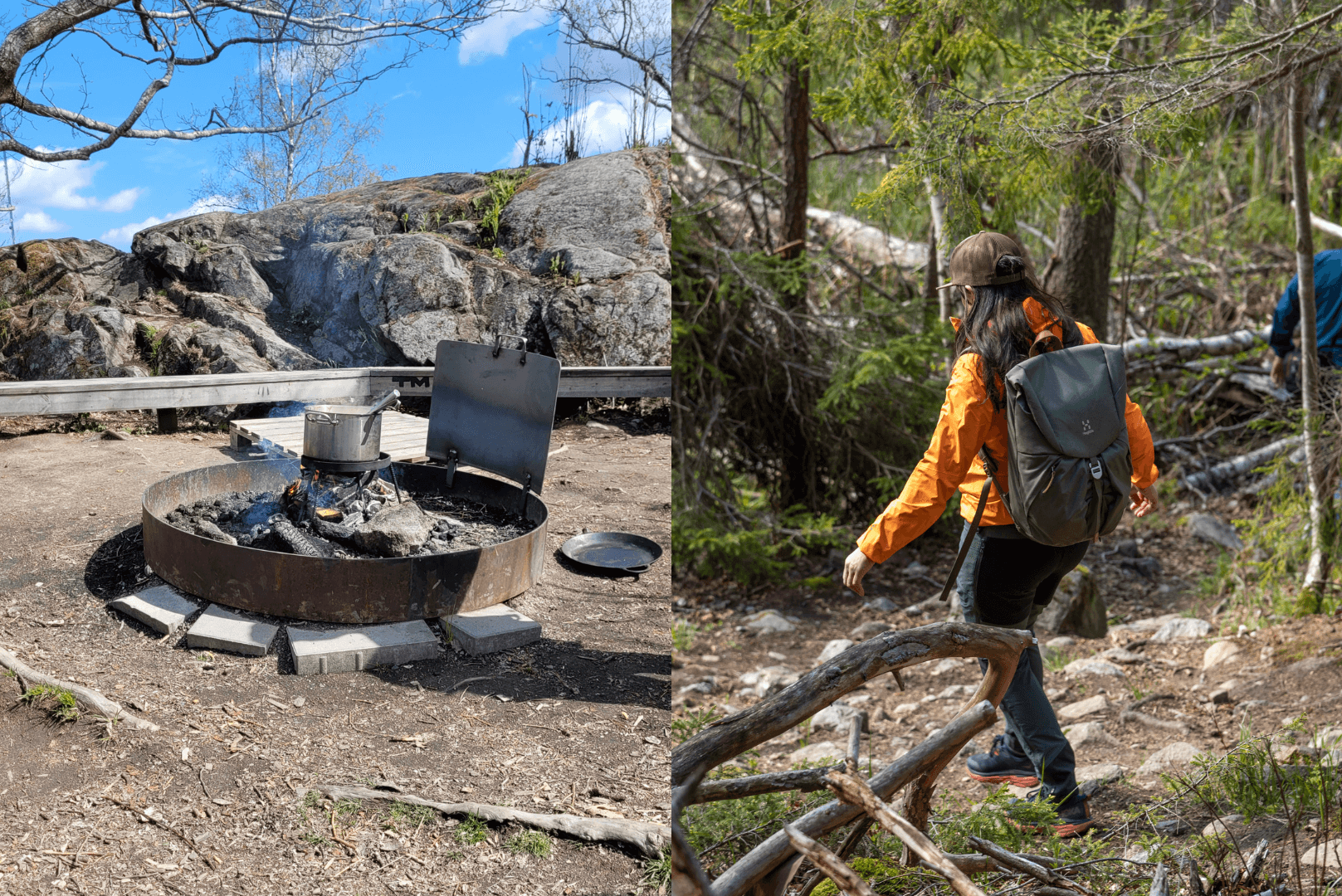 The right gear for your next adventure
The smell of the forest floor offers up the earthy scent of pine and as we near the water, a cool breeze picks up, rippling the lake's blue-green surface and making it sparkle. Once down, I find an appealing-looking rock at the foot of a gnarled tree root and sit a while, looking out over the water.
I'd love a swim; better yet, a running jump into its frozen waters fresh from the nearby saunas – a real Swedish experience! I make a mental note to come back here again to explore Hellasgården in winter, and while I'm at it, try out Haglöfs's home-grown winter gear. Something tells me they would make the perfect pairing.
For more information about the Fit for the Outside collection, visit haglofs.com.
Words and images: Becky Brown